The Affiliate Lab Review Intro
Welcome to my Affiliate Lab review. In this article I am going to cover the following:
What is The Affiliate Lab by Matt Diggity
How to choose the best affiliate marketing course
What does Affiliate Lab teach you
How much does Affiliate Lab cost
How to get $200 off TAL course
Affiliate Lab Pros and Cons
Affiliate Lab reviews from actual students
Alternatives to Affiliate Lab
Why did I use Affiliate Lab?
When I started going through The Affiliate Lab (TAL), I kept thinking: "Man, I really wish I had read this stuff before!"
At that time, it was coming from someone who had been doing SEO for affiliate marketing for three years…
When it comes down to it, affiliate marketing isn't rocket science. But, ranking content and making money from affiliate marketing can be a tough gig. It's become more competitive and the rules keep changing.
Maybe you've even put together a bunch of good articles with topical relevance– but your site sits there and You don't get any traffic. You are told to wait 6-8 months – but you can't help wondering: am I doing enough?
With Affiliate Lab, Matt Diggity and guests give you a wide range of tactics that will show you how to:
Rank websites using a variety of on-site and off-site techniques
Monetize using Affiliate links
Flip websites for 32-40x the monthly income! and make money from your affiliate sites.
What is the Affiliate Lab and Who is Matt Diggity?
Affiliate Lab is made by the successful affiliate marketer Matt Diggity who is very well-known in the SEO affiliate community and is behind the popular Diggity Marketing blog.
Meeting Matt Diggity
I had a small connection with Matt Diggity. When I started affiliate marketing back in 2016 – I paid $600 for a personal consultation on a website that would eventually become Hustle Life.
This was back when I had completely no idea what I was doing, so the advice he gave me was basic when I look back on it – but it was a solid foundation.
What I Learnt from Matt Diggity
Here were the main take-aways I got that might help if you're just starting out:
Focus on one specific niche and create content all about that one specific niche before diversifying into another subject.
Having an exact keyword in your domain name will help you rank quicker.
Publish often to keep your site alive. Google rewards sites that are kept current.
Doing good keyword research and avoiding competitive keywords at the start will save you some tears.
LEARN MORE ABOUT AFFILIATE LAB
At the time of the consultation, Affiliate Labs wasn't around. The only information I could find about building niche affiliate sites was listening to Lion Zeal podcasts and trying affiliate SEO courses like Wealthy Affiliate and random videos on Youtube like Dan Brock's Deadbeat Super affiliate!
The Matt Diggity course approach is different from other popular affiliate courses because of his "no-hat" way of ranking sites. He isn't shackled to any specific SEO affiliate strategies to rank on Google.
So his way of ranking is hypothetically more diverse than using outreach techniques as in Authority Hacker Pro or a no link-building strategy as in Income School.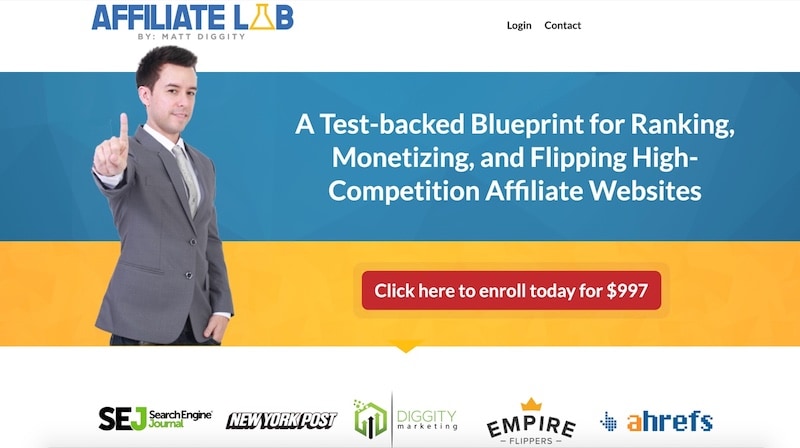 The Affiliate Lab currently costs a one-time fee of $997. This gives you full access to the course and all of the bonuses, plus access to the private Facebook group.
There is also an option to split payments into $597 for the first two months.
If you're looking for an Affiliate Lab discount then the best you can get right now is $200 off the regular TAL price.

Things to Consider before Purchasing an SEO Affiliate Marketing Course
If you want to be successful in affiliate SEO and ranking affiliate sites, then winging it just won't work. Here is my list of the top 5 things you're going to need to be successful at affiliate marketing:
The SEO affiliate marketing space, whilst potentially very lucrative, is also highly competitive. I really can not stress this enough. There are plenty of free videos on YouTube that can help you get started. But if you're serious and don't want to waste your time going down the wrong track, then you'll need to invest in your journey. So, I recommend doing a reliable and trusted course.    
You have to make sure that you have the right mind-set. This is not a get-rich-quick scheme. It takes commitment to regular work and a little bit of patience.
You need to set aside time. If you can't make time, then you're not going to win at affiliate marketing.
You need to be willing to spend some money upfront. If you're not willing to invest in your future, then don't waste your time.
You'll need some technical skills. If you're not good with computers, or not willing to learn how to use them, then find a different side hustle.
That is why the first thing I tell someone when they ask me how they can start in affiliate SEO is, "are you ready to turn this into a business?" because that is the commitment you need to have to be successful.
Here are 5 things you should think about when deciding what affiliate SEO course to purchase:
1. Onsite SEO
Having good onsite SEO is crucial to the success of any website. This includes choosing the right niche, keyword research, keyword density, and internal linking.
2. Offsite SEO
Offsite SEO or link building to your website.
Matt Diggity describes on-page SEO as a car engine and off-page SEO as the gasoline.
It would be best if you had both to really make a website move. That is why finding an online course that teaches both of these things is important.
3. Content Creation
Content creation can really affect your onsite and offsite SEO. If you have crappy content and quickly throw it up on a website, traffic will come, but bounce right off again.
People will see through the BS and most likely your website will lose rankings and tank!
So having good content that is optimized for both on-page SEO and having people link your affiliate link is super important.
4. What Else Do You Need To Buy?
Before you buy a course, it's important to know the total costs ahead of time.
Most people that run affiliate websites will require cloud-based software such as SEMRush and Ahrefs to do keyword research and analyze competitors. This software can be a couple of hundred bucks a month. So keep additional costs in mind.
Your website will also likely need plug-ins. Whilst a lot of these are free, some paid plug-ins will help improve your site. For example, I've found that a good plug-in like WP Rocket that handles caching and site speed is a must-have!
5. Social Media?
From my experience, having a big social media presence also doesn't hurt.
Google rewards real sites, and real sites have active social accounts that drive free traffic. Creating a diverse web presence is good from Google's perspective. So if an affiliate course covers some social media marketing, it's a big bonus in my opinion.
6. Community
Having access to a great community could be worth the price of admission in some cases. Good course creators take pride in their work and will be active in their communities, to answer questions and help their audience.
More often than not, if a course doesn't have an active community – it is a bad sign.
GET $200 OFF AFFILIATE LAB TODAY
What does the Affiliate Lab Give You?
Overview of the Affiliate Lab Course
The nice thing about Affiliate Lab is that there are no up-sells. The base course is a little pricer than its competition. But they really give you the kitchen sink in terms of information in this course.
Affiliate Lab's goal is to show you how to build a profitable, long-term website that you can later flip for a $100,000 sale.
MONETIZE using SEO affiliate marketing
FLIP for a large profit that you can bank or roll into your next project.
Sound crazy? Believe me; it is not. Just take a look at Empire Flippers and see how much affiliate websites are going for these days. Flippa.com is another great site for buying, selling, and flipping websites.
The how to flip masterclass was an eye-opener for me. I hadn't considered that most online business sites sell for 25-45x multiples – meaning if you could get a niche affiliate site to around $5000 per month, it's not beyond the imagination to sell it for $100,000+!
There are plenty of well-documented success stories. Read about this automotive related content affiliate site, making a profit of under $4,000 per month that was sold for $120,000.
Affiliate Lab Pros
TONS of link building ideas
Includes very actionable white hat link building tips
Great info to help you buy and sell websites
Lots of great useful blueprints
Special section for beginners
Affiliate Lab Cons
Long videos. Sometimes it's a case of information overload
Matt Diggity's Affiliate Lab is one of the most complete affiliate courses currently on the market.
Whether you are new to building affiliate sites or have been doing it for a many years, you won't be disappointed with this course.

Built For Both Beginners and Advanced Marketers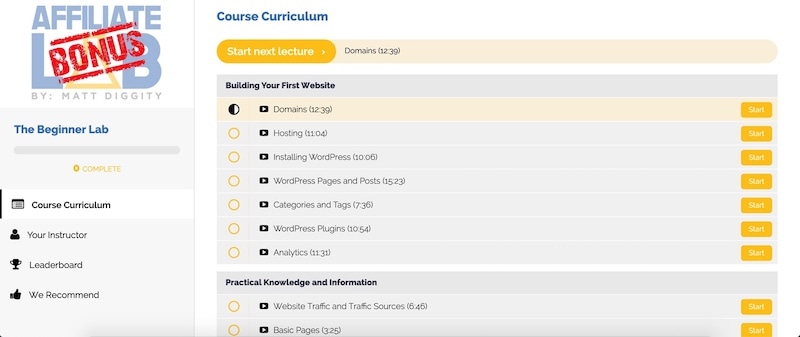 One thing that I was pleasantly surprised about was how broad of a range of topics Affiliate Lab talks about.
The course has a whole mini-course for beginners that haven't started yet their own website.
This is a nice touch because one of the biggest hurdles for beginners is just getting their heads around the technical side of setting WordPress up and knowing which themes to install.
The beginner's modules go over the basics such as choosing an affiliate offer, niche selection, and keyword research.
GET $200 OFF AFFILIATE LAB TODAY
TONS Of Actionable Advice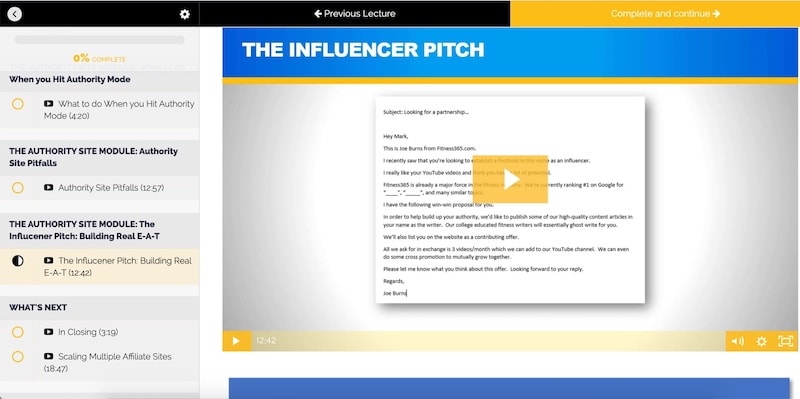 I really like Matt Diggity's blog because he shares so much actionable advice. Most "influencers," especially SEO specialists, keep all their little secrets tightly guarded.
However, going through his course, you will pick up so many more golden nuggets of information that makes the course relevant to even more advanced affiliate marketers.
For example, he has a genius way to build and bring authority to your site by pitching real influencers and creating a win-win opportunity.
Don't be surprised if you see me using this tactic here soon.
Featured Snippet Hack
One of the quickest and easiest ways of increasing traffic to your website is using Tom De Spiegelaere's featured snippet hack.
I will not give it away here, but it just involves using exact keywords and making tweaks to your competitor's text to get massive wins.
Outreach Masterclass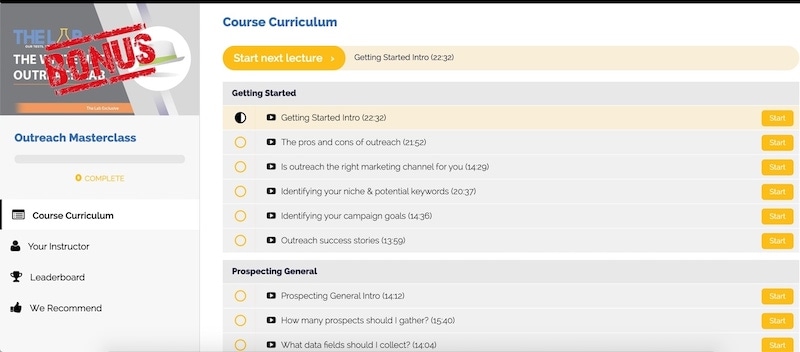 When I first started back in 2016, Matt Diggity was all about using PBNs and even had his own company specializing in building and selling links. However, as times have changed, so have his methods.
These days, you can't rely 100% on PBNs to rank sites – that's why you need real, high-quality links as well.
The Affiliate Lab's Outreach Masterclass is a bonus module and could really be its own course. It is a MASSIVE 65 videos of pure value and teaches just about every white-hat outreach technique there is.
Website Flipping Masterclass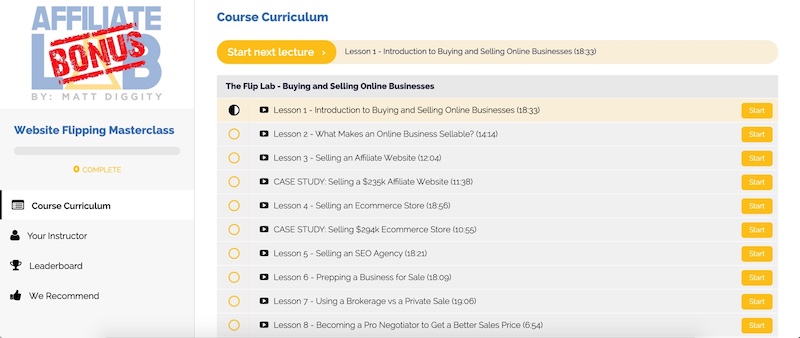 Building an affiliate site to $1000 per month is a great accomplishment. However, flipping that website can mean life-changing money to anyone.
Matt Diggity runs a company called Leadspring where he teams up with other affiliate marketers and partners with them to flip websites for some major cash.
So he is well versed in the art of buying and selling websites and his website flip masterclass shows you how to set up your website from the start to make for an easy sale later on.
LEARN MORE ABOUT AFFILIATE LAB
Tons of Blueprints and SOPs
The Affiliate Lab's main section comes with blueprints that you can download and either use for yourself or give to a VA.
These blueprints are based on Matt's own processes, so you are literally copying his business's roadmap and using them as your own.
One of the reasons why I was so interested in looking at Affiliate Lab was from this poll from the Niche Affiliate Empire Facebook group. To me when I looked through half a dozen or so affiliate courses, Authority Hacker's The Authority Site System (TASS 2.0) was a clear winner.
However, after seeing this poll I was interested to see if the Affiliate Lab was really better than TASS 2.0
Here are some typical Affiliate Lab student reviews:
Needless to say, there are a lot of students that give the Affiliate Lab course a thumbs up, and after going through the course myself I can definitely see why.
Before you purchase TAL, you probably want to know how it stacks up to other courses on the market.
To begin, let's take a look at how The Affiliate Lab Vs Authority Hacker  TASS 3.0. Both courses are excellent ways for newbies to get introduced to SEO for affiliate marketing as they have practical guides to getting content sites ranked.
The biggest difference between the two courses is the fundamental question of whitehat vs. greyhat link building. TASS 3.0 teaches a completely whitehat way of building links, which means no use of PBNs and no paying for links.
However, the Affiliate Lab course keeps an open mind and includes both of those methods as part of its link building strategy.
My own take on this is that gray hat techniques have hurt my websites in the past. I've also seen gray hat sites do well and a bit of gray-hatting might give you an edge. In that respect, TAL feels like a complete course and teaches you both white hat and gray hat so you can decide for yourself which direction to take. The TAL course at least gives you the option to handle offsite SEO the gray hat way, whereas TASS 3.0 defintely does not advocate this.
TASS 3.0 is also more up-to-date than TAL as it was just re-released last year.
But what are the other main points you have to be aware of?
TASS 3.0 is cheaper, but it has some annoying upsells that can end up costing more than TAL
TAL has MUCH more content and feels like a complete course
Authority Hacker has a unique way of finding low-hanging competitive keywords.
If you want to learn more about Authority Hacker, check out Hustle Life's The Authority Site System Review.
I fell in love with Income School and their Project 24 course when I first took it in 2018. However, as time has gone by, their methods have started to look outdated.
Project 24 is all about creating content sites, so its main focus is on creating a ton of content and waiting for it to rank on Google.
The Income School doesn't really cover any off-site SEO.  This is all well and good in low competition niches, but if you want to get into somewhat competitive niches – you're going to have to also build backlinks.
What Are The Differences Between TAL And Income School Project 24?
The Affiliate Lab course is probably the most efficient way you can rank an affiliate site on Google
Project 24 is all about getting traffic to your site by doing easy keyword research and writing lots of high-quality content
Project 24 is good for non-technical people as it doesn't require any additional cloud-based software like Ahrefs and only requires good writing
Project 24 doesn't focus on affiliate sales or link building at all.
TAL is better for people who want to earn affiliate commissions in less than 12 months
If you want to learn more about Income School, check out my Project 24 review.
When I heard about TAL, even though I knew it was good – I didn't think it was going to teach me as much as it has.
I can see why so many people think it's the best affiliate course around. The amount of information you get is insane, and the small tricks you learn can make even the most seasoned affiliate marketer try new tactics.
Whether you're brand new to building a niche site or an expert, TAL doesn't come to the party empty-handed.
Thanks for taking a look at my Affiliate Lab review.  After reading this article I hope you have learned from my experiences with Affiliate Lab and that it's helped you decide if it really is one of the best SEO and affiliate marketing courses to help you win at affiliate marketing.