If recent statistics are anything to go by, affiliate marketing is not dead. On the contrary, it is thriving but if you're looking to make money via affiliate marketing, you'll have to move with the times. Successful entities in this sphere understand the need to constantly change the game if they wish to continue finding goldmines.
If you're a blogger/solopreneur, chances are, a significant portion of your online revenue comes from passive income via the promotion of online services and third-party products. If this isn't the case, perhaps you need assistance? If so, or else you're a newbie, there are a variety of programs designed to help. Affilorama is one of the best known but is it worth your time and money?
See the best affiliate marketing courses here.
What is Affilorama?
It is an online course created by a famed affiliate marketer, Mark Ling, back in 2005/2006. It is effectively a one-stop shop for all your affiliate marketing needs. It is initially free to join and its information should prove useful to neophyte and experienced marketers alike.
The training lessons come in the form of blog posts, long & detailed articles, and videos. It is theoretically possible to earn a six-figure income from scratch if you utilize all the tools Ling lays at your disposal. Affilorama's community exceeds 300,000 people globally at the time of writing and with affiliate marketing also set to grow, it seems certain that Affilorama will follow suit. Let's take a look at what's on offer.
Affilorama's Packages
At the time of writing, the site offered five packages including its much-vaunted Free Membership option. It used to include Affilotheme, a premium WordPress theme, for $97 but it has been absorbed into the AffiloBlueprint package.
Free Membership
What sets Affilorama apart from most of its rivals is the depth of great information you receive for free. Once you sign up, you receive instant access to the following:
Affiliate Marketing Quick Start Guide: Learn the basics of how affiliate marketing works and discover the traps you'll need to avoid.
Roadmap to Success: If affiliate marketing confuses you, this downloadable roadmap should make things clearer. It is in infographic form which makes it easier to digest.
Video Lessons: There are over 120 video lessons that illustrate the ways to build your affiliate marketing business.
Overall, there are over 20 hours of free content. While there is plenty to like about getting lots of information for free, we were a little surprised at how much of it is outdated. If we were cynical, we would say it is a case of getting what you paid for!
Affilorama Premium
You could argue that this membership is Affilorama's flagship product. You can begin by investing just $1 for a 30-day trial and then it costs $67 a month.
As you can see, there is a 60-day money back guarantee for extra peace of mind.
What we really liked about these initial packages is that you have lots of time to absorb the very useful information before committing financially.
We recommend eking everything you can from the Free Membership before the upgrade.
However, it is the Premium Membership option that gives you the information needed to hang with the professionals.
With Affilorama Premium, you receive the following, among other things: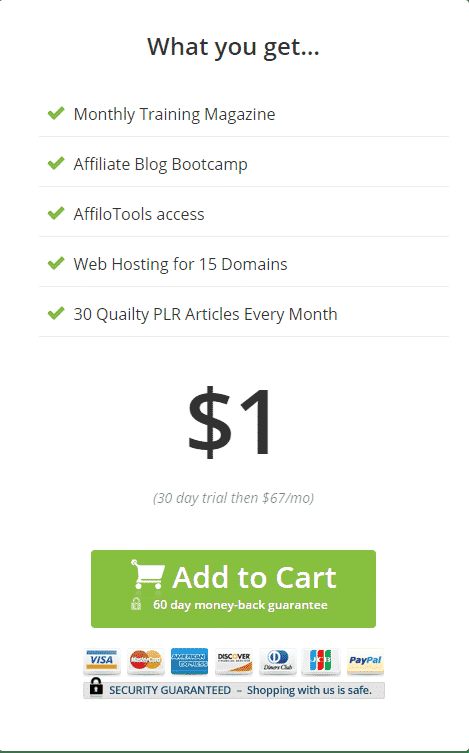 Monthly web magazine which covers an affiliate marketing sub-topic in detail. Given the fact that successful marketers pick a niche and stick to it, this information could be essential.
Webinars and interviews with successful affiliate marketers where you learn their tips and tricks.
Web hosting for 15 domains.
check AffiloTools is also included.
check 30 premium quality articles a month.
check 2GB Disk Space
check 75GB monthly traffic bandwidth
check 10 FTP Accounts and 10 MySQL Databases.
Affilotools
As well as being available with your Premium Membership, AffiloTools is a standalone product designed to help you boost your search engine ranking. Please note, we don't recommend utilizing AffiloTools unless you're a relatively experienced marketer with an up and running website.
If you're an affiliate marketer that doesn't track data, you're making a huge mistake. You can connect AffiloTools to a Google Analytics account and keep track of the following information:
Rankings for every keyword.
Rankings on various search engines and regions.
The amount of money you earn from ClickBank.
check The number of retweets and 'likes' you get on Twitter and Facebook respectively.
check The number of pages indexed.
check Details about how your rivals are performing in key areas.
There are four options ranging from the Free 'Basic' account to the 'Gold' package which costs $97.
As you can see, the Basic option is fine for newcomers to affiliate marketing as it monitors one website, ten keywords and two search engines per site with monthly ranking retrieval. Clearly, you'll need to upgrade once your business expands.
AffiloJetpack
According to the site, its Jetpack option can "earn you a huge income on autopilot" and it's yours for a one-time cost of $997. However, click on this Affilorama link and you receive a $250 discount! Mark Ling also offers two guarantees:
60-day money back guarantee.
An extra $100 refund if you follow Ling's instructions on using Jetpack and don't make good money within 60 days.
With Jetpack, you receive a variety of tools including:
Content creation 'cheatsheets' that show you how to create hundreds of blog posts and unique articles quickly and easily.
WordPress website setup with a year's worth of free hosting and AffiloTheme.
Free reports designed to help you increase your emails' opt-in rates.
check Professionally written email templates.
check eBook Graphics.
Ling believes that you can create your business in less than six days when you use Jetpack, compared to the minimum of six weeks it takes you without it. Also, you receive Jetpack in 18 profitable niches which certainly increases your chances of success. To sweeten the deal, Ling allows users to choose five websites in five different niches.
Ling makes some pretty incredible claims when trying to sell Jetpack. For example, he suggests that the 'big shots' go through a seven-step process and if you follow his instructions to a 'tee', you could earn up to $20,000 in a single day! For the record, the process looks like this:
1A visitor comes to your website.
2Your site offers him a free report (or another gift) which serves as bait.
3The visitor takes the bait and you send him several emails that week automatically.
4The informative nature of the emails builds trust.
5You begin including recommendations for affiliate products. Gentle persuasion is key here.
6You continue emailing recommendations and begin making sales.
7It happens so often that you can quit your day job!
Despite what Ling claims, you have to put a lot of work into your business even if you purchase Jetpack. While it does have a host of useful tools, it is not the 'magic bullet' that Ling claims.
Affiloblueprint
Ling claims this is a 'foolproof' blueprint for creating profitable affiliate marketing websites.
Once again, this is a product backed by a 60-day money back guarantee. For a fee of $197, you have lifetime access to hundreds of informative videos that show you how to create your site, write excellent content, and ensure it ranks well. Ling suggests that his system is:
Capable of killing indecision.
Easily achievable.
Explains everything about affiliate marketing.
check Futureproof.
check Repeatable.
One of the best aspects of the Blueprint is that you're given 'homework' after each lesson which is tremendously helpful. Here is a quick overview of what to expect with the Blueprint:
Learn how to perform research and find the most profitable niche for your needs.
Create and customize your own website.
Discover how to attract more visitors to your site.
check Optimize your website for more sales.
As a bonus, you receive AffiloTheme which used to cost $97 by itself. It is designed to help you create beautiful looking websites that include SEO-friendly layouts. There is a total of six themes in one so you have the flexibility to develop something special.
Affilorama - What's Good?
The Free membership is very helpful for newcomers because it contains plenty of useful information. Its content is well-laid out and easy to follow, even for those with no affiliate marketing experience. Of course, if you're vastly experienced in this industry, there is probably nothing new in the content.
Mark Ling IS a well-known marketer with 14 years' worth of experience and he brings it all to the table. Therefore, you know that Affilorama is most certainly NOT a scam. You learn the following without paying a cent:
How to build a great website.
How to attract visitors and boost your SEO ranking.
Ideas for marketing.
check Affiliate outsourcing.
check Content creation.
check Market research.
However, and we can't stress this enough, you WILL need to invest money in Affilorama if you want to bring your business to the next level. The Premium Membership option is where the best information is located and you can pay just $1 for a month's trial. We were very impressed by the amount, and quality, of content received and believe it is well worth paying the full price of $67 a month. If you follow Ling's advice, you will make your annual fees back in weeks or less!
You also receive a reasonable level of customer support. Get in touch with the Affilorama team via phone or email. You can also go to the forum which is fairly active. For example, at the time of writing, there were a few replies within the last 24 hours on different topics.
There are numerous positive testimonials on the website and online. Customers enjoy:
The way the information is laid out.
The capacity to achieve financial freedom.
Skyrocketing sales.
Affilorama - What's Bad?
Incredibly, Ling and his Affilorama team have done nothing to eliminate the outdated information that has been on the free version of the program for years. In some cases, members are warned that the content they are reading or watching is out of date.
Why doesn't the site remove it? Examples of outdated content include information on creating PLR (Private Label Rights) articles and creating backlinks. PLR content is nothing more than copied content and while you can tweak it to avoid search engine penalties, it offers nothing to your visitors.
To be fair, backlinking is still an important aspect of SEO, as long as it is utilized correctly. Things have changed in this sphere. Once upon a time, adding a ton of links from anywhere on the Internet increased your search engine ranking.
Today, backlinking is more nuanced. Relevancy of links is crucial but is only part of a more complicated SEO tactic. We don't believe that Affilorama's information on backlinking is up to date in the free version. You need to pay for the Premium membership if you wish to get a better handle on things.
We were also not impressed with the additional fees and the confusion over pricing and what you actually receive. For example, AffiloTools is supposed to be free with a Premium Membership but it is also available as a free trial with Blueprint. Marketers have also complained that Ling sends them emails promoting services and products from known scam artists. This does nothing for his credibility.
Is Affilorama Worth It?
Overall, it IS worth your time and effort to join Affilorama. We advise you to spend as much time as you need absorbing all of this useful information before deciding whether or not you wish to upgrade.
We believe that the Premium Membership option is essential for serious affiliate marketers and $67 a month is a bad price to pay in our opinion. It is a bit more expensive than Wealthy Affiliate, but has more useful features.
If you wish to move to the next level and have money to spend, the Jetpack and Blueprint packages are fine options but you have to decide if it is worth the cash. For example, a $997 one-time payment is a lot of money to throw away if you don't get the most out of it. On the flipside, if you get it right, four-figure days are a genuine possibility.