Let's face it, trying to find a profitable niche on Amazon is hard. 
VERY HARD.
Sure you have taken an Amazon FBA course and you feel like your ready to take on the world. Then you start trying to look for something to sell and you feel STUCK.
I know the feeling all too well. After I crushed a few courses on Amazon FBA I felt like product research would be a breeze. 
But knowing what I know from publishing books on Amazon, I know that selecting a niche is one of the most important factors that will determine if your business is a success or bust.
That is why I didn't just try one or two Amazon product research tools. I tried almost all of them!
That is right, I put my own hard-earned money into trying all these tools because I wanted to find the very BEST niche so that my first product on Amazon wouldn't crash and burn.
That's why in this AMZ Scout review I took a long look at the software suite and I have to say that even though its not perfect, it is one of my favourite Amazon tools for finding profitable niches!
What is AMZScout?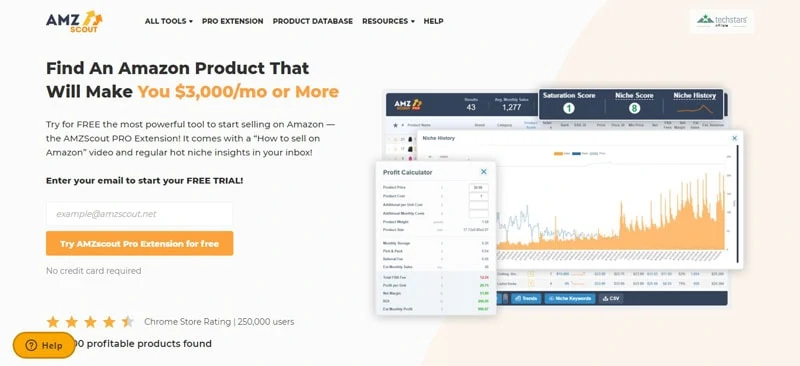 AMZ Scout is one of the most popular Amazon intelligence software used by sellers to find products that consumers are searching for. AMZ Scout is product research tool that is both a web application and a chrome extension that is super easy to use and understand.
The main benefit of AMZScout is that it has a bunch of tools that are specifically designed to help people get started on Amazon FBA.
Compared to other Amazon software tools such as Jungle Scout and Helium 10, AMZ Scout is a lot easier to use because it was designed for beginners in mind.
Amz Scout comes with a few different applications we will take a look at each of them here:
Pro Chrome Extension
AMZ Scout's Pro Chrome Extension is not only one of the easiest to use but also one of the most beautiful chrome extensions I have used, not only for Amazon software but in general. It really feels like a fully featured professional web application.
Once you load the Pro Chrome Extension it will be active on Amazon whenever you are on the website, you can easily access it by clicking the Amz Scout Number Icon on the bottom left of your screen (like in the image below):
After clicking the number icon it will bring up the AMZ Scout extension. The number on the bottom indicates how good a niche is. The higher the number, the better the niche is according to software.
In this instance, we are looking at the keyword "masks for men" and this is what AmzScout has pulled up for us:
This gives us a great first impression of whether or not this is a keyword is worth exploring more, such as the average monthly sales, average monthly revenue, average price and average reviews.
You can click on the individual products to look up their sales history, keywords and even find a similar product on Alibaba.
If everything looks good and you want to get more information on the keyword, you can click on Niche score and it will bring up this window: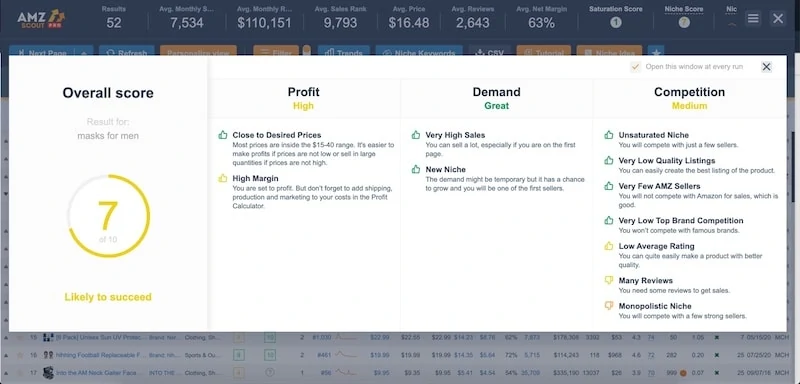 Here AMZ Scout gives you a nice overview of the reasons why it gives a keyword a certain difficulty score. It is broken down into Profit, Demand and Competition. 
Each section is looked at and judged to come up with the overall score. In this case, masks for men look like a fairly promising keyword at first glance.
However, let's say that we already know that masks for men are a bad keyword. We can use AmzScout to just help us find a new profitable niche with a click of a button.
All you have to do is click "niche idea" and voila:
Is AMZ Scout Free?
AMZScout Pro's product research tool offers free trials so you can try out their product for 14 days for free.
You may also access their free tools such as:
FBA Fees Calculator
Amazon to eBay Compare which is useful if you have an Amazon business or for Amazon sellers
Stock Stats
Sales Estimator
Other features can also be used for free trials such as the AMZScout Keyword Tracker and the AMZScout Quick View Chrome Extension.
Once you've tried out these amazing product research tools, you have the option to purchase this tool for a monthly fee or a lifetime use.
Learn more about AMZ Scout
AMZ Scout Pros
The AMZScout has empowered many sellers and YouTubers by providing them with excellent references, quality products to feature, and a chance to monitor competitors.
Here are the features of AMZScout that give users an extra edge in Amazon FBA.
Finding and Evaluating Business Niche with AmzScout
With AMZScout, it is easy for you to find items that match your niche and help you improve sales on Amazon. You can pick out high-margin products as soon as you start using this efficient product tracker.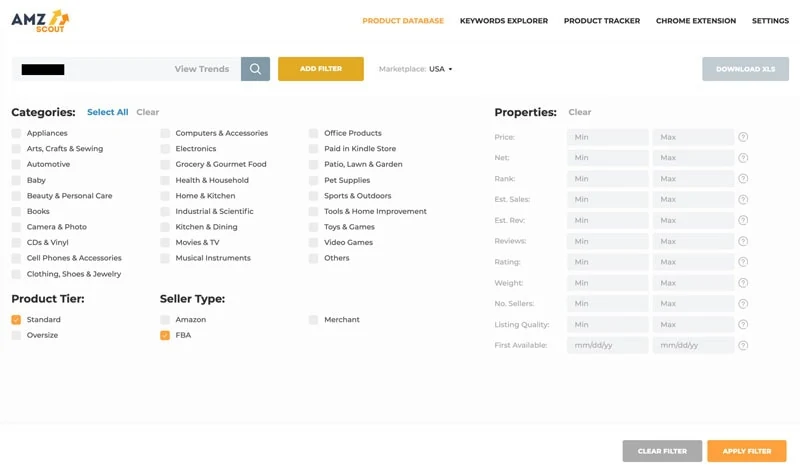 Category Browsing
AMZScout will help you look into niches with viable sales, so you earn more and hit your target product sales.
It is essential to be wise with your business decisions and avoid joining the bandwagon of high search volume categories because there are also thousands of competitors that are already well established in the field.
Learn More Of The Latest Trends
AMZScout will provide you with metrics and graphics so you can pin-point the Amazon product categories that are trending in the market.
With this tool, you can do your research work on trending products with ease and use them on your website even before the competition begins.
Monitor Sellers
An excellent advantage of using AMZScout is that you can look into the seller's data like sales, product tracker, product database, categories, rankings, prices, and deals. It is possible with the tools that come with their premium plans.
Check FBA Fees And Profits
This fantastic product tool also made it easier for sellers to calculate fees, benefits, and taxes. You don't need to be a math whiz to do this because AMZScout will do everything for you.
Available In 9 Countries
AmzScout has support for 9 countries, including the US, Canada, Spain, UK, India, Mexico, France, and Italy.
AMZ Scout Cons
Limited Free Trial Period
One of the things that people did not like about AMZ Scout is the minimal trial period for the use of its features.
For instance, the Web App is only free to use for a week, and you can only use the Pro Extension for 15 times until you have to begin paying which I will discuss how much the cost is after the free trial period further into this article.
No Feature For Product Launch
AMZ Scout lacks a feature that would help sellers launch new items on Amazon.
No Tutorials For Advanced Users
AMZ Scout has a lot of helpful information on the use of their tools, but it's mainly for beginners. Advanced users want an expansion of their tutorials to include information that will be more useful for them.
AMZ Scout Features
Here are the features that you can explore when you subscribe to the AMZ Scout Premium account.
Amazon Keyword Tracker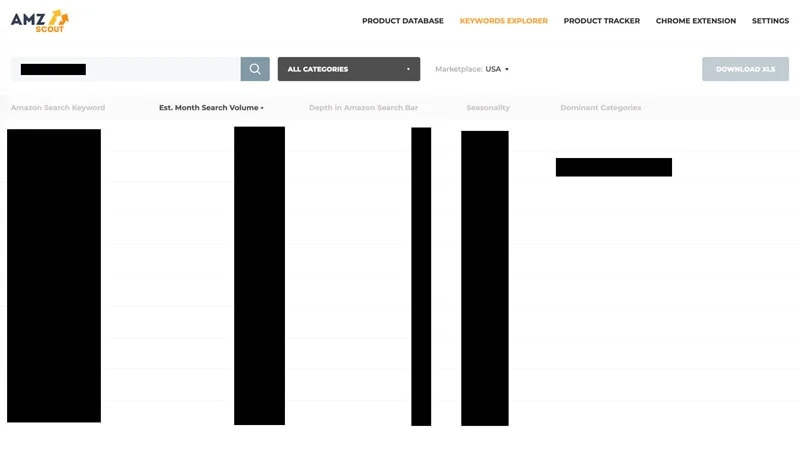 This feature is a crucial tool for sellers who want to make it big on their Amazon business.
It ideally allows sellers to monitor data such as searches, keyword use, and title tags, and to make changes necessary for improving their rankings on the Amazon search engines.
This Chrome extension tool can be used for free for a month to help you decide on taking the full AMZScout Premium subscription.
One month is ample time for you to the benefits of using this tool and the potential benefits that you can use for the long-term.
AMZScout Quick View
This tool allows you to get data on specific Amazon product pages and choose items to sell. You can use it as a browser Chrome extension, and you may also compare lists of various products on Amazon.
All you have to do is to enter the niche or details of the product on your search bar and get results instantly. It will yield top outcomes, price details, keywords, FBA fees, weight, size, quality, and deals.
Amazon Sales Estimator

This tool will make your work more comfortable as you browse thousands of Amazon products online. Many people have used the AMZScout Estimator and considered this to be one of the best tools for sales, product tracker, and product database.
It can give you average monthly sales by analyzing products in the market. It also gives you Amazon rankings based on categories like electronics, appliances, computers, sports, fashion, and more.
Amazon Inventory Spy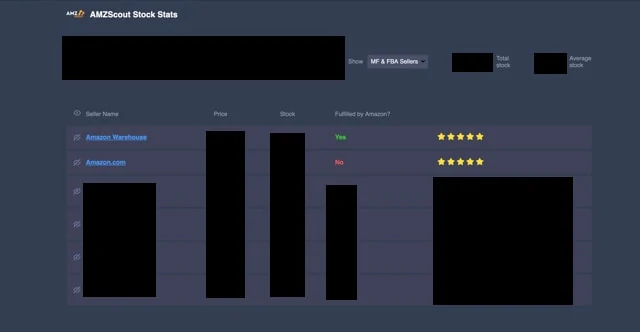 If you like to check on competitor products, then this tool is perfect for you. The AMZScout Amazon Inventory Spy will help look into your competitors on a specific niche and their status.
You can do this through a browser extension, whether you use Chrome extension, Mozilla, or others. It allows you to estimate the number of units they have in stock.
Amazon to eBay Price Compare
There are many tools online offered for sellers and online entrepreneurs to help them make more sales, but it is hard to choose which will help you out.
Amongst AMZScout tools, one that truly stands out is the Amazon to eBay Price Comparator. It compares the prices of similar products sold on Amazon and eBay so you can choose the best ones available.
FBA Fee Calculator
FBA fees vary according to several factors, and it can be challenging for sellers to calculate this among the various things that have to be considered.
Fortunately, AMZ Scout also has a tool to lighten the calculations load with their FBA Fee calculator.
This tool will give you an estimated shipping cost, referral commissions, taxes, FBA fees, returns, advertising, and more.
How Much Does AMZ Scout Cost?
AMZ Scout comes with different pricing offers based on your needs. After your free trial period, you have the option to take a basic, start, or premium subscription. You can also opt to have the browser extension or go for the web app.
For the Web App plans, price starts at $29 monthly for a basic, $39 for a start, and $59 for premium. If you take an annual plan, you get as much as 50% off the monthly prices.
Likewise, for the Browser Extension, you can get a monthly subscription plan at $44.99 per month, or get a lifetime use at only $199!
AMZScout Review 2021: Final Thoughts
AMZScout is one of the top-rated tool among Amazon sellers, and it is easy to see why. Amz Scout's Chrome extension is very easy to use and has a powerful niche finding feature that can help you find profitable keywords in no time.
It's also very well priced compared to other research tools on the market, so I would definitely recommend checking out their free trial
Learn more about AMZ Scout