In this post, I'm turning my attention to Andrew Tate and in particular what we can learn from his marketing strategies!
In the realm of digital entrepreneurship and online influence, Andrew Tate emerges as one of the most outspoken and divisive figures.
The former kickboxing champion turned social media sensation, is renowned for his controversial opinions and has become one of the most talked about online personalities.  
But, behind all the bravado, Tate has carved out a VERY successful online career, has multiple digital businesses and openly flaunts his entrepreneurial wealth.
Who is Andrew Tate?
Emory Andrew Tate III, also known as Cobra or Cobra Tate, is a prominent figure known for his achievements as a British-American kickboxer, commentator, and businessman. Born in Washington, DC, Tate moved to England at an early age and currently resides in Bucharest, Romania.
Tate's career in kickboxing is marked by his impressive achievements as a four-time World Class Kickboxing Champion. Despite Tate's background as a kickboxing champion, his fame has been galvanized by his outspoken views on relationships, politics, social issues and just about anything that he considers worth talking about.
Andrew Tate: The Maverick Marketer
Andrew Tate stands apart as a maverick, pushing boundaries not only in his public persona but also in his marketing tactics. While opinions on his methods may vary, his prowess in harnessing the AIDA principle and marketing funnels to establish a compelling brand identity is undeniable.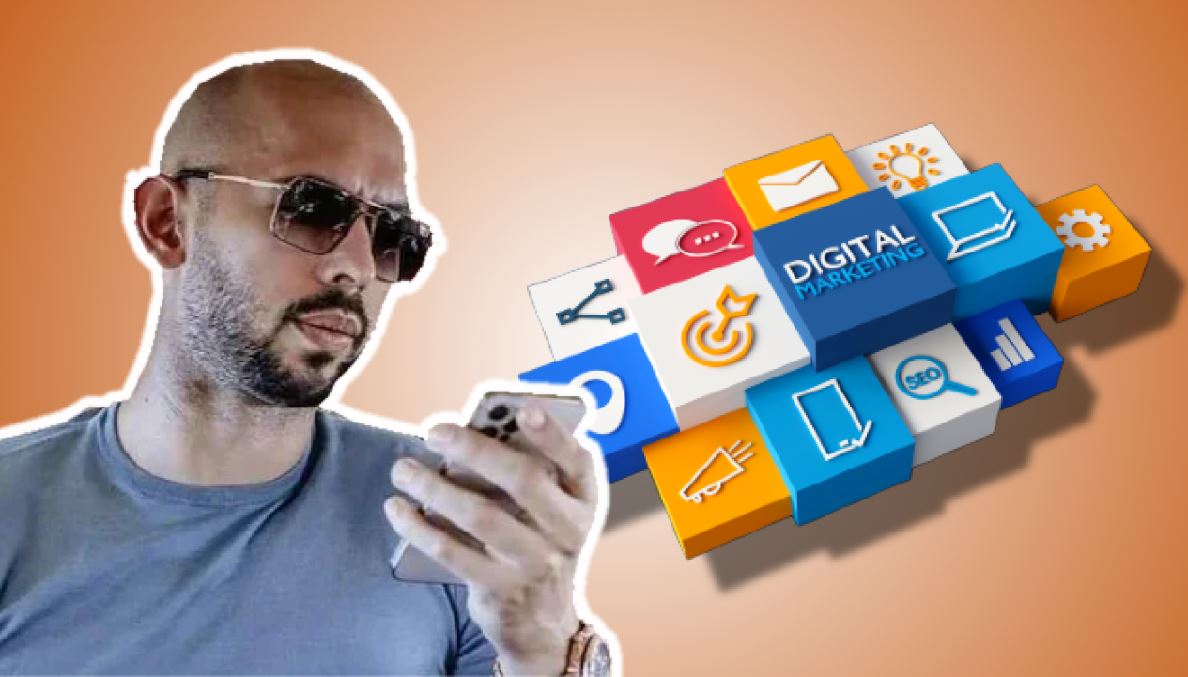 Decoding AIDA:
Attention, Interest, Desire, Action
The AIDA principle, a time-tested marketing framework, outlines the customer journey: Attention, Interest, Desire, and Action. Andrew Tate has adeptly integrated each of these stages to command audience interest and direct them towards actionable steps.
Attention:
A master of capturing attention, Tate employs provocative statements and audacious claims across his social media platforms. Call it click bait, but these strategic moves have made him a household name and keep him present and relevant in the minds of his audience.
Interest:
Once he captures attention, Tate fuels interest by presenting his ideas with charisma and confidence. His controversial discourse ensures continued engagement, compelling audiences to explore his content further. The more diverging his opinions, the more we talk about him!
Desire:
By presenting unconventional perspectives that challenge the norms, Tate stimulates desire among his audience. This desire is targeted towards those seeking alternative insights and solutions. Chasing the feeling of connecting with someone.
Action:
Andrew Tate's marketing approach is all about action. Directing his audience towards specific calls to action, whether enrolling in his courses or engaging in his content. The more interest he has the more influence he can use to promote whatever it is that he's selling.
A Fusion of Controversy and Connection
What truly sets Tate's marketing strategy apart is the blend of controversy and connection. His bold statements spark discussions and debates, generating intrigue and sustaining audience engagement. However, beneath the provocative facade lies a genuine connection – Tate shares personal anecdotes, successes, and challenges, fostering relatability and encouraging his audience to take the next step.
While traditional marketing funnels follow a structured sequence, Tate opts for an approach that's as unique as his personal brand. By engaging with his audience through diverse platforms such as social media and webinars, Tate creates multiple entry points into his marketing funnel. These engagements serve as the starting point, guiding interested individuals toward his array of products and services.
In the Hustle Life blog, we've talked at length about marketing and sales funnels and how funnel-building software products like ClickFunnels and Kartra can help build your online business. So, it was interesting to learn that not only is Andrew Tate using marketing funnels (big thumbs up) but he has also used 3rd party software like ClickFunnels to promote a variety of his content including:
Hustler's University (Step by step blueprint for financial success)
Cobratate (Teaching side hustles for beginners)
com (Mentorship with Andrew Tate)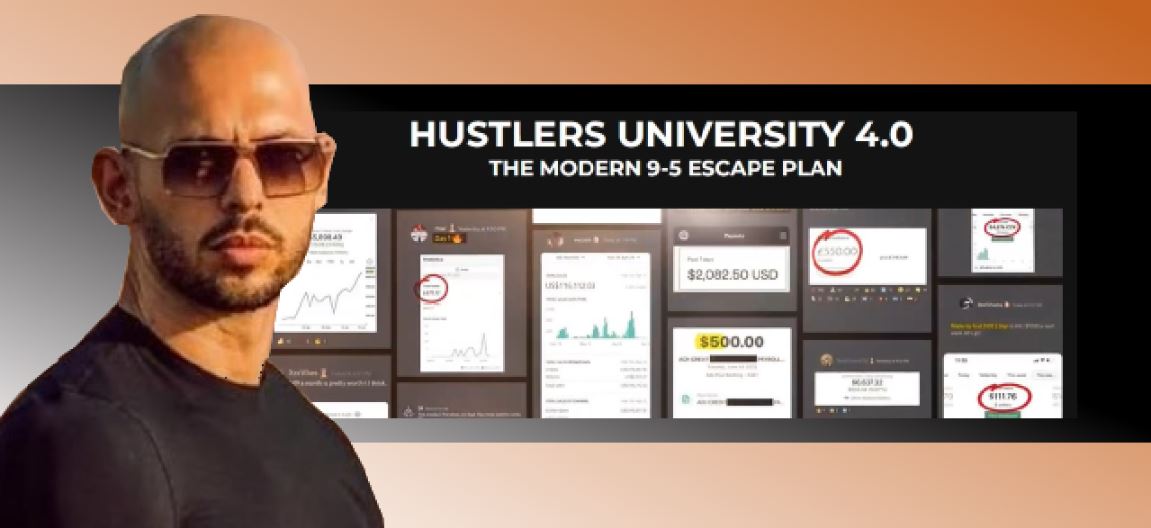 Instead of opting to manage his business using a traditional website, he is harnessing the power of social media and directing all traffic to a funnel builder. Why? Because, if you want to get rich, then you need to convert. And marketing funnels drive customers to take action.
What We Can Learn…Final Words
Andrew Tate's innovative fusion of the AIDA principle and marketing funnels is his unique approach to digital entrepreneurship. While his methods may polarize, there's no denying that he has masterfully curated a unique brand identity, effectively capturing and retaining audience attention through attention-grabbing tactics, personal connection, and a streamlined funnel strategy.
As with any distinctive marketing strategy, success hinges on conversion. Tate recognises this and though his life may seem chaotic and controversial, he knows that every connection with his audience is an opportunity to engage them with his marketing funnel. The more people he can move into his sales funnel, the more money he makes! It's really that simple.
FAQs
What is Andrew Tate's Net Worth?
So, the question on everyone's lips is 'How Rich is Andrew Tate?' It really is anyone's guess. But best estimates have his wealth at around $380 Million.
What is Hustler's University?
Hustler's University teaches how to make money using modern-day entrepreneurial strategies. It covers topics like eCommerce, Copywriting, Investing, Freelancing, Stocks, and Amazon FBA. It promises to stay up to date with new technologies and to provide mentoring and access to a network of 100,000+ people.