You probably know that selling on Amazon is a lucrative way to make passive income. COVID-19 has accelerated the transition from brick and mortar to e-commerce in a way that is changing the lives of many people both for good and for bad.
So learning how to become an Amazon seller is a skill that many small business owners and entrepreneurs need to learn to succeed in 2021 and beyond.
According to stats from Jungle Scout, the Amazon marketplace is still a profitable place to start an online business, even for a new seller: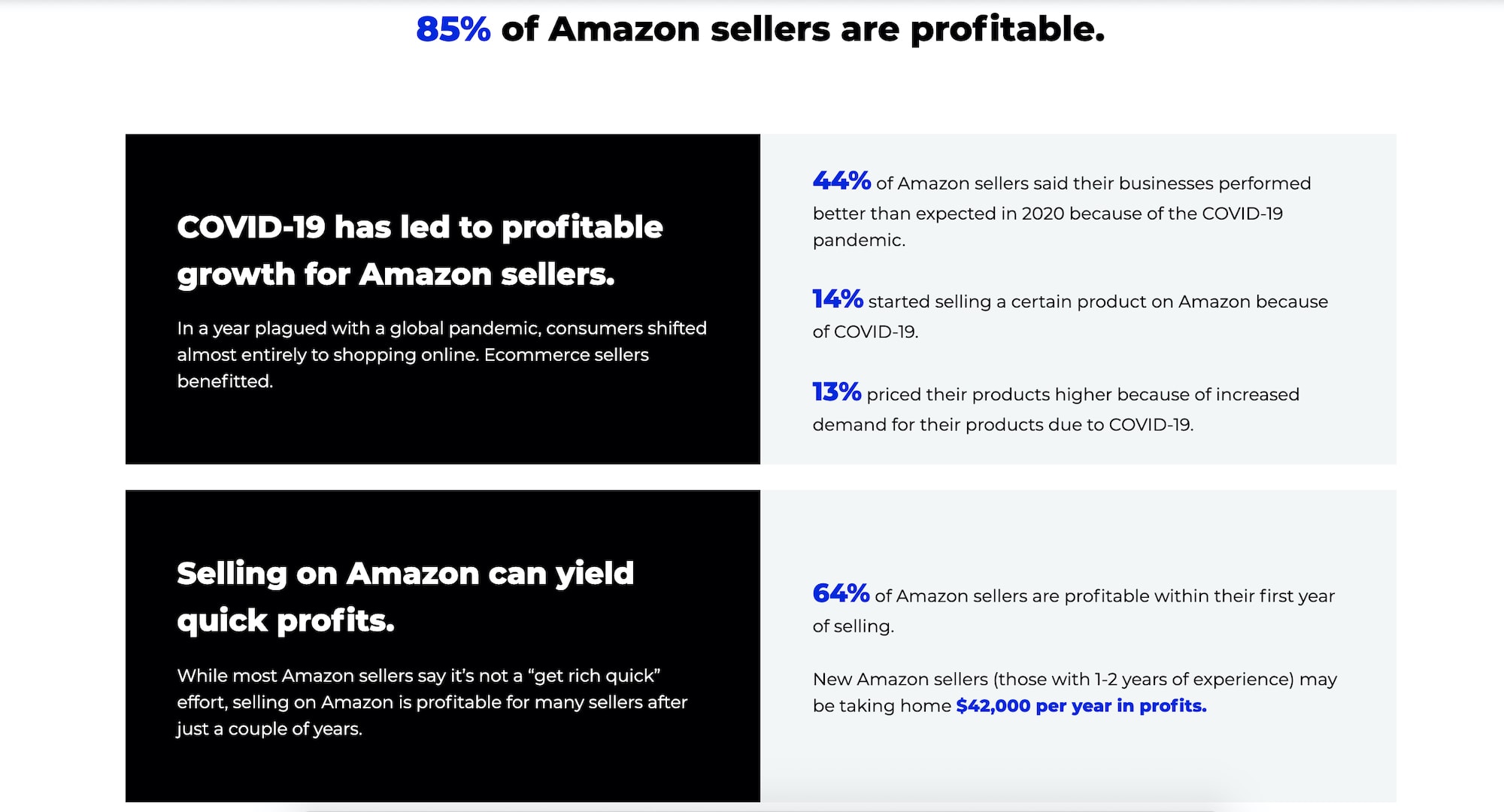 If your looking to jump into Amazon FBA and want to get the best training available, you have come to the right place.
Sure, there is a ton of information out there on Youtube, but if you are anything like me – you want the best and most up-to-date information out there, and that kind of stuff just isn't given away for free.
Trust me, I know because I tried doing it on my own – and it just didn't work.
Right now is an AWESOME time to become an Amazon seller. Not only because there is TONS of money to be made – but also because there is some great training out there that DOESN'T rips you off!
Unfortunately, there are still TONNES of Amazon FBA courses that are nothing more than a money grab that is either recycled trash or is filled with outdated info that you could find for free on Youtube.
In 2016, when I first started researching side hustles that I could start online, one of my first attempts was to sell on Amazon.
I got my start as most people do; I typed in "how to sell on Amazon" on Youtube, read a few blog posts, and sat through an hour and a half video that taught you "step by step" how to sell using Amazon FBA.
So I went to Amazon, signed up for an Amazon FBA account, and started contacting suppliers from Alibaba and looking for the cheapest items that I could sell for the biggest profit.
I had no idea what I was doing; I didn't have any tools or systems in place for knowing if something was going to be profitable or not.
I just knew it had to be something simple and lightweight so that it could be shipped cheaply.
I purchased many small sample items (steel ice cubes, athletic tape, and instant heating pads) and was ready to start selling!
The in-depth videos I watched on Youtube all made it sound so easy.
Just buy things cheap from China and sell them on Amazon. How easy is that – right??
WRONG. When I started getting to the point where I was ready to sell things, I realized that there were a TON of small details I didn't think of before and quickly became frustrated at the entire experience and completely gave up.
Please note that there are affiliate links on this page, and I may make a commission if you purchase.
Best Amazon FBA Courses in 2021
Fast forward to last year, after giving up my Amazon FBA dream; II knew that the biggest mistake was that I tried to learn an entire system by myself, and I just wasn't smart or motivated enough to wade through all the B.S and figure it all out on my own.
Over the years, I grew successful businesses in Kindle Publishing and Affiliate Marketing. Part of my success was not because I was super smart or had a ton of experience.
I just needed a system to guide me and take out all of the guesswork.
So I started researching and getting the very best Amazon FBA courses to give it another shot.
This list is a compilation of HUNDREDS of hours going through Amazon FBA training courses and thousands of dollars spent so that YOU don't have to waste your money.
Here are the three best Amazon FBA courses in 2021, detailing everything you need to know about their cost, features, advantages, and disadvantages:
What is the Amazon FBA Program?
FBA or Fulfillment By Amazon boils down to the 'You Sell and Amazon Ships' strategy.
For this system, you get to send your products out to Amazon, which will keep the items in their warehouses. So, if a customer places an order for the product, they will collect the item, pack, ship, and then track the customer's shipping order on your behalf. They will also deal with returns, as well as refunds.
Of course, Amazon does all these at a price by charging you storage and fulfillment fees.
Considering Amazon's track record, its remarkable customer services, as well as its perfect fulfillment rates, it makes sense to run your online store with Amazon as your fulfillment partner. In turn, you will get paid after every two weeks after Amazon totals your sales and deducts fees before depositing your profits in your bank account directly.
Besides the efficiency and the promise of payment after sales, the other advantages of the FBA business includes:
Effortless shipping and logistics
You enjoy super low shipping rates
Easy management of your returns
Reliable customer service management system
Fast delivery
You never have to worry about storage space for products since there is no inventory requirement minimum.
The Multi-Channel Fulfillment, MCF, allows the sale of products on different channels, and Amazon still fulfills the orders.
Sellers get a 30%-50% increase in their sales since the FBA system optimizes conversion rates and boosts sales.
So, even though the FBA system costs money, that you might end up paying more for long-term storage, and the fact that you will have to deal with problems when it comes to tracking inventory, the FBA program seems like the best thing on the internet today.
Why Amazon Seller Training Courses Are Helpful
Amazon seller training courses are essential for aspiring and current retailers on the store. Amazon is arguably the largest e-commerce website in the world with millions of buyers worldwide. While the size of the store presents opportunities for more conversion, it also creates a challenge. How do you stand out from your competitors and get more customers? That's the purpose of Amazon seller training courses.
Amazon training courses allow you to understand how the Amazon marketplace works, including the store's policies and its A10 algorithm. You also learn about what tools and techniques are necessary to be successful on the platform. The course content generally includes everything you need to know about managing your seller account and maximizing your profitability – starting from the basics.
There are numerous Amazon seller courses available today from different individuals and organizations. However, they all serve the same purpose. These courses may be the one thing that separates top sellers on Amazon from all the others.
No matter how much skill you have or how good your product is, it is essential to understand how Amazon works or you may fail at attracting customers. These courses show you what common mistakes to avoid and the most effective ways to reach customers.
The Benefits of Using an Amazon Selling Course
There are many benefits of taking an Amazon selling course, whether you are a newbie or an advanced seller. This training provides the knowledge, tools, and skills that you need to be a successful Amazon seller.
You will learn about numerous topics to equip you with everything you need to know such as how to create and manage listings, the right keywords to use, how to catalog your product, pricing, how to make your product attractive to buyers, how to organize deals and pros, how to advertise, Amazon FBA, lead generation, and so much more.
Ultimately, Amazon seller courses give you online retail mastery. It ensures that your investment in Amazon produces good returns. You learn how to effectively use the tools available on the Amazon seller dashboard.
You get to work with certified coaches who know about how Amazon works and can give you crucial, valuable advice. Additionally, doing the Amazon training course ensures you get to thoroughly learn about the store's policies to avoid breaking its guidelines and getting penalized. You get to learn from the experience of others so you avoid making the same mistakes and get things right the first time out.
How do I start Amazon FBA?
As Amazon keeps growing exponentially, you might be thinking, "dang! I need to be a part of this growth!"
But there's a catch: selling on Amazon is not as easy as many people make it sound.
For starters, you need to know what to sell, where to source the products from, and how to handle freighting and logistics, among others. With the increased demand for Fulfillment by Amazon, B.S courses are being made every week.
If your anything like me, you probably already turned to Youtube to learn how to do Amazon FBA on your own and get frustrated when you realize that all the good information is behind a paywall.
People who are successful on Amazon are making good money and don't want to create more competition for themselves without being compensated for it.
That is why I recommend even my own friends and family to get one of recommended Amazon FBA training courses before they get started selling on Amazon.
How much does the average person make on Amazon FBA?
According to Jungle Scout stats, the average Amazon seller makes at least $1,000 per month in revenue, and some sellers make more than $250,000 in revenue – that equals to $3 million in yearly sales!
Approximately half (44%) of Amazon sellers earn $1,000 and $25,000 per month, which implies yearly sales between $12,000 and $300,000 per month.
19% of Amazon Sellers make between $25,000 and $250,000 per month, amounting to yearly sales between $300,000 and $3,000,000; another 6% make more than $250,000 in monthly sales.
Only about 26% of sellers make under $1,000 per month in revenue.
So what does this all mean? That you don't need to be an Amazon expert to make a good amount of money with FBA.
Are Amazon FBA courses worth it?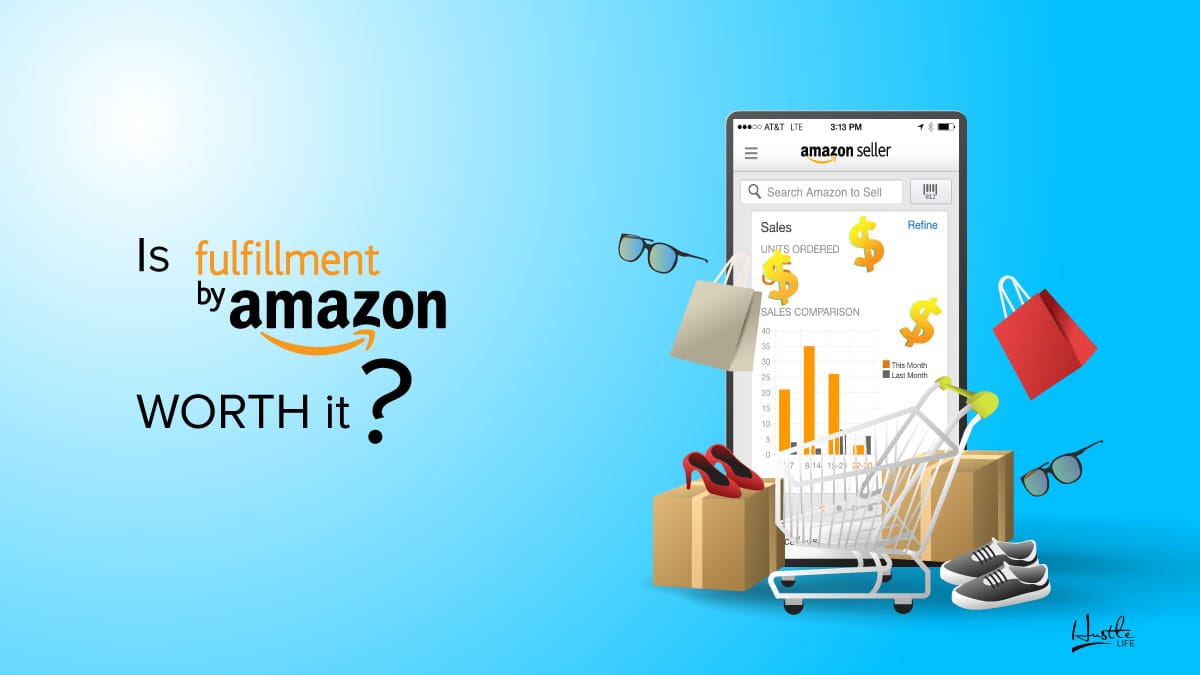 There are many Amazon courses available today from different individuals and organizations, and they all claim to provide students the keys they need to succeed on Amazon. But are these courses worth it?
Well, the answer to that question depends on the scope and techniques in the particular course that you take. However, generally speaking, these courses are truly worth the amount you pay for them. These courses allow you to avoid wasting your time, effort, and money in the quest to be successful on Amazon. They allow you to gain the invaluable knowledge you need to maximize your presence on the e-commerce store and increase your profitability.
It is important to note that not all Amazon FBA courses are worth it. Some of them are not very informative and you may end up not learning much. However, many courses are more than worth it.
Before you choose an Amazon FBA program, check out reviews from other retailers who have taken the course to find out what they have to say. Some courses like Kevin David's Amazon FBA Ninja Masterclass, have earned a good reputation due to the value that they give students. All the courses we've highlighted above are equally good, and there are many others.
Some Amazon FBA courses are very expensive, but you don't have to spend a lot of money to find a great course. There are websites where you can learn about Amazon FBA for free. Even when they are expensive, some courses have a money-back guarantee so you can get your cash back if you decide that it isn't worth it.
Now you might be thinking, "why do I need to buy an Amazon FBA course at all? Surely there is plenty of free information to learn Amazon FBA on Youtube! Right?!"
That is partially true!
If you are the type that likes to dig into the nitty-gritty of have no money – there are plenty of great resources out there that will teach you how to start Amazon FBA for free.
However, starting an Amazon FBA business means that you have to put down real money at some point to buy products before you can sell them for a profit.
For many people, this is a big step and one that they might want professional guidance with.
Unfortunately, blog articles and Youtube videos may not be enough, and if you go in this direction (like I did when I first started), you might get frustrated and quit.
That is why all of the courses that I have taken and recommend have a strong community component that you can use to help you get past the sticking points and get feedback from other sellers.
Amazon FBA can be a Scary Place
Fulfillment By Amazon has grown leaps and bounds over the past 5 years.
At the time of this writing, Amazon is a Trillion dollar company. Most of that value comes from its Amazon marketplace, which has grown in dominance even with the coronavirus.
With all this growth comes more competition and more changes to the platform.
That is why getting an Amazon FBA course is like getting insurance for your business. It protects you from missing out on the latest strategies and ways to launch a successful product.
Once you buy a quality course like Amazing Selling Machine or Marketplace Superheroes, you enter their ecosystem of constant updates and coaching calls so that you are on top of the latest changes with Amazon.
What is the Best Amazon FBA Courses?
The best Amazon FBA course, in my opinion, is Amazing Selling Machine. ASM is one of the few courses where, when it's over, you wish you weren't done. This is because Amazing Selling Machine was designed with beginners in mind, and they keep the videos engaging yet not overwhelming.
There is a ton to learn when your first launching your Amazon FBA store, and at times it can be overwhelming. But ASM guides you through the process with their detailed videos and downloadable PDFs. They also have a great ACTIVE community that is very helpful and gives you timely feedback.
Their forum is filled with other experienced sellers that go out of their way to answer questions newbies or even more experienced sellers have. This is something a lot of other programs fall can't match.
The Advantages of Doing an Amazon FBA Training
Fulfillment by Amazon (FBA), which was launched in 2006, allows you to take advantage of Amazon's infrastructure to scale your business and serve your customers better. But, like anything, to benefit from Amazon FBA to the fullest, you need to learn how the program works and get some training. Here are some advantages of the Amazon FBA training.
The main thing that taking the Amazon FBA course gives you is the ability to successfully expand your business and create passive income. By learning how the FBA program works, you get important insights into how to position your products and sell on Amazon, how to make your listings stand out, how to advertise, how to generate more sales, how to scale, and how to track your inventory. All this makes it possible to grow your business and boost your profitability.
Getting FBA Training will allow you to learn about all the different aspects of the FBA quickly from experts. You'll save a lot of time and avoid making costly mistakes that could harm your bottom line.
There are numerous FBA training courses online today, you can even find a free Amazon FBA course. You can learn at your own pace and gain much-needed knowledge without having to stop your current job or spend several years making the same errors.
Learn About Amazon FBA At Home
Did you know that you can learn about Amazon FBA and get all the knowledge you need from the comfort of your home? Most Amazon training courses are completely online, so you can do them from anywhere and at any time without having to commute around town.
Another good thing about these courses is that you can do them at your own pace. So, if you are very busy, it won't disrupt your schedule. You can take the time to absorb the information presented to you and put them into practice.
Like any other course, how much you get from an Amazon FBA course depends on the effort you put in and how much you take the time to practice what you learn. If you earnestly put in the work to learn and apply the knowledge you gain, an Amazon seller course can equip you with all the tools and insight you need to be one of the top sellers on the e-commerce platform.
Taking a course can go a long way to help you master Amazon. And you can easily fit the course in your schedule – even if you have only a few minutes daily to do it.
Free Amazon Selling Workshop for Beginners
If you are completely new to using Amazon, it is a good idea to take a free Amazon selling workshop – even before you pay for any other Amazon retailer course. A free beginner course will give you some basic knowledge about selling on Amazon.
You'll get a fair scope of everything you need to learn like listing, deals and promos, pricing, creating a product bundle, and so much more. You'll also be introduced to all the tools available on the Amazon dashboard that you can take advantage of to boost your sales.
While a free beginner workshop will not equip you with everything you need to know about selling on Amazon, it will ultimately prepare you to take a more advanced Amazon retailer training course.
It may seem like a good idea to skip a beginner workshop and sign up for a complete retailer course. But there are a lot of advantages to attending a free beginner workshop. You will get acquainted with some ideas and concepts, and this will make it much easier to catch up when you eventually take the full course. Also, you'll get a taste of what doing a premium seller's course is like and be mentally prepared.
With that said, a beginner workshop can't be a substitute for a complete retailer's course. There are numerous Amazon beginner workshops available online, and many of them are completely free. Always ensure you sign up for courses from a reputable individual or organization.
Frequently Asked Questions
In this SaleHoo review, we have covered most of the major question of what SaleHoo is about and whether it's worth your investment. But in case you have any other questions, we've put together a quick FAQ to cover everything we can think of. If there's something that we have haven't covered then feel free to comment or contact us, we'd be happy to help.
Who has the best Amazon FBA course?
It is important to note that there is no ultimate Amazon seller course. However, there are many top training courses including those we've highlighted above. These courses are well-designed and cover all the things you need to know about selling on Amazon.
It is not difficult to find the best Amazon FBA courses because the time-tested ones tend to stand out from all the others. Always check out what other retailers have to say about a course before you sign up for it.
What is the best book on Amazon FBA?
There are numerous books on Amazon FBA. A quick search online and you'll find hundreds of options to choose from. There is no single best book on Amazon FBA – different books have various things to offer. You can easily find the top-rated books on Amazon FBA by reading blogs from experts and checking out reviews of any particular book you consider getting.
What is the best book on Amazon FBA?
No, Amazon FBA is still very much alive and working. Amazon is actively expanding its FBA program. In 2018, Amazon FBA was introduced in Australia and has been adopted quickly. In the U.S., a vast majority of sellers on Amazon use FBA due to its convenience and speed of delivery.
If someone says FBA is dead, the chances are that there are simply struggling to figure out how it works and maximize the benefits. If you're considering using Amazon FBA, it is still a very good choice.
Conclusion
Choosing to sell on Amazon could be one of the best decisions you make. But before you reap the benefits, you first need to learn how to sell. The courses reviewed in this article offer most of the information you require to tap into and earn from the rapidly growing Amazon traffic.
While the prices vary significantly, the courses offer something unique for everyone. While these courses will help you start your own business, they are not getting rich quick schemes, and starting your own store will be hard work.
So if you are not ready to work hard and learn, I would save your money and keep working your day job; however, if your eager to start a side hustle, selling on Amazon can be one of the best ways to earn money online.
START BUILDING YOUR OWN BRAND
Learn How To Run Your Own Profitable Amazon Business From Home!
Get your FREE Training