Looking for a REAL Clickfunnels Review? Clickfunnels comes with A LOT of hype. But will it actually help make you money, Or will it just DRAIN your wallet?
Clickfunnels Review - Is It A Must-Have For Small Business Owners and Online Marketers?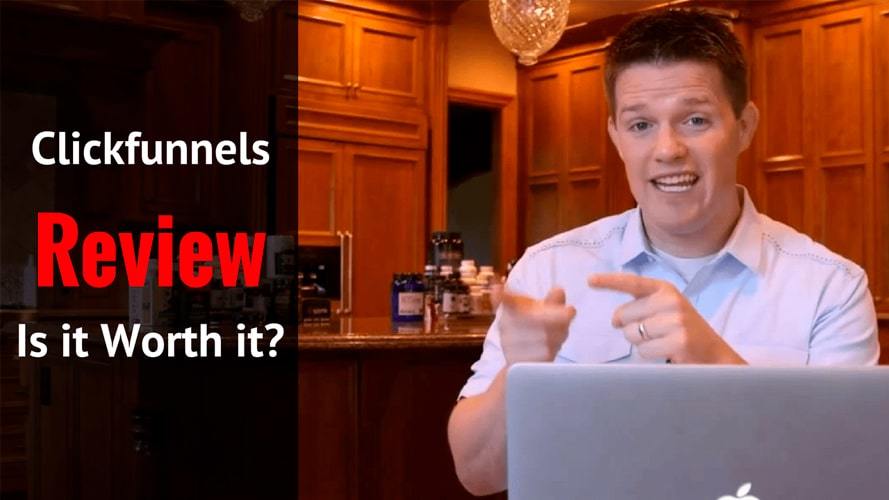 Clickfunnels is Russel Brunson's slick landing page builder and so much more. It's got a slick set of features and is easy to use – but it is also pretty pricey – so is it worth buying?
Small business owners and affiliate marketers can make beautiful sales funnels in no time.
Monthly costs are quite high, but Clickfunnels can be a staple in many bussineses.
Can be a little intimidating for novices, but its overall very easy to use for anyone with some computer experience.
No 24 hours chat – which I think they absolutely need.
Updated: April 28, 2020 – Are you considering using ClickFunnels and wondering if it's the right fit for you? If so, then you're in the right place!
Whether you own your own local business, run an e-commerce store or are an affiliate marketer – Clickfunnels was made to make your life easier.
As a drag and drop landing page builder it has made it easier than ever to make a great looking landing page.
Other landing page builders have also come out recently and have really given Clickfunnels a run for it's money.
I know how frustrating it can be to spend the time to compare products and finally make a decision to buy one only to find out it's not what you were hoping for…
That's why I have made a thorough and honest review to try and give you everything you need to know to choose the best option for you – because guess what? Clickfunnels is not for everyone! 
Despite newer and lower cost competition, Clickfunnels remains one of the best sales funnel software solutions out there.
*Please note that I am a Clickfunnels affiliate and I make a commission if you purchased from my link.
ClickFunnels is a service that was developed over five years ago by Russel Brunson and the team he works with. It was one of the first landing page builders to come out with easy drag and drop features that made it simple for people to make sales funnels quickly.
Before Clickfunnels people used software like Leadpages or had to design sales pages themselves with HTML. Yes, there was a time when every sales page on the internet looked like this.
Notice the beach in the background, or what about the faux hand-drawn arrows pointing down? This was a killer sales page at one point…
What Does Clickfunnels Do?
Clickfunnels allows you to create landing pages, sales funnels, upsells and downsells and create membership sites very easily. 
ClickFunnels also integrates with Paypal, Stripe, and many other types of payment processors. This has made it a go-to service for online marketers because it is easy to accept payments online.
Say for example your a health and wellness coach and you do one on one consulting and offer an online course. With Clickfunnels you can send traffic to your landing (aka sales) page and get people to opt-in your your email list.
Once they have done that, they are given the option to buy your course or get a free e-book. If they buy the course they are then given an additional page to get one on one coaching from you. All of this can be done directly on right on Clickfunnels without having a website or paying for any additional software.
Clickfunnels also allows comes with it's own analytics software where you can see how successful your sales page is. It also allows you to A/B test your sales pages very easily so you can optimize your pages for the most sales or leads.
Prior to really starting to get into this review, it is important to understand the importance of sales funnels and its function in generating maximum profit.
The whole point of creating a sales funnel is to get a potential customers email. Think of getting an email like getting a girls phone number. It is the most step in starting a fruitful relationship…
But just like getting a girls number doesn't mean you will seal the deal, getting someone's email doesn't mean you will make a sale – but it does increase your chances!
The sooner you get the email, the quicker you can begin starting a relationship with the potential customer and pre-sell them on your product or service.
Like a good movie or book, you want to create an emotional connection with your audience and build it up to a crescendo that is key in creating the gold standard of business currency: trust. Once you have gained the visitor's trust, it is far easier for them to make a purchase decision.
From there, the sales funnel method would require you to send the customer to a sales page. The sales page must be a standout page, one that has been specially designed and formatted in such a way so that people simply cannot wait to part with their money for a purchase.
Most of the time, a good sales page will comprise of a catchy headline, accompanied by relevant videos or images, as well as bullet points that provide a quick yet informative reference on how the purchase would benefit one's life. All of these will work in tandem to keep your visitor excited, and hopefully, make a purchase.
Once your customer has entered their credit card and made the purchase, this is the best time to continue the journey of this nice, warm fuzzy feeling that they have, and offer them a special single or additional One Time Offers (OTOs), and other kinds of upsells and downsells.
The whole idea is to maximize the profit of each customer. Let's take a look at this:
Lets say your company is seeing a conversion rate of 10% for each person that visits your sales funnel. Now lets say that item is worth $10 a pop, netting you a net profit of $5. So for each 100 visitors, you will average 10 sales,  and get $50 profit.
But what would happen if you were able to upsell 30% of your customers, as they decide to splurge on a $10 for an additional item, while another 10% of will sign up for an annual package of $500?
Your mind might be blown after crunching the numbers…
Now for each 100 visitors who visit your sales funnel, you will sell 10 items, a trio of additional items, and a single annual package. This results in a profit of $600, which translates to a whopping 1,200% increase in profit.
Now the increased profit margins will allow you the necessary leverage to outspend your business rivals in crucial areas such as advertisements that will further increase the number of potential customers who will walk right into my sales funnel.
With so many different types of sales funnels available, it is important to come up with one that has been tailor-made for you business model. While that used to be difficult and challenging, it is much easier to implement with Clickfunnels.
How Does Clickfunnels Work?
With ClickFunnels, there are several qualities that put it a step above the rest. Let's break them down one at a time.
Of course, let's begin with the most important thing—ClickFunnels just works, and it does what it says it is going to do. It builds complete sales funnels for users, allowing them to drive both leads and buyers alike to these sales funnels after they have been set up.
In addition, it allows users to process payments, offers a flexible page builder to create customized build pages, allows for downsells and upsells, features an autoresponder and affiliate management tool, and so much more.
And that's just the beginning.
In addition, ClickFunnels allows you to set up your funnel pages very quickly and easily. In addition, Clickfunnels also has the option for a built-in email marketing software.
This allows you to seamlessly synchronize your sales pages with your email follow up and get rid of e-mail software like aWeber and Mailchimp. With automation like this, you can also free up more of your time to focus on more important things… Like growing your business!
ClickFunnels allows you to do A/B testing for each of your pages within your funnel. In addition, you can create membership sites using ClickFunnels.
After your leads have signed up, they will be able to gain access to use exclusive membership portions of the service that you have created and maintain.
Not only that, but ClickFunnels also features integrations with PayPal and Stripe. With this, you are able to accept payment for the services, membership sites, or products that you provide to your customers and clients.
What does all this mean?
You can build an entire business on Clickfunnels! You don't need to have a separate website and pay for hosting – because that is all included in Clickfunnels.
You can also enjoy features that permit you to manage, recruit, and pay your affiliates. And, of course, you will have access to all the analytics and metrics necessary to review your funnel performance, campaigns, sales, and conversions, in addition to A/B testing results.
The main goal of Clickfunnels is leveraging the software to maximize the spending of each customer who engages in your product or services and transforming them into possible big spenders.
Beautiful Funnel Blueprints
Clickfunnels comes stock with a comprehensive database of beautifully premade templates. They are easy to use and take just minutes to set up.
Clickfunnels also has a marketplace where you can buy and sell free or paid templates. But don't worry because buying templates isn't necessary for most people, there is a huge variety of templates that come built in for free. 
Easy-to-use Visual Drag and Drop Editor
Anyone who has used landing page software before will really appreciate Clickfunnels easy drag and drop editor. Gone are the days of making minor tweaks and constantly relaunching the sales page to make sure the changes look the way you want them to look.
With the Clickfunnels editor, any changes you make will look exactly the same when you launch the page. This will seriously save you so much time and a lot of frusturation.
Lots of Features to Choose From
Elements, otherwise known as widgets, are the cogs in the sales funnel that really lets you personalize your sales page.
This is another powerful feature that puts Clickfunnels in a category on its own because it comes stock with many powerful widgets that other landing page soft currently doesn't.
Things such as SMS Sign up, Surveys, Pricing Tables, Progress Bars, Facebook Comments, FAQ Blocks and Countdown Timers, and Custom HTML can really help with conversions, and ultimately mean more money in your pocket.
Clickfunnels Affiliate Program
One of my favourite things about Clickfunnels is their amazing affiliate program and it's Dream Car program. It is super simple to join and you get great commissions if people join under you.
The Clickfunnels affiliate program gets you 40% commission for each person that signs up with your affiliate link + it is a "sticky cookie". So that means if they click your link on their mobile phone, and then purchase on their computer, you still get the commission.
Unlike other affiliate programs like Amazon, there is no expiration date on the sticky cookie. So if someone buys Clickfunnels from your link, you will earn commissions from that referral as long as they keep paying.
Clickfunnels also comes built in with a ton of upsells. So you could potentially make a lot more than just the monthly recurring revenue. After all, Russell Brunson is the master of funnels, so people who buy Clickfunnels will usually buy other products as well.
One cool feature that is part of the affiliate program is the Sharefunnel. This allows you to share any funnel that you make with anyone else.
So let's say you make a kick-ass funnel for a real estate agent. You can use that funnel to give to other real estate agents for free.
Then if they like the funnel and decide to buy Clickfunnels, you will also get credited with their purchase.
June 2019 Update: Russell Brunson recently announced improvement's to the program. Clickfunnels will now PAY for your re-marketing campaign.
That means that if someone clicks your affiliate link, Clickfunnels will spent their money on ads to entice the user to purchase Clickfunnels.
This makes their affiliate program 10x more valuable in my opinion and it makes promoting them a no-brainer. Make sure to check out my Clickfunnels Affiliate guide to learn how to promote Clickfunnels even if you're starting from zero.
Fantastic on-boarding process
You don't need to be a rocket scientist to figure out ClickFunnels, but if your like me learning new software can be a pain in the butt…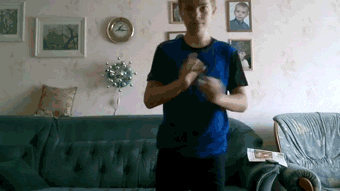 ClickFunnels has made it very easy to get started with its innovating onboarding 7-day challenge. It pretty much walks you through how to use the software by making it fun, so if you stick through it to the last day you will know all the ins and outs of Clickfunnels.
Of course, you don't have to take the challenge, but you will get a chance to win some swag such as a ClickFunnels stickers and t-shirts
Bad Part #1: Adding a funnel can be slow
Picking a funnel type and template and adding it to your account can take up to 10 seconds every time you do so. I know, not a huge deal but it can be an annoyance.
Bad Part #2: There are funnel creation and visitor limits
The ClickFunnels base plan has a limit of 20 funnels, 100 pages, and 20,000 visitors per month. This kind of sucks when you first look at it.
But when you really think about it, if you are getting 20,000 visitors a month you can easily afford to go for the upgraded unlimited plan.
While ClickFunnels boasts of a rather wide range of features and functions, it can be a little expensive for some users. $97 is a lot of money for people just starting out no matter how you cut it.
How Much Does Clickfunnels Cost? [Updated]
The most affordable ClickFunnels plan will cost $97 each month. For slightly less than a Benjamin, you are able to access the entirety of funnel creation tools, although the limits that I talked about earlier (creation of 20 funnels, 100 pages, and 20,000 visitors) will be in place.
For the most up to date deals for Clickfunnels check out this Clickfunnels Pricing page.
Although I have a good understanding of Actionetics, an integrated email service provider. I have no used it personally. It is an addition to Backpack, an affiliate program creator.
If you were to choose both features, then you would have to fork out $297 each month for the Etison Suite plan. This is the plan that offers all of the bells and whistles, and most importantly, unlimited funnels, pages, and visitors.
It does not seem as though there are any ClickFunnels coupon codes available out there to take a smaller hit to your wallet, but opting for an annual payment will get you a 16% ClickFunnels discount. Whipping out my calculator, I realized it amounted to paying for just 10 months, while the remaining 2 months are free.
Clickfunnels can be tried out risk free when you sign-up for a free trial. I just discovered a deal that will allow you to try out Clickfunnels for a 30 day free trial – so if you want to try out Clickfunnels – this would be the perfect time because it is a limited time offer.
How Does Clickfunnels Stack Up Against The Competition?
As they say, there are different strokes for different folks and the same applies to ClickFunnels and other alternatives such as LeadPages and SamCart. Here is how Clickfunnels stacks up to the rest:
Clickfunnels Platinum is essentially a rebranding of the ClickFunnels Etison Suite plan, which is the upgraded version of the basic Clickfunnels $97 plan.
But what the heck is Clickfunnel Etison? If your brand new to Clickfunnels, the easiest way to explain it is that Etison Suite plan used to came with Actionetics and Backpack, which is the Clickfunnels email and affiliate software suite.
Actionetics is currently being rebranded to Follow-up Funnels, and those with the Etison Suite plan will still have access to it.
Basically, ClickFunnels Platinum is an all-inclusive plan that has everything someone would need to know and learn to be successful in their business. 
From huge amounts of top-notch training to discussion forums on many different topics, everything included in the ClickFunnels Platinum plan creates a massive blueprint for success in any industry.
ClickFunnels Platinum Pricing
You may be wondering how much all this is going to cost and that's a valid question to have. The ClickFunenls Platinum plan is $297 per month, the same price as the Etison Suite plan. 
So if you already have the Etison Suite plan, the ClickFunnels Platinum plan is basically a free upgrade to some awesome bonuses.
However, if you want to keep your standard $97 per month ClickFunnels plan, you can still have access to some of the Funnel Flix training (see below). So you won't be completely left out.
ClickFunnels Platinum Features
There are a few new features to the ClickFunnels Platinum plan. There are Daily Virtual Hackathons, Funnel Flix, and the Funnel Hacker Forum.
The Daily Virtual Hackathons are virtual training to teach you how to build different funnels. It's hands-on in an attempt to help you get your own funnel ready to launch to the world. 
The expert coaches giving the training teach you step-by-step how to build your own funnel in real-time. 
There are various types of funnels they teach including Webinar funnels, Lead funnels, Challenge funnels, High Ticket funnels, and more.
Most people are familiar with Netflix. Funnel Flix is exactly that, only with a ClickFunnels spin on it. With various training videos about business and the entrepreneur life, it is filled with massive amounts of value for any business owner.
Any ClickFunnels user has access to Funnel Flix on their ClickFunnels dashboard, but you can also access it via http://members.funnelflix.com
ClickFunnels users have access to some of the training videos, but not everyone has access to all of them.
You can access Funnel Flix via http://members.funnelflix.com, though it is available on your ClickFunnel's dashboard. 
Not everyone has access to all the training videos in Funnel Flix, but everyone with a ClickFunnels account has access to some of the training videos. 
Here is a list of the training videos for each of the different plans in ClickFunnels:
30 Day Challenge
Affiliate Bootcamp
Ecommerce Live Event Training (coming soon)
Brick & Mortar (coming soon)
10X Documentary
FunnelHacker.tv
Operation Toussaint
Funnel Hacking Live
Funnel Builder Secrets
AdSkills
Product Secrets
John Reese's Money Mindset Training
Tony Robbins Private Collection
Funnel University
Funnel Agency Secrets
Funnel Hackathon
10X Secrets
High Ticket Secrets (coming soon)
Traffic Secrets
YouTube Traffic Secrets (coming soon)
John Reese's Outsource Force
Course Secrets (coming soon)
Offermind (coming soon)
Jay Abraham – The Anthology (coming soon)
The Warrior's Way Doctrine
The Collective Training has everything that is included in the other plans plus:
Agora Financial Copywriting
Agora Financial Media Buying
What Do You Get With Funnel Flix?
One Funnel Away Challenge
The One Funnel Away Challenge has helped many funnel hackers learn all the ins and outs of creating a successful funnel to build and grow their business. 
The One Funnel Away Challenge costs $100 if you choose to get the physical bonuses, like the workbook and MP3 Player, among other things. But it only costs $47 if you choose to get the digital bonuses. 
Anyone going through the One Funnel Away Challenge learns from three lead marketers. 
There are daily training videos that take you step-by-step through the process of building a funnel, creating an offer, connecting with and growing an audience, producing content, and so much more.
The ClickFunnels Affiliate Bootcamp recently went through a massive revamp. 
The original Affiliate Bootcamp was very thorough and covered almost everything with regards to ads, creating an avatar, creating offers, building funnels, etc. It almost seemed overwhelming. 
The new Affiliate Bootcamp, however, is structured more like a summit. It has various people who explain their plan of how they would go about winning the ClickFunnels Dream Car Contest within 100 days. 
The summit is free and only lasts four days unless you choose to sign up for the One Funnel Away Challenge. In that case, you have unlimited access to the summit and all 16 interviews, as well as the ebook of all the written plans.
One of the key courses to learn funnel hacking, as well as split testing, is Funnel U. Each month, you learn all about different funnels, what works and what doesn't and some things you can try in your own funnels.
There are videos which explain the different funnels and their breakdown. And there is also a newsletter going over the different aspects of that month's funnel or funnels.
Funnel Hacking Live is the event of the year. Between 4000-5000 funnel hackers come together to learn from different speakers and to network. 
Many people have said that attending Funnel Hacking Live was the tipping point in their business, that it changed everything for them. It's a popular event to attend because of the impact it has on those who go. 
The energy at any live event is remarkable. But at Funnel Hacking Live, with everyone a die-hard funnel hacker and entrepreneur, the connection to each other changes how you feel and your determination to succeed at what you're trying to accomplish.
Funnel Builder Secrets is a high-end ClickFunnels program that teaches funnel hacking and funnel building.
It includes the Funnel Builder Masterclass, Funnel Builder Secrets Training, Traffic Secrets Membership, and free access to Funnel Scripts for 12 months. You can upgrade to unlimited access to Funnel Scripts after the 12 months.
If you were to decide to invest in Funnel Builder Secrets separately, it would get you six months free to ClickFunnels, but it would also cost between $1,997-2,997. By investing in Funnel Flix, you get Funnel Builder Secrets free as one of the bonuses.
There are daily Funnel Hackathons of virtual training that teaches how to build various funnels. The types of funnels they teach are Webinar funnels, Lead funnels, High Ticket funnel, Challenge funnels, Summit funnels, Survey funnels, and more.
It's a hands-on real-time training by expert coaches to help you get your own funnel finished and launched quickly.
Any offer is worthless if you don't have eyeballs on it. Traffic is vital to any business.
Traffic Secrets is a massive collection of training all about getting traffic, the right kind of traffic, what to do with the traffic, etc. There are hours and hours of training videos covering everything you'd need or want to know with regards to traffic.
Stephen Larsen was the right-hand man and funnel builder for Russell Brunson for some time. He now has his own live event called Offermind where he teaches the strategies of creating just the right offer for your audience. 
Anyone who attends Offermind has said it was mind-blowing and that they plan to attend every year. It's one of the live events of all live events.
So who gets access to all of this training and more?
To clarify who has access to what, here is a list of the training videos for each of the different plans in ClickFunnels:
How Do You Get Funnel Flix?
If you're interested in getting access to ClickFunnels Funnel Flix, all you need to do is have an active ClickFunnels account and you can access at least some of the Funnel Flix training. 
If you only have the $97 per month ClickFunnels plan, but you want access to the bulk of the training, you will need to choose to upgrade your account. You will then be charged the new price of $297 per month.
The Funnel Hacker Forum is a place where paying ClickFunnels members can come together to discuss various questions, topics, and ideas.
The Official ClickFunnels Facebook group is growing rapidly with over 200,000 group members, but only 95,000 of those members as paying ClickFunnels members. 
The decision was made to have a separate place for only paying ClickFunnels members to meet, talk and help each other. 
So the Funnel Hacker Forum was born. It's found on the dashboard of the Funnel Flix website.
There are different topics in the forum. For example, there are the discussion group, technical discussions, Platinum exclusive forum, and Unread and recently updated topics.
The information is very helpful to those who engage in the forum. 
For example, there is a copywriting discussion where people have asked questions specific to copywriting. Within this discussion, some of the topics being discussed are lead funnels, funnel scripts, avatar research, copywriting courses, and many more.
The forum is helpful in that it provides answers to questions from a practical standpoint and from those who have experience with the information they give.
Where SamCart is concerned, this particular product allows me to conjure some of the better-looking checkout pages that also have a high conversion rate. So, how is it any different from ClickFunnels?
Therein lies the difference: SamCart is meant to be easily set up and sell right away, offering support for both Stripe and Paypal while featuring 17 different kinds of customizable checkout page templates. However, it lacks the degree of flexibility that ClickFunnel's drag and drop editor provides. In other words, ClickFunnels is able to design virtually any kind of checkout page that I desire.
I would not like to be limited by Samcart's basic customizations and pre-made templates. Apart from that, you may find out that Samcart is not up to the task of capturing leads and creating complete sales funnels. 
Considering that both Samcart and ClickFunnels cost $97 each month, the flexibility of ClickFunnels provides it with an edge.
Other Clickfunnels Competitors
The good thing about Clickfunnels is that it really upped the competition for sales pages, now there are lots of good alternatives out there such as Kartra and Builderall.
Is Clickfunnels Worth It?
So, there you have it. If you ended up on this page because you were comparing ClickFunnels vs LeadPages or ClickFunnels vs SamCart, you now know everything you need to know to make your decision.
While LeadPages and SamCart are certainly useful tools that have their own strengths, we have found that ClickFunnels is the best all-encompassing tool for businesses.
Clickfunnels Review Final Thoughts:
Overall, we give it a 4.8/5 compared to the other options available.
We hope our ClickFunnel review has been helpful in determining the right service to you! Whichever service you end up choosing, see how quickly your sales and profits are able to increase!
Top rated Sales funnel Software
Create Amazing Sales Funnels That Converts Your Visitors Into Customers