What I Liked...
Intuitave easy drag and drop functionality
Payment gateway and other useful integrations
Widgets and elements to suit different businesses
A/B Testing capability and advanced analytics
What I Didn't Like...
Limits on the number of funnels and visitors for the Basic Plan
Serious bloggers still need to use WordPress (fix expected in ClickFunnels 2.0 launch in 2022)
The software can lag during funnel building (fix expected in ClickFunnels 2.0 launch in 2022)
In this ClickFunnels review, we will take a closer look at why people still rave about ClickFunnels in 2022 and what sets it apart from the other funnel builder tools.
For most of us in eCommerce or small business, cracking the sales conversion rate is the holy grail to a higher return on investment and actual profits! ClickFunnels is a sales funnel software tool that helps us do just that by using sales strategies to convert passive traffic into paying customers.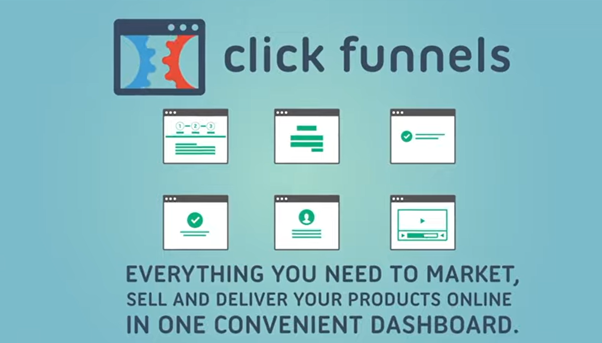 If you have a product or service that you're selling on the internet or in a traditional brick-and-mortar style business, then ClickFunnels is a quick and effective tool that you can use to build sales funnels to drive sales and increase profits.
How? Well, basically, it's clever software that helps tech and web design dummies (like me) create beautiful, interactive, high converting funnels so that more of our traffic turns into sales.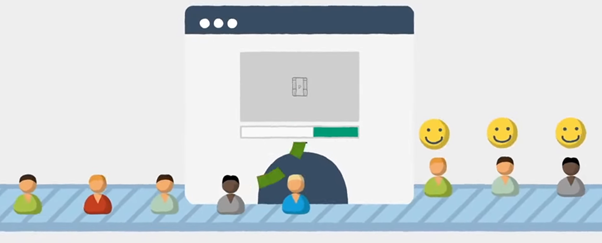 Despite newer and lower cost competitor funnel builders, ClickFunnels remains one of the best sales funnel software solutions and continues to gain popularity.
But like with everything in life, nothing's perfect, so later in this article, we'll also discuss the common reasons people might give ClickFunnels a hard time and what we consider to be the niggly features.
What is a Sales Funnel?
Before we get going, I want to focus on the importance of sales funnels and their function in generating maximum profit.
So, sales funnels are multi-level and multi-step processes designed to convert an audience or passive traffic into paying customers and repeat customers. After all, your business won't succeed if you don't make sales!
Because we like a good visual aid, the Hustle Life team has put together a simple 4 step sales funnel infographic to explain exactly what a sales funnel is.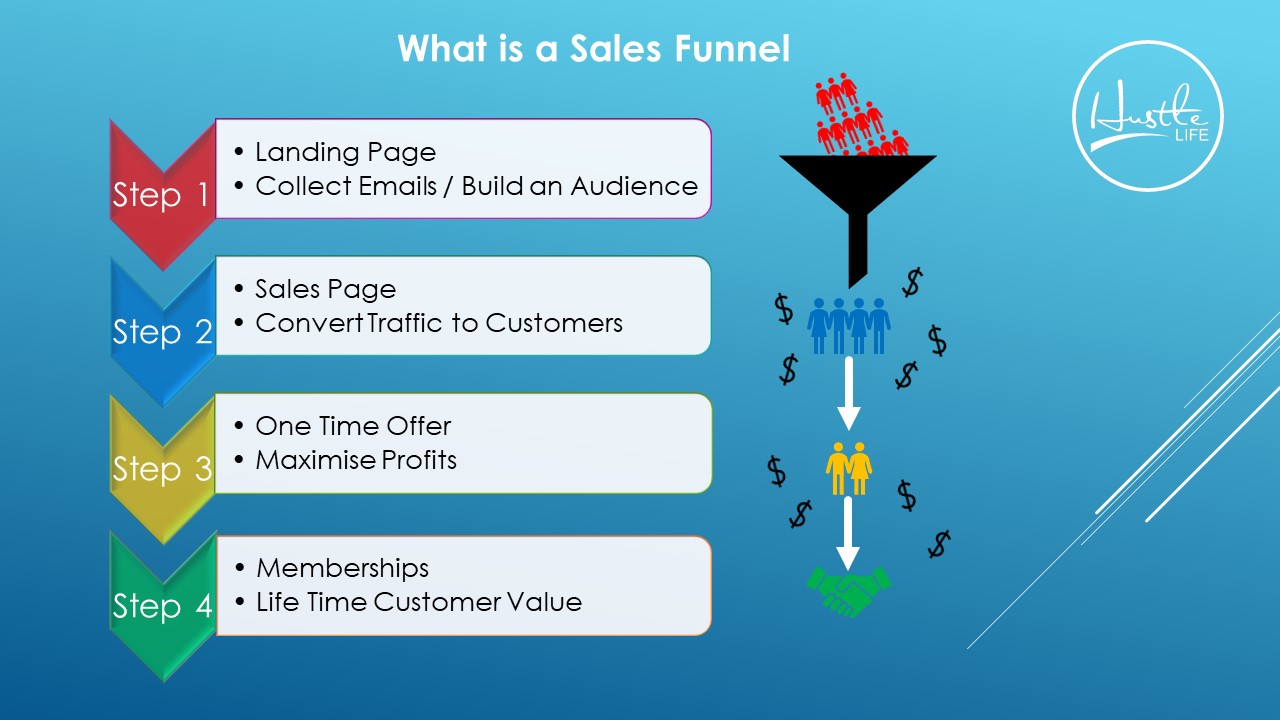 Step 1:
'The Rule of 7' is a common sales and marketing rule, stating that you need to put yourself in front of a customer an average of 7 times before they'll buy from you.
While you can blow a truckload of cash on Facebook or Google advertising, the most cost-effective way of reaching your potential buyers is by getting their email addresses.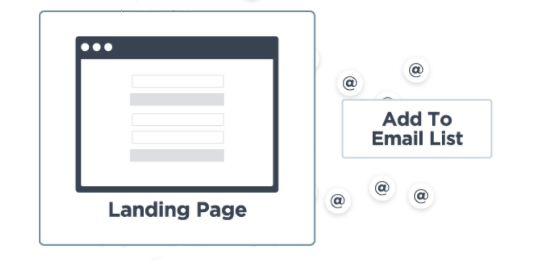 You can do this in several ways, but commonly (in the world of eCommerce), this is done by driving traffic to a landing page. The purpose of the landing page is to offer your audience something in exchange for their email address. Usually, a discount code or freebie is enough to start collecting email addresses so you can begin working towards The Rule of 7.
Step 2:
Once you have an email address, you're able to connect with your audience and start driving traffic to a sales page or product listing.
A sales page must look professional and provide important information about the product or service. But there are also essential elements like trust badges and validated payment methods that should also be incorporated.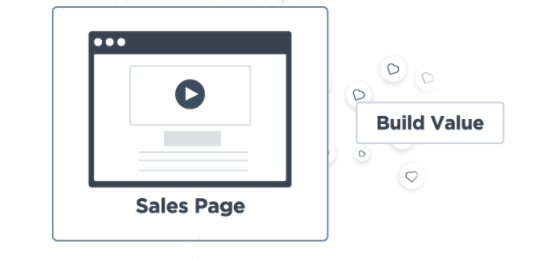 A great sales page will keep a visitor engaged and create enough excitement to entice your audience to make a purchase. Using a secure payment gateway helps build further trust and makes customers feel confident about handing over their payment details.

Step 3:
So, by this point in the sales funnel, you've successfully converted passive traffic into paying customers. While getting better conversions is a big win for your business, it's the next step in the funnel (One Time Offers) that can take your business to the next level.
One-Time-Offers (OTOs), and other kinds of upsells and downsells are a no-brainer. If you're not doing them, you could lose out on significant income.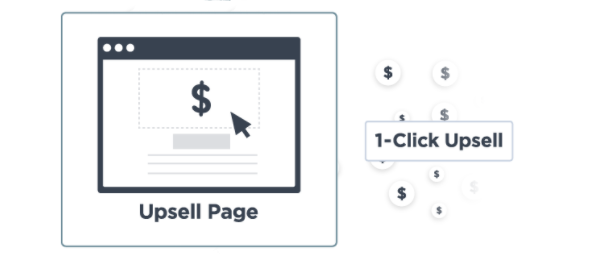 The idea is to maximize the profit of each customer. Suppose you can earn an extra few dollars profit from each customer. In that case, it's the easiest way to make more money without any additional work or investment in advertising or marketing.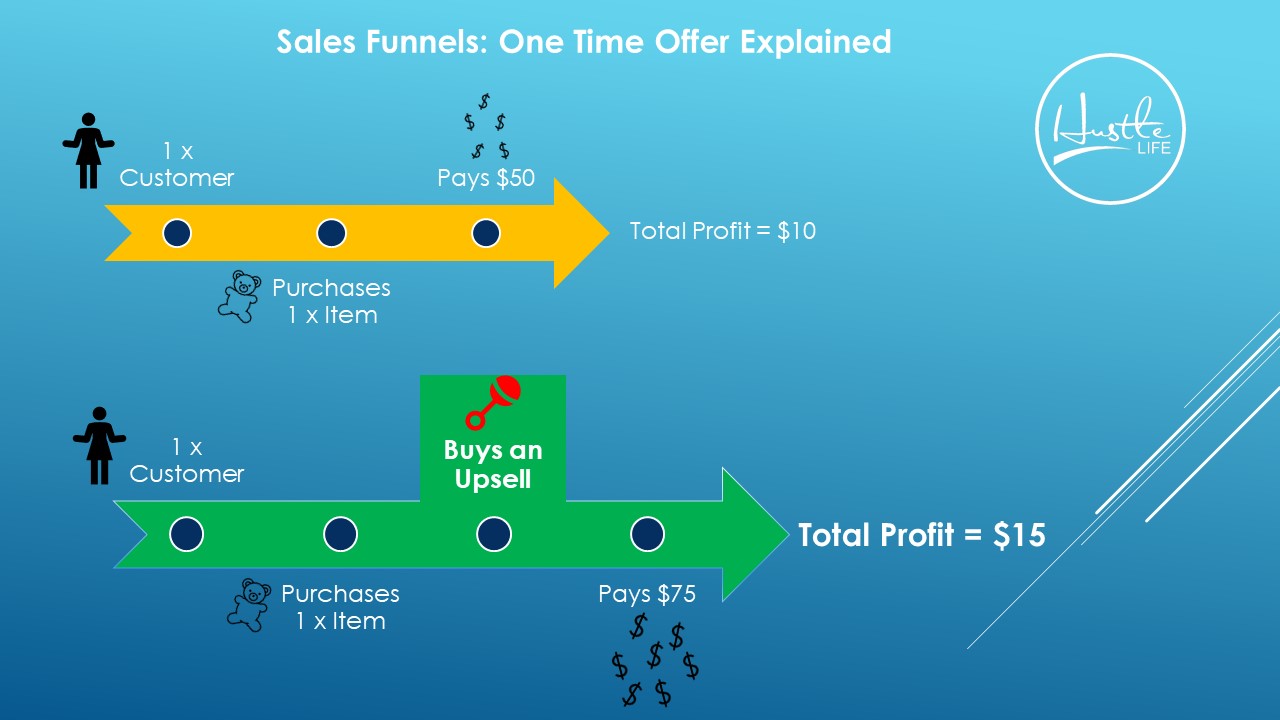 In the above Hustle Life infographic, you can see that we made an extra $5 profit from the one customer by encouraging an upsell. Imagine if every customer could be encouraged to buy an upsell.  
We could leverage the additional profits to outspend our competitors in crucial areas such as advertising. This further lead generation could drive even more customers into the funnel to increase our sales and snap up market share to help build our brand and create even more sales momentum.
Step 4:
Before finalizing the purchase, there's one last funnel that's important in generating repeat business. That's the membership funnel. If we can offer our customers a membership that gives them access to exclusive offers and deals, then we have a reason to continue nurturing our relationship. Our customers will become more familiar with our brand and be more likely to come back and reward us with repeat business.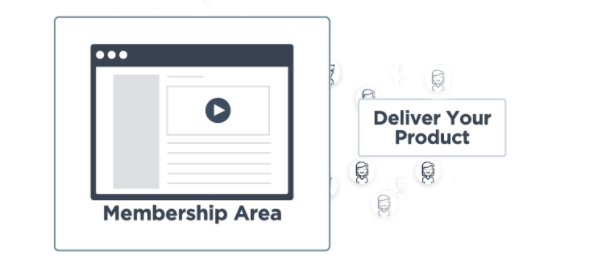 Each of the four steps has a specific purpose individually; they all add value, but together there's a synergy that drives an increase in:
Brand awareness
Lifetime Customer Value
Return on Advertising Spend (ROAS)
Profit Margins
These sales funnels generate momentum, and long-term sustainable income can increase while advertising spending stabilizes or even decreases.
What is ClickFunnels?
The brainchild behind ClickFunnels is a guy called Russell Brunson. Love him or hate him, he's revolutionized internet marketing, and his sales funnel tool has gone from strength to strength.
Unlike other similar sales funnels, ClickFunnels is one integrated software tool that helps online businesses create end-to-end sales funnels to help grow their customer base and convert those customers into ongoing sales.
Before ClickFunnels, people used software like Leadpages or had to design sales pages themselves with HTML. Yes, there was a time when every sales page on the internet looked like this.
This was a killer sales page at one point…LOL
There are currently over 100,000+ paying ClickFunnels users, and it seems the success comes from its simplicity. Russell Brunson and his team have solved a problem for many eCommerce entrepreneurs and small business owners. Instead of having to modify website code and design complicated sales pages, the tool does it for you. Using ClickFunnels templates, easy drag, and drop features, and customizable options, you can create sales funnels without any coding or web design skills.
The end-to-end solution means you can go from having zero customers to engaged members who you can interact with ongoing to generate repeat business……. All from within the ClickFunnels dashboard.
Try ClickFunnels for Free
What is ClickFunnels 2.0?
While ClickFunnels was one of the first and is still one of the best funnel builder tools, the tool is now seven years old, and the CFs team agrees that there's room for improvement. 
So, it was exciting to learn at Funnel Hacking Live 2021 that a new reimagined ClickFunnels platform called ClickFunnels 2.0 will be landing in 2022.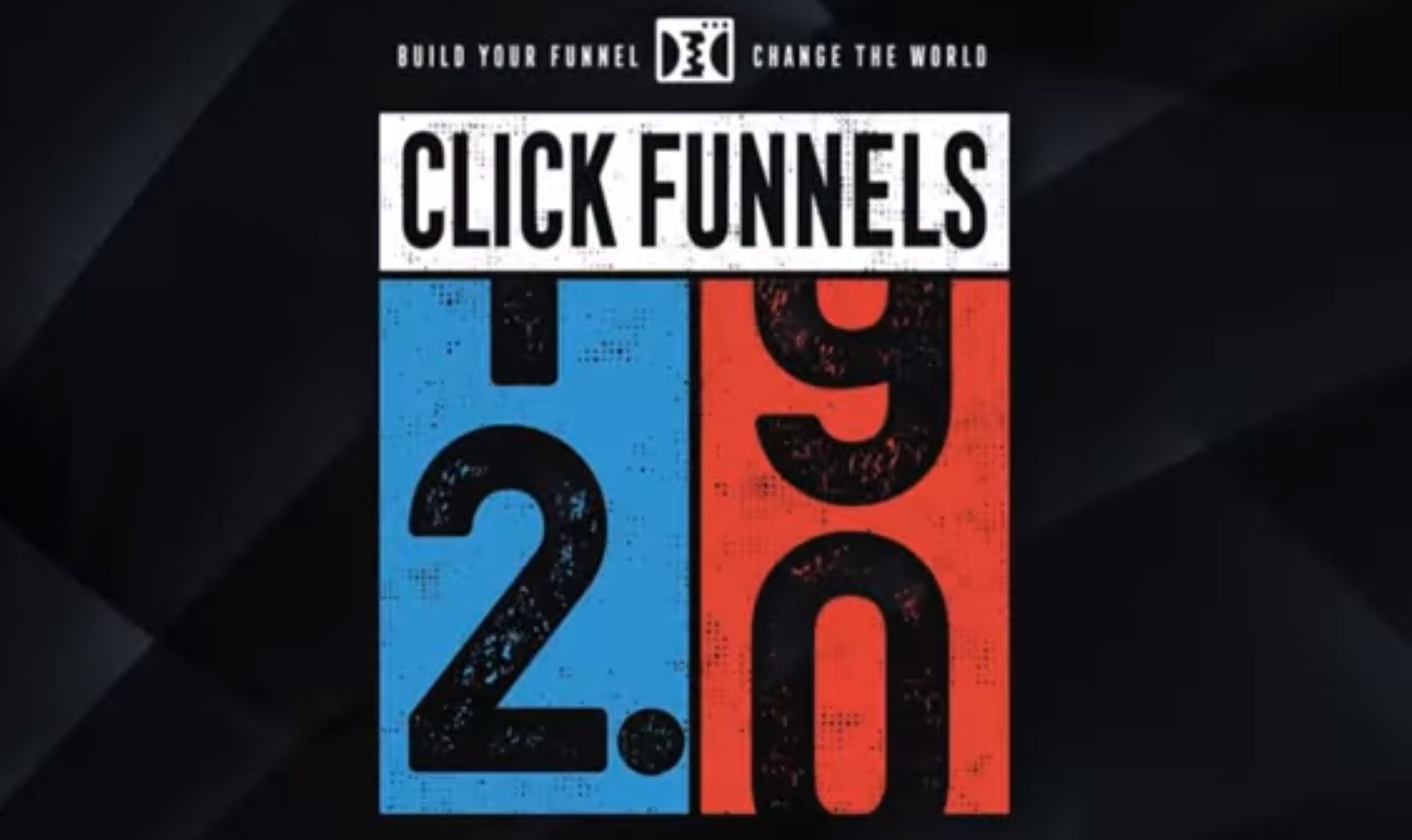 This is an exciting next phase for CFs, and it's created a buzz amongst the community. The next generation build is promised to address some of the common user issues and is set to be better, faster, and with more functionality!
ClickFunnels 2.0 is also meant to be a solution for those users wanting to have an eCommerce website with fully integrated funnels and shopping carts.
Want to know more, then read our Clickfunnels 2.0 article to get the scoop on the Top 10 Features coming soon! 
What does ClickFunnels do?
If you already have a website, you might be thinking, 'How is ClickFunnels different from a website' or 'Why do I need ClickFunnels.'
The simple answer is that a website is excellent for sharing information but not always that great at making sales.
Sales funnels are a tool to help build your brand and cultivate trust between you and your customers. A website just doesn't sell like a sale funnel is designed to. And without good sales conversions, you can kiss goodbye to your profits.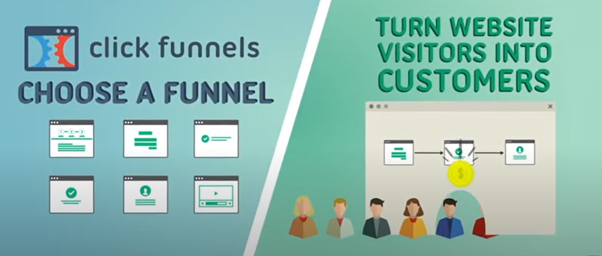 There's even a ClickFunnels membership funnel to close the loop and help you stay in touch with customers to generate repeat business.
Once your sales funnels and membership funnels are set up, they work busily in the background to generate more sales. Meaning you can spend less time worrying about managing a website and more time working on growing your business or whatever else you want to do!
Get the Free 14-day ClickFunnels Trial here
How Does ClickFunnels Work?
Let me first say that ClickFunnels just works. Meaning it does exactly what it's meant to.
For a long time (before I was aware of ClickFunnels), I had several different paid apps that didn't integrate well with my existing platform. I was paying big bucks for a glitchy product page builder and for an upsell funnel builder that would select out-of-stock items!
For most business owners, this patchwork quilt of apps and plugins is annoying to deal with, expensive, and underperforms.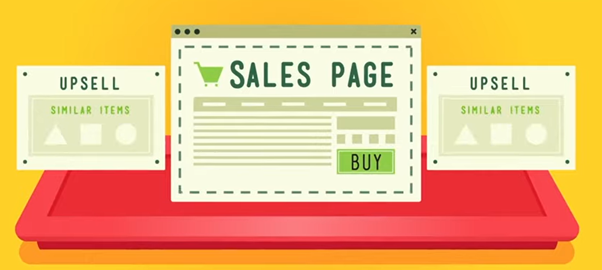 ClickFunnels isn't only easy to use; the significant advantage (that gets everyone excited) is that it's end to end, an all-in-one integrated package.
With ClickFunnels, you can:
Generate leads - Use simple templated squeeze pages that quickly capture your visitors' contact information
Increase conversion rate - Quickly create eye-catching product landing pages with built-in sales funnels to convert passive traffic into paying customers
Increase profits – Add 1-Click Upsells and Downsells
Follow-up customers – Connect with audiences with automated direct email, social media, or text to build trust and brand awareness
Build membership programs - Create buyer trust, confidence, and brand awareness.
Obviously, the goal of ClickFunnels is to increase customer engagement with your products or services. The more they're engaged, the more they are likely to spend, which will help you to increase the number of sales and the average value of each of those transactions.
Do I need a website to use ClickFunnels?
Early in this article, I said that ClickFunnels is an end-to-end integrated package. With all the included features, it means that you can literally build an entire business on ClickFunnels!
"The funnel has not only saved me advertising costs but the ability to reduce admin."

Yanni Fikaris - Local Small Business using ClickFunnels
There seem to be a lot of credible ClickFunnels testimonials out there, but I really like this one by Garret White. (Maybe his frustration with using glitchy page builders and funnel apps rings true for me). A Coaching Consultant who talks through his journey and how he's been able to switch to hosting his business on ClickFunnels without the need for any other website hosting.
You can continue to host your website elsewhere, but many users like the convenience and simplicity of hosting everything with ClickFunnels.  This means ALL your content is on the same server. With ClickFunnels hosting, you don't need to install anything else, set up a CDN, or worry about setting up advanced hosting settings. It's done for you so that you can focus on your business and customers rather than IT or tech settings.
How to process payments with ClickFunnels
So, ClickFunnels isn't actually a payment processor itself, but it does integrate with a lot of the major and most popular payment gateways out there.
To collect payments from your customers using ClickFunnels, you can connect your chosen gateways within your ClickFunnels account.
Typical integrations include Stripe, Paypal, Recurly, NMI, Keap, and Easy Pay Direct.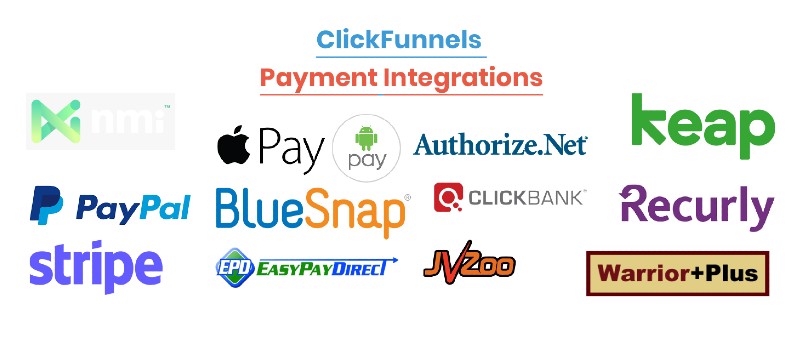 Depending on your plan, you can connect multiple gateway options so that your customers have a choice of how they want to pay, making the transaction process easier.
The ClickFunnels Basic Plan allows for three payment gateway integrations, the ClickFunnels Platinum plan allows for nine payment gateway integrations.
ClickFunnels Pros and Cons
We now understand what does ClickFunnels do, and how does ClickFunnel work. But like all our Hustle Life reviews, we like to take it further and give our readers clarity on the good and the not-so-good features of the products we recommend.
ClickFunnels Benefits and 5 Best Features
1. Attractive and Functional Funnel Templates
With a ClickFunnels membership, you get access to a fully stocked database of attractive and functional pre-made sales funnel templates.
The different ClickFunnels templates mean you can find something that suits your business and your brand's style.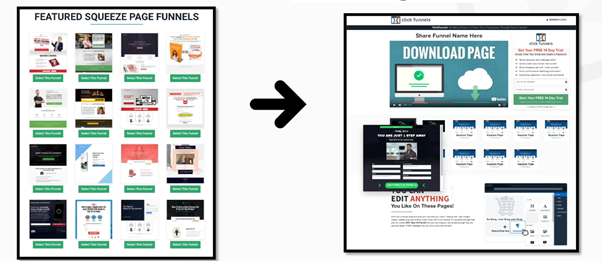 The beauty of the pre-made templates is that you don't need to spend hours trying to design a page. The basic design and coding work is done for you so you can get straight to focusing on adding the custom elements for your product or service.
2. ClickFunnels Page Builder
Probably one of the best features is the page building software which is built for front-end users. The easy drag and drop editor makes the page building process a breeze and means you can quickly customize the ClickFunnels templates.
In this quick video, Russel Brunson shows you just how easy it is and also demos how you can create a bunch of very different looking landing pages from the one template. Change colors, fonts, layout and so much more to get the look and feel that you're after.
3. Further Page Customisation with ClickFunnels Elements or Widgets
Elements, otherwise known as ClickFunnels widgets, are the little cogs in the sales funnel that help to create a full experience for your customers and to help drive more sales.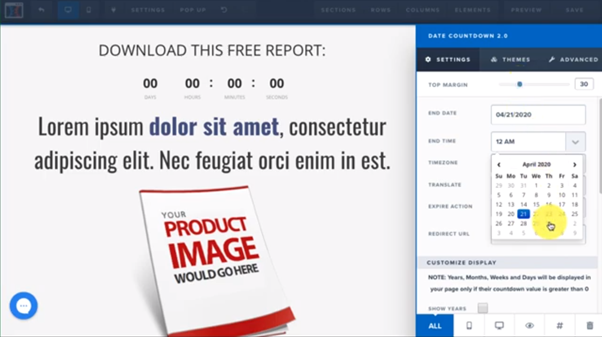 Whilst Clickfunnels is primarily a sales funnel and page builder, the added widget feature helps to set this apart as one of the best sales funnel builders.
These powerful little widgets are like an overlay feature that sit on top of your sales funnel. For example, you can add:
SMS Sign up,
Surveys,
Pricing Tables,
Progress Bars, 
Countdown Timers
There's also a neat little widget to add a Clickfunnels Facebook messenger pop-up.
The ClickFunnels widgets are designed to help customer engagement and increase your chances of building your audience or making a sale.
4. A/B Page Testing
The harsh reality is that what we might find attractive, isn't necessarily what others might be drawn to.
If you haven't done split testing before, then you should consider some data driven split testing of your page designs.
The A/B testing feature is a way to conduct split testing on a ClickFunnels landing page or sales page. You can create different versions of the same page (e.g. color scheme or sale language), and test out which performs better with your audience.
The A/B split testing feature comes with useful analytics so you can see your testing results right on the funnel landing page within your dashboard.
The types of metrics that you'll get access to are conversion rates, clickthrough rates, bounce rates, people reached, and total time spent on the page, along with other sales funnel metrics.
This data could lead to valuable insights to help you tweak your pages to increase profits.
You can also check out this video explaining what split testing is, how to create, promote and remove a split test.
Learn about Split Testing in ClickFunnels
5. Sales Funnel Analytics
Sales funnel analytics is an important part of managing your business. With Analytics you can see what's working, what's not working and how to fix it!
The 5 key sales funnel metrics are:
Traffic – Number of visitors that come to your funnel landing page
Conversion Rates - The percentage of visitors that took action (e.g. buy or sign up for a newsletter etc)
Sales – Number of products sold
Revenue – The amount of money that is being paid to you
Profit – The money that is left when you subtract all costs from your revenue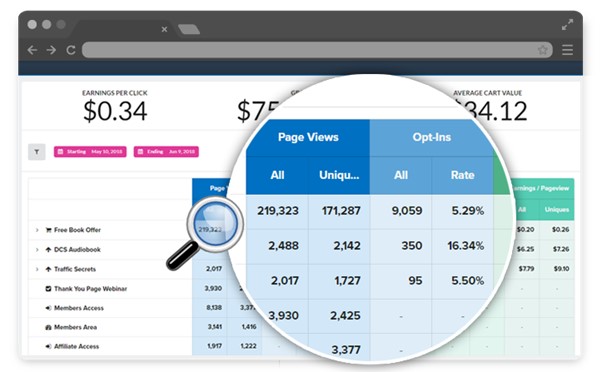 Whilst you can still connect Google Analytics to your ClickFunnels account, there are already analytics features baked into the ClickFunnels software so you can see how your sales funnels are performing.
ClickFunnels Complaints – Common ClickFunnels issues that cause negative reviews
1. Adding a funnel can be slow
Picking a funnel type and template and adding it to your account can take several seconds to load. Trying to choose a funnel is like being a kid in a candy store. There's so much choice and the slow load time makes it annoying.
We're told that the ClickFunnels team have fixed the speed issues as part of ClickFunnels 2.0 (new ClickFunnels software version for 2022)
2. ClickFunnels is not ideal for blogging
For some users, blog posting has become a fundamental method to get more leads into the sales funnel.
So, it's a little surprising that the CF team hasn't made it super easy. It's a frustration that gives ClickFunnels a bad wrap.
If you don't want to blog regularly, then you can still add content directly to Clickfunnels. However, you don't get an RSS feed or the same categorizing and tagging features that you get with other website platforms.
If you blog regularly then ClickFunnels advises that you use WordPress. The advantages of doing this are primarily SEO related. You'll get more features to optimize your content plus an RSS feed. The massive issue though is that you'll need to manage a separate WP hosting!
3. Customer Relationship Management is clunky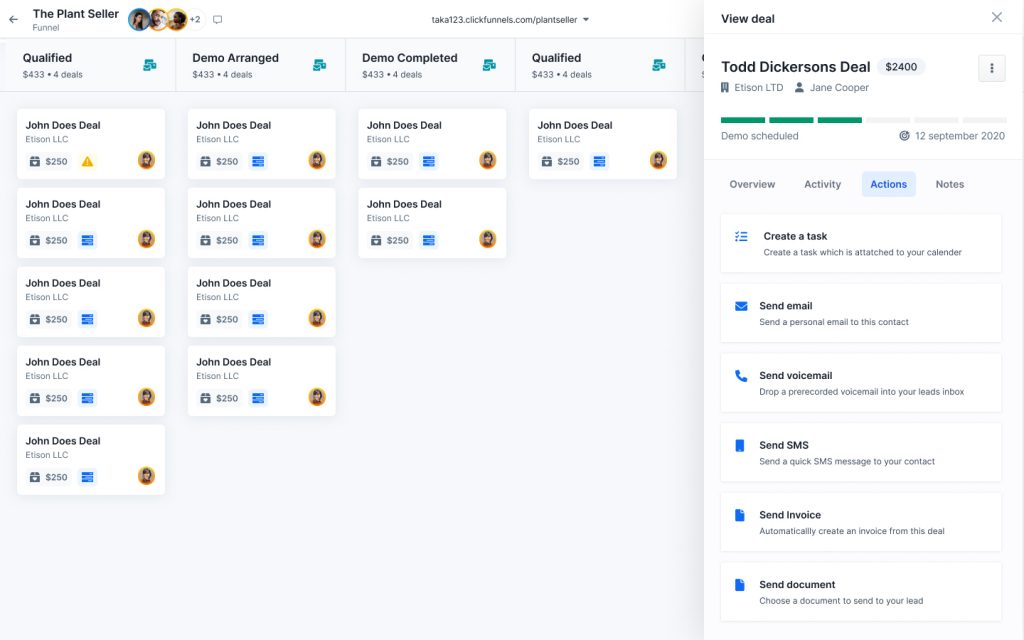 Customers complain that the automated email and Customer Relationship Management (CRM) tools are not as functional as other tools. Some customers even report that they have to add a tool like Mailchimp as an integration to help manage their customer emails and email blast communications.
We're told that the ClickFunnels team have fixed CRM issues as part of ClickFunnels 2.0.
ClickFunnels Training
You don't need to be a rocket scientist to figure out ClickFunnels. The functionality is intuitive and designed specifically for small business owners and digital entrepreneurs who don't have design or tech know how.

Whilst I think that you could probably wing it, I would also urge you to consider that there is so much more to sales funnels than the funnel editing. ClickFunnels has several training options and most of them are completely FREE.
Your First Funnel 30-Day challenge
I recommend that anyone starting out should be signing up for the ClickFunnels "Your First Funnel" challenge. The first Funnel Challenge has been pimped up and extended to a 30-Day Challenge and this currently includes a 30-Day Free Trial of the software.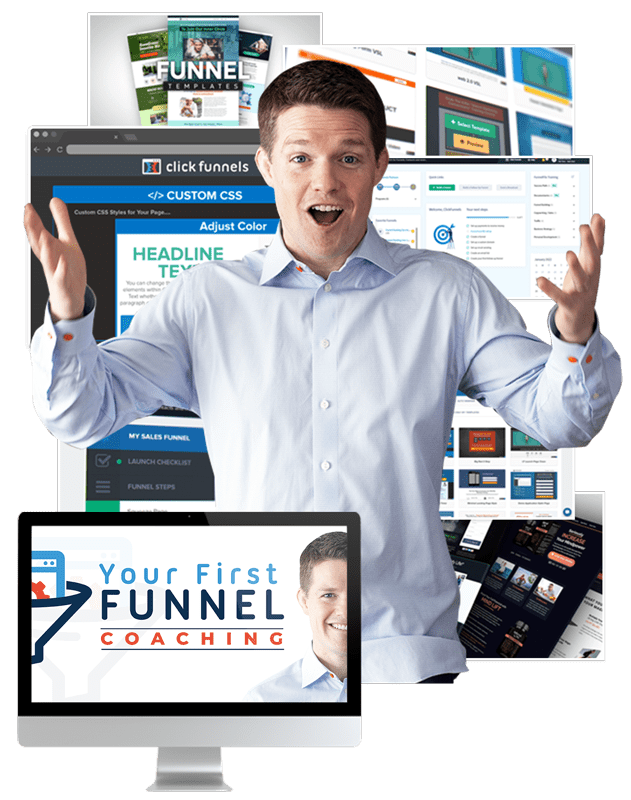 During the 30-Day Challenge you learn the critical skills to get you started on your path to making sales:
How To Build A Lead Magnet
How To Build A Lead Funnel
How To LAUNCH Your Funnel
How To Follow-Up With Your Visitors AFTER They Leave Your Page
It's an introductory course to help online marketers get in the game. By the end of your 30-Day LIVE Coaching, you'll have a funnel that is BUILT and you'll already be collecting LEADS!
The "Your First Funnel" 30-Day challenge is FREE and is a great way to get some training and virtually 'meet' other new members.
5-day lead challenge
Another FREE training option is the 5-day lead challenge. This is where you learn about advanced marketing strategies and generate leads on demand from the internet.
The workshop is lecture and practical based, and by the end of day five, you'll have launched a lead generating funnel and be poised to start collecting actual leads for your business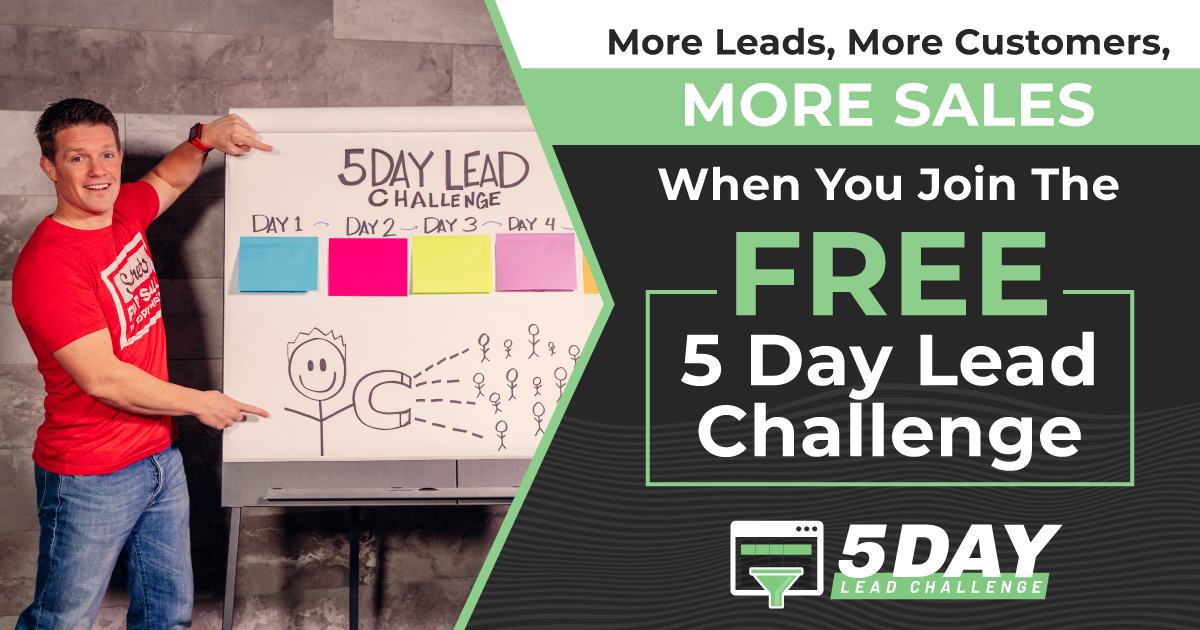 Brick and Mortar Funnels Summit
One common misunderstanding is that online funnel building is primarily an eCommerce tool and does not apply to bricks-and-mortar businesses.
The summit well and truly busts that myth right open.
The summit helps small business owners discover new strategies to market their brick-and-mortar businesses using sales funnels. If you're a dentist, personal trainer, doctor, beautician, real-estate agent, accountant, or just about any B&M business owner, the summit will share ideas to help you generate more clients. 
I also really like the accompanying 17 FREE videos (96 hours of interviews) featuring actual small business owners as case studies. It's packed full of valuable lessons that can help transform bricks-and-mortar businesses to thrive.

Learn more about the Brick & Mortar Summit
ClickFunnels Customer Support
So, I really can't rave about this enough. For a Software As A Service (SAAS) company dealing with over 100,000 members, I think the level of support is pretty awesome.
Aside from the training options discussed in the above section, there are a bunch of other ways to get ClickFunnels customer service support and help using the software or with finding ways to market your business.
I particularly like the live training options that you can book into. You can speak with a real live person and get specific advice related to your business needs.

You can also access a tonne of helpful guides via the ClickFunnels blog, which covers a diverse range of topics. If you want to know how to integrate Stripe with ClickFunnels or just need more help on how to use ClickFunnels, then this is where you can find the answers, contact ClickFunnels customer service, and more!
Blog Dashboard Topics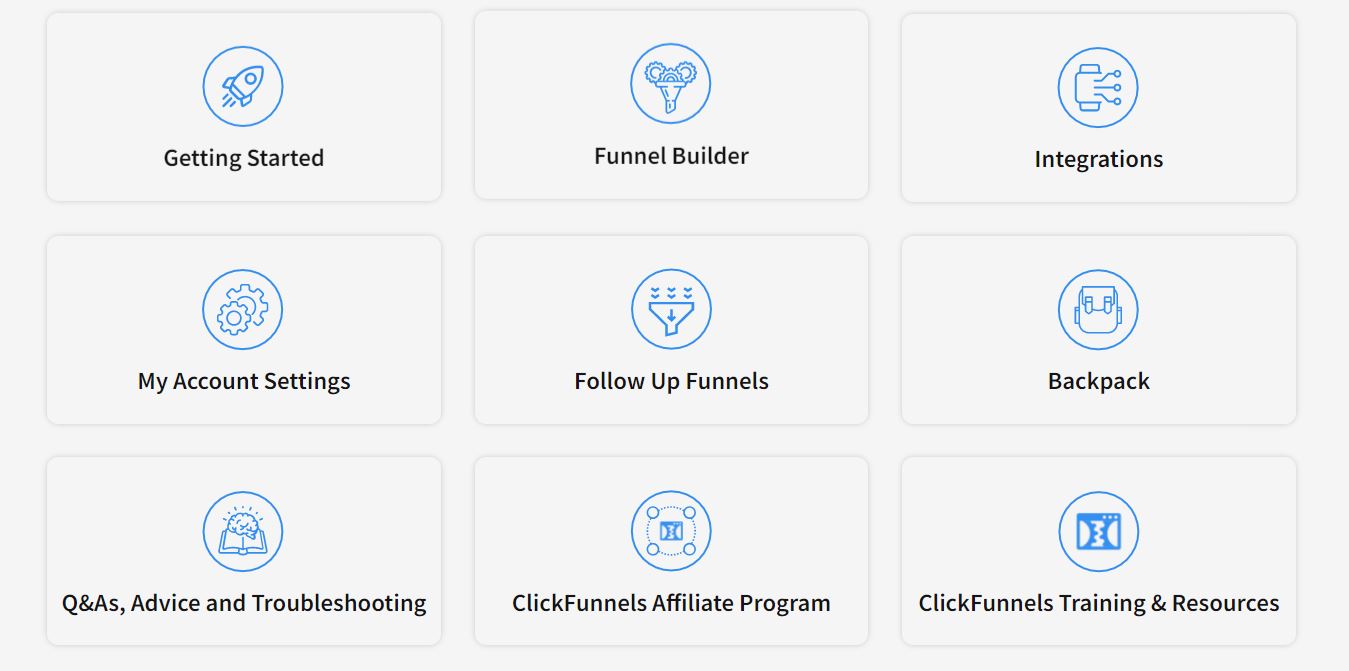 How much does ClickFunnels Cost in 2022?
There are three current ClickFunnels price options available:
14-Day Free Trial
Basic Plan
Platinum Plan
Obviously, the more you pay, the more you get!
The Basic Plan and Platinum Plan are both available as month-by-month no-obligation options or as annual upfront membership.
Free ClickFunnels Trial
If you are struggling to justify the ClickFunnels price, you may want to try out
ClickFunnels for FREE
. The best option currently available is the 14-Day Free Trial.
Included in the first 14 days are all the tools and strategies you need to market, sell, and deliver your products online.
Simple Drag and Drop Webpage Editor
Quickly Build Sales Funnels That Convert
Smart Shopping Cart With 1 Click Upsells
Email and Facebook Marketing Automation
Everything Organized In One Simple Dashboard

Basic Plan
Once you've decided you're serious about funnel building, the most cost-effective way to access ClickFunnels is to buy an Annual Subscription. The Basic Plan normally costs $97/month, but if you pay upfront, you get it for $80/month.

BUT, if you're not 100% sure and you want to dip your toe in the water first, then the month-by-month payment option is a safer way to start off.
The Basic Plan is more than enough to get most people up and running with enough features and generous limits (creation of 20 funnels, 100 pages, and 20,000 visitors).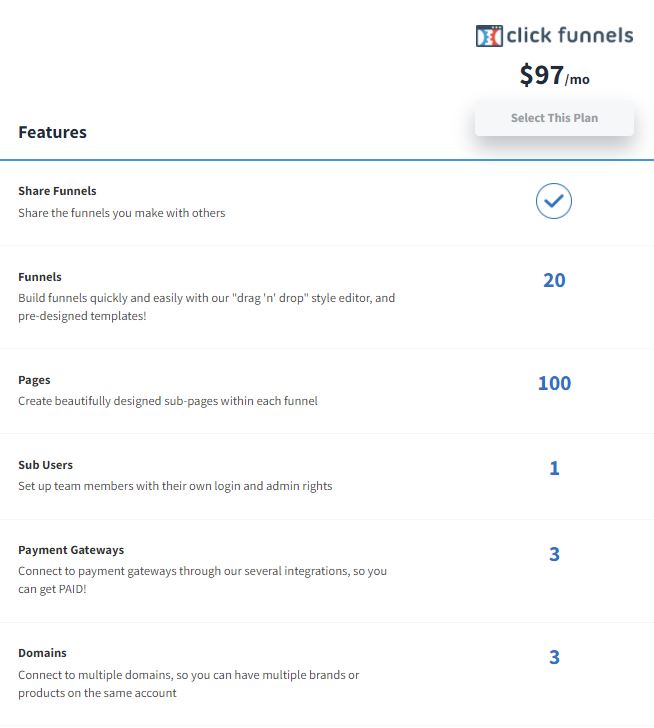 For the most up-to-date deals, check out this ClickFunnels Pricing page.
ClickFunnels Platinum
ClickFunnels Platinum is essentially a rebranding of the ClickFunnels Etison Suite plan,
So, what is Clickfunnel Etison? If you are brand new to ClickFunnels, the easiest way to explain it is that the Etison Suite plan is the full package software that used to come with Actionetics (email suite) and Backpack (affiliate software suite).
Actionetics has rebranded, so you'll now be seeing this presented as 'Follow-up Funnels'.
ClickFunnels Platinum is now the all-inclusive plan that has it all, meaning you have the ability and flexibility to create unlimited offers and set your sights on limitless growth.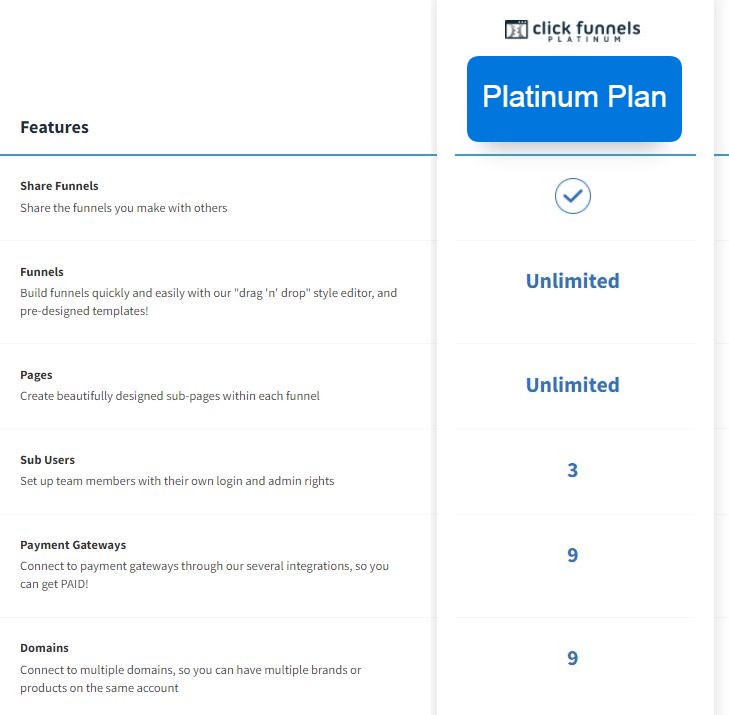 You also get access to additional training as part of Funnel Flix Platinum: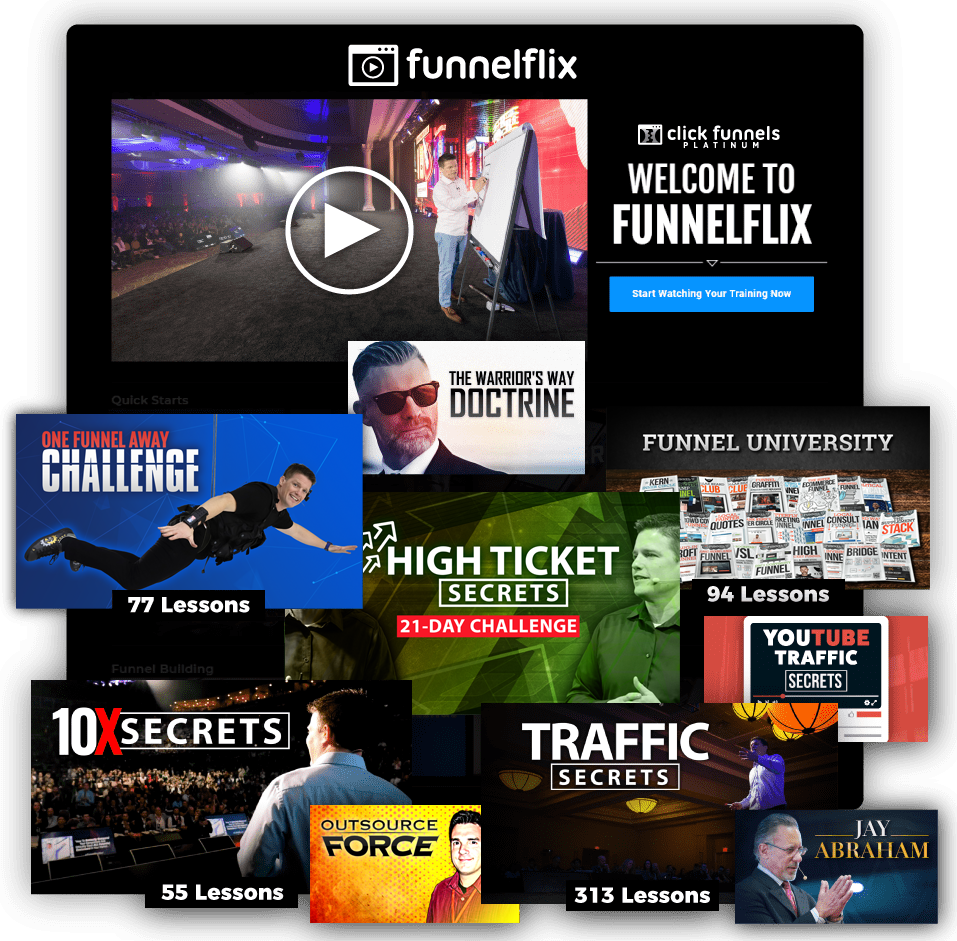 Funnel Flix is the ClickFunnels course and training vault.  
Funnel Flix is for all things funnels, marketing, systems, traffic, sales, copywriting, business strategy, and peak performance.
When you upgrade to ClickFunnels Platinum, you unlock the PLATINUM section inside Funnel Flix and get access to more content than Basic Plan users.
View All The Platinum Plan Features
Also included are funnel challenges, boot camps, masterclasses, live chat and support.
It's a package that offers a blueprint, PLUS the software, PLUS the tools, PLUS the support to get you on the path to success.
Other ClickFunnels Alternatives
ClickFunnels revolutionized sales page and eCommerce conversion funnel building. But, time has allowed some of the other competitors a chance to regroup and up their game!
ClickFunnels Vs SamCart
The main difference between ClickFunnels and SamCart is that ClickFunnels is a complete eCommerce sales funnel builder (multiple funnel types) that can be applied to most online businesses. Whereas SamCart is an online shopping cart tool for eCommerce stores. 
ClickFunnels is a more versatile tool for building an online business and includes more features and integrations. 
SamCart is less expensive than ClickFunnels and also has some great features but it doesn't offer high-converting sales funnels, follow-up funnels, or membership sites. 
ClickFunnels vs Leadpages
Leadpages has been a popular landing page builder for many years. 
The main Leadpages features are:
Landing page builder. This core feature of Leadpages allows you to pick a page template and customize it according to your needs. These page templates can help create simple funnels.
Site builder. Leadpages also helps you to build a website using existing templates.
Pop-up forms. Pop-up forms are a great way to grow your email list, and there are several types of pop-ups built into Leadpages.
Alert bars. The alert bar allows you to draw attention to new content and offers that you want to promote.
Leadpages' main focus and specialty is the creation of attractive landing pages, which are easy to customize. There are also options to help you build basic sales funnels.
The main advantage of Leadpages is that there's a cheaper entry-level Basic Plan. If you're looking to start a side hustle and income stream on top of your regular day job, then this is a great option that keeps your monthly expenses as low as possible.
For small business owners who need more flexibility to grow, there's a $99/month plan that includes payment gateway integrations and split testing functionality.
Probably it's fair to say that the main point of difference between Leadpages and ClickFunnels is that Leadpages isn't as fully formed or sophisticated as ClickFunnels. Although it offers more than SamCart, it still falls short in overall end-to-end management of leads converting to sales converting to members and repeat customers.
ClickFunnels also prides itself on lead generation strategies (growing your audience) and an extensive volume of sales and marketing training.

Is ClickFunnels Worth it?
ClickFunnels has taken sales funnel building to the next level, and with a commitment to training and implementation, you have all the software tools, strategic insights, and support to get you on the path to success.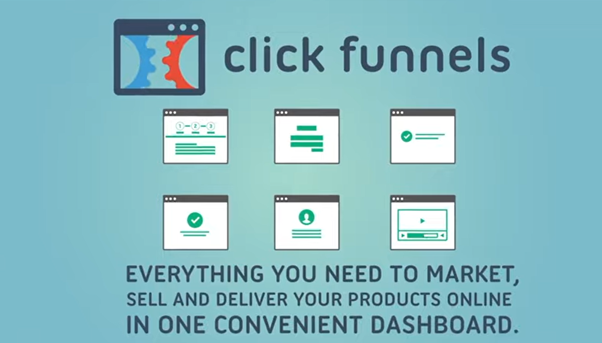 Some customers complain about load times and basic Customer Relationship Management features. But the new ClickFunnels 2.0 (due for release in 2022) has stepped up to the plate and taken ownership of those issues.
ClickFunnels can replace a whole bunch of specialized apps such as email marketing software, eCommerce hosting, blogging platforms, online course builders, website builders, and CRM apps.
I used to juggle and try to interface multiple apps to support my eCommerce sales and customers. But now, I have more time to focus on my business and trust the software to do its job. I guess you should ask yourself;
'Why pay separately for these solutions when you can do it all with ClickFunnels?'
If you are willing to follow the strategies and coursework, then for most small businesses, an investment of $97/month will reap immeasurable rewards. Depending on your average add-to-basket value, even just one new customer a month could quickly pay for the cost of the software. That's before you even consider the lifetime value of each new customer!
ClickFunnels Review Final Thoughts:
I guess if you've read this article, then you're looking for ways to grow your business. ClickFunnels will certainly give you the tools and training required to build a profitable sales funnel.
Overall, we give it a solid 4.5/5 compared to the other options available.
While I have a high opinion of ClickFunnels and wouldn't want to risk switching to Leadpages or SamCart, I know that there are other quality funnel building tools and that ClickFunnels isn't for everyone.
If you're feeling confused, then my advice is DON'T COMMIT until you're sure it's the right product for your business.
My recommendation is to use the FREE 14-day trial. You can cancel any time at absolutely no cost to you.
There's literally ZERO risk.
After the 14 days, ask yourself: "Will ClickFunnels help grow my business and profits" and "Will ClickFunnels save me time." If the answers are YES and YES, you probably know what to do next!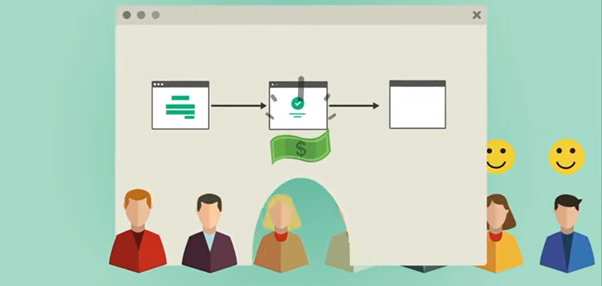 I hope that my ClickFunnels review has given you a better understanding of sales funnel building and the importance of this marketing strategy for eCommerce and other small businesses. Good luck in creating customer value and growing your business and profits!
Get The FREE 14-Day Trial Here
FAQ's
Can ClickFunnels replace Infusionsoft?
ClickFunnels and Infusionsoft may appear to be comparable, but each platform offers significant differences that serve a specific type of users. ClickFunnels is designed for marketers and small companies who need their landing pages and other marketing tools are integrated so that their sales funnels operate seamlessly. Using this platform, marketers can create their landing pages, manage sales transactions, conduct split-tests and even executes email campaigns. The platform offers a fully functioning shopping cart along with checkout tools that will allow you to create coupon codes and offer discounts in order to improve conversions. And even more, the interface allows for all of these tasks – and more – to be done from one page which means you do not have to switch taps to complete multiple tasks.
On the other hand, Infusionsoft allows larger business to create landing pages and utilize a variety of tools to develop email marketing campaigns. It is designed to perform as an inclusive platform for sales and marketing, but it lacks the feasibility needed by smaller companies and startups. Even more, with a cost of $699 and more, it is not cost-effective for business who are working with a limited marketing budget.
So while ClickFunnels is not an exact replica of Infusionsoft that would replace its' use for enterprise and medium-sized businesses, ClickFunnels is inexpensive, highly functional offers a plethora of tools that are displayed on a seamless dashboard that is easy to use. But small business owners will find that when choosing between the two, ClickFunnels can not only replace the need for Infusionsoft, it can offer a more powerful marketing automation experience.
Can ClickFunnels Replace Infusionsoft? – https://www.youtube.com/watch?v=DhLUx163kP8
Will ClickFunnels work with Shopify?
ClickFunnels is not constructed to integrate with Shopify. But by using integrating ClickFunnels with Zapier- which does have a direct interaction with the Shopify platform- online store owners can automate all aspects of their sales funnel. With ClickFunnels and Zapier integration, you can:
-connect Shopify with ClickFunnels,
-use new ClickFunnels contacts to create Trello cards,
-use new ClickFunnels contacts to create Podio contacts
-set up Gmail autoresponders to be sent to new contacts and purchasing customers
-register new click funnel contacts for webinar series
-import click funnel orders into Google sheets
-automate the creation of invoices for new click funnel contacts, and
-update MailChimp subscribers list based on click funnel activity.
How To Connect ClickFunnels to Shopify and Amazon – https://www.youtube.com/watch?v=_q11KRfTqSg
Russell Brunson, CEO of Brunson's Etison, LLC, is the distinguished founder of ClickFunnels. He is highly respected in the marketing industry and known for being one of the few marketing gurus who has the rare ability to use marketing analytics to create a meticulously developed, high-converting sales campaign- and then further analyzes the resulting traffic in order to bolt the campaign until it emerges as a proverbial cash cow.
Brunson hosts a live Funnel Hacks event every year, where he reveals hacks and powerful techniques that marketers, startups, and small business owners use to dominate their industries using optimized sales funnels. And with a following of more than 1 million business owners and hundreds of thousands of his books sold, Brunson does not only have a competitive advantage in the marketing industry, that is regarded as one of the industry's top experts.
Who Owns ClickFunnels – https://www.youtube.com/watch?v=Ksh0rx95zcM
How to use Click Funnels?
ClickFunnels provide a guided process for customers to be introduced to your product and company while delivering marketing materials that converts potential customers into interested leads that choose to opt-in to receiving additional messages from you. Simply put, this involves multiple components, but it starts with an advertisement. With an ad and a marketing platform such as Facebook, Twitter or Instagram, ClickFunnels is used to create a landing page. Many pages, often referred to as squeeze pages, usually contain a particular call to action and a form that collects the name and email address of people who visit this webpage.
After the visitor inputs the name and address in the fields, most markers preferred that they are taken to a separate page that offers a time-sensitive promotion or one-time offer. While this is not a requirement, it is a tool available in the ClickFunnels platform. Using this optional tool will allow users to market additional products or services or presents an irresistible offer that would increase the likelihood of a purchase. Regardless of whether the visitor opts in for the special offer or not, they are then taken to an order confirmation page that thanks them for their submission while further educating them about the company or products.
From there, there are a plethora of tools on the ClickFunnels platform that can be used to cultivate the new lead. You can create marketing campaigns, send newsletters and blast out special promotions in order to engage with your leads through marketing automation. Once the tools are implemented, the sales funnel will operate seamlessly- and without having to manage each lead manually.
How To Use ClickFunnels – FREE Tutorial showing you everything– https://www.youtube.com/watch?v=kDWpcYwqshM
How to clone a funnel in ClickFunnels?
When you clone a funnel you are essentially duplicating the page so that you do not have to build it from scratch all over again. This is very helpful for creating landing page templates when building multiple landing pages, as it allows you to complete a general layout with all the components and maintain consistency throughout your campaign- without spending days or weeks creating each page individually.
Cloning a page is simple, and it only involves three simple steps. First, open the funnel you want to use as a template and click the Settings tab. Next, select the option that says "Clone Funnel" which will automatically create a duplicate copy of the page when you click it. Now that you have a cloned page, it will be listed on your main dashboard where it will have the same name as the original page, except it will have "Copy of", preceding the name.
ClickFunnels TUTORIAL: How to Duplicate a Sales Funnel in Click Funnels– https://www.youtube.com/watch?v=pOWSg4gDwSs
How can ClickFunnels for amazon help affiliates?
Affiliate marketers often use landing pages in order to build an email list, but because the platform offers much more than landing page creation, ClickFunnels can do more. In many ways, ClickFunnels helps affiliate marketers make more money.
When a customer makes a purchase from Amazon by way of an affiliate marketer, they become a customer of Amazon- not the marketer. By using landing pages, they can collect their customer's contact information, collect purchase information to provide analytics, create membership plans to create passive income and follow up with buyers with email campaigns in order to encourage repeat sales.
Other tools on the platform allow marketers to expand their cart size capacities to include upsells- and down-sells if needed. You can offer multiple order fulfillment options so that buyers have more options for receiving their products. You can accept Paypal as a form of payment, which is a big deal because Amazon is a competitor of Paypal so they do not support Paypal payments. But this is vital to affiliate marketers because being able to accept Paypal payments increases your revenue by as much as 27%. 
You can add deadlines to special promotions to include scarcity as apart of your marketing strategies, and even sell webinars to accompany your physical products or convert leads for high-end products into paying customers. With even more tools available to increase conversions and sales, ClickFunnels offers an insightful and actionable way to create multiple affiliate marketing campaigns and automate most of the sales process without sacrificing quality.
How To Use ClickFunnels For Affiliate Marketers- https://www.youtube.com/watch?v=2mrjiU7Z1Co
ClickFunnels for realtors – how can it help?
ClickFunnels can help real estate agents improve their lead generation, nurture their sellers and buyers and automate some of the redundant tasks that are necessary in order to communicate with clients to get your deals closed.
With the Twilio integration, real estate agents can create autoresponders so that they have low response times- which are critical for engaging effectively with demanding clients. Consistent engagement with your pipeline is the key to success in the world of real estate sales and listings. This is why agents can create an automated email drip campaign using ClickFunnels in order interact with their pipeline of prospective clients regularly.
You can also attract a consistent source of new leads to keep your pipeline full by using the landing pages on the platform. By using the landing pages to distribute free guides and reports that solve common problems for sellers and buyers in your market, you will constantly have new potential leads to engage with what might develop into future sales or listings. None of these are difficult to do because ClickFunnels makes the platform easy to use.
ClickFunnels for Real Estate Agents – YouTube – https://www.youtube.com/watch?v=of7FvC6dc5c
How does ClickFunnels for chiropractors work?
Chiropractors, just like any other profession, can benefit from sales funnels by attracting new leads from various locations. When in the business of improving people's health. It is very effective to use informative messages to attract leads.
Landing pages will not only help to market your message to the right customers, but it makes the process easy. Once you have leads accumulated, ClickFunnels has tools that allow users to nurture each of the individual leads to that you can continuously feed additional informative messages in order to convert leads into engaging customers.
Chiropractors can use the email marketing tools to offer special promotions that may entice new customers, or even create referral programs that will encourage word-of-mouth marketing – which is highly effective for chiropractors to in cultivating brand awareness their local area.
And as your customer base grows, ClickFunnels will help you to remain engaged with your clients and give them personalized messages that make them feel as if you're communicating directly with them. By adding a personal touch to your messages, you can use ClickFunnels is a powerful marketing platform that will help differentiate you from the average chiropractor in your area.
ClickFunnels For Chiropractors – https://www.youtube.com/watch?v=T3le87jv0KQ
How does ClickFunnels for lawyers work?
Lawyers face a unique challenge because most people do not need a lawyer – until they need a lawyer. When legal counsel is needed, most clients are in a hurry to find a lawyer quickly, so they use search engines to search for a few lawyers, filled out a few contact forms, then wait for the phone to ring. In many cases, the first lawyer to return their phone call is the attorney that gets hired.
That means that lawyers must not only have their message readily available for people who are searching for an attorney with their expertise, but they also must respond quickly to their inquiries. And since there are some cases where a person ends up looking for another lawyer after deciding that their first contact might not offer what they need, you want to be next in line, ready to secure their business.
ClickFunnels allows lawyers to publish multiple landing pages in various places online so that their marketing materials can be found easily. The landing pages not only help to convince the reader that you have the expertise to win their case, but it also collect the information that you can get back to them promptly. And when following up with them, the ClickFunnels platform allows you to set up autoresponders that ensure that responses are sent out immediately after the contact form has been completed.
Additionally, leads are nurtured and qualified through the sales funnels. Because you can customize landing pages to be used as client intake forms, you can use ClickFunnels as a way to filter strong perspectives from time wasters or cases that are not worth your time.
This filtering during the client intake process means you will only speak with people who have expressed a high interest in that your services. And when you do speak with them, they will already have the mindset for proceeding with retaining you as their attorney. Finally, the sales funnel will keep up with each of your clients so that no one slips through the cracks in becomes ignored accidentally. It ensures that you are following up consistently with your leads, tracking communication between you and them, and helping you to track how your leads are progressing through the sales funnel.
And by using the analytics provided on the platform, you can determine the spots in your sales funnel where people are getting stuck at the dropping out of the system. This allows you to identify what may be turning potential clients away, and then make modifications in order to enhance the effectiveness of your campaign. After a while, you will have fine tune your sales funnel so that your conversions are maximized and your flow of clients is consistent and steady.