In this article, we're doing a head-to-head review of  ClickFunnels Vs Leadpages. As far as building marketing funnels and sales pages go, both Leadpages and ClickFunnels are top-shelf marketing tools used by hundreds of thousands of marketers and business owners worldwide.
Whether you're fresh into digital marketing or a seasoned funnel builder looking for a best-in-class marketing tool, we hope you'll find our Leadpages Vs ClickFunnels comparison worth your time.

What ClickFunnels and Leadpages Have in Common
As one of Leadpages competitors, ClickFunnels has many of the same features. But before we get into it, first, let's quickly summarise what is Leadpages and what is ClickFunnels?
Leadpages is a digital marketing tool that is used to create and design marketing assets like websites, landing pages, and sales pages. It can also be used in lead generation to collect user information and store them using a third-party email service provider like ActiveCampaign and MailChimp.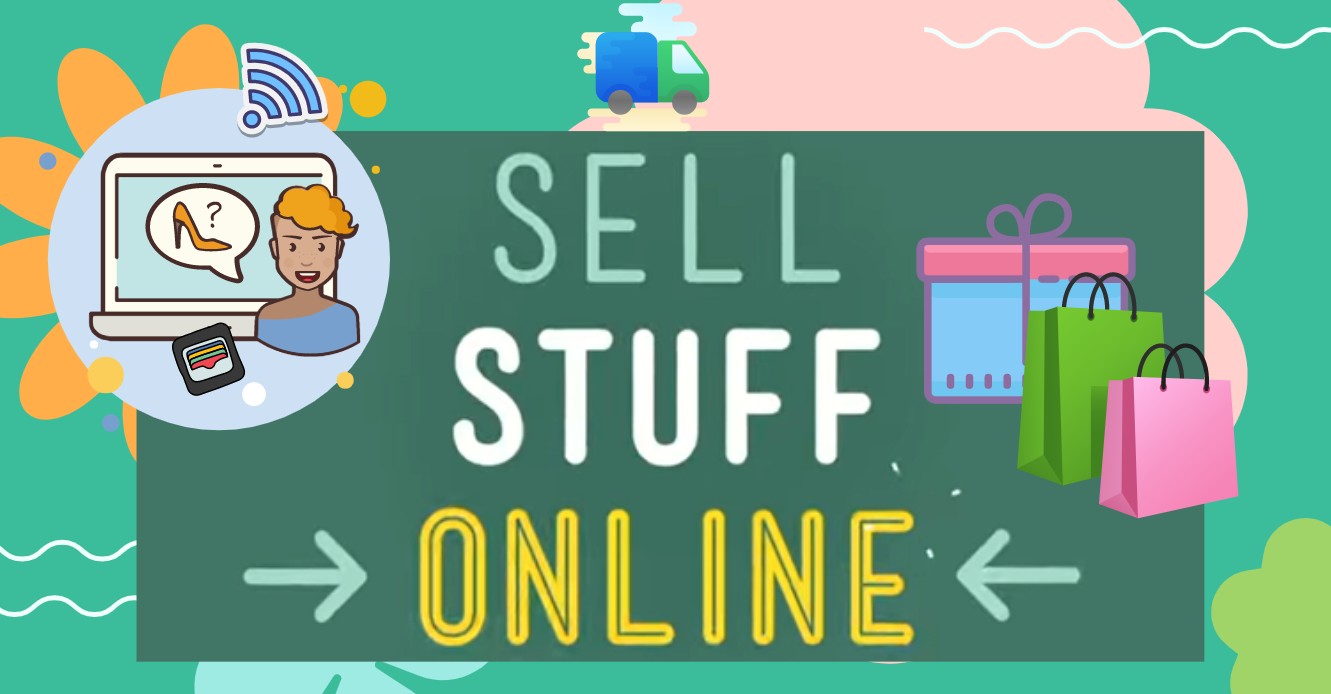 ClickFunnels is one of the most popular conversion optimization tools in the United States. It is widely known as a funnel builder, and while it can be used to build and design sales pages and landing pages as well, ClickFunnels treats its pages as steps in a marketing or sales funnel, for the most part.
Before we get into the key differences, let's look at some important things ClickFunnels and Leadpages have in common and how they compare:
1. Drag and Drop Page Builder
Both Leadpages and ClickFunnels have a singular mission to make online page building easy (not just possible). These drag-and-drop page builders help just about anyone to build and design websites and landing pages.
The drag and drop page builders on both platforms are WYSIWYG (What You See Is What You Get)  editors that allow marketers and entrepreneurs with no coding or design experience to build websites and landing pages with little effort.
Both platforms offer funnel template and landing page template libraries to help speed up your design process. And (drum roll, please) the pages are mobile responsive. The only difference is that pages built on Leadpages still need to have the pixels and sizes of the elements set manually to make them mobile compatible.
With ClickFunnels, mobile compatibility is automatic. In our experience, we've also found that ClickFunnels' page builder is more sophisticated than Leadpages. Allowing you to restrict specific elements to certain devices, i.e., you can have something displayed on desktop view but invisible on mobile.
We have a comprehensive review article dedicated to ClickFunnels if you'd like to learn more.
2. A Wide Array of Integrations
Both ClickFunnels and Leadpages integrate well with many other tools needed to run a successful online business. Both have integrations with Paypal, Stripe (for checkouts), email service providers (for building email lists), and customer relationship management tools.
With the help of Zapier, Leadpages has additional integrations not found in ClickFunnels. The Leadpages integrations include tools like Google analytics and tag manager, website builders like Joomla and WordPress, and a few social media sites.
3. A/B Testing
A/B testing is a conversion optimization tactic that involves creating different versions of a page to test which performs best. Both Leadpages and ClickFunnels offer this functionality and allow users to easily duplicate their pages in one click to run A/B tests efficiently.
4. Order Bumps
An order bump is a feature that lets sellers persuade customers to spend more. Also known as upsells and downsells, these order bumps help to increase the overall basket value so that your Return On Advertising Spend (ROAS) is increased. This type of strategy is now common amongst funnel builders, but it can be clunky and create friction during the final step in the sales journey.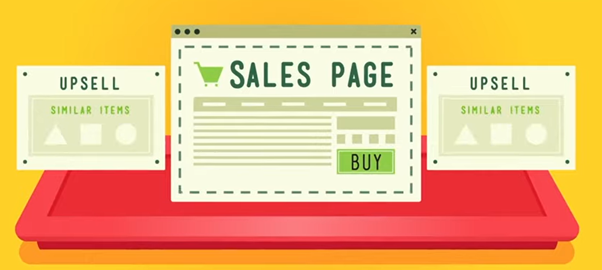 Both platforms allow their users to create one-time offer order bumps, but ClickFunnels has cultivated this into a fine art with intuitive upsells, down-sells, and cross-sells to increase your chances of more sales.
5. Analytics
If you want to create a successful business, then cold hard data should be your friend. To maximize your Lifetime Customer Value (LCV) then, having access to analytics dashboards is a must! Marketing assets hosted on Leadpages and ClickFunnels, are linked to analytics widgets.
Both platforms offer real-time reports on the performance of your products, pages, and websites. The data eliminates the guesswork so you can make informed decisions concerning your business.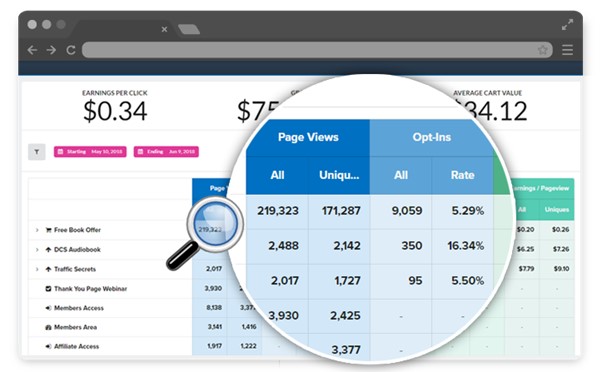 ClickFunnels allows you to extract data on a broader range of important metrics. You can pull data reports on your page views, customer product purchases, membership sites, email subscribers, affiliates (if you have them), and follow-up funnels.
The in-depth analytics helps us to break down the funnel steps and lock in on the parts of the funnels that are underperforming. Simple tweaks can sometimes result in significant shifts in customer engagement, retention, and repeat business.

What Does ClickFunnels Do that Leadpages Doesn't?
ClickFunnels is one of the best sales funnel builders available in 2022, while Leadpages is mainly a landing page and website builder. To find out more about sales funnels then read our explanatory article here. Because each platform targets a different outcome, there are some ClickFunnels features you can't find on Leadpages. They include:
Sales Funnel Builder
Before Russel Brunson and his partner launched ClickFunnels in 2014, there was no singular sales funnel builder. ClickFunnels was developed to solve this problem, and it solves it well. Unlike Leadpages, ClickFunnels' funnel builder tool is well thought out, mature and sophisticated.
With ClickFunnels, you also get access to the dashboard, which allows you to see the whole funnel at once to easily navigate and make changes to the funnel steps.
Sales Funnels Templates
Sales funnels generally have more than one step. If you're out of ideas for designing your pages, just go on ClickFunnels' marketplace, where you can find both free and paid readymade sales funnel templates. Use the filter provided and choose one or use them as a source of inspiration for your creativity.
Email Marketing
ClickFunnels offers an inbuilt email marketing tool that allows you to store your customers' contact details and send them email broadcasts whenever you want. You can import an existing email list or create new lists.
Follow Up Funnels (Actionetics)
Actionetics is ClickFunnels's email automation tool that supports your marketing efforts. If you have Twilio integrated into your account, you can also send SMS messages.
Actionetics is the real deal in email marketing and allows "deep segmentation". You can add "tags" to customer prospects during the sales journey as they proceed through the funnel. As they take actions, like purchasing a product, opening an email, etc. You can then use those tags to trigger autoresponders to send emails in response to those triggers. So you're starting a conversation with your customer that's completely automated but intuitive. Note that this Actionetics feature is only available to Platinum members.
Affiliate Dashboard (Backpack)
With the ClickFunnels affiliate marketing dashboard, also known as Backpack,  you can enable your customers to become your affiliates such that they receive a commission when someone buys through them.
The dashboard reports all vital information about your affiliates, their sales, and their commission. While this can help increase your reach and product sales, it is only available to Platinum members.
Membership Sites

If you offer courses that have more than one module, you can have them on your ClickFunnels-hosted membership site, where subscribers can access them for a subscription fee rather than sell them off for a one-time fee.
What Does Leadpages Do that ClickFunnels Doesn't?
Just as there are unique features on ClickFunnels, there are also some clever Leadpages features you won't find on ClickFunnels. They include:
LeadMeter
The LeadMeter is a conversion-optimization tool designed to help you build pages that have a higher chance of converting your traffic into leads.
It analyzes the elements on your page, compares them to other well-performing pages hosted on Leadpages, and provides data-driven suggestions to make your page better. This is very helpful if you're not well-versed in the best practices of building landing pages that convert.
Modern Leadpages Landing Page Templates

In our opinion, landing page templates on Leadpages are more modern and eye-catching. The platform offers a large selection of free templates, but if you're feeling creative, you can still design landing pages from scratch using your own ideas.
Section Templates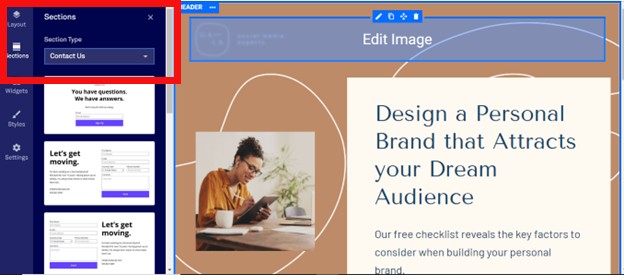 Asides from landing page templates, Leadpages also offers 'section' templates. These are prebuilt templates you can add to sections instead of the whole landing page. So you can personally design some parts of your pages and then import templates for other sections.
The section templates that we find helpful are the About, Contact, Call to Action, and Testimonials.
Selecting Templates by Conversion Rate
While you can sort ClickFunnels' templates by page type and funnel type, Leadpages allows you to sort their prebuilt templates by Conversion rate, i.e., you see the ones with the highest conversion rate first. So you can just import and edit those.
Unlimited Traffic
Leadpages has two subscription plans, which will let you receive unlimited traffic as long as your subscription is active. ClickFunnels, on the other hand, only allows up to 20,000 visitors per month on its basic plan. You will have to upgrade to the platinum plan to get unlimited traffic.
Website Builder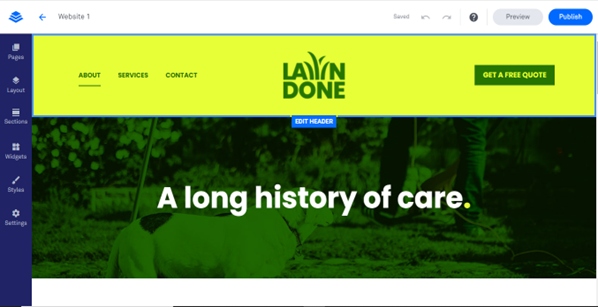 Leadpages has a website builder feature to create a multi-page professional website for your business' online presence. And the best part? There are prebuilt templates for websites created using Leadpages.
The websites you'll create on Leadpages are different from ClickFunnels membership sites in purpose and features. Membership sites are meant to host content for people who have registered accounts, while the websites you'll create on Leadpages are mainly for web presence and will have pages like the about page, contact pages, products page, FAQs page, etc.
Pricing Plans - How They Compare
ClickFunnels Pricing Plans
ClickFunnels pricing and Leadpages pricing are not easy to compare. There are only two ClickFunnels pricing tiers (Basic and Platinum), Whereas Leadpages pricing tiers include Standard, Pro, and Advanced.
Both ClickFunnels and Leadpages allow you to pay for a monthly or yearly subscription, depending on your preference. Renewing your subscription monthly may be more convenient if you can't afford to part ways with a large sum of money at once, but you will save more money if you choose the yearly subscription.
Try ClickFunnels 14 Day Free Trial
ClickFunnels Basic Plan costs $97 a month, and you get up to 20 funnels, 100 web pages not including those in your membership sites, 20,000 visitors, 3 custom domains, and an unlimited number of contacts. The monthly cost of ClickFunnels is easier to budget for; however, to save some money, you can register for the annual plan for $970, saving you $194 over the 12 months.
ClickFunnels Platinum pricing is $297 a month, and you get unlimited funnels, unlimited web pages, unlimited visitors, unlimited contacts, and 10 custom domains. The annual subscription goes for $2,970, which is the equivalent price of 10 months.
Leadpages Pricing Plans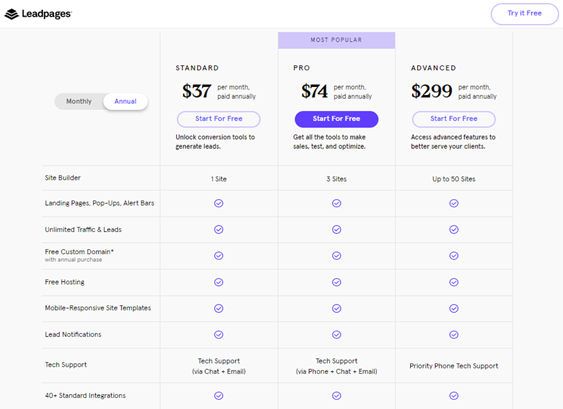 Try Leadpages 14 Day Free Trial
Leadpages costs $49 a month for the standard tier and can host 1 website, unlimited landing pages, unlimited traffic, and leads. You also get a free top-level domain with a .com or .net extension if you purchase the annual plan.
The Pro and Advanced tiers cost $99 and $399, respectively, and the only difference is that the Pro tier can host up to 3 websites, and the Advanced tier can host up to 50. Also, both plans allow online sales and payments and unlimited A/B testing, which are not available on the Standard tier.
Like ClickFunnels pricing plans, Leadpages offers discounts on its prices if you register for an annual subscription. For yearly subscriptions, the Standard tier goes down to $37 a month, the Pro tier $74, and the Advanced tier $299.
Ease of Use
Both ClickFunnels and Leadpages are marketing automation tools designed to help webpreneurs and small business owners set up their websites and build an online presence for their businesses.
Setting up a website on ClickFunnels or Leadpages is pretty straightforward. Both platforms feature the modern drag and drop page builder that lets users build websites and complete sales funnels without writing code.
You can also leverage the landing page templates available on both platforms to speed up your design process. While both platforms have the landing page builder, you can only create membership sites on ClickFunnels.
Both Leadpages and ClickFunnels are template based and engineered to help non-programmers host and build with little to no effort. Their dashboards are neat and easy to navigate. We find both platforms not complicated, but either way, beginners need to be committed to learning the platform basics to ensure success.
Customer Support
Naturally, both Leadpages and ClickFunnels have customer support teams that can help you solve any issues you might face while using their platforms. However, there are different levels of support for the different pricing tiers.

On ClickFunnels, you get email support on the Basic tier, while the Platinum tier gives you priority support. Don't get your hopes too high because you still need to submit a ticket if you need help. Leadpages support on the other hand, gives chat and email help for the Standard tier, phone, chat, and email for the Pro tier, and priority phone tech for the Advanced tier.
Both platforms provide training one way or another. When you open a new account on ClickFunnels, you get the Funnel Hackers Cookbook which teaches you everything about building funnels on ClickFunnels. Leadpages, on the other hand, has a gated training program you can only access after submitting your email address or opening an account.
Both Leadpages and ClickFunnels have private communities on Facebook where fellow users can interact and post questions to receive answers from more experienced users. But ClickFunnels has approximately 10 times as many members in its community, so there's a fair chance that your questions will get a response!


Both the ClickFunnels blog and the Leadpages blog are populated with large volumes of tutorials and guides to help their users succeed.

ClickFunnels Pros and Cons
Having used ClickFunnels to build several landing pages and funnels over the past years, below are some pros and cons of ClickFunnels for you to consider.
Pros
Drag and Drop Landing Page Builder
Great for larger businesses with several products
Seamless funnel building process

Inbuilt email marketing system

A large integrations database

Payment gateway integration

Can save contact information and send broadcast emails

Cons
Limits creativity in designing web pages
Expensive if you don't need all of the features
Limited range of fonts in the page builder
Actionetics/Follow up funnels only available on the Platinum plan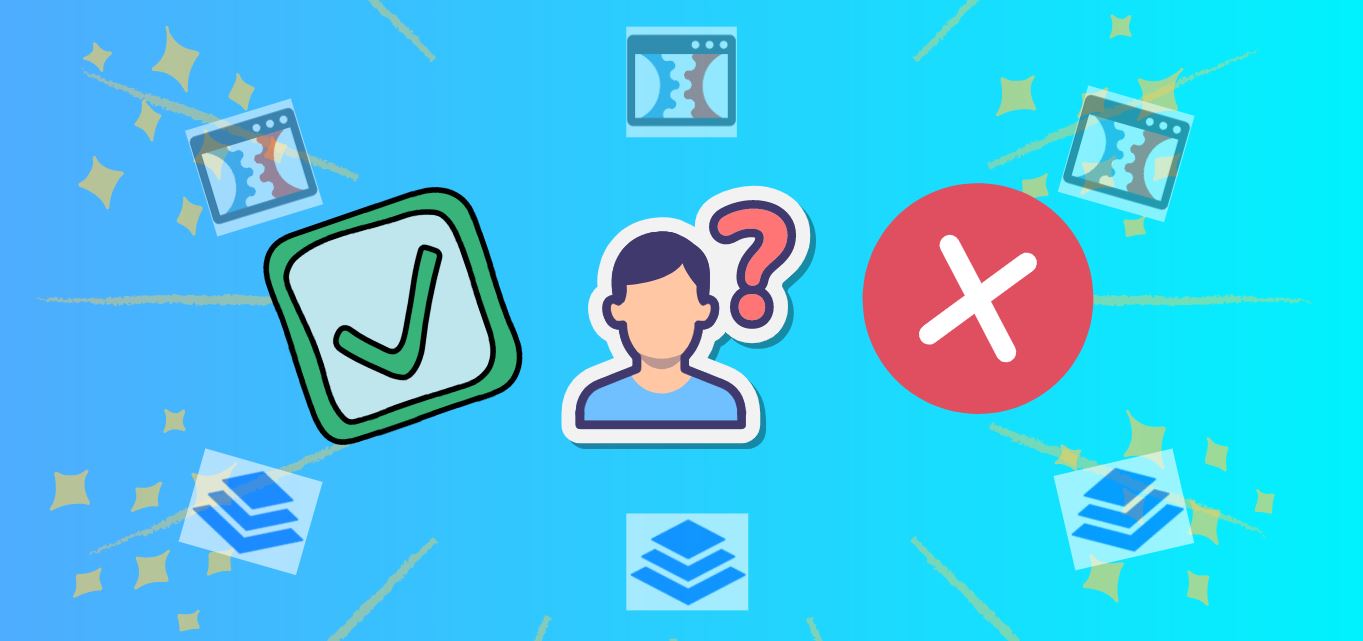 Leadpages Pros and Cons
As ClickFunnels is not an absolutely perfect tool, neither is Leadpages perfect. Below are some pros and cons of Leadpages for you to consider as well.
Pros
Great for new and small businesses with a handful of products
Drag and Drop page builder

Leadmeter—page performance predictor

Reliable customer support

Unlimited traffic and leads on every plan

Free top-level domain on the annual subscription

Filter templates by highest conversion rate

Large integration database

Cons
No payment gateway integration for the Standard plan
Limits creativity in designing web pages and forms
Limited A/B testing on Standard plan
Drag and drop is sometimes sluggish
Newbies may find it difficult to connect individual pages into a functioning sales funnel
It cannot save contact information and doesn't have an email marketing function, but it can integrate with 3rd parties like MailChimp and ActiveCampaign
Final Thoughts
Both ClickFunnels and Leadpages are excellent tools you can leverage to launch your online business as soon as you want. Do you need a website for ClickFunnels? No. And neither do you need it for Leadpages.
We've summarized some of the key benefits and features in the below table so you can more easily compare and decide which tool is best for you.
And that concludes it for our Leadpages Vs ClickFunnels comparison. As you've learned, both tools are excellent for basically any business with an online presence. ClickFunnels is engineered to drive more sales and convert more leads to customers. Leadpages will get you up and running with a great-looking website that also has an affordable pricing structure. All you have to do is identify which features are the best fit to achieve the outcome you want for your business. Good luck!