In a nutshell, Helium 10 is touted as a brilliant and cliché "Ultimate FBA tool" for choosing a product, scaling your sales operation, and managing your Amazon store.
Sellers who are serious about making money on Amazon are often recommended the tool by so-called gurus since it offloads all the legwork and guesswork required to choose the right stuff to sell and grow a business.
But does it really? Or it just another bloated piece of software? After all, there are half a dozen other tools that purported to do everything that Helium 10 promises, so are all things equal?
In this Helium 10 review, we'll answer these and other questions while focusing on detailing whether or not this tool is right for your business.
So, let's dive right into the review!
Helium 10 Review: What is It?
Most people who sell on Amazon have probably heard of Helium 10. However, just in case you haven't heard the name Helium 10, and the above introduction isn't detailed enough, this section has you covered.
One of the biggest challenges of private labeling stuff sold on Amazon is that you need to find a unique angle for it. Generally, a seller will take an existing product and find a way to make it stand out from the crowd. The seller will also need to do this without spending millions on creating a valuable brand.
Coming up with an idea of turning a product into a money machine is easier said than done. Throw 2 million sellers and counting on Amazon, and it is a bit more challenging than what most people can handle.
You also need to get what you're selling on Amazon found by potential buyers. The key is finding a product category that isn't saturated, but which will end up generating the most sales. That's where Helium 10's suite of 13 tools come in.
Helium 10 helps Amazon sellers find ideas for new stuff that can be sold, track their success via how well their keywords rank and evaluate the competition all from the convenience of its dashboard.
The Helium 10 suite of tools helps eliminate most of the guesswork associated with numerous labor-intensive work when it comes to selling stuff on Amazon.
While it is possible to sell on Amazon without using Helium 10 or similar software, but because it makes a lot of the work associated with selling easier, the assumption is that it is worth the investment…we'll get into if it is worth it below!
Helium 10 Features - A Suite of 13 Tools!
Our review would be incomplete without a comprehensive look at the features. However, we'll also discuss how these features are intended to be used by Amazon sellers to increase sales and, consequently, make more money. All the services we discuss below are easily accessible via the Helium dashboard.
Black Box - Discover Untapped Products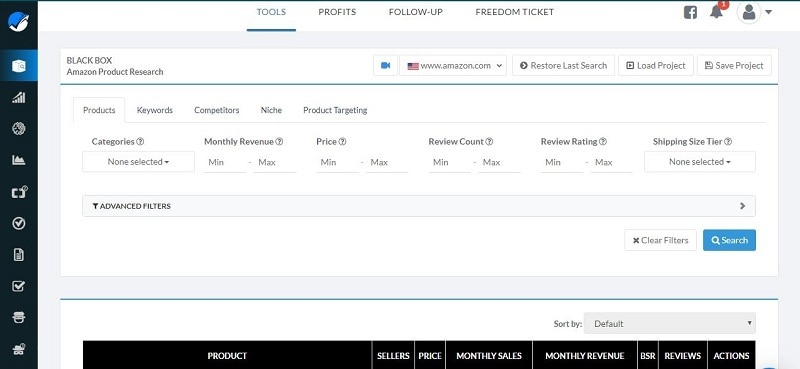 Finding a good product to find is one of the most challenging things newer Amazon FBA sellers have to deal with.
Black Box makes this process MUCH MUCH easier and it is easily one of the best features introduced by Helium 10, and it claims to make discovering opportunities to sell new stuff easier and faster. While we've not been able to use it extensively, it does appear to e pretty useful especially for existing sellers who may be looking for additional opportunities, or see if their ideas are viable.
Using Black Box for this Helium 10 review, we were able to find competitors in various niches that had poorly written product descriptions and had two or fewer images of their products. However, despite that, they were doing pretty well.
The assumption is that if those products with unoptimized listings and poorly described offerings are doing so well, then you can do a lot well using Helium 10's set of tools.
The tool has tabs for "competitors," "marketplace," "product targeting," and "niche," which allows you to dive further into the listings to find products that can't be reached by other sellers consequently lending an advantage. We strongly advise that you use these tabs and don't just use the "marketplace" feature.
Another great thing about Black Box and something we did use quite a bit was the ability to search international Amazon marketplaces. So, instead of just being limited to North America, we were able to search Amazon in the UK, and Italy, and Sweden. Even when we were just using the tool to write about it, we were surprised by some of the stuff we saw.
So, if you're thinking of selling on Amazon, or want to add additional product ideas, Black Box should be your go-to tool.
Here is a great tutorial on how to use it:
Cerebro For Research
Cerebro is one of the Helium 10 tools or features if you may, that's built into Helium 10 designed to make researching competitor keywords easier. You can also figure out the search volume of a particular set of products.
Cerebro uses what's called a Product Rank formula, to help users rank their items to new heights, by taking advantage of the high search volume of certain keywords.
To us, it appears to be a fancy ASIN lookup tool but one that gives users everything they will ever need to know about a certain product's viability on Amazon including search volume.
All you need is to paste the complete product URL and Cerebro produces literally thousands of keyword suggestions, which includes keywords that the item is currently ranking for.
During our tests for this Helium 10 review, we pasted a competitor's best selling product's link into Cerebro, and it gave us a world of information about it. For starters, Cerebro will only work best if your item or listing has received a large number of reviews and or is the best ranking in that category.
Usually, the age of a product i.e., the duration for which it has been selling and the number of reviews, is a good indicator that it is doing well by ranking for many other keywords compared to newer listings.
The most important information other than the search volume that you'll get from Helium 10 is the Cerebro IQ Score for the listing, which uses Helium 10's unique algorithm to determine the viability of the product. The higher this figure is, the more viable the product is to sell.
In our opinion and something that Helium 10 alludes to is the fact that this score is a ratio of the overall search volume compared to competing listings. So, if a product has a very high IQ, it means that there are a high number of searches for it but low competition i.e., fewer products competing for that traffic.
A low score means fewer searches and very high competition, a niche you should stay away from on Amazon.
Check out a detailed video on how you can use it: 
The Keyword Database Called "Magnet"
Magnet follows in Helium 10's tradition of wacky naming schemes. The Helium 10 keyword research tool has little to do with the power of attraction and more to do with fetching powerful keywords from its database. It augments Cerebro's raw data pulling capabilities with high volume keywords, that can be used to optimize listings.
Using Helium 10's Magnet requires that you begin by entering a "seed" keyword into the tool. Magnet craws its database for similar, related terms, which helps sellers uncover more organic traffic opportunities that they may not be using at the moment.
Magnet (keyword research tool) provides users with the following information:
Related keywords
The highest volume-related keywords
Keywords that are actionable
Competing for similar items
Word usage frequency
The interesting thing about the tool is that all data is directly sourced fresh from Amazon. So, you don't have pointless search traffic ruining the results. Furthermore, you can use search filters to trim the proverbial fat and only use the meaty, juicy keywords that will help you sell more!
A Quick Tip About Using Magnet with Cerebro
During our time with Helium 10, we tried to figure out how best to gel Cerebro's results with Magnet to extract the max results. What we did was select all relevant keywords in Helium 10 Cerebro and then click 'Get Keywords.'
We were then presented with a truckload of related keywords, in other words thousands of keywords that would have otherwise gone unnoticed to us. While we didn't go through each keyword, it is near impossible to sort manually through thousands of keywords. For us it was a total of 4k keywords for what we assumed was a niche item! But there is a way to sort these keywords out [we will discuss this a little later].
Scribbles - Create Product Listings that Stick and Not Stink
Many newbie sellers don't think twice about their product's listing. Most don't now how important listing optimization is to their business. Take our advice: listing optimization is a big deal and Scribble makes doing that very easy.
Those that do often use some sort of keyword optimization tool, which is geared towards optimizing content for search engines like Google and not necessarily for Amazon.
Fortunately, in our experience, if you're able to optimize your listing appropriately for Google, it does a fairly decent job of ranking on Amazon. Scribbles is a tool that's geared towards optimizing your content for Amazon, which we assume uses a different algorithm.
The tool uses a patented algorithm developed mainly by Helium 10, which scours the internet, analyzing competing listings and sources information from them. We tend to consider it the BuzzSumo of Amazon!
Using Scribbles Amazon sellers can:
Ensure that their listing is optimized for all the relevant keywords.
Create an optimized listing using the highest volume search terms that best represents what you're trying to sell.
Check keyword density, i.e., the right number of times the keywords appear.
The ability to retrieve previously used Amazon listings and import them into the listing account.
Scribbles also automate many minor tasks like if you add a specific keyword to the bullets, title, and description, it is automatically filled in the "used keywords" field.
The keywords which aren't used in the title, description, or bullets are added to the "Unused Keywords" filed. So, you have a great deal of editorial control over the listing.
Using Scribbles, we were able to add our primary or seed keyword to the frontend and the backend of the listing, which should theoretically help get the most sales. However, the question is, does it really work?
Well, to find that out, we took a half-decent ranking digital product of our own that sells pretty comfortably for $5. We overhauled its description using Scribbles and published it. While it didn't start raking higher than our previous product listing immediately, it did start doing better after a week.
Our assumption based on what we saw is that optimizing our Amazon listing using Scribbles should help boost rankings, but you'll have to wait around at least a week. Not to mention that our listing, which was doing pretty decently, was optimized using a tool geared towards search optimizing content for Google.
The Less Monster and More Cleanup Beast Called "Frankenstein"
Now one of the issues we've had with using Helium 10 for generating keywords using Cerebro is like other similar features they tend to generate a lot of repeats and unrelated keywords. Some unrelated keywords appeared several times in our list, which we could either manually clean or use Frankenstein.
Frankenstein takes care of removing all the excess so-called fat from the keyword list which stemmed from the seed keyword, which makes it a lot more manageable.
However, you can choose to keep certain distantly related keywords, which will help you rank better if they are included once in the listing.
Using Frankenstein along with Cerebro to clean up your list is simple. Copy the entire list of keywords, i.e., all the closely related and slightly distantly related ones, then click the checkbox to "remove common words." So, words like "for," "the," and "a," etc. are excluded from the list.
After removing all the duplicates, we went from having around 4k keywords to 200! 99.9% of these were very relevant to what we were trying to sell. However, it only makes sense if we can easily use them in our listing.
The good news is that Scribbles is closely tied in with Frankenstein. Scroll right down, and right next to the 'de-duped' keywords feature in Frankenstein is a button that reads "Scribbles" click that.
Now when you're typing in your description, title, and bullet points, the keywords will automatically move into the appropriate "unused list" to the "used list." That way, the system ensures that you don't forget adding a keyword to the text. 
While Frankenstein is extremely useful, the drawback is that managing 200 keywords isn't exactly straightforward. Not to mention you shouldn't keyword stuff your listing. However, that's where Helium 10 can't help you, and you'll have to use your better judgment when drafting content for the product.
Index Checker
The Index Checker is meant to save hours that sellers would otherwise spend on trying to figure out if their stuff were indexed by Amazon. As a seller, you need to realize that using low-quality keywords prevents Amazon's algorithm from indexing the listing's high-quality keywords.
So, the tool craws Amazon, to figure out which low-quality keywords are preventing your listing from being indexed. That makes it easier to find and eliminate so-called "parasites" so that your listings can start ranking better and faster.
Using the feature is pretty self-explanatory, all you need is to enter the ASIN number of a competitor's products, and you'll see which keywords are leading to them being on top. So, you can replicate what these top sellers are doing without spending hours on research.
Keyword Tracker
Now a follow-on to the Index Checker is this Keyword Tracker tool which promises to help you rank and possibly brand an item which drives up its value.
Once your product is ready and shipped to Amazon, it is time to track how well it is doing in terms of ranking for the keywords that should bring it the most sales. That's where Helium 10's keyword tracker tool has you covered.
While it is advisable to use some sponsored listings, especially for brand new items to create awareness, and get the ball rolling, its something you can't use forever.
So, you'll want to rank organically for those keywords you need to build a brand in the long-term. So, using a keyword tracker can make your life easier.
Entering your item's ASIN into the tool will allow it to track each one, so you'll know where it is ranking for those keywords. You can also pull up ranking history to see how well things have progressed.
In our experience, the keyword tracker is a little slow, and it takes a few hours for rankings to be updated. However, it still saves you hours, which would otherwise be consumed manually tracking each item and potentially dozens of keywords that it should rank for in Amazon.
Profits
The Profits tool is a little tricky but can be helpful for some high-volume Amazon sellers. Sellers already know that merging listings with Amazon account analytics to calculate efficiency isn't easy.
That's where the Profits tool claims to fill in the gap. Using what's termed as a "complex algorithm," the tool shows the overall potential of your product, showing negative and positive aspects.
Using the tool helps sellers estimate if the idea is lucrative or not. However, in reality, if you've just launched the product, with little to no sales, the tools do not present an accurate picture.
For instance, when we tried using it for our test, the results showed that we should be losing money, because it wouldn't be profitable to sell, when in fact it is a pretty profitable digital item! So, take the results you get here with a heap full of table salt!
Alerts
Alerts will monitor all your ASINs and will notify you if someone is selling what you are selling or altering your listing to use it for themselves. The tool used to be called Hijacker Alerts to our relief that god awful name has been changed to 'Alerts.'
You need to connect the Alerts tool to your Amazon seller account to start tracking all the listings. You will be alerted if people have hopped on your listing or are using an edited version.
In a nutshell Alerts checks for:
A change in the listing's title as well as when it took place
Change and when the description was altered
Change and when that change took place with product photograph(s)
Change in product dimension as well as the time
Lost buy box and the when it was lost
The buy box won and exactly when it was won
Alerts can also be sent via email just so that you don't have to keep checking back. Sellers are also alerted if Amazon changes the dimensions for an item accidentally. If the change is significant, you could end up paying a lot in fulfillment fees.
Another nifty feature of the Alerts tool is it takes screenshots of the updates every day via desktop and mobile of your listing. So, if something does go wrong, you can go back and check the listing's history and changes through an entire calendar year and potentially beyond.
We see how useful this tool could potentially be for people selling their own unique brand of merchandise. However, for people like us who mostly resell mainly digital property, it isn't going to be of much help.
Inventory Protector
Come Christmas, and most sellers offer deep discounts via various promo codes which we're told Amazon does not handle very well. For instance, buyers can add multiple units to order and then apply that single Helium 10 coupon to the entire order.
So, instead of buying a set of makeup kits with an 80% discount, they can buy 100 kits with the same discount and clean out a seller's inventory. It rarely happens, but when it does get caught off guard isn't fun. Inventory protector is meant to save you from this ever happening.
The inventory protector tool helps avoid the issue by setting the maximum amount to "1" so that people don't take advantage of your steep discounts. While we weren't able to test this tool to see how well it worked, those who have used it say that works exactly as advertised!
Many sellers would think that this inventory protector type feature would be baked into Amazon but it isn't. That's why by Helium 10 offering it as a feature it helps make the lives of many sellers easier by automating the process.
What's more, is the fact that inventory protector is very easy to use and manage. A brief look at the inventory protector feature is all you need to figure out how to use it. Needless to say, Inventory protectors should be used by all sellers.
Refund Genie
As an Amazon seller, you know that every now and then, Amazon tends to damage or lose your stuff, which means you need to get a refund, that's where refund genie comes in. While Amazon is kind enough to notify sellers and the refund is automatic, sometimes things don't work out. So, you may be entitled to a refund and not realize it.
Refund genie is meat to make your life a lot easier by tracking all of this information. So, as a seller with probably close to a dozen products, refund genie is handling all the grunt work here. Not to mention saving you a truck load of work on the clock.
While refunds aren't an issue with our limited digital product, they are certainly the case for sellers with a large inventory of physical merchandise that need to be shipped.
Refund Genie uses Amazon's API and will alert you of instances where a refund is due. It gives you a template that you can copy and paste, then fills in the blanks to email Amazon to demand your refund. In a nutshell, it should make the process of claiming your refund a no-brainer.
Follow-Up
Many Amazon sellers who read Helium 10 reviews, unfortunately, don't follow up with their customers because its cumbersome, time-consuming, and the return isn't considered great.
But thanks to automation baked into Helium 10, you don't have to create a follow-up from scratch, because the system does it for you.
Using the tool certainly helped us save time by following up with over a dozen customers with a few clicks. However, it does take some setting up initially, especially creating email templates, setting up the automation system, etc. But once things are set up, they work perfectly.
Trendster
Trendster works to determine if the items you're selling is seasonal or will it sell all year around aka evergreen! Trendster works by analyzing ASINs in relation to keywords' search volumes throughout the year to figure out when certain items are in demand.
You can enter your own ASIN, though if you enter a keyword, the software will pull up a Google Trends graph.
The data can be arranged in multiple date ranges, and you can see various price points and volumes. You can also see if competitors drop their prices over time or during certain times of the year, which is an indicator that their margins are slim.
As a seller, this information is useful, because it gives you the opportunity to decide if a seasonal product can be augmented with other so-called evergreen products. Also, it allows you to figure out margins for the items during its leaner cycles.
Misspellenator
What's the difference between typing Amazon and Amzon? It goes without saying those typos and misspelled words are a thing which you should capitalize on as an Amazon seller.
The Misspellenator tool allows you to do just that. The features work to show words that Amazon does not auto-correct. While we don't advise that you fully optimize your listing with misspelled words, you might want to include a few in there just to get some extra traffic.
Helium 10 Chrome Extension
Helium 10's Chrome extension is more of a limited suite of 5 tools that are meant to save Amazon sellers some time by handling otherwise mundane tasks. The tasks include being able to fine-tune research by validating your product ideas, estimating profits, competitor research, planning for seasonal products, and finding source opportunities.
Installing the Helium 10 extension takes a few minutes. While for the most part, it works flawlessly, it did glitch out a couple of times when we were using it. That said, it is still a very convenient tool.
Clicking on the extension in your browser will give you access to tools like:
1. Helium 10 Xray
The feature provides users with access to market data which helps narrow down lucrative product opportunities. You are presented with data like sales trends, revenue evaluation, and sponsored ad analysis etc.
During our testing, we found that the data isn't 100% accurate. While data like trends are fairly accurate, sponsored ad analysis and revenue evaluation are more the algorithms filling in blanks instead of it being precise, that's because Amazon does not make this data accessible. However, it does offer sellers a good starting point.
2. Inventory Levels
You get to see present inventory levels of products you're interested in on Amazon's marketplace. The data here in our experience is accurate.
3. ASIN Grabber
The tool allows you to grab ASINs in bulk, which can then be used to automatically generate ads so that you can sell more during a fairly hot sales cycle.
4. Profitability Calculator
Using the tool, you can calculate an estimated profit margin based on FBA fees, the weight of the product, its dimension, and the cost of shipping.
5. Review Downloader
It gives you a chance to glance through what the majority of your buyers are saying and use that to make crucial decisions. You'd probably use it to give your buyers what they want. If anything, we'd recommend you use it to identify problems early on before they become worse.
Helium 10 Pricing
Helium 10 is sold in five pricing tiers, each tier is different in terms of how much you pay each month and consequently each year. The good thing is that Helium 10 pricing isn't confusing and you'll get exactly what you pay for depending on what's offered across each tier unike what other reviews may lead you to believe.
The five tiers are:
Free
A la carte (pay for as much as you use)- Price varies from $17 – $97 a month
The Platinum Plan is $97 a month
The Diamond Plan is: $197 a month
The Elite Plan is: $397 a month
So, the million-dollar question is: which plan offers the best value? Since Helium 10 cost varies answering this question is just as important as understanding the tiers.
In all honesty, it depends. We have not been able to use all five plans, but we'll try to give you our two cents on each.
1. The Free Tier
If anything, Helium 10's generous offer is to get your feet web. You get to use most of the tools, but only for a bit. Tools like Trendster and Cerebro are limited to 30 days with limited ASIN tracking.
The Magnet feature can only be used twice a day and can track 20 keywords at most. However, what you're getting here is enough for anyone to use and figure out if the service is right for them before selling money for it!
2. The Platinum Plan
It is the perfect plan for entry-level users. We would define entry-level as those who are new to FBA perhaps. The best thing with this plan is you get unlimited use of Trendster, Helium 10 Black box, and Magnet, along with 5k emails every month along with alerts for 300 ASINS.
3. The Diamond Plan
If you have multiple products, generally a few dozen, then this is the plan to get. It is also for whom the Platinum Plan didn't offer enough juice. You get to track up to 5k keywords, 600 ASINS and 300 indexes, as well as automated a whopping 15k emails each month. To us, this plan will work best for 80% of Amazon sellers.
4. The Elite Plan
Think of it as the Diamond plan on Steroids. It has everything that the Diamond has plus, 50k email address and 1000 ASINs. However, it also comes with three very useful benefits that no other plan offers i.e. monthly training, Facebook group access, and In-person workshops.
So, this is for the proverbial Rockstar seller. If you're crushing it, then scaling it is quick and easy using the Elite Plan.
Helium 10 vs Jungle Scout
Many people want to compare Helium 10 with a similar software called Jungle Scout. The common question: is Jungle Scout better than Helium 10? So let's get into Helium 10 vs Jungle Scout.
However, before we get into it, let's start by saying that it isn't hard to answer this question if you know what type of amazon FBA seller you are or want to be.
If you're deciding between the two, ask yourself: Do you want a simple yet powerful product research tool with an extensive database, or would you rather use an all-encompassing tool, which includes scaling, building, managing and researching products across the entirety of Amazon's empire?
During our brief time with both tools, we've found that Helium 10 is more powerful and versatile compared to Jungle Scout. Most people will only need Helium 10 to sell successfully across Amazon, regardless of their niche.
However, we'll not take away the fact that Jungle Scout may be ideally suited for certain types of sellers. Here is what Jungle Scout Features:
A Product Database: You'll find that so-called needle in the haystack much faster than your competition with a quick and new immediate view of the bestselling, most profitable product opportunities.
Inventory Manager: You get to see real-time status of your inventory, which helps you avoid costly fees and stock-outs.
The Product Tracker Feature: You can keep an eye on any product. You can use Jungle Scout to create a selling strategy that includes inventory status, revenue for the product sold, and daily sales targets.
Supplier Database: In our opinion, most sellers will find this resource very valuable. You can find sellers based on your criteria. So, if you're having supplier issues, this tool is the solution to your woes.
Jungle Scout Web App vs Chrome Extension
Jungle Scout is available as a web app (SAAS) and as a Chrome extension. While both help you find profitable products to sell as well as manage your Amazon account to make millions! Both tools work very differently.
The web app is used via the browser, like any other online service. You can access the product database and use the keyword finder etc. It is a lot more powerful than the Chrome extension.
The Chrome Extension banks on Amazon's search results. So, you'll need to search on Amazon and then click on the extension. That's when you're presented with all the valuable data about a product, which includes average pricing and monthly sales.
The web app can be used without the Chrome Extension, but when they are used together, they offer maximum benefits. For instance, you can use the web app to research the best product ideas, then switch on over to the Chrome extension to find information about the product.
You can then go back into the web app, and use a myriad of other tools to manage and sell the product. So, it is a symbiotic relationship.
Helium 10 Review: So, is Jungle Scout better?
Not really! Helium 10 is much more comprehensive and hence a more valuable tool. Helium 10 does just about everything Jungle Scout can and more, not to mention better. That's why we'd recommend Helium 10 to anyone who is serious about building a large FBA empire.
Jungle Scout is simple and very intuitive with great product research capabilities. It is the best tool in terms of product research based on how comparatively little it costs.
So, it is the best tool for sellers on a budget each month, perhaps for startups who are funding their venture using their salary. However, once again, those serious about selling on Amazon should get Helium 10.
Final Thoughts on Helium 10
It is time to bring the hammer down on this Helium 10 review and leave you with our 2 cents about how useful it is to your Amazon business. If you already haven't figured out if Helium 10 is worth it then, allow us to be candid in saying that it is!
Helium 10 is the swiss army knife of Amazon FBA tools which includes powerful tools like Cerebro which will help you reach guru status. It throws in just about everything except for the kitchen sink to ensure that your products float to the top of everyone's search.
That said our time with Helium 10 was brief but during this time, it made us wonder how we even sold on Amazon without it. Perhaps a better question would be is do all top sellers on Amazon use this tool?
Helium 10 saves you from loads of guesswork and takes so much of the grunt work out of the equation. However, if it is your first time using a tool, getting used to it may take some time. But a day or so later, everything becomes second nature.
The only drawback, at least for us, is Helium 10 pricing i.e. what you pay each month or year for it.  It is pricier than similar tools but on the other hand, it does a lot more. Plus, you'll make up for the extra you pay for it in more sales and higher profits. Consider it an investment in your future as a successful Amazon FBA seller!
Visit Helium 10