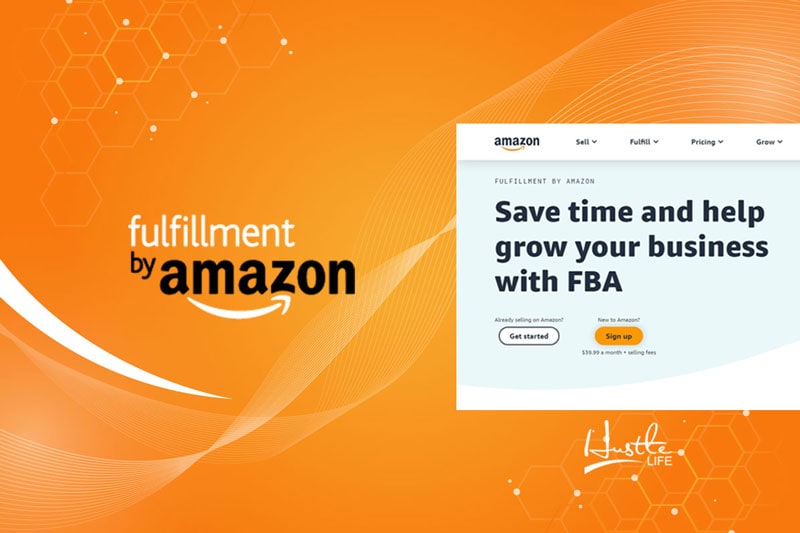 If you're looking how to sell on Amazon FBA you have come to the right place. Many articles you find on Google have outdated information or leaves out critical information.
With all the craziness going on right now it's more crucial than ever to have the best information out there. That is why we have compiled all the latest information to give you the most complete guide on how to get started selling on Amazon FBA in 2021.
Amazon FBA Stats: Why It's a Huge Opportunity
Amazon is still the leading online marketplace around the world despite having its share of competitors. In the USA alone, the company has 250 hundred million subscribers, 90 million of which are customers listed on Amazon Prime.
A regular customer can spend $700.00 a year whilst Prime members spend an average of $1,300.00 yearly. We're just talking about one customer here, do the math and you'll know that Amazon FBA is a goldmine waiting to be picked. In this article.
First, what is Amazon FBA? To simply put, Fulfillment By Amazon. It is a service offered by Amazon to help businesses with their logistics.
Amazon will take care of storage, shipment, and shipping of your products stored in their Amazon Fulfillment Centers. The employees will be the ones to expedite every order processed.
Send Your Products To Amazon
After signing up your business to Amazon FBA, they will contact you where to send your goods, so you will know immediately what Fulfillment Center (Amazon FBA warehouse) sends your products to.
Amazon has more than 110 active hundred Fulfillment Centers across the state, 21 of those in California, so there's a big possibility that they have a warehouse near your location.
Amazon Sorts and Stores Your Products
Once the warehouse gets a hold of your products, it will be immediately sorted, added to the inventory, and stored per category or type. The only downside here is commingling; you'll have other sellers that sell the same product as yours.
The staff put all identical products in one place. If an order is processed under your name, the staff can accidentally get the product of your competitor and ship it to your customer and vice-versa.
You can't assure the quality of the product from your competitor mixed with yours. To avoid these, you can put a sticker or big labels on your products as an identifier.
Customer Buys Your Product
Amazon will be the one to transact the sales for you. All payments will be processed on their end and update your inventory automatically.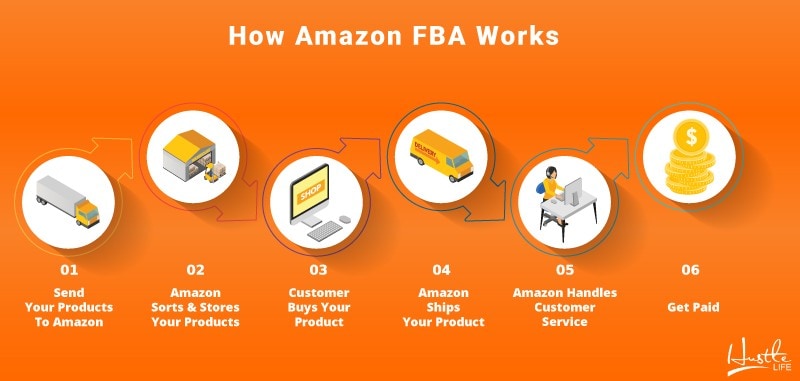 Amazon Ships Your Product
Once the transaction is processed, the warehouse where your product is stored will receive the job order, then they will be the one to prepare the package, put it in a box, and ships your products to your customers.
Amazon Handles Customer Service
This is another beauty of Amazon FBA. You don't have to deal directly with customers, so you don't need to add manpower to your business.
Any questions, complaints, or product returns will be handled on their end.
You will get your money every two weeks, not every time you get an order.
Amazon will collate all your gross sales within those two weeks, then deduct Amazon FBA seller fees (we will tell you what these fees are along the way).
Then your net sales will be sent to your linked bank account.
Now that you are aware of the process of Amazon FBA (Fulfilment By Amazon) for you to get started, knowing how and what to sell is the next crucial step to know if you really want to make sales.
How Much Money Do You Need To Sell On Amazon?
There would be fees that you need to settle if you want to start selling on Amazon.
There are two seller profiles on Amazon: Individual and Professional.
It is best to start with the Individual category first because you don't need to be a full-scale business to sell on Amazon.
Then of course on top of that list is your initial inventory cost. Amazon FBA also includes selling fees.
7 Hacks to Successfully Sell on Amazon FBA
As a beginner, you might find it difficult on how to sell on Amazon successfully, so read further because we have prepared awesome hacks for you to sell on Amazon FBA with success.
Product listing optimization
Discussed further below, but to put it simply. Getting your product on the first page, or even better, the top of search results means more traffic to your site and more potential customers for you!
Prices are subject to change without prior notice from your competitors, so always be on the lookout when it comes to price change. Useful tools are available to give you metrics and analytical data. Low prices don't necessarily mean good sales.
Buyers don't perceive the $00.99 decimal value as a form of savings because 99 is close to 100. If you see $99.99, you already know you're going to pay $100.00. So why not use $00.56 or $00.67 instead for example.
A little movement can make a huge difference.
Every consumer loves responsive and helpful customer service, so improving on this can give you better ratings, not because of your product but how you handled your customers.
That white box on the right-hand side of the consumer's window that they can add to their cart and purchase. Being on the BuyBox guarantees your sale. Because it is like Amazon is promoting your product directly to the buyer.
Getting on the buy box are dictated by the following more than the product price:
This process eliminates the process of research and trial and error. ASIN (Standard Identification Number.) piggybacking means finding the top-selling product and you will sell it for less, if not, with freebies.
Some people use ASIN Piggbacking as a blackhat method for getting sales by offering knockoffs of popular items for cheap, that is NOT what we are talking about here.
There are two ways to find an ASIN. First is through the address bar of your browser. See example below:
The ASIN is the one in bold letters. It will always come after "/dp/" in the address bar.
The second way you can locate the ASIN is through scrolling down at the product page until you get to the "Product Information" part. ASIN is listed in that section. You can now contact and strike a deal with the manufacturer of the same product that will be in your favor.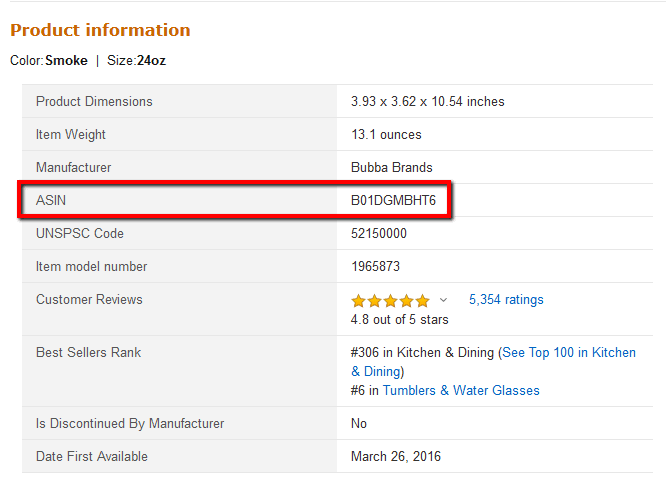 Vendor Power Coupon (VPCs)
Vendor Power Coupons can be a powerful way to gain reviews for a new product. You essentially sell your product for an extreme discount and ask for people to leave you honest feedback.
Just be careful of offering it to your friends, neighbors, family, in exchange for positive reviews. Amazon does not like this and it can get your account in trouble.
These hacks on how to sell on Amazon successfully will surely help you along the way.
Being dedicated will also give you the experience needed to ace the business and the next thing you know, you are making your own hacks on how to sell on Amazon with a breeze.
Benefits of Using Fulfillment by Amazon (FBA)
You might be surprised by the number of benefits you can get by selling on Amazon and using the Amazon FBA program.
Being on the Prime list equates to having more sales. Why? Because your product will reach the customers within 2 days and therefore makes for a happy customer.
Amazon will handle the transaction, sales, shipment, and customer assistance for your product. The fact that they are available 24/7 through different means will give your customers peace of mind that they can be assisted anytime, anywhere.
Even the painful and strenuous process of product returns are handled by Amazon.
Since Amazon will do the packing and shipping, you now have more time to focus on how to increase your sales. You can also take advantage of discounted shipping rates using FBA.
Amazon is a big company, courier companies like UPS or FedEx always offer discounted rates as a sign of goodwill for getting their services. These discounts and free shipping offers are passed by Amazon to the sellers.
Now that's another reason to sell with Amazon FBA.
WHAT ARE THE BEST PRODUCTS TO SELL ON AMAZON FBA?

If you check the Amazon website directly, they will provide you their current best sellers:
These are their Top 6, but keep in mind that the competition in those areas is already tight. You will be immediately competing with top trusted brands like Nike, Cuisinart, and Hydro Flask.
Keep in mind that Amazon has a lot of categories you can choose; from kitchenware, beauty and personal care, and office products to name a few.
How to Find Product to Sell on Amazon
After choosing what type of product you want to sell, how do you find products to sell on Amazon? You can narrow down your search by dividing it into three categories:
Some who sell on Amazon prefer this method, they would buy products to sell on different physical and online retail stores, picking up normally the ones on sale.
This process is called Retail/Online Arbitrage – preferred by beginners that have a tight budget.
The good thing about finding your product on wholesale suppliers is that you get a discounted price for buying in bulk.
Private Label Manufacturers
This is a good choice if you want your brand and logo seen on your products.
Tumblers, for example, brands like Hydro flask do not manufacture their own product, they order it from a manufacturer in China.
You can also contact that manufacturer to order the same unbranded tumblers, and market it as your own.
Now that you know where to get your products to sell on Amazon, you can progress by following the next steps.
Step 1: Define Your Product Research Criteria
Once you manage to decide what category you will be selling, the next thing to do is get tools such as Jungle Scout or Helium 10 that will help you define your product research criteria.

If you read further, these three tools will be defined and discussed. Using any of the three tools will help you get started to sell on Amazon. You will use them to find products that are sure to bring you amazing sales.
Following the criteria below while using the tools mentioned is a good start to make sure that you are on the right track.
You want to sell products that are:
You don't want to sell products that are:
Caution: Avoid These Restricted Amazon Categories
Why do we need to avoid the Restricted Amazon Categories?
To put it simply, selling these products is bad for your Amazon business in terms of taking too much of your time. Because of the strict requirements it has, that should be compliant with the law and Amazon standards.
If you sell products under the Restricted Category, you won't get started with your Amazon business immediately, because the entire process will be lengthy, you might spend a lot of time and resources doing trial and error just to make sure your product can sell on Amazon.
You can check the full list of Amazon Restricted Categories here.
Step 2: Select the Right Online Tools for Amazon Product Research
In this part, we are going to discuss Amazon Product Research tools we mentioned above in a much more detailed manner so you can sell on Amazon with ease.
As an Amazon seller, you don't want to get buried by your competitors when people search for similar products such as yours. You want to get that top spot when it comes to search results.
Jungle Scout Product Research Tool
Jungle Scout's main function is to gather data from Amazon. It has two options, a full web-based functionality or it can be an added extension to your Chrome browser. It will give you all the metrics that you need.
It will also give you an accurate product database such as who is the best seller to a particular product, number of reviews, and even generates keywords that will help you sell with Amazon.
Helium 10 Product Research Tool
Helium 10 is an all-in-one software suite for Amazon sellers. It is widely known for its SEO, helping your products stay on top of search results.
Aside from that, if it's your first time selling on Amazon, the data it will give you whenever you do a product search is very helpful. It will give you product ideas that are most researched.
Finding Overseas Private Label Suppliers
A private label is the best choice when it comes to selling on Amazon. Because it will give you the option to create your own brand and image, you're the one in control.
They are divided into three categories.
These types of companies are specialized in one or two products only. They manufacture, supply, and sell the product directly.
These are the middlemen. They will get your orders and look for a manufacturer to outsource the product you want.
Combination: Manufacturer and Trading Company
They can specialize in one product and they can also outsource a different product by acting as middlemen between you and the manufacturers.
The tricky part here is that you wouldn't know if the product you want is made from their factories or subcontracted.
Amongst the three, the best option is the Manufacturer.
Why?
No middleman involved, so you don't have to pay for any profit margin. You can also be assured of the quality of the materials they use. You can also be well informed of the stocks they have available for shipping.
So that's a good margin of saving that you can take advantage of when you start selling with Amazon.
Requirements For Finding the Perfect Supplier
If you Google right now in finding the perfect supplier for your private label, you will get a lot of results and that would often lead to more confusion.
To help you, you just need to make sure that your supplier meets the following requirements:
If you're wondering why we mentioned Alibaba specifically, it is because this company is the most trusted name when it comes to private label deals.
Overview of Alibaba Payment Methods
Alibaba will accept the following modes of payment when you order from a supplier through Alipay:
Below is an overview of the transaction process when you purchase through Alibaba via Secure Payment Service:
Your money is not released during the trade process until you have confirmed the successful delivery of the order. Once confirmed, Alibaba will release payment to the supplier.
All of your information will be safely encrypted.
If the supplier doesn't ship your order on time, or if you don't receive it and it is determined to be the fault of the supplier, you'll get your payment returned directly.
Partial Refund & Keeping Products
If the products you receive are significantly different from the product requirements agreed on within the contract, you may choose to receive a partial refund and keep the products.
Steps to Negotiate With Alibaba Suppliers
Now that you have decided to purchase the product you want to sell on Amazon. There are steps to follow because it is not as simple as clicking, checking-out, and paying.
We have to follow a process:
Change the search box category from "Products" to "Supplier" This is helpful because it will list down all the available suppliers for the product you want to sell.
Initial contact with the supplier. Make sure that the email you will send to them contains all the necessary details for a much faster and clearer transaction.
You can also ask for other credentials like business licenses and certificates, phone numbers, and physical addresses.
Request a quotation for the product you want to order. The best way to do this is by giving them numbered questions, so they can assist you better and give you clearer answers.
What is their minimum order quantity?
What is the pricing for samples?
What is their production pricing?
What are their accepted payment terms?
Make sure you ask these questions so you can decide which supplier is the best suited for your business. Asking questions will also give your prospect supplier an impression that you are serious in your proposal.
Their answers will also give you a hint if they're operating their business without any shade.
As a test of faith to their product, you as an Amazon seller can request the manufacturer to ship you sample products.
You have to pay for the shipping fee, but if you closed the deal with them after trying out the sample products, there's a big possibility that they will refund you.
So please don't forget to ask the manufacturer about this part, and they can be very obliging at times. 
You can also request that they use their own courier account and process the shipping via air express so you avoid dealing with customs. So you should always check the details of the private label's shipping plan with their sample products.
You might be surprised with the shipping fee included.

Another good news is that the USA raised its de minimis threshold from $200.00 to $800.00!
Your private label company can ship your test samples duty-free within the $800.00 or below the mark. Your shipment will arrive within 7 – 15 business days.
Sample products can be around 20 units or below, delivered right at your doorstep. Don't minimize the value of sample products, because it is your first step in making money!
You can now introduce your product to the world by selling it on FBA.
Shipping costs depend on the minimum order quantity of the products you ordered. However, expect to pay around $50 – $150 for your shipping fee.
If the private label company tagged you above that price, you should try negotiating or look for a different manufacturer. Definitely, express shipping is a different case, you should be prepared to shell out beyond the $150 mark.
How to Create an Amazon Listing and Ship to Amazon FBA
To be a full-fledged Amazon seller and start running your business, you need to create your own Amazon listing and Ship to Amazon FBA.
Follow these steps to accomplish your shipping plan:
On Amazon, go to "Seller Central."
Click "Inventory" on the top menu.
A dropdown menu will appear and select "Add a Product"
Select "Create a new product listing."
Select the category of your product.
Remember, avoid selecting from the Restricted Categories.
Fill up all the necessary details for your product
This is the name of your product. This is the part of your Amazon FBA journey where you need to use Jungle Scout or Helium 10's SEO suggestions.
Your product title section allows you to type in 250 characters max. Add value and include words suggested by your SEO tool.
The brand is a very important factor for your probable consumers to remember you by.
You can use your company name but keep in mind that your brand will say a lot as to what kind of business culture and value you are presenting to the consumers.
Your company. If you don't have a company yet, that's okay. You just need to make sure that what you will put here is what you will use in the future.
Just because you ordered from a private label means it is their name you need to put. Remember you are building your image.
If you're not decided yet, just put any value until you are finally decided. It won't go live yet after submission because you still need to accomplish your UPC code, FBA shipping plan, and send your product to the Fulfillment Center.
To help you decide to price your product, check out your competitors. For example, the tumbler you are selling, what is the lowest and highest price? How much is it selling on the Prime list?
You can play around based on the information you gathered about the pricing.
Even though your product will sell on Amazon FBA you still need a UPC code or a bar code. Visit SnapUPC and buy your UPC code, usually around $10.00. Just follow the simple click + pay step.
Go back to your product listing and go to "Product ID" and type in the number code of your purchased UPC.
Click "Save and Finish" as your final step. Congrats, you have made your very first Amazon product listing.
At this point, you can list one of your products to sell on Amazon as Merchant then convert it to Fulfilled By Amazon once it reaches the fulfillment center and listed on the inventory, your product is hot and ready to go! You can now start selling!
Another thing to consider even though you're eligible to start selling your products is having an FBA Shipping plan.
What's in it for you? You can put the Amazon Prime logo on your seller account, win the buy box, and give you the option to offer 2-day free shipping.
How to Create an FBA Shipping Plan
Go to your "Seller Central" dashboard, and click "Edit". A drop-down menu will appear and select "Change to Fulfilled by Amazon".
Click "Convert Only" and wait for few seconds, then click on "Print Item Labels"
Click "Edit" again and from the drop-down menu, select "Send/replenish inventory".
Then you are presented with two options:
Case Packed – you will ship your products in one big box. All your single-type products are sent to the fulfillment center.

Individual Products – for sending multiple types of products cased in one box.
Fill in the "Ship from" field.

Completing the Hazmat Review Form – sometimes the product you are selling doesn't need this form, but just to be safe, fill it out completely. Including how many units per case and how many cases will be shipped.
You should also download the exemption sheet to prove that your product is not hazardous in any form. Answer "No" to every section and upload the document and click "continue."
Fill out the approximate dimensions of your individual product. Just make sure your approximation is close to the actual info. So asking this information from your manufacturer is also an important detail not to be missed.

Fill out the number of units per case, then the number of cases to be shipped. Click "continue."
Since you or your company will prepare the products, answer "No" when asked if Amazon needs to prep in the warehouse that will receive your product. Click "Continue."

"Who Labels" – this is the next question to answer next, select "Merchant" and use your own label or the courier company you paid.
Send your product to an Amazon FBA warehouse.
What Amazon FBA warehouse to send your products to?
The address will be provided by Amazon. They have a designated warehouse for every type of product that they will receive.
After making sure all your shipping information is correct, click "Work on shipment". Now you need to prep and ship your products to be shipped to an FBA warehouse.
How To Prep and Ship Products to Amazon FBA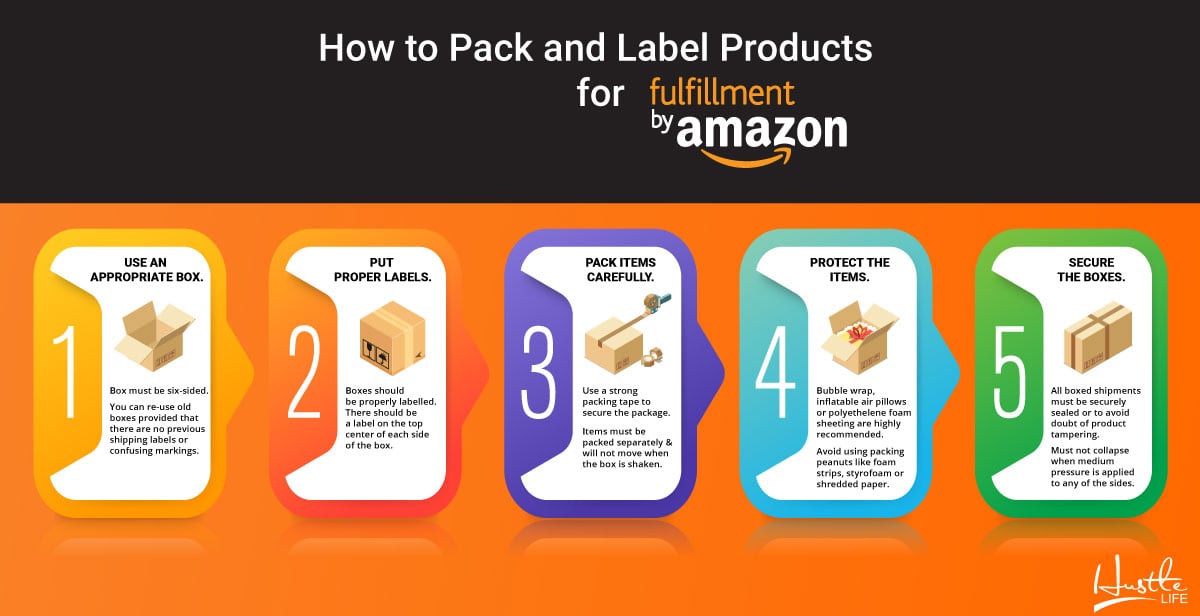 This is the final step of your shipping plan's entire process. You need to select how your products will be sent to the designated FBA warehouse. It's easy to put information if you're the one to send the product using USPS, UPS, and the likes.
However, it is very important to get all the necessary information if a third party is involved, ask which courier service they're going to use. You need to weigh your individual boxes and provide dimensions, you also need this information from the third-party shipper.
Print the label, attach it to your box, or email it to the third-party shipper. After sending the items, make sure you get the tracking number per individual box you sent. Multiple boxes mean multiple tracking numbers, so make sure you get all.
Amazon Product Photography
The address will be provided by Amazon. They have a designated warehouse for every type of product that they will receive.
After making sure all your shipping information is correct, click "Work on shipment". Now you need to prep and ship your products to be shipped to an FBA warehouse.
Amazon Product Listing Optimization
Product listing is often neglected by sellers. Why? Because they put all the effort and focus only on making an outstanding picture. Pictures are just one of the things to optimize on your seller account.
Junglescout provided a list:
Optimizing your page will translate to sales. Why? Because it will be more visible in searches, in turn, more click-through rates, that will lead to conversion, and conversions are the ones that generate sales!
Take optimization seriously. Your competitors may hire SEO experts to give them a killer SEO strategy, you might want to go that route as well if you don't know how to.
Create a Unique Brand & Grow Your Amazon FBA Business
The next step is to create your own unique brand and image to help grow your Amazon FBA business.
How would you design your packaging? How should your product insert look? How to make an eye-catching logo? How to use infographics to help your consumers?
The best route to get all the answers to the questions presented is hiring a professional to design your brand. There are a lot of freelancing job websites that you can look around to hire. You can negotiate the rate with them upon the interview.
You can check freelancers at:
Depending on their experience, freelancers can charge you from $4 an hour to $12 an hour. They can also do it on a project-based term.
We mentioned Fiverr on the list. It is a good place to start, because like its namesake. Freelancers on the platform will only charge you 5 dollars every project you request.
Another route to take to get an outstanding logo that will match the uniqueness you are aiming for is having a freelancer logo contest.
This will give you multiple choices to look at. Another benefit this will give you is that you will increase traffic to your social media accounts.
Freelancers are always looking out for logo design contests because it is an addition to their portfolio.
Frequently Asked Questions
Before we come to a conclusion, let's answer a few questions that beginners or other people that are already selling on Amazon but want to transition to FBA.
How do I start selling on Amazon FBA?
Go to http://services.amazon.com/

Scroll down. Click "Selling on Amazon"

Select either "Sell as an Individual" or "Sell as Professional." It is highly recommended to select individuals since you're just a start-up.

Complete the form and you're now officially a seller.

Follow the steps discussed here.
Is selling on Amazon FBA worth it?
People use Amazon to earn and if you Google around, you would see a lot of success stories by selling on the e-commerce platform.
So yes, it is worth selling on Amazon FBA. That's why you people are very eager to learn how to sell on Amazon because of the inspiration they get from the real-life stories.
How much do Amazon FBA sellers make?
To further your resolve that it is worth selling on Amazon FBA. Junglescout published a report about how much Amazon FBA sellers made last 2019.
"Most Amazon sellers make at least $1,000 per month in sales, and some super-sellers make upwards of $250,000 each month in sales — that amounts to $3 million in annual sales! About half (50.7%) of Amazon sellers make from $1,000-$25,000/month, which could mean annual sales from $12,000-$300,000. "
Where can I get more training?
If you are looking to get serious with selling on Amazon FBA I recommend taking one of the top Amazon FBA training courses that I have personally taken and have learned greatly from. There is a ton more to learn about selling on Amazon that can't possibly be put all into one article.
Thank you for reading our article about how to sell on Amazon for beginners. To wrap it up, if you're going to use Amazon to earn. Yes, you will definitely earn and it will only be worth it if you take it seriously.
If you ask around on how to sell on Amazon, you will get a lot of negative feedback because they never really got the success and sales they wanted. However, digging deeper into their stories shows that they were just doing it whenever they can.
Amazon can provide the stream of income you need only if you put your heart into it. Remember that success doesn't happen overnight. Some sellers took them quite a while, before getting the rhythm.
Even successful business can come crashing if not handled properly. The level of your dedication, discipline, eagerness to learn, and leniency will dictate if this is really for you.