Kartra Membership Site Intro
Making money online and connecting with your audience has never been more exciting. But the competition is now fierce. One of the holy grails of online sales and successful online businesses is repeated customer purchases.
There are many strategies that help generate more sales from each customer. But in my opinion, the best strategy is through membership site platforms. I've written previously about how membership sites and programs are an excellent way to create a stable income.
The idea has also become popular because there are now several great software tools available to easily create and manage membership sites.
One tool that I highly recommend you check out is Kartra's Membership Site Platform. In this article, we'll dive into Kartra's Membership Portal and why it's the go-to tool for entrepreneurs looking to boost their online income and secure recurring income from a membership program.
Who Can Create a Membership Site
If you have a product that can monetized in a recurring way, then you should be setting up a membership site platform. The types of businesses doing this offer:
Subscriptions to music or video content (e.g., Spotify, Apple, Netflix)
There are some major players already doing this. Think about Netflix, Walmart, Spotify, Apple, Google…. The list goes on. They're all doing it because it's a smart move.

Kartra's Membership Site Platform Features
Kartra is an all-in-one marketing software with many powerful features. With the Kartra platform you can operate your online business from end-to-end.
When it comes to membership sites, with Kartra you can:
Create a membership site.
Have a user that is password protected.
Automate payment cycles (if you want to monetize the site)
Freeze out users who stop their payments.
Add exclusive content for members only.
Drip feed content (so that content is released over time)
Upload different types of content including videos and audio.
Kartra's Membership Site feature is included in the Kartra suite of software. Even if you are only on the starter plan you still have access to this tool!
Click Here to Start Your Journey
Easy Membership Site Creation with Kartra
Kartra's Membership Portal isn't just user-friendly; it's practically a breeze to use. No tech wizardry required!
With the simple editor and drag-and-drop features, you can design a pro-level membership site without breaking a sweat. Our Quick Start Guide on How to Build a Website With Kartra shows just how easy it really is and provides a whole bunch of tips and key information not to be missed when building your site.
Let's explore further.
Kartra Membership Templates
Choose from a range of ready-made pre-designed Kartra templates.
Or use the customization tools to make your membership site look and feel just like your brand. Tweak colors, add your logo, and set the tone that's just right for your customers.
Membership Options
If you have a range of membership options, you can offer membership tiers (within the one membership site). Each tier can also have its own pricing and content.
Lock It Up with Password Protection
Keep your exclusive content safe and sound with password protection. Only your members get access!
This feature can still be free to users, or you can choose to secure it behind a payment gateway.
Content Organization
Kartra lets you organize your files and training content seamlessly. Running an online course has never been easier with Kartra and now doubling down with the impact of growing and managing your members AND effortlessly managing the content they can access is a big win!
Create training courses, private community spaces, and content directories and menus that your members will find easy to navigate.
Drip-feed content to your members
Keeping customers engaged and coming back for more is an important part of keeping users subscribed to your membership site for longer!
A clever tactic is to drip-feed content. The portal allows you to queue-up content to be published at a pre-specified date and time.
For example, you can automatically unlock:
content #1 immediately upon signup,
content #2 four days later,
content #3 one week later, and so on.
Track User Progress
You can organize the content so that members follow a structured path, making it an ideal platform for online courses and learning centers.
A sleek progress bar shows your members their progress.
Click Here to Start Your Journey
Membership Site - Making Updates
After you've set up your Kartra membership portal and it's up and running, it's important to continue to make improvements. The portal can continue to be updated and modified as you learn what is working and engaging members for longer.
There are two inbuilt features that will help with making decisions about how to offer a better user experience:
Membership Site Analytics:
Using the inbuilt Kartra membership portal analytics you can get the lowdown on your membership program's performance.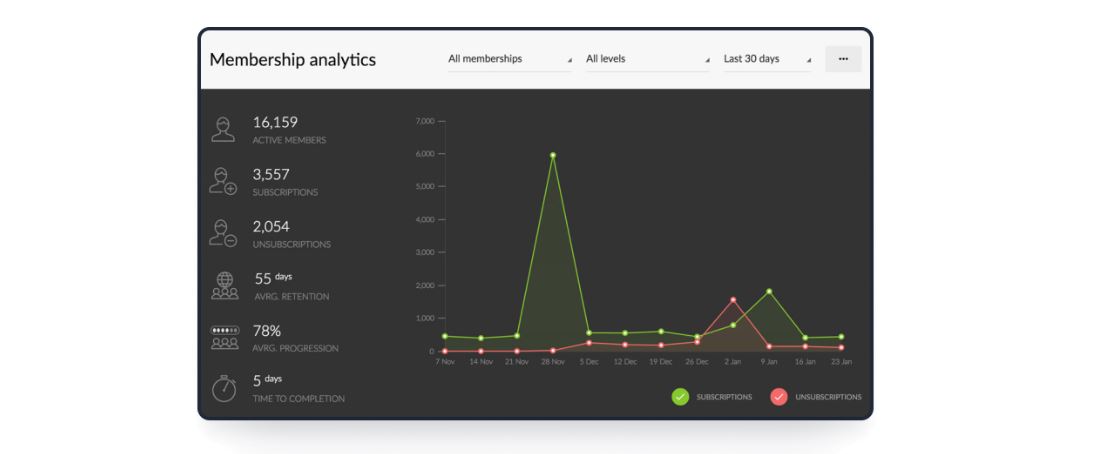 Dig deep into the data to understand your membership program. Find out:
How long the average member stays subscribed.
What content is working well, and the modules that are dropped or remain incomplete.
How long members take to complete the content.
Members Comments
Staying connected with your members will create a sense of greater value and a stronger brand loyalty. The member comments section is also a potential goldmine of information to help you understand your customers. This step can't be overlooked!
Kartra has made this easier so that you can:
Answer questions. Kartra membership site comment section allows easy interaction to resolve member issues, questions, and feedback.
Moderate and approve comments. Stay in control of what is published on the portal for everyone to see. You can still publish critical comments, but you might not want everyone to see comments that are rude or unfair.
Delegate admin tasks. As you become more successful, you won't have the time to manage everything yourself. So that members get timely customer service, you may prefer to assign admin permissions to a team member.
5 Kartra Membership Site Examples:
Kartranaut
This is the Kartra training portal. The fact that Kartra is using its own platform for its training portal is a good sign!
This is a great example of what you can do with a Kartra membership platform. The portal is free to access so you can see exactly what can be done with the Kartra platform.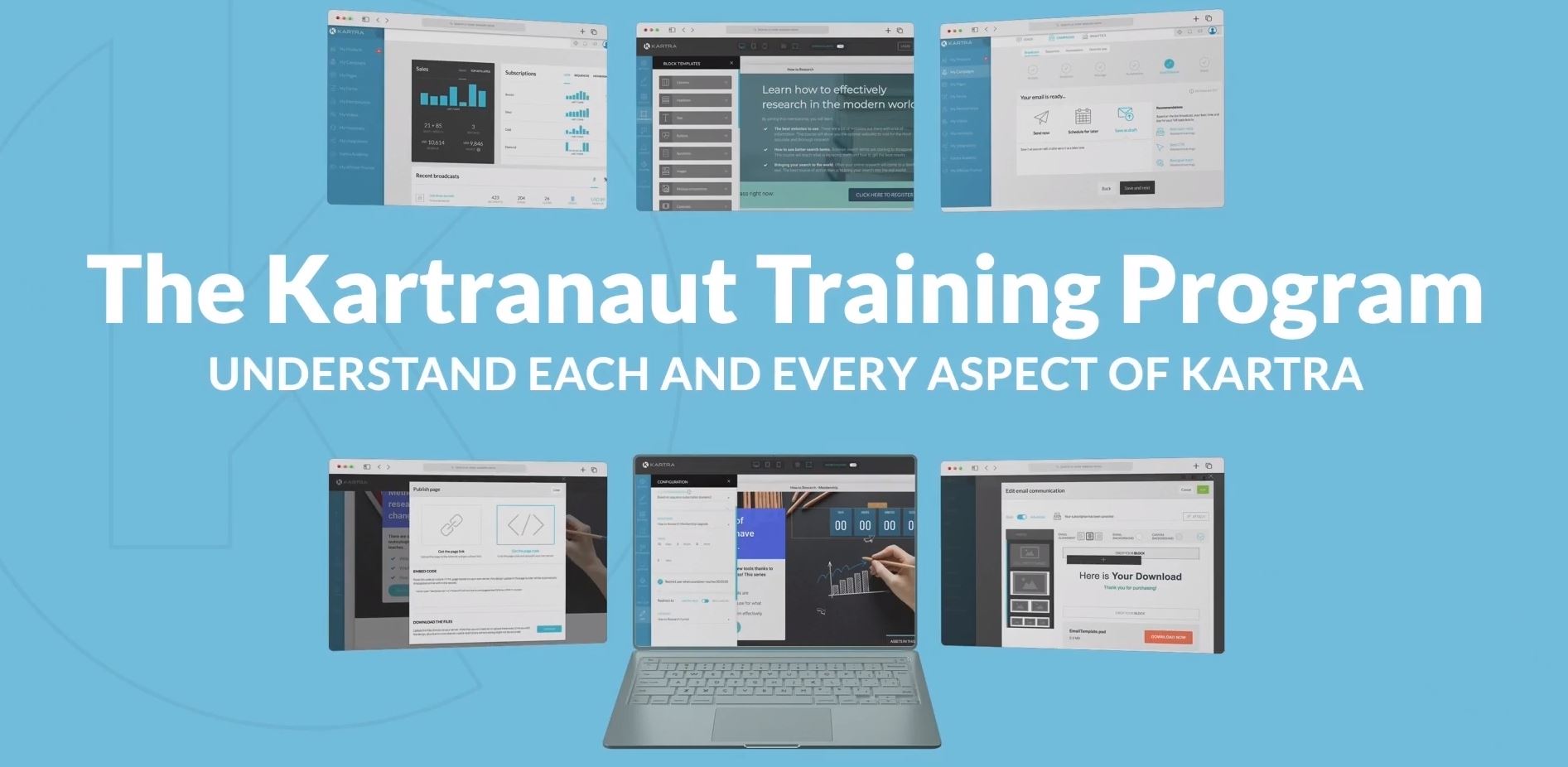 Trader Room Plus
This finance-based company has created a Kartra membership portal that offers training and ongoing support for anyone wanting to learn how to trade.

Money Smarts - Nathan Nguyen
This money-savvy entrepreneur offers money management tips. Nathan uses Kartra's recurring payments to sell books and drip-feed masterclasses.
Remote Yogi
This site offers videos, meditations and improving fitness with yoga. The membership program gives access to pre-recorded content.
Networth
N3tworth.com is a marketing agency that offers services like graphic design, website design, marketing, and branding. Members pay for these services through the Kartra membership portal on a monthly or annual billing cycle.
The Bay Area Cognitive Behavioral Therapy Center
This membership site offers behavioral therapy programs, coaching, quizzes, and other content.

Kartra Pricing Plans – How Much is Kartra?
Kartra has 3 pricing tiers on a monthly or annual subscription. Read our full Kartra Pricing article to understand the options, costs, and how to get a Kartra FREE trial.

Click Here to Start Your Journey
What Are The Kartra Alternative Membership Platforms?
There are many Membership Site Platforms. Depending on your goals, and your current website hosting, you may want to consider one of these options:
MemberPress is a paid WordPress plugin that allows you to create and manage membership subscriptions and sell digital download products. With MemberPress, you get many similar advanced features that are available through the Kartra membership portal.

Wix is a well-known website builder. With Wix you can create a member's area and let visitors register and get access to exclusive content. However, Wix is limited in functionality, and you'll need to add multiple plug-ins to create a more professional user experience.
SureMembers is a premium paid WordPress plugin for building and managing a membership site. It has advanced features similar to the Kartra membership site portal, but there is no inbuilt checkout and payment gateway. You'll need an additional plug-in.
SubHub is a simple option for building and running a membership site. You can start with one a template or you can hire SubHub's to build a custom design for you in record time. You can also set up paid subscriptions and accept payment.
If you are needing an all-in-one marketing solution that throws a big punch, then the best Kartra alternative is ClickFunnels. Our Kartra Vs ClickFunnels review article is where you should head next.
Conclusion:
In this article, I've shown you how Kartra's Membership Portal is your easy answer to generating a recurring income stream. You've also been shown 5 Kartra membership site examples.
Whether you're a personal development pro, money guru, life coach, fitness instructor or therapy center, the Kartra marketing tool can help you create, grow, and monetize your membership site.
It's easy and it's super effective. So, secure your future income NOW and start building your membership program today!
Want to learn more about the Kartra all-in-one marketing platform? Read our in-depth Kartra Review.
Click Here to Start Your Journey
At Hustle Life we love bringing you well-researched content to help you online side hustle grow into a thriving business. So that we continue to create great content without opening the site to annoying advertising, we accept affiliate payments. Thank you for using our affiliate links.
If you enjoy our content, please remember to like, and follow us on Facebook.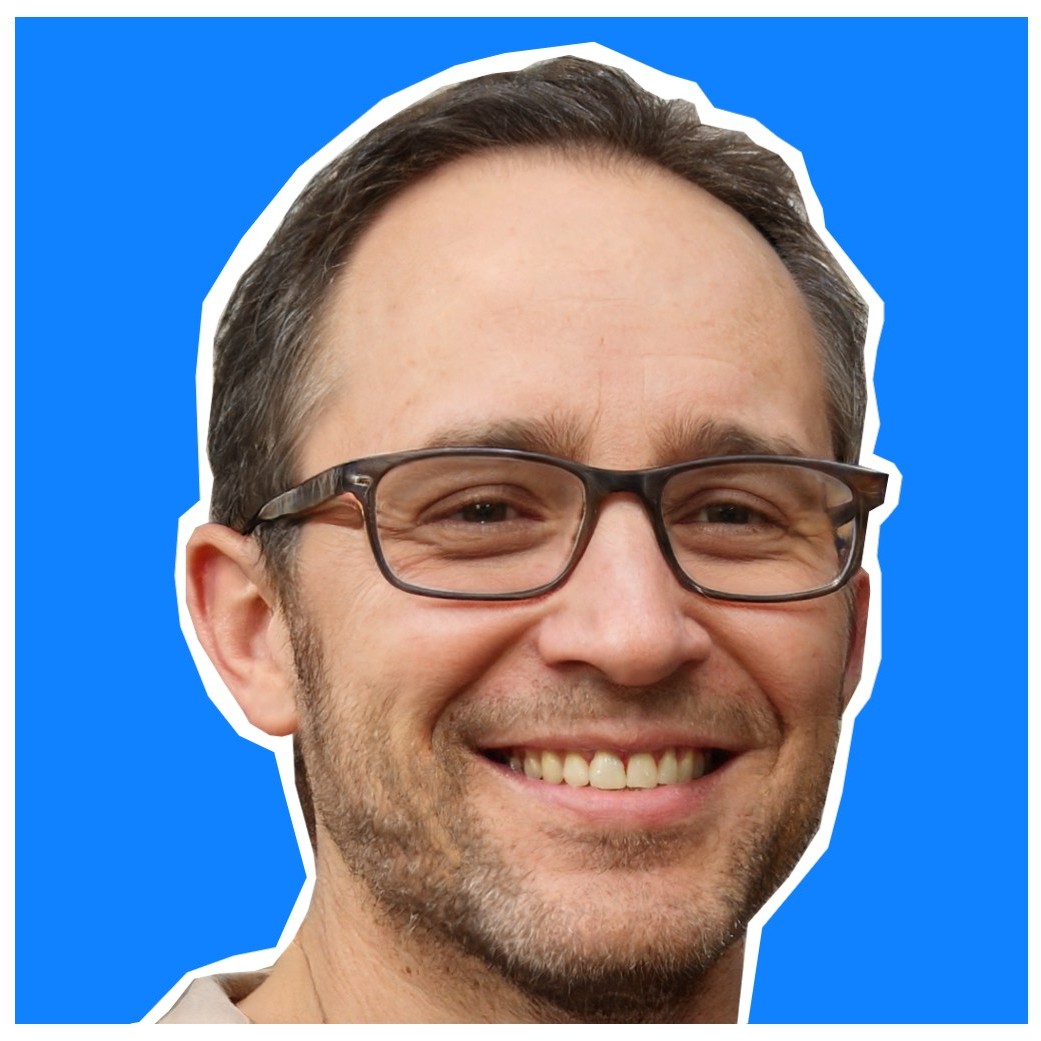 Matthew Carter is our Hustle Life funnel building go-to-guy. His expertise across Kartra, ClickFunnels, and Leadpages has proven to be an invaluable resource!
FAQs
Does Using Kartra Guarantee Success for My Business?
Kartra cannot make any guarantees that your business will be a success when using their all-in-one platform. Any business success is dependent on multiple factors that cannot be controlled by third-party software. Kartra isn't right for everyone, so my advice is do a free trial and try Kartra funnel building.
How Easy is it to Use kartra?
Kartra uses templates, drag and drop functionality and easy to use visual editors. No coding or tricky web design needed!
Frank Kern and Kartra. What's the Connection?
Kartra's is one of the best all-in-one marketing tools. The funnel builder is a core part of the platform, and it is how you can jet ahead of your competition.
Frank Kern is one of THE most successful online marketers of the last couple of decades. He's been selling online since the early days of Netscape…..that's a long time! So, he has a few tricks up his sleeve.
These two powerhouses have joined together to create elite high-performing premade marketing funnels exclusively available to Kartra members.
All Frank Kern Katra funnel templates include the assets you need for a high-converting campaign. Such as world-class copy, Kartra email templates, landing pages, squeeze pages, thank-you pages, checkouts, and more.