LIMITED TIME OFFER - 30 Day Kartra Trial for $1
LEARN HOW TO TRANSFORM AND GROW YOUR ONLINE BUSINESS TODAY!
TRY KARTRA FOR JUST $1
for 30 Days
Start Today
This post will take a closer look at the 12 New Kartra features rolled out to users during a July 2022 update and how these new features are set to help online business owners using Kartra.
Before we begin, let's remind ourselves that we've already seen some powerful updates this year. In April 2022, Kartra pushed out new updates to the platform to make running an online business even more straightforward. The update in April included the floating video player, video time segments, resumable video, downloadable video transcripts, a new payment partnership with Square, lead source tracking, and the new comment command center (CCC).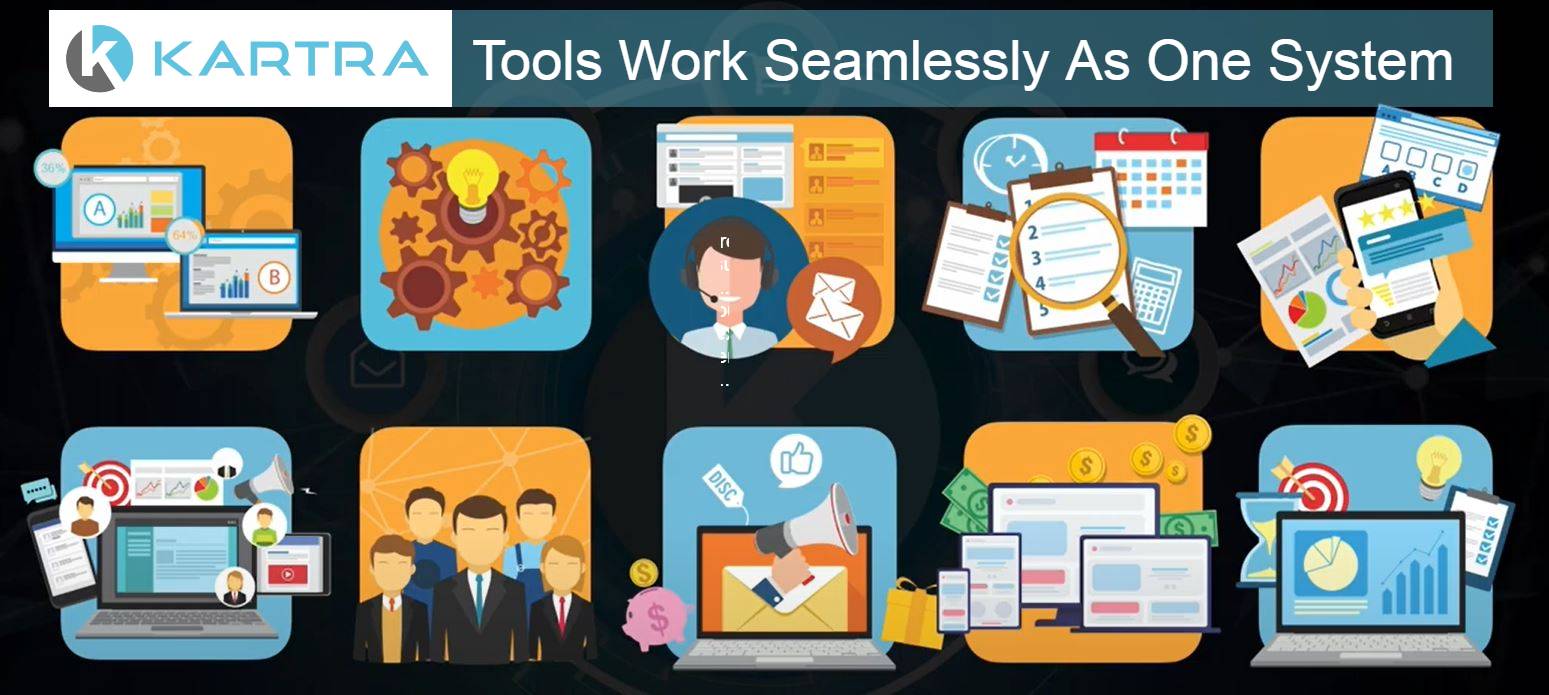 We know that the best software companies never rest easy, so it's great that Kartra continues to grow and develop their software. This evolution in the features is perhaps why Kartra is considered one of the best email marketing and online marketing platforms available.
If you are pretty new to online business and digital marketing, stumbled on this article, and don't fully understand what Kartra is and what it does, read our Hustle Life in-depth Kartra review article. 
With Kartra, you can create a business website, build a sales funnel to capture new customers, process payments, and collect customer orders. This is powerful funnel-building software at its best.

LEARN HOW TO TRANSFORM AND GROW YOUR ONLINE BUSINESS TODAY!
What Are the New Kartra Features?
While Kartra focused over 50% of the previous update on the video player, the 12 new updates are more spread out across different aspects of the platform. We got updates to the Kartra page builder, comment command center, Kartra email marketing, Kartra funnel templates, and many others.
Ready to find out more about these new features? Let's dive right in!
Audio Player for Pages
First on the list is the all-new audio player feature that lets users upload and embed audio files within their web pages. This feature is a holy grail for creators who love to produce audio content rather than video.
Now you can create audio files for explanatory and informative modules in your course. With the audio player, you can drag and drop any audio files you want into a page. You can use this feature as you see fit: on your lead magnet pages, thank you pages, and lots more.
Preview for Split Tests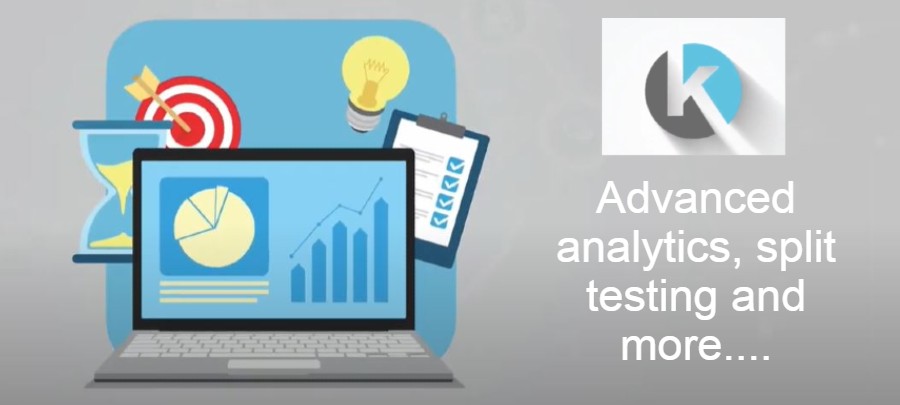 This update is an added feature to the existing Split testing tool already available on Kartra. Before now, to view your pages in the Split test, you had to view them one after the other. And usually, checking the analytics report for a particular one among these pages results in much navigation back and forth, looking for that page.
With this update, you can simply hover on each page from the "results" page to view your data.
Auto-Save for Pages
Finally, the autosave feature. This feature is self-explanatory, and its job is to ensure you never lose your progress on your page design in case your browser fails, or you unintentionally close the tab.
So, you no longer need to worry about "ctrl S" or the save button. For the record, autosave is one of many reasons why our team loves Google docs. With this feature, Kartra's got you covered.
Comment Moderation Updates
In April, Kartra launched the new comment command center (CCC), where you can view and respond to all of your comments, even if they're from different sources.
Now we have the update that allows you to view and moderate a comment without clicking in to view it on a standalone page.
The end result - you save time! You can now label comments as approved or unapproved to remind your customer support of which comments are still in moderation.
Naming for Email Templates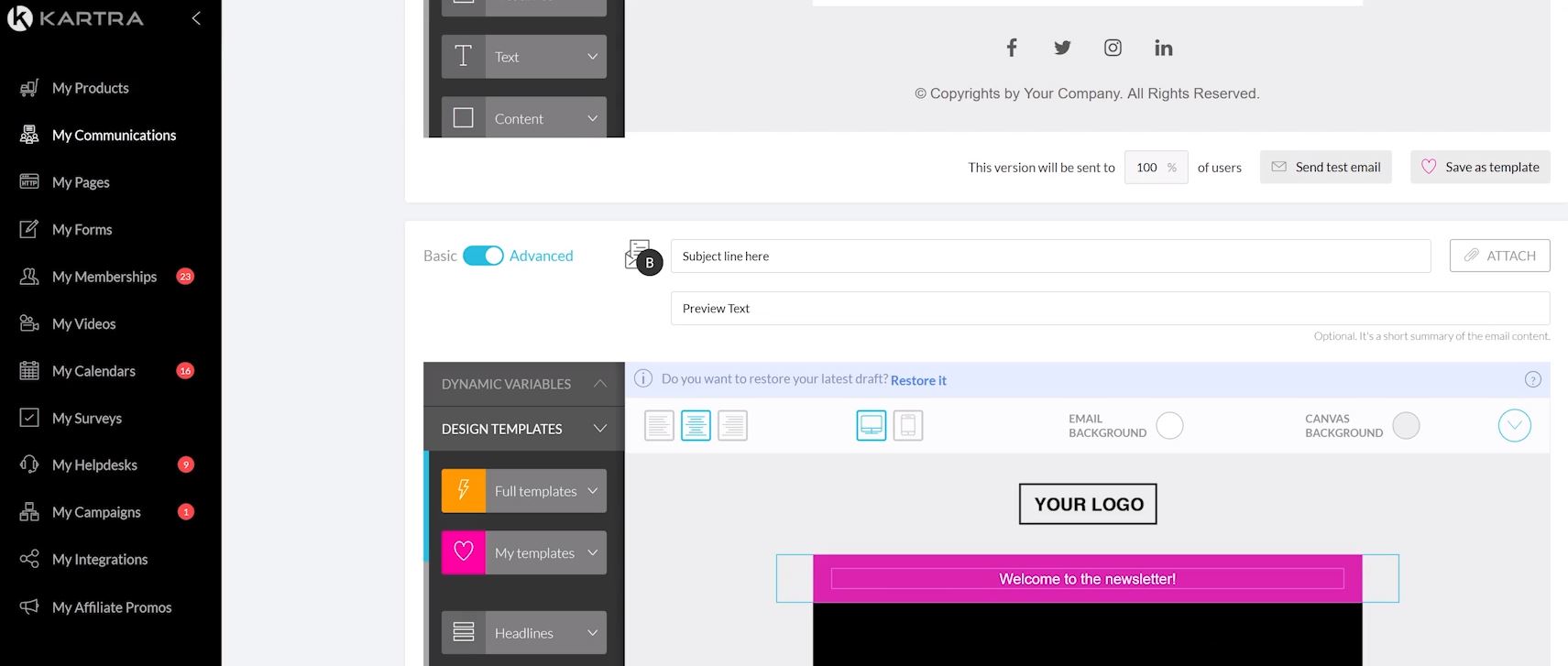 If you have been using Kartra's email marketing tool for a while, there's every chance you've complained about the stress of cloning your previous email and then editing and sending it out.
Well, there's a fix for that now. The new update to the email marketing tool lets you rename existing email templates and save them as your own. This way, you can easily find and use them from "my templates" on your Kartra dashboard, saving much time on your promo.
Labels for Helpdesk
Helpdesk labels are a feature aimed at helping Kartra's customers categorize the questions they receive through their helpdesk. Not only can you name each label, but you can also select a color for them.
One of the benefits of this feature is that its reporting and analytics let you see which labels get the most inquiries. This data gives insight into which parts of your process create friction in delivering your services.
Kartra Quickstart Guide
The Kartra quickstart guide is mainly for new users who just got a Kartra membership. Navigating the Kartra dashboard for the first time may be daunting as the platform has a learning curve.
With the quickstart guide, however, you will quickly be brought up to speed on essential things like accessing more training, contacting support, and more.
Funnels & Campaigns Step-By-Step Guide
Kartra's new funnels and campaigns step-by-step guide is another excellent resource for both new and existing Kartra users. It guides what pages you should set up first and how to build and deploy your campaigns, aka Kartra sales funnels.
4-Step Affiliate Management System Guide
Kartra's in-built affiliate management interface is an excellent marketing tool that can help business owners tap into the power of referrals.
You can register affiliates, determine their commissions, and get real-time reporting on clicks, sales, and more through the affiliate management system.
Setting things up for the first time may pose challenges, but you have the 4-step affiliate management system guide to the rescue.
Email Composer Delete Confirmation
Like the autosave feature for pages, delete confirmation when composing emails within our Kartra account is a feature we've always yearned for.
It is annoying when you mistakenly click on the delete button above a section in the email composer, and it disappears without asking if you're sure.
Sometimes you freeze for a moment, wondering what just happened. With this update, however, it won't happen again.
Campaign Assets Delete Confirmation
Okay, we've never unintentionally deleted a campaign asset before, but this feature is an excellent addition. Now, you must confirm whether you want to delete a campaign asset–the media you used to design your landing pages and emails.
Freeze Access
This feature right here is very thoughtful of Kartra, and so far, we haven't seen it on any other online marketing platform.
Basically, this feature allows you to freeze your Kartra account if you won't need it for some time and do not want to lose your pages, files, and funnels. Your account will be dormant and unusable during the freeze period, but your assets are safe.
To freeze your account, reach out to customer support for help.
How Can the New Kartra Features Help My Business?
Like all the best funnel building tools, the Kartra platform is designed to get you more customers, engage those customers and encourage repeat purchases.
These Kartra updates are fantastic, but who cares about them if they won't help us reach more customers or make more sales? Nobody. If you're wondering how these features benefit your business or how you can use them to your advantage, continue reading.
1. More Sales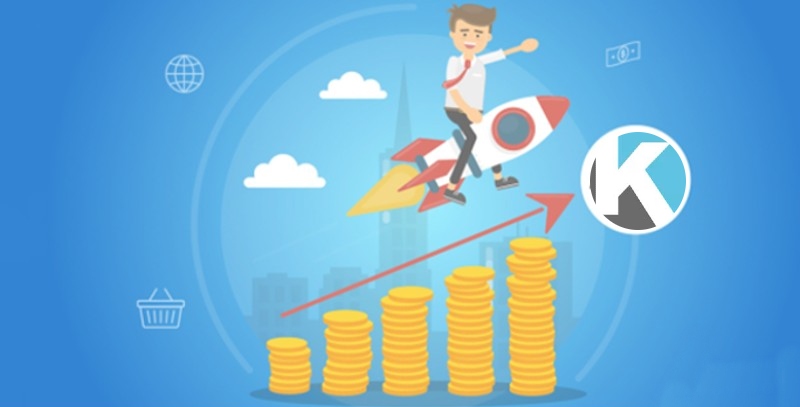 One of the features that can help you make more sales from your Kartra-hosted business is the affiliate management system that lets you register affiliate marketers who can promote your product on your behalf to their audience and bring you sales without any real effort on your part.
The step-by-step funnels and campaigns guide can also help you set up and deploy funnels faster, especially if you're new to the platform.
2. Improved Marketing
Interestingly, more than one of the new updates helps your marketing activities in one way or another.
The update to split testing makes it easier for you to view the report on each landing page variant.
Renaming existing email templates and making them your own gives you faster access to your favorite templates.
With the audio player, you can embed one or more audio messages on your landing pages to help market your products.
3. Better Brand Recognition
Usually, people like to identify with specific brands. RebootOnline conducted a color quiz and found that having a color associated with your brand can increase brand recognition by 80%.
When you rename an existing email template, you can customize it, change the colors to yours, and choose to use it as is. Either way, saving the template as your own allows you to use it whenever you want, solidifying your brand in people's minds.
4. Better Customer Satisfaction
A study by Esteban Kolsky, the founder of ThinkJar, a customer strategy consulting firm, found that acquiring new customers costs about six to seven times more than retaining existing ones.
Now Kartra has made it even easier to provide excellent customer support by adding new features to the helpdesk. The customer moderation update lets you reply to comments faster and label comments as approved and unapproved, so you know which ones need your attention.
5. Audio Content Creation
You can leverage the new audio player to make courses in audio. With the audio player, your customers can listen to their courses while attending to other chores, or going for a walk, allowing users to learn in their own way.
Cost of the New Kartra features?
Seeing new updates being rolled on the Kartra platform, it's only natural that we expect Kartra pricing to go up, but such is not the case. Despite these updates, Kartra packages remain Starter, Silver, Gold, and Platinum, and the prices remain $99, $199, $299, and $499, respectively. From time-to-time Kartra offers various types of trials, see our latest article covering the currently available trials right here.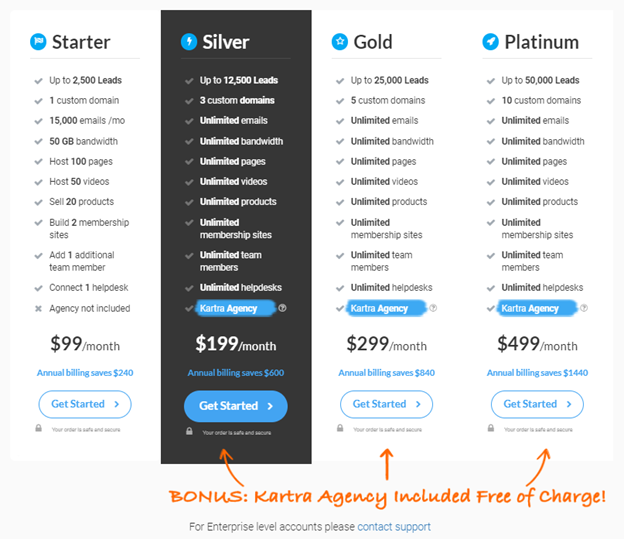 On all the packages, except Starter, you get unlimited Kartra bandwidth, unlimited pages, membership sites, videos, and products. But on all packages, you can access Kartra automations and Kartra funnel templates and set up an email sequence for your contacts.

LEARN HOW TO TRANSFORM AND GROW YOUR ONLINE BUSINESS TODAY!
New Kartra Features Review - Final Thoughts
Seeing Kartra release new features on the platform shows its commitment to making the platform even better than it already is. And to be honest, some of these new features have long been overdue for addition, so we are happy to see them added. 
We also like that the Kartra monthly pricing hasn't moved an inch following the updates. Bravo to them for adding features at a competitive price. So many reasons to continue enjoying Kartra. We hope you enjoy these 12 new Kartra features and do great things with them!