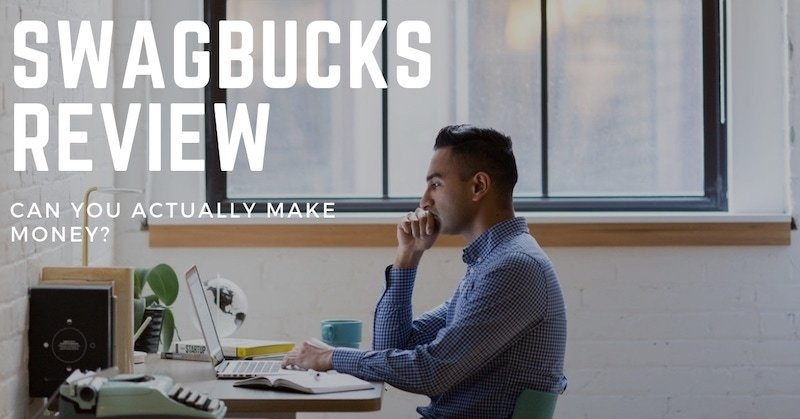 You may be wondering if Swagbucks is legit and worth your time. You may also be wondering how you can make your next dollar online using the program.
In this detailed Swagbucks review, I'm going to dissect the ins and outs of Swagbucks, clear up your doubts, and help you make an informed decision about the program.
Swagbucks (operated by Prodege, LLC) is a renowned, fully legitimate, consumer engagement platform where members receive valuable cash-back rewards on a daily basis. Consumers also get paid for taking surveys.
Swagbucks has been on the internet since 2008. It is a convenient platform for users to earn valuable prizes and cash-back rewards.
It's the first and most popular customer-rewarding opportunity program on the web with over 10 million registered members.
On the platform, you as a Swaggernaut (Swagbucks member) are given the opportunity to turn your everyday activities into points (known as Swagbucks or SBs.) You can then redeem the points for cash via PayPal or gift cards from Amazon, Walmart, Macy's, and JCPenney.
You can earn Swagbucks for accomplishing simple tasks which include completing paid surveys, shopping online, surfing the web, and playing games. You can use your earned Swagbucks (SBs) to put a little cash back in your wallet and increase your savings.
1 SB is equivalent to approximately 1 cent, so you can earn $1 for having up to 100 SBs.
Making money on the Swagbucks platform is really easy.
You complete simple tasks daily to earn Swagbucks points. Once your points accumulate, you can cash them out in the form of cool prizes like Amazon, Walmart, and Target gift cards. If you want cash, you can also get paid with your PayPal account.
Have a heart for giving? You can also donate your earnings to a charity.
Getting Started with Swagbucks
Once you're ready for your first free Swagbucks account, you can get signed up on the platform here (link to Swagbucks homepage).
Swagbucks is available in The United States (and its territories), Ireland, France, Germany, Australia, New Zealand, India, Canada, Spain, Portugal, United Kingdom. You can only join the program if you are a citizen of one of these countries.
The process of signing up is easy and straightforward. Enter your email address, create a strong password, and answer a security question. Then, you'll need to click the link sent to your email address to confirm your Swagbucks account.
Once you're signed in, make sure you fill out the demographic information for your survey profile with accurate information so you won't get disqualified from any surveys.
You'll need to set your unique Swag name by clicking "My account" then "My Settings ." Enter your password, submit, and set your name. Now you're good to go!
Bonus alert! After signing up for Swagbucks, you will be welcomed with a $5 bonus. 
One of the benefits of being a Swaggernaut is the ability to earn more cash and gift cards through a wide variety of fun tasks depending on your preferred hobbies and online activities.
There is a variety of methods you can use to earn more Swagbucks like taking fun surveys, answering polls. shopping online at your favorite retailers, searching the web, referring friends, watching entertaining videos, playing games, discovering exclusive offers and deals, buying gift cards and more.
You can start earning money from any of these methods as soon as you're logged in on your computer, smartphone, or tablet.

Let's take a closer look at some of these money-making methods:
If you love sharing your honest opinion on issues and helping brands make informed decisions by providing credible information, then Swagbucks online paid surveys are a great fit for you.
The program provides Swaggernauts with tens of thousands of paid surveys every day providing a lot of earning potential.
This is the easiest method of making money with Swagbucks. You can sit on your couch, keeping an eye on your favorite TV series, while answering a bunch of simple questions for SBs.
The questions you'll be given to answer are determined by the demographic information (age, income, interests, etc.) you provided about yourself and your household while signing up.
The types of surveys offered include product appeal surveys, brand recognition surveys, and advertising effectiveness surveys.
The surveys are worth between 1 to 1,000 SBs. The rewards depend on a variety of factors including the length, value, and demographics of the survey.
You can earn about 40 to 200 SBs per survey after spending about five to ten minutes on it.
Even if you don't qualify for certain surveys, Swagbucks will give you some bonus SBs so you never miss out on cash-back rewards.
Swagbucks makes it easy for you to earn with its simple, minimalistic website and Android and iOS mobile application. 
Make sure you don't provide false information about anything on your account in order to get good surveys. If you're caught cheating by Swagbucks, you risk losing your SBs and Swagbucks account.
It might sound too good to be true, but with Swagbucks, you can get paid to browse the web.
Swagbucks has a search engine powered by Yahoo which allows you to make money with searches made via the search engine.
The program will randomly reward you with some SBs for searching using the Swagbucks search engine.
Once you make Swagbucks your default search engine, you can earn points for the time spent using the search tool during your day-to-day browsing.
Be sure to go to their website each time you want to surf the web, and do your searches from there. You'll get more SB points which you can convert into cool prizes and cash via PayPal.
You might think that if you just search all day long using the search engine, you will earn a lot more SBs. Unfortunately, it doesn't work like that. They don't disclose how many SBs you will earn per search.
They will only reward you based on the amount of time you spend searching rather than the number of searches you perform. Typically, the platform pays about four to ten SBs for one search. If you spend a significant amount of time surfing the web, you can even earn up to 100 SBs ($1.00).
Love games? Swagbucks will pay you for playing games on their platform.
The program has loads of free and interesting games like Deal or No Deal, Tetris, Solitaire, Bingo, Wheel of Fortune, and more.
If you're a natural gamer or you have kids who love to play games, then you can earn some points on Swagbucks.
Although the points for playing games aren't as high as other methods, you could combine it with other SB-earning methods to boost your points.
You can actually earn some SB points while watching short videos on Swagbucks.
There are several short videos from various niches including music, entertainment, health, and more. You can earn as many as 4 SBs for watching them.
Additionally, you can allow the videos to play in the background when working on some other projects on your phone or PC, and your SB points will accumulate with hardly any effort.
There is a "Discover" section on the Swagbucks website that hosts cool deals and allows you to earn SB points.
You get points for signing up for a free trial to any available program and also for making orders on different available programs via the Swagbucks platform.
You earn SB points by buying gift cards via the Swagbucks platform.
Once you purchase an electronic gift card from Swagbucks, you get a percentage of the gift card value back in the form of SB points.
If you love shopping from online retail stores like Amazon, Macy's, Target, Walmart, and Best Buy, then you can get cash back in the form of Swagbucks.
Usually, they offer up to 20% cash back. This percentage can get higher during holidays when retail stores have their biggest sales.
This is a cool way of getting some cash back in your wallet for buying items you would usually buy anyway.
You can earn more points for inviting your friends, family members, and acquaintances to join Swagbucks.
You're entitled to 10% of your referral's lifetime earnings plus a $3 bonus for both of you once your referral earns 300 SBs. Your $3 sign-up bonus is given to you only if your referral earns 300 SB points before the first of the following month.
Let's say you refer your friend and he signs up on the 5th of the month, he has to earn 300 Swagbucks in under 25 days for your $3 bonus to be valid and rewarded to you.
Also, if the same referral earns 1000 SBs (by completing a survey, for example), you'll get 100 SBs automatically.
If you want to build a passive income source, referring others to sign up on Swagbucks is a great way to do that.
Here's how to turn your SBs into prizes and cash:
You can chose to redeem your SB points for gift cards from Amazon, Walmart, JCPenney, Macy's, Target, Gap, and many more. Gift cards can be purchased for as little as 300 SBs ($3.) These cards  can be used to purchase many low-priced products of your choice.
Amazon gift cards never expire so you can save them for later when you're ready to make your purchases. You can use the Walmart eGift cards on Walmart stores (online and offline) as well as SuperStores, samsclub.com, and SAM's Club stores. Your gift card is usually sent to your email within ten business days.
If you prefer payments via PayPal, you need to earn at least 2,500 SBs ($25) to be paid directly into your PayPal account. Your cash would be sent to the PayPal account associated with the same email you used when registering as a Swaggernaut.
If your PayPal account isn't verified and your first and last name doesn't match the one on your Swagbucks account info, your payment will not go through. It usually takes about 10-14 business days for your payment to be sent to your PayPal account.
There are several great features about the Swagbucks platform:
#1: Easy, Simple, and Completely Free Registration
There are no restrictions on entry into Swagbucks. Anyone (from any of the allowed countries) can join and have equal SB earning opportunities as everyone else.
The website is clean and simple, and they also have awesome mobile apps for Android and iOS users.
#2: Multiple Earning Points
A lot of other competitors' sites offer fewer ways to earn money by doing simple tasks online, but Swagbucks offers a variety of ways to earn.
The site offers a wide variety of methods. and you can use all the methods to earn SB points. You can then cash out your SB points as cash payment to your PayPal or gift cards.
#3: Multiple Payment Modes
You can receive free gift cards and cash as rewards for doing everyday activities on your computer, smartphone, and tablet.
The SB points can be redeemed either for gift cards or cash back via PayPal.
There are some flaws with the Swagbucks platform:
Swagbucks is currently only available for members in The United States (and its territories), Ireland, France, Germany, Australia, New Zealand, India, Canada, Spain, Portugal, United Kingdom.
#2: Points Allocation isn't Clear
The number of points allotted for some tasks is a bit of a mystery. For example, there appears to be no logic to how search points are awarded.
#3: PayPal Minimum Payout
The minimum payout threshold is 300 SBs for redeeming certain gift cards and $25 worth of SBs to withdraw via PayPal.
Swagbucks is not a scam. They are legit, and there is no need to worry.
Swagbucks is an online loyalty program powered by Prodege LLC, a fast-growing, online rewards programs company based in Los Angeles with over ten million registered members.
They do not market their program with fake promises like other sites do.
Swagbucks has paid members over $293 million in free gift cards and cash. They also give out over 7,000 gift cards every single day.
The program is safe and legitimate. It is one of the most popular paid survey sites on the internet.
Swagbucks was ranked #43 on the Inc 500 fastest-growing company list in 2011. 
The Los Angeles Business Journal ranked them as the 3rd fastest-growing company in L.A.
The Swagbucks website has ranked as the 115th site with most traffic in the United States at Alexa.com and 539th in the world.
Swagbucks has maintained an A-rating with the Better Business Bureau (BBB) since 2010 with 13 years of continuous service.
With all of this evidence, there is no chance that Swagbucks is a scam.
It's a legit and fun platform which helps you put little cash back in your wallet and raise your savings.
Swagbucks Reivew: Should You Try It?
Swagbucks gives you the opportunity as a smart consumer to take advantage of this earning opportunity to earn cash-back rewards for online activities. It gives you a platform to get real prizes and earn a little money for doing the normal things you do everyday.
It's a risk-free way to earn small amounts of cash which could add up to a few hundred dollars per year.
Launched in 2008, Swagbucks has put smiles on the faces of numerous Swaggernauts over the past decade and has paid over $293 million to over 10 million members as earnings.
It is the web's leading and most sought-after consumer engagement program and is committed to rewarding Swaggernauts around the globe for their everyday online and mobile activities with free gift cards and cash back.