If you are looking for a side hustle, the online space holds too many opportunities you could try. While most of these opportunities are advertised as big earners, no one tells you about the time and tears you have to put into that thing if you want it to work.
One such opportunity is the Fulfillment by Amazon business. Over the past few years, Fulfillment by Amazon (FBA) has grown in popularity, and it could easily be one of the best earners in the online business world.
The interesting bit is that an FBA business is marketed as the venture that could earn you 5, 6, or even a 7-figures.
All you need is an understanding of the FBA business model. But how true are these claims? And even if this business model is as profitable as they put it, what does it take to earn that much revenue?
The short answer – it might take more than you'd bargained for.
The FBA business model allows you to sell products on Amazon as a third-party seller, but the difference between this model and the traditional ecommerce models is that instead of being the one fulfilling the order, Amazon does that for you.
Amazon will store your products in its warehouse (after you identify and source), package, and ship to buyers. What this means is that your only job is to find the right products and get them to Amazon.
Sounds easy, right? Well, not so much.
The truth is that getting your feet into the FBA business sounds easy and it is promising, but it's also so much work.
So, while it might be a brave idea to get your feet wet by venturing into the FBA business alone, it's much easier if you'd find someone to hold your hand and guide you.
Which Brings us to the Selling Family's Amazon Bootcamp. What is it?
Amazon Bootcamp is regarded as one of the best-sellers in the Amazon FBA Courses category. The course, like the others, promises to teach you everything you need to know to start and grow a successful FBA business.
Notably, this Amazon Bootcamp has gained loads of traction lately. In this article, we look at everything there is to know about the Amazon Bootcamp, as well as The Selling Family. Whether you are a skeptic or not, this article is for you.
About the Amazon Bootcamp
The latest edition of this Bootcamp is the Amazon Bootcamp v4.0, and it contains that updated information about everything you must know to build a successful business on Amazon.
Developed by The Selling Family, primarily Jessica Larrew and her husband Cliff Larrew, the Amazon Bootcamp is an intensive online course that will take you from 0 to 100 in all matters FBA business.
The course targets families seeking financial freedom, without having to work a 9-5 job, or leave home.
But even with families as the target market, this course remains relevant to anyone else interested in learning and running an Amazon FBA business.
The Selling Family: Backstory
For a long time, Jessica and Cliff struggled financially, and things worsened when Jessica lost her job out of the blue. At that time, however, Jessica was selling goods part-time on eBay.
Naturally, the loss of her job meant clinging to her side hustle, now her main gig; to support her family. With more time on her hands, no job, and then a baby, she needed to step up.
She learned a bit more about selling, but her biggest and best discovery through research was FBA. She immediately noted that Amazon held more potential.
Compared to eBay, Amazon handled the product fulfillment aspects of her business – storage, packaging, shipping, and customer services; eBay didn't. With this knowledge, she jumped ship and started to sell her products to Amazon.
By buying liquidated products at between $2-$3 and selling them at $8-$15, Jessica found a perfect greener pasture. Cliff was intrigued, naturally. He then decided to quit his 9-5 job and started selling on Amazon as well.
Soon, Jessica and Cliff (and son Aiden) became the Selling Family.
The success of this couple spurred questions from family and friends (as expected), and instead of sitting on the minefield of knowledge in their hands, they decided to start the Amazon Bootcamp to teach everyone else the amazing earning opportunity at Amazon.
Amazon Bootcamp V4.0
As the name suggests, the Amazon Bootcamp v4.0 is the fourth version of the course. It's also the improved version of the course with updates from the FBA business model. Therefore, you don't have to worry about the content shared is outdated.
This course promises no upsells, instant and lifetime access to the Amazon Bootcamp Course (with any and all future updates), exclusive membership, and high-quality video and printables.
What's inside the course?
The fourth version of the Amazon Bootcamp contains updated and well-defined strategies that work on Amazon FBA today. The course is broken down into different sections, covered below. Here are the topics that will be covered in the Bootcamp:
Lesson 1: Start Here
Lesson 2: Amazon Basics
Lesson 3: Amazon Seller Account setup
Lesson 4: Amazon Apps Scanning
Lesson 5: Retail arbitrage sourcing
Lesson 6: Online arbitrage sourcing
Lesson 7: Evaluation of the best products (Tips)
Lesson 8: Amazon Best-seller Rank
Lesson 9: Product pricing before Sending Products to Amazon
Lesson 10: Picking Your FBA products
Lesson 11: Sending products to Amazon
Lesson 12: Amazon categories
Lesson 13:  Managing your Amazon account
In each of these course modules, you have access to video content (with closed captions), PDF transcripts, as well as detailed content overviews.
Amazon Bootcamp v4.0 Modules and Lessons
Lesson 1:
Start here
This module welcomes you to the Amazon Bootcamp. It starts with a Thank You message from the Selling Family, their story, and then it lays out what you should expect from the course.
Lesson 2:
Amazon Basics
As an introductory segment to the course and the FBA business model, Amazon Basics comprehensively outlines the benefits and things you should know about the Amazon FBA business model. Some of the topics covered include:
The benefits of selling on Amazon
Understanding Amazon lingo
How to sell on Amazon – FBA/ MF
4 Amazon business models
How to treat Amazon as a business
The business entity you need to register for to run an Amazon business
How to track your business' mileage
How to track, manage, and separate your business funds.
Lesson 3:
Amazon Seller Account Setup
The Selling Family understands that setting up your Amazon selling account and not having the account suspended days into the business is harder than imagined.
Therefore, they've dedicated a huge part of the course to the account setup processes and things you should do to create an account.
Here, you will learn things like:
Understanding the difference between Amazon seller accounts. There are individual and professional accounts; they are priced differently.
Amazon fees
How to choose your Amazon Seller name
How to navigate the Amazon Seller Central Dashboard
Setting up your Amazon account.
Lesson 4:
Scanning Amazon Apps
An Amazon account is not enough to get you started in the right direction, and since we live in the smart devices world, you need to ensure that you can access your account at all times.
An app is, therefore, essential. This segment of the Bootcamp covers everything you need to know about app selection and setup.
You will learn:
How to install and set up your Amazon Seller App
Alternative scanning options
How to install and setup your Scoutify 2 App
Necessary basic supplies
Lesson 5:
Choosing the Best Products
The difference between the guys who earn good money from Amazon and the ones who struggle lies in the products one chooses to sell.
What this means is that you must take your time to research and study the market. Only then can you identify the best products that will sell on Amazon and earn you a good source of passive income.
The Selling Family knows the importance of product selection all too well, hence their comprehensive Bootcamp section on product selection/ evaluation.
Some of the topics covered under product evaluation include:
Profits and ROI goals
How to calculate total costs
Determining inventory quantities to buy
Hazardous items
Expiration dates
Meltable
No Item Found
Using Keepa
Product packaging
Amazon, a seller?
How to evaluate products without sellers
Lesson 6:
Choosing the Best Products
Now that you have all matters relating to your accounts set up, it's time to find the best products to sell on Amazon. This section is dubbed the retail arbitrage and sourcing section, and it covers the following:
The retail arbitrage process, how and why it works
How to source from clearances
Sourcing from thrift stores
Sourcing from discount stores
Sourcing from liquidation stores
Sourcing products from the regular-priced stores/ retail items
To guide you, this module features live videos on sourcing form the grocery outlets, discount stores, clearance, and regular-priced stores. You will also learn the tricks for analyzing the products you are interested in from the Amazon Seller App.
Lesson 7:
Online Arbitrage Sourcing
In addition to the retail arbitrage and sourcing processes, you will also learn how to scour the internet for the best deals and product ideas.
The online arbitrage sourcing module was added in v4.0, and it's missing in the previous versions of the course.
The reason for the recent addition comes from the fact that most Amazon FBA students are now interested in the subject since it allows them to order inventory online rather than from physical stores easily.
This module highlights ways of sourcing products online. This module of the Bootcamp covers the essentials for online arbitrage sourcing. The specific areas covered in the course include:
How online arbitrage works and why you should learn how to use it.
How to source products online. The sourcing processes are discussed in different topics, all covering the steps you should take when sourcing products from different areas. The sourcing categories discussed include sourcing from clearance stores, thrift stores, discount stores, liquidation stores, as well as the regular-priced stores.
In addition to the sourcing tips shared, the Bootcamp also features live sourcing videos that cover sourcing strategies from the sources outlined above.
How to keep things perfectly organized
Best tools for online arbitrage
Items to watch out for
Discount gift cards
Cash backs
Order quantities
Recommended stores
3rd party fulfillment services
Order quantities recommendations
Sourcing videos when using sourcing mogul, Target seasonal, Think Geek, etc.
The final section covered in this section teaches us to analyze the products you have in mind for selling, using the app (Amazon Seller App).
Lesson 8:
Amazon Categories
Besides sourcing, you also need to know about the categories of products and sellers on the Amazon seller platform. Selecting the Amazon category is important as it helps you find the right footing, especially if you are new to selling on Amazon.
The content in this section includes:
The best selling categories for the new sellers
The restricted brands and categories and telling if you are restricted or not.
How to get approval into the restricted brands and categories
Lesson 9:
Amazon Account Management
Having learned about the categories, products to sell, and how to maximize your profits, it's time to ensure that your account is in perfect health.
While most people offering Amazon FBA courses don't focus much attention on account management, The Selling Family understands that you must pay attention to your account if you want it to sell.
So, part of the Bootcamp covers the management of the account.
The areas covered in this section include:
Checking your items sold on Amazon Seller Central
Checking sold items on Amazon Seller App
How to reprice inventory
Dealing with stranded inventory
How to remove inventory
Management of buyer emails
Checking (and dealing with) customer returns
How to contact Amazon seller support
Lesson 10:
Before Sending your Products to Amazon
After sourcing for your products, you need to ensure that you understand the shipping processes, costs, and anything else you should expect. The Bootcamp addresses all the aspects of things to do before you send your products to Amazon.
The covered topics include:
The best time to send your shipment to Amazon
Inbound product shipping settings and terms
Inventory placement terms/ settings
FBA Products barcode settings
How to use a custom seller SKU
UPS vs. FedEx.
Lesson 11:
Picking Products for FBA

What do you need to do when you are picking up your sourced products for Amazon FBA?
Product packaging for Amazon FBA
Labeling specifics and tips for Amazon products
How to pack open items or cloth
Best practices for labeling expiration dates
Packing bundles and multipacks
How to pack fragile items
How to prep and pack liquid items
How to prep and pack loose items
Applying box labels
Lesson 12:
Products Dispatch to Amazon
The best bit about Amazon FBA, as mentioned above, is that you only need to find and source products and then send them to Amazon. Amazon does the rest.
So, how do you send your products to Amazon? This Bootcamp has all the answers. This section covers different areas of products dispatch to Amazon.
Products prepping. Even before you create the shipment, you need to ensure that your products are ready for packaging and delivery to customers.
Shipping plan. You must have a shipping plan, and this section of the Bootcamp will guide you on how to create the best shipping plan
How to use a Dymo/ Thermal Printer
Printing Item lists for your shipments
Packing the FBA shipment
Finalizing shipments
What to expect after your products are shipped to Amazon.
Lesson 13:
Amazon Best-Seller Rank
At the end of the day, your biggest motivation when selling on Amazon is to have your products listed as best-sellers. Thanks to this Bootcamp, you will learn everything you need to know about finding the right products and turning them into best-sellers.
With competition to peddle with, there is a lot to go around if you want your products to be best-sellers. This section of the Bootcamp covers all those things.
The topics covered here include:
Amazon best-seller rankings – why are some products best-sellers and others are not. And how can you turn your products into best sellers too?
What to do with products that don't have rank
The Buy Box
The suppressed buy box
How to use the buy box when sourcing for products
Lesson 14:
Product Pricing
When it comes to selling products on Amazon, the biggest challenge experienced involved deciding how much to sell your products for.
Often, you will take time to look at alternative and look-alike products to look at how much they are being sold for, and you will also go a step further to look at the features of the products to determine how much value people get from the products.
Unfortunately, all this work and research might not be enough to help you settle on a price for your products. The Amazon Bootcamp will, however, help you with product pricing. This section of the course covers the product pricing essentials.
The topics covered include:
How to price products when there are other Amazon FBA sellers of the same products
How to price products when you are the only FBA seller
Pricing products against Amazon
Pricing products when there are NO sellers
How to deal with price drops
Amazon Bootcamp V4.0 Pricing
This course is priced quite affordably, given the amount of information shared in the course.
At $495, this course is one of the best-priced Amazon FBA courses, and the best part is that it gives you everything you need to know to run a successful Amazon FBA business.
You have two payment options: you could either make a one-off payment of $495 or pay for the course in three monthly installments at $195/month.
Recent Course Updates
As mentioned above, this course is the fourth version of the Bootcamp, and it contains content updates to help you if you wish to start selling on Amazon.
The updates to this course are in line with changes made by Amazon (on their policies), and this means that you need to be careful when choosing Amazon FBA course materials on the market – failure to care about how recently the content was updated could leave you with outdated and irrelevant information.
Some of the updates in this course that standout include:
Shorter videos in the teaching lessons
Transcripts, captions, as well as lesson summaries, have been added based on the feedback of students
The online arbitrage sourcing module is a new module that's absent in the older versions
There's bonus content that covers accounting, taxes, legal matters, and other essential Amazon business tips.
Live Group Support
Besides the comprehensive course content on Amazon FBA, this course boasts one of the best live group supports.
The Facebook Group has about 5,000 active members, and the best part is that Jessica is always answering questions sent her way.
Having this level of interaction with a course creator is almost unheard of, which is why this course is ranked particularly high.
Amazon Bootcamp V4.0 Alternatives
1. Proven Amazon Course (PAC)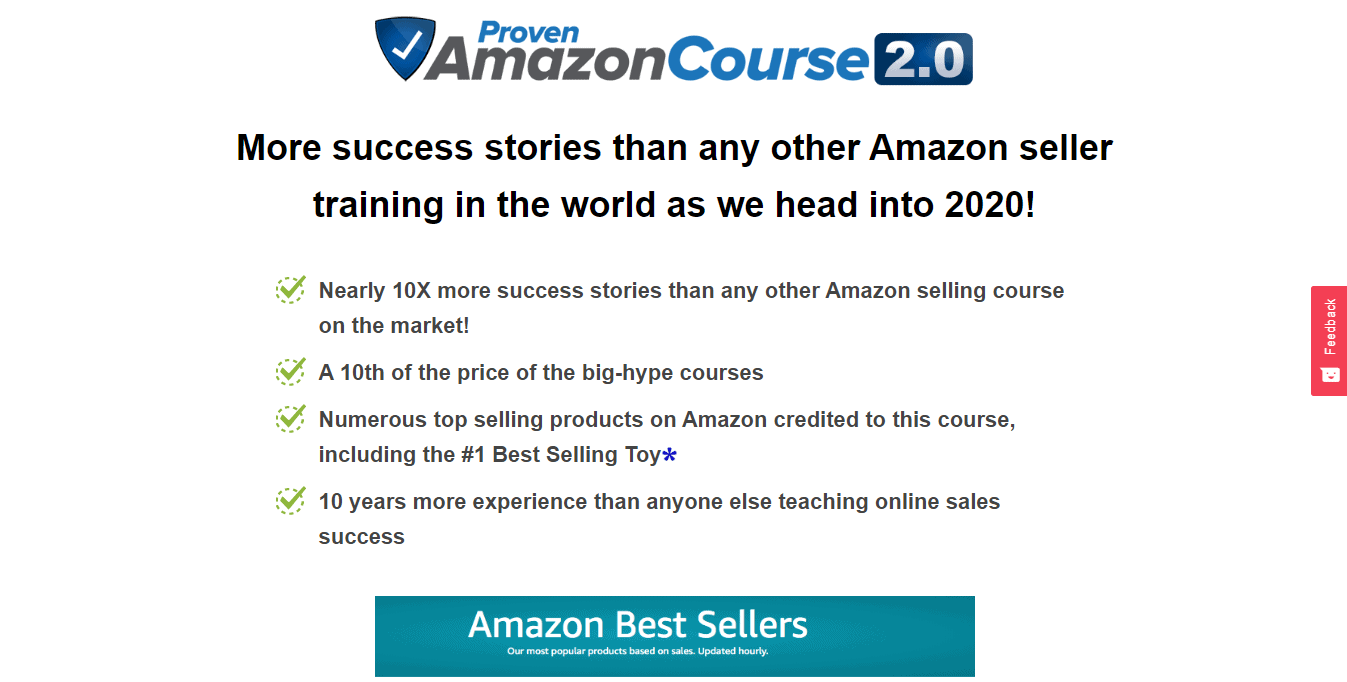 PAC is the next best alternative to The Selling Family Amazon Bootcamp, not just because of the pricing (PAC costs $499); it's also equally comprehensive.
The difference between these two courses is that while PAC gives you a broad approach to Amazon FBA, Amazon Bootcamp goes wide and deep and if offers more details about product sourcing, shipping, pricing, etc.
So, if you are looking for a course that offers comprehensive information on sourcing (retail and online), you should stick with Amazon Bootcamp.
On the other hand, if you wish for more sourcing options, including sourcing strategies and approaches on wholesale sourcing, private labels, and bundling, PAC might be a better fit for you.
Note, however, that when starting out, sticking to one approach is the smarter move.
Therefore, Amazon Bootcamp is a preferable option and recommendation. The other alternatives include Amazing Selling Machine and Marketplace Superheroes, but they are pricier.
2. Marketplace Superheroes (MPSH)
MPSH is one of the best Amazon private-label online courses that guide you on everything you need to know about selling on Amazon.
This course takes you through product selection procedures and strategies, selection of high-profit and high-converting products, as well as supplier selection, sourcing, and running a successful Amazon FBA business.
MPSH was created by Stephen Somers and Robert Rickey, two genius who understand the intricacies of Amazon FBA business models have been running successful businesses on the platform for 7+ and 20+ years, respectively.
This course will set you back $997. The course module is broken down into 12 detailed modules broken down into more than 90 videos.
The course is updated constantly, and there is an online community that you can learn a lot from and interact with the course creators.
3. Amazing Selling Machine (ASM)
The other great alternative to the Amazon Bootcamp is AMS.
Although the Amazing Selling Machine is a lot more expensive compared to the Bootcamp by the Selling Family, this course offers significantly more features.
Created by Matt Clark and Jason Katzenback, this course features a comprehensive and newly refreshed 8-module online class that features at least 120 videos that take you through the creation and running of a successful Amazon FBA business.
The course will equip you with the basics for running an Amazon FBA business from scratch. The best part and the reason for the course's high price tag has got to be the private coaching services offered to each student throughout the 8-weeks of the course.
In addition to these, there are additional learning points and elements like the private sourcing agent, access to the Amazon branding tool suite, product launch strategies, as well as access to the Amazon market research extension on chrome.
Despite the $4,997 price tag, this course is an excellent fit for anyone looking for comprehensive guidance on Amazon FBA business. If you can afford it, you have no reason to avoid it.
Conclusion
If you have at least $1,000 that you can invest in the Amazon FBA business today, looking for a part-time or even full-time online business, are based in the US, and you don't mind get your hands dirty to get the work done, the Amazon Bootcamp by The Selling Family is a great fit for you.
Keep in mind that the Amazon FBA business is not ideal for you if you don't have enough capital (less than $500), if you are expecting overnight returns, or if you are looking for a passive source of income that doesn't involve any hard, hands-on work.
If you in the first group, then the Amazon FBA business and the Amazon Bootcamp course are the right fit for you.