One of the ways it does this is through the use of various themes offered by many different companies. Thrive Themes is one of the most popular of these businesses. In this Thrive Theme review, you will figure out more about this company and what they have to offer you.
Understanding this information is crucial for your because it can streamline your website operation, increase your marketing speed, and stay one-step ahead of your marketing competition.
What is Thrive Themes?
Thrive Themes were designed for "conversions" – so that means getting your traffic to do what you want it to do. Buy a product, join an email list or click another link.
These days having an ugly site can literally cost you money. People are more willing to stay on your website if it looks good and has engaging content. Thrive can't help you with the content, but they can help you with making it look good. Those with a Thrive membership have access to multiple themes, which we will discuss in more depth later.
Thrive Theme's say they have 10 different advantages that make them more efficient and useful than other company themes. These include:
Increased Speed – Thrive states that their themes use lightweight web coding to provide a smoother and more efficient operational speed for people using your website.
Smarter Conversion – Converting visits into page reads is an important way of making your website stand out from your competitors. Thrive focuses your design in a way that increases clicks, sales, and mailing list members.
Easier Readability – Thrive states that their themes are designed with bright and smart colors and easy-to-read fonts. They argue that this helps make it easier to enjoy your content and converts more readers.
Quick Page Generation – The streamlined nature of Thrive means that it is easier to create pages, such as contact, sales, and legal pages. They claim that you can generate such sections with just a few mouse clicks.
High Customization – The design set for Thrive Themes tops over 600 different fonts, colors, headers, and layout designs. As a result, Thrive believes that their themes make it easier for users to create highly personal sites without excessive effort.
Effective Landing Page Templates – Those who set up a Thrive Theme receive a template for their landing page. This page can be tweaked to meet your unique needs. For example,you can upload your company's logo and other types of graphics to make your website stand out.
Mobile-Focused Design – As mobile navigation quickly takes over a majority of online traffic, Thrive states that their themes are fully compatible with mobile navigation and help convert a large number of leads in this way.
Continual Upgrades – Those who purchase a Thrive Theme get a variety of upgrades and updates that help them improve the look and design of their site. For example, you receive new design elements whenever an upgrade is launched.
Decreased Plugin Usage – Thrive states that it uses a higher number of built-in features to decrease your need for additional plugins. This change can improve your site speed and avoid slowdown caused by excessive plug-in usage.
Multiple Training Methods – Integrating Thrive with WordPress is helped by multiple training methods, tools, and tutorials. In this way, you can increase your WordPress integration speed and get your website up more quickly.
Each of these benefits is supposed to help make Thrive easier for people to use and faster than their competitors.
Before taking a look at a few of these advantages, let's examine the different themes that Thrive has to offer…
A Look at the Themes
Now that you have a better idea of the nature of this service, our Thrive Theme review will move on to discuss the themes offered by this company. In this way, you can have a basic understanding of what they have to offer and can decide if any of these themes are right for you.
Rise Themes
The Rise theme is designed to create a simple blog and to operate as an outlet for affiliate marketing and product sales. The design is pretty simple and focused on making it easier to read. Those who want a basic website with little fuss may enjoy this design.
Storied Theme
People who want a site filled with images, video, blog content, and audio may enjoy Storied. It is designed to integrate a broad array of media elements to create multiple story-telling elements. It might be a good choice for authors or artists.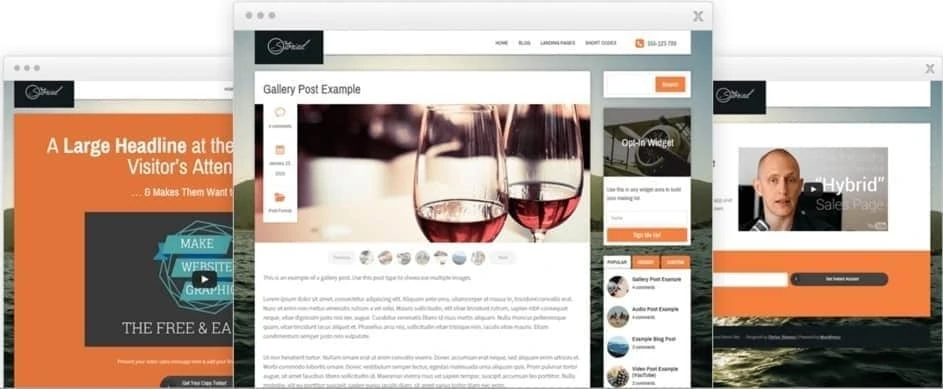 Pressive Theme
Pressive is designed to work well with marketing and sales websites. It uses multiple images and fonts to create a diverse and complex style. This theme is designed for those who want a more complex site that looks very professional.
Performag Theme
The name of this theme indicates its most beneficial use. It uses a simple design to create a streamlined magazine profile that is easier to read and understand. Some of its features include boosted ads and infinite scrolling to make it compulsively readable.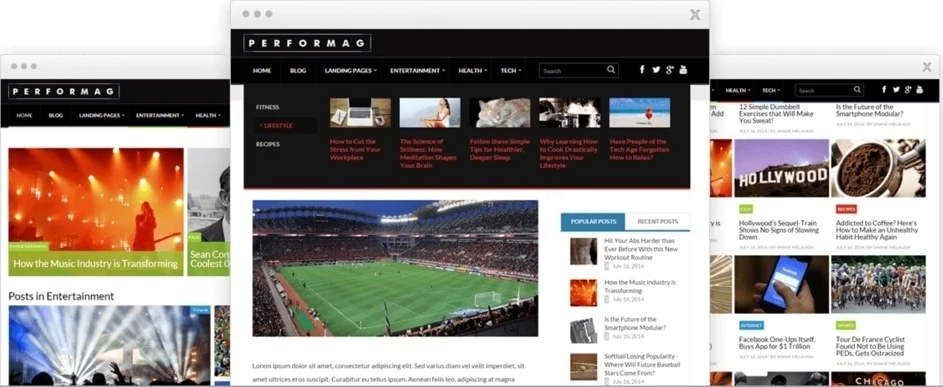 Voice Theme
Designed for blogging and podcasting, this theme is a little more static than other themes. This design choice was integrated to make it easier to spotlight the author of a post and to highlight your newest content. As a result, it is good for a site that continually updates.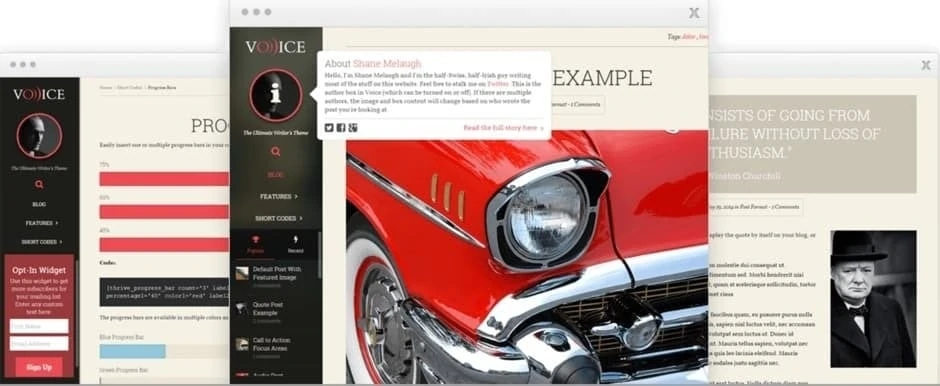 Squared Theme
Those who want an ambitious website may turn to this particular theme. It is designed to integrate blog posts, personalized page layouts, and even author boxes. There are also multiple marketing features that let you reach out to potential readers.
Minus Theme
If you want a more stripped-down theme that focuses entirely on your text, Minus is a good choice. It is based on various fonts mixed with lots of white space. This design makes it a good choice for simpler blogs that focus on content quality, rather than presentation flash.
Ignition Theme
Sales and marketing companies may appreciate the design of the Ignition theme. It uses a variety of pre-built templates that makes creating new sales and landing pages relatively easy. Each page is designed to be rather wide and easy to understand.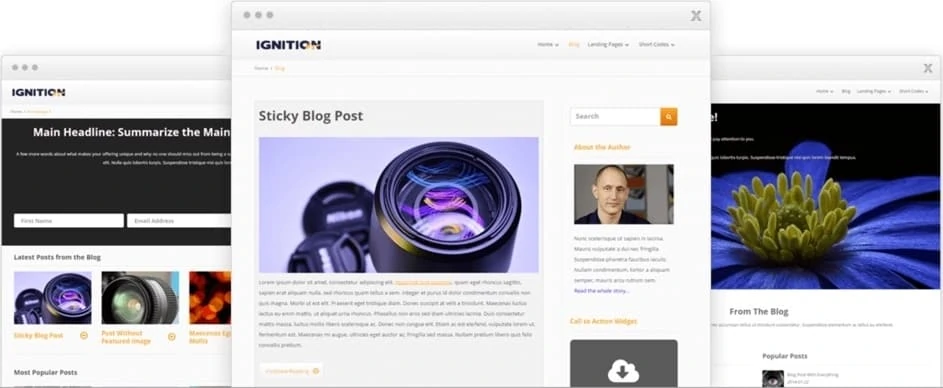 Luxe Theme
This theme is another one designed around a more complex layout. Its name indicates that it is supposed to create a luxurious and elegant page. Included options, such as opt-in forms and landing pages, allow you to create a page that can convert leads more quickly.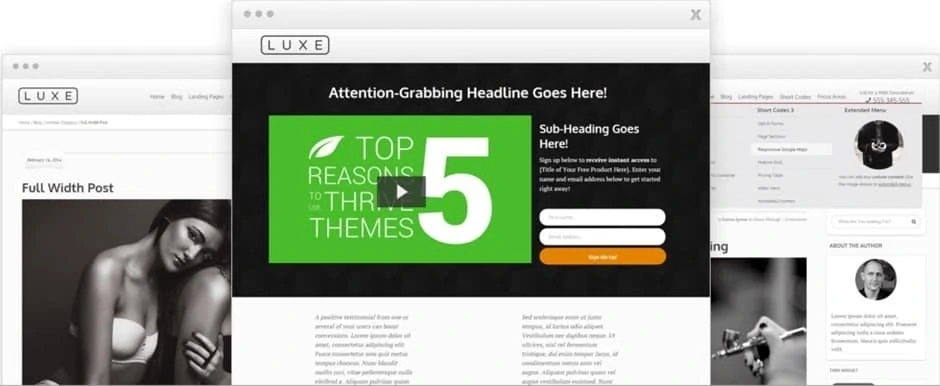 Focusblog Theme
As the title suggests, this theme is designed to highlight blogging and to make your site stand out from others. It, therefore, has a simple look that can be tweaked in several ways. Not one of the most complex or striking of their themes but not bad.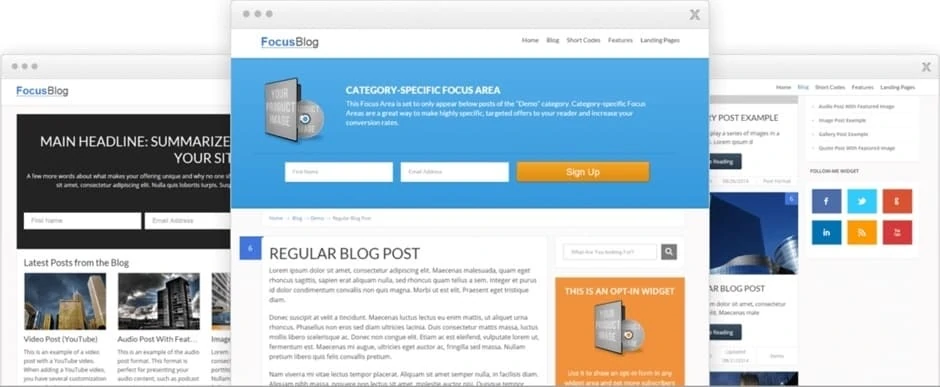 An Overall Feel for Theme Quality
Discussing the overall look and feel of each of these themes in depth would take up too much room for this Thrive Theme review.
However, it is worth giving an overall feel for how well each theme is designed. Generally speaking, each of these themes looks and feels fairly strong. While the differences between the various types could sometimes be minimal, there was a distinct focus for each design.
Some were apparently set up for more text-based sites. Others let you integrate pictures, videos, and other media types to create a fuller and richer feel or your blog. In the end, there are just enough differences between the themes to justify their creation. However, some choices seem a little better designed than others. Ignition and Voice look a bit better and feel more appropriate for marketing than themes like Minus or Performag.
While none of them appear bad or ugly to view, it is unlikely that many people will choose themes like Squared or Pressive. That's because there are similar options that feel and look stronger. Likewise, others seemed a bit too complex for amateur users. Luxe felt like it probably needed a professional to create an exquisite and efficient design. While some amateurs may be able to use this option, its array of choices seemed too overwhelming for us to understand quickly.
However, the variety of design options were impressive among the available themes. As a result, they showcased multiple possible uses that could be helpful for many.
Competitors
We can't talk about Thrive without talking about some of their tough competitors. The two biggest competitors out there currently are Optimizepress and Genesis.
Both are also great themes, but how do they stack up to Thrive? We take an in-depth look at them in these articles:
Thrive Themes Pricing
One element of Thrives Themes that is particularly fair is the Thrive Themes pricing model. There are two different main ways you can pay for this program. The first in individual membership, which costs $19 per month.
That comes out to one annual bill of $228. Those who pay for this membership get all of Thrive's plugins and themes and can integrate them into 25 different websites. The professional or entrepreneur model costs $49 per month, which comes in an annual payment of $588. You get the same benefits as the individual plan but on 50 different websites.
Paying for these memberships allows you to integrate your sites with others, including:
ActiveCampaign
Amazon SES
ArpReach
AWeber
Facebook
Google
Twitter
And more
However, it is also possible to pay higher rates if you want to integrate Thrive Themes on more than 25-50 websites. Here's where things get confusing.
Expanding to include more sites is likely to add hundreds of dollars to your payment cycle. As a result, it can cost a bit more than it might seem initially. While not a deal breaker, this fact is important to consider if you want to try out this product.
The Thrive Themes Architect Review - What does it do?
Those who are interested in a Thrive Themes membership should understand the nature of Thrive Architect. This program is the content editor that is available to those that purchase a Thrive membership.
It can also be downloaded as a separate plugin if you chose the non-membership route.
In this Thrive Architect review, we will delve into how the program works, what benefits it provides you, and whether or not Thrive Architect is worth the money.
The Basics of Thrive Architect
Thrive Architect is an online editing program that allows you to integrate a variety of Thrive Themes onto your WordPress site. It lets you edit the various elements of these themes and integrate multiple pieces of content, including text, photos, videos, and more. It is designed to be a simple-to-use program that provides a streamlined operative method.
Beyond that, it helps to make it simple for amateurs or first-time designers to create a site without a lot of fuss. As a result, it has a variety of features that help make it a worthwhile program. Let's take a look at some of the positives of this program to get a feel for what it has to offer. While we generally think that Thrive Architect is a worthwhile choice for those who are using Thrive Themes, it should be fully understood before jumping into using it.
Pros
There are several advantages to using Thrive Architect that we found during our research. Just a few of these positives include:
Seamless Integration – Allows you to integrate a variety of design concepts from other Thrive products into your content editing.
Cheap Purchase Price – Architect costs just $67 to purchase. This one-time payment makes it easy to integrate with other Thrive Themes.
Easy to Use – The intuitive design of Architect makes it simple to use without a lot of tutorials. While you can upload your Thrive Theme as is, Architect allows you to make a few simple tweaks.
Easy Text Editing and Formatting – The inline program for text editing makes it easy to click on a page and edit it without changing lines of coding.
Content Template Management – If you create multiple types of site templates for Thrive, you can easily save and swap them with Architect. This fact makes it easier to change your sites and keep them updated without much difficulty.
Simplified HTML and CSS Editors – Those who have the capacity and desire to edit their pages using HTML and CSS shouldn't have any difficulty with Architect. It offers a streamlined operation that makes it simpler to manage these facets of your pages.
While these positives make Architect a very useful program for those with Thrive Themes, it is far from a perfect program.
Below, we will highlight several negatives that are important to consider before making a purchase. Weighing them with the positives will help you decide if this program is right for you or if you should skip it.
Cons
A few mild to serious complaints somewhat offset the many positives of Thrive Architect. While we are generally enthusiastic about this page editor, we are by no means true believers. Just a few problems we experienced with this program include the following:
Element Control – The most frustrating thing about Architect is that it doesn't allow you to drag your elements freely. This flaw greatly limits the adaptability of your websites and is a major blow against it.
No Global Content Templates – Another major problem that upset us was the inability to use or save global content templates. Again, this makes it harder to use Architect and limits its adaptability to unique design ideas.
Limited New Page Templates – While you can create personalized page templates, Architect is currently not releasing new page templates with updates. This limitation is a problem for those who have trouble creating unique templates.
Occasionally Buggy Performance – Companies releasing software products with a few operational bugs is common. Architect, therefore, suffers from a few bugs that can be frustrating. A few of these will crash your web browser and cost you edited pages.
In the end, these negatives don't quite supersede the positives offered by Thrive Architect. However, they may be a serious concern for some users. As a result, it is important to debate whether or not they are worth tolerating when you buy this product.
Is Thrive Architect Worth It?
Hustle Life view on Thrive Architect is mostly positive because we believe that it is a pretty solid way of designing web pages, particularly if you use Thrive Themes.
However, it isn't a perfect product and has a few clunky design decisions that derail our enthusiasm more than a little. The inability to freely drag element is particularly disappointing. Those who can look past that flaw are likely to find that Architect works very well for the most part.
Thrive Optimize: Brand New for 2018
Thrive Optimize is an A/B testing tool that helps make it easier for you to gauge the success of your websites and their conversion. A/B testing gauges the flow of people into your website, who is clicking on your pages, and which content converts at a higher rate.
While there are several programs of this type on the market, Thrive's is a pretty solid choice.It allows you to run fast A/B testing that is designed specifically for your WordPress posts.
This test streamlines its operation and makes it more beneficial. Beyond that, you can run extensive tests as often as you desire. Ben better, you can run a multitude of test variations that check multiple variables and ensure that you are converting correctly. And if that wasn't enough, you can set conversion goals that make it easier to see where your site is going wrong.
All of these benefits are balanced by an easy-to-use design that is more streamlined than products like Google Optimize. However, those who are interested in this product need to understand that it does not come with your Thrive Themes membership.
In fact, a standard Optimize license is going to cost you at least $127 per year. This option lets you run this program on just one website. More expensive choices include the $294 product, which enables you to run Optimize on up to 15 different sites.
As you can see, this is where Thrive is likely to make a majority of its money, mainly from high-quality marketing experts. However, that doesn't mean that Optimize is not worth your money. If you are a marketing expert who is looking for a way to test your sites, Thrive's option is pretty solid. Optimize offers the same kinds of tests and options as Google Optimize, but it focuses on Thrive sites. This focus makes it more efficient for WordPress websites using this design option.
The price is pretty similar to other optimize options well, making it a pretty reasonable choice for you.That said, those who are planning on creating just a single website for their enjoyment may not get a lot out of it.
Paying $127 to optimize a non-monetized blog may be too expensive for some people to handle. However, if you run an e-commerce website based on Thrive Themes, it might be a good idea to streamline its A/B operation with this product to ensure that it is drawing a maximum amount of traffic.
Should you Buy Thrive Themes
This Thrive membership review has taken a look at a variety of Thrive Themes products and examined the benefits and disadvantages of using them.
In the end, we believe that Thrive Themes and its many options are worth serious consideration if you are a beginner or an experienced web designer.
Thrive Themes is an affordable and powerful solution to make great-looking websites yourself that doesn't break the bank.
​That's the reason I use Thrive Themes for most of the affiliate sites, including this one!