Welcome ecommerce enthusiasts! Today we're diving into the 5 most common issues keeping Walmart Seller's awake at night and how to triumph over them.  
If you have a Walmart seller account, you know the hustle: it's both exciting and challenging. Whilst there is plenty of opportunity as a Walmart 3rd party seller, there are some costly pitfalls.
But don't worry! Every problem has a solution.
Plus, I've got a list of nifty tools and software that are designed to support Walmart marketplace sellers, to make the journey even smoother. Ready? Then grab your virtual hiking boots and let me walk you through it!
1. Competition: Stand Out From the Crowd
With over 35 million products listed on Walmart's online marketplace, it's easy for your listings to get lost in the search results.
If you're just about the start selling on Walmart (or even if you're a experienced seller) you might be asking "Why is Product Listing Visibility a potential problem?''. Well, it is generally true that people tend to rely heavily on the search results presented on the first page of Google, Amazon and yes, Walmart too. This behaviour is supported by various studies and data that show a significant drop in user engagement and click-through rates as you move down the search result pages. So, getting higher up the Walmart search results is important if you want to make more sales!
Real-World Impact:

Imagine you're selling handmade candles -  if your product listings aren't optimized for Wamart customers, your beautiful wild harvested eucalyptus-scented artisan candles could end up on page 25 of search results, while Uncle Jim's regular vanilla candles (with listings that have been better optimized) dominates the first page!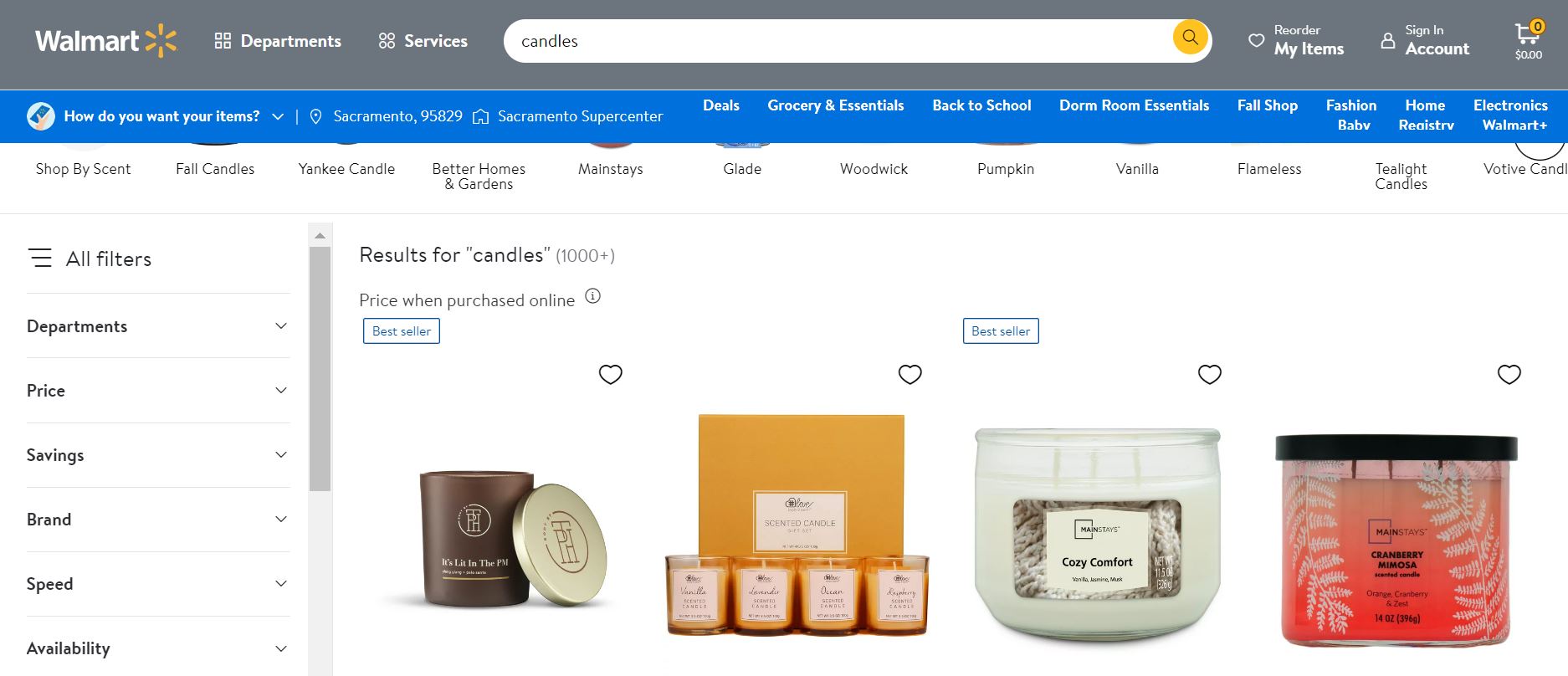 What Action Can You Take to Get Ahead Of The Competition:

The successful 3rd party sellers on Walmart, make their products visible by optimizing product listings with relevant keywords, high-quality images, and detailed descriptions. The more aligned your listing is with what users are searching for, the higher the chance it appears in top results.
For example, if you're selling "vegan leather boots", Jungle Scout might indicate that shoppers frequently search for "cruelty-free boots" or "eco-friendly leather boots". You're still selling the exact same product but you're using the right language to promote it to more customers. Simple if you know the right search terms or keywords to use.
What Software Can Help Increase Product Listing Visibility on Walmart:

Both Jungle Scout and Helium 10 have recently expanded their Amazon FBA software packages to support Walmart Sellers.
Jungle Scout can assist you in finding the best keywords to get product listing visibility. Whilst Jungle Scout is primarily known for its association with Amazon, its features can also be applied strategically for sellers on other platforms, including Walmart.
How Does Jungle Scout Help Walmart Sellers: Jungle Scout's keyword tool lets sellers discover high-volume keywords relevant to their products. By integrating these keywords into product titles, descriptions, and backend search terms, sellers can significantly improve the chances of their listings appearing in customer searches.
Helium 10 can help Walmart sellers with Walmart SEO and honing product listings and increasing Listing Quality Score (LQS). The Helium 10 suite offers a chrome extension and a tool called Xray that can help you target your competitor's listings, so you can see their volume and sales revenue. Another Helium 10 tool called Cerebro, will then help you grab the keywords from these high performing competitor products for your product listings.
2. Shopping Cart Dominance: Price Competition
With the Walmart marketplace being an open platform, many sellers might offer similar or even the exact same products. Here's where price wars begin. Sellers get desperate to stand apart and often undercut each other by a few cents or dollars to appear as the lowest-priced option. This can be enough of a tactic to dominate sales!
Real-World Impact

Take the example of Andy and Max, both selling plastic desktop organisers. Andy lists his desktop organiser for $20. Seeing this, Max drops his price to $19.75. Not to be outdone, Andy then lists his for $19.60. This race to the bottom can severely erode profit margins.
What Action Can You Take to Avoid a Price War

Rather than engaging in a relentless price war, channel your efforts into increasing your value proposition. Meaning? Give customers more bang for their buck in other ways that are valuable to them. This could be in the form of faster shipping, product bundles, superior customer service, or exclusive product features. By enhancing perceived value, you can justify a higher price point.
What Software Can Help You With The Right Pricing Strategy On Walmart

Wally Smarter can help you keep a close eye on competitor prices and understand market trends, allowing you to adjust your pricing strategy effectively. If you know what customers are willing to pay then you don't have to keep dropping prices to beat the competition.
Use Wally Smarter to help you do better product research, write optimized listings rank better, track competitors and a bunch of other strategic activities to increase your sales.
3. Walmart Fulfillment and Shipping: Order Fulfilment Delays
Order fulfillment delays occur when there's a lag in processing, packing, or shipping an order after a customer has made a purchase. In the world of e-commerce, speed is king. Delays can negatively affect customer satisfaction, leading to poor reviews and damaging a seller's reputation. Some reasons for these delays might include:
Inventory Mismanagement
Inefficient Packing Processes
Supplier Delays
Carrier Issues
High Volume During Peak Seasons
What Action Can You Take to Avoid Fulfilment Delays:
Join forces with trusty third-party logistics specialists or enlist the help of Walmart's own Fulfillment Services (WFS). If you've read "The 2023 Walmart Marketplace Playbook for Sellers" you'll know that sellers see (on average) a 50% total value of merchandise sold (GMV) when using WFS.  
Your customers get their goodies on time, and you'll reap the benefits of being in control of your delivery times AND increasing your online income!
What Software Can Help Manage Inventory and Shipping
Software/Tool Recommendation: Consider using ShipStation or ShipBob. These platforms not only integrate with multiple sales channels, ensuring consistent tracking of orders across platforms like Walmart, Amazon, and Etsy, but they also allow you to compare shipping rates among different carriers, print labels, and automate many parts of the fulfillment process.
4. Walmart Account Suspension and Compliance: Respecting The Rules
Walmart's seller policies keep evolving. I've talked about this before in this amazon-vs-walmart article. Walmart are strict about how its sellers operate and takes complaints about shoddy business practices seriously.
What Action Can You Take to Avoid an Account Suspension:
Be the eagle-eyed guardian of your seller account. Regularly check the Walmart marketplace seller center and participate in their webinars or training sessions. Stick to the guidelines, communicate with Walmart's support like a pro, and keep your account sailing smoothly.
5. Counterfeit Products That Can Damage Your Brand
If you've created a recognised brand on Walmart (or any marketplace platform) then you need to be concerned about counterfeiting.  If you're generating good sales, then your profits start to look attractive to counterfeiters who will enjoy riding your success wave.

How to Protect Your Brand
Walmart's Brand Protection program is designed to ensure that intellectual property rights are respected and protected on its marketplace.  So, make sure to enroll at Walmart's Brand Portal, be vigilant against the forces of counterfeiting, and keep your brand's flag flying high.
Final Word
And there you have it. This post has given you the Top 5 Walmart Seller Problems AND Solutions!
Navigating the exciting landscape of eCommerce might have its challenges, but now you're ready to face them head-on, with a dash of style, a sprinkle of determination, you can be a Walmart BOSS!
So, go on, embrace the journey, and enjoy soaring to new heights in the Walmart Marketplace.