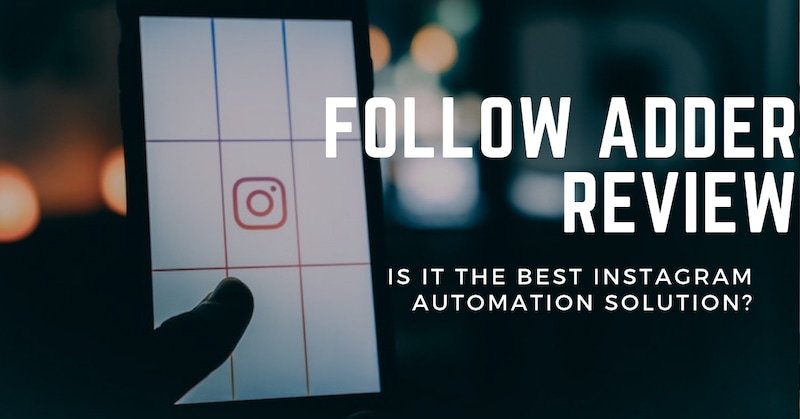 When I first began to use Instagram, I did everything manually. As you can imagine, it took me forever to get those first crucial 1000 followers.
But as time went on, and my motivation waned, the process grew more and more tedious, and even though I knew in the back of my head that there was an automated tool out there waiting to help me out, I had my own reservations.
Besides, I was tenacious and had my Instagramming down to a fine (but tedious) science. I wasn't about to quit now.
Good sense eventually beat my tenacity, and I began to look for automated options that could relieve this excessive workload. I searched online for the most suitable Instagram bots that could address my Instagram duties so I could get on with my pressing urgencies and daily tasks.
After I chose to use these tools, I noticed something BIG. Everyone is actually using these tools, and some of the most heartfelt comments that I took time to reply to with personal attention were just comments being dished out by these Instagram bots.
So after some deliberation, I chose to rely on the Follow Adder tool as my implement in furthering Instagram achievement. One must be careful with this power; the last thing I wanted was to become a spammer leaving trash around other users' accounts.
It turns out that you did not need to resort to petty spamming to increase your following
In the following post, I want to share with you my review of the Follow Adder Tool–why I like it so much and why I would recommend this option to anyone attempting to increase their Instagram prominence.
The opportunities for social media marketing are looking up, and this will be a major player in the coming years. The best way to cultivate your accounts and grow them effectively will be to use the best tools at your disposal, thus keeping you ahead of the learning curve and ready to reap rewards in the future.
I want to point out that I most definitely believe that using these tools goes against some of the terms of use, and this can lead some people to disagree with them for ethical reasons.
However, if they are being used in a reasonable manner and not causing anyone any distress, then they do help level the playing field.
After all, so many other users are also applying these measures, and the possibility of keeping up manually is nonexistent.
Pros and Cons of Follow Adder
Here is a list of the things I liked and don't like about Follow Adder
Follow Adder Review: The Best Instagram Marketing Tool?
There is a wealth of options for suitable Instagram tools today, and choosing the best automation tools that will serve your needs and not blow your cover is not the easiest thing to accomplish.
I admit that it took me several tries and some major errors before I found Follow Adder. I then used it tentatively for a full year to make sure nothing was going to backfire, and nothing did. The tool worked like a charm, and I was very pleased with the services provided.
At this point, you may be thinking, "Okay. It worked for you. But is it going to work for me?" If you are wondering how a tool like this will benefit your situation, here are some of the benefits offered by a system like Follow Adder:
Increase Followers and Engagement – The more action you're seeing in your social media sector, the greater the volume of high-quality targeted traffic you can drive to your website or blog.
Save Time – These tools allow you to spend less time glued to social media outlets and more time doing what makes you such an interesting person.
Generate Leads – You can begin generating the leads you need to fuel your efforts and provide traction for your business, goods, or services in a competitive market.
Profits – Depending on how you play your game, there are ways to begin making money with software like this on the Instagram platform.
Find a Job or Gig – If you are in the performing or production arts, you could use this tool to increase your online exposure. The more people are familiar with your work, the more they'll think of you when they are planning a project or event.
The important takeaway here is that a large variety of marketers can use a versatile tool like Follow Adder–especially those who are pressed for time and are trying to manage their social media platforms while addressing their primary professions.
This could be the single most beneficial aspect of using an automated Instagram tool: all the extra free time you have because you won't be spending your time tapping and swiping on your mobile device.
How to Use Follow Adder Effectively
Some of the tools and apps that work like this can be difficult to figure out. Luckily, Follow Adder is one of the most basic tools I have had the experience of working with.
There are two primary functions available from this tool, and you will want to understand them fully if you are to get the most from their effects:
Scraping
Uploading/ Interacting
Once you are ready to begin, open the program, and begin to familiarize yourself with the simplistic layout. The best place to begin is with the search option.
Here is where you will be able to "scrape" or explore all the photos, users, and comments that could be related to your niche. You will be able to use the user list to look over the candidates and see which ones you will choose to follow or contact directly through messages. It all depends on the goals of your Instagram campaign.
In the list of photos, you will be able to choose the most appropriate actions that will lead to more engagements and interactions with other users. You can choose to like or comment on photos depending on what you think is most fitting.
In the comments list that you are able to scrape from the list of photos, you will be able to look over some of the popular comments. This is helpful because it can take a long time to come up with a meaningful expression on the fly, and sometimes others just say things better or give you good ideas of what to say.
I personally recommend shutting off the direct messaging or commenting feature because these do come across as really scammy unless being directly supervised and adapted. Besides, everyone hates getting those disingenuous comments such as "wow" or "amazing shot." I would recommend not using that feature. Instead, I recommend capitalizing on the photo and comment liking and following actions.
Use the Bulk Upload feature to take care of very large bulk uploads in a short amount of time so that your account looks busy and active.
Furthermore, you can schedule the best times for these uploads so that you don't have to spend time uploading every single one individually.
Because there are several different lists to create, you can choose to follow some users and fully engage them by commenting on their content and liking their photos. At the same time, you will also be building a professional relationship and hopefully interest them in the business or options you are promoting.
Follow Adder Main Features
This was a simple overview of the different options and opportunities you can take advantage of when using Follow Adder. In the next section, we will take a closer look at some of the features you will interface with as a user.
With the search feature, you will be able to "scrape" all other Instagram accounts and get a better idea of how to manage your account for the greatest efficacy in gaining more followers.
Among my favorite features of the site is the capacity to make lists of all sorts. This can really help to narrow your niche to its most essential targets and then zero in further on specific subsets of audiences.
It is possible to create several lists that will allow you to:
Follow and send messages to users in a specific list
Create a list of photos that you would like to comment on or like
Create a list of good comments that you can apply to other posts and comments quickly 
Follow, return follow, and unfollow
One of the most sought after features in these tools is the capacity to follow, unfollow, or follow back. After you have created your first list, you can begin using it to follow the people on that list.
You will also be able to unfollow people from here and set the list to follow back those users that follow you.
I have found that following others is by far the best way to increase your Instagram account following. Especially when dealing with people and niches like your own.
Another one of my favorite features is the capacity to share photos as needed and upload in large quantities –– a real time saver.
What this means for the time-pressed Instagram user is that a large amount of time spent uploading, editing, and coming up with clever captions can be targeted all at once in an easy sitting. Just bulk load the photos you want on your page, and you won't have to take time doing each one at the best possible times.
You can also take advantage of and like other people's photos and content leading to more engagements and potential followings. You can go ahead and use the comment tool if you'd like, but I don't personally recommend it.
As I mentioned, I am still on the fence about using this direct messaging feature and have not found it especially useful yet. Nevertheless, there may be some instances where a direct message to new followers would be in order and advantageous, but be sure to consider your campaign and how this potentially scammy action can reflect on you.
These messages can also be lined up for promoting a specific brand message, product, or service, or for making a good introduction for you and your brand.
TARGETING SPECIFIC HASHTAGS
Targeting hashtags is another great way to make a splash with the right kind of people and can be used to greatly increase your following.
You can set things up to take full advantage of this feature. Just choose the hashtags that are especially well matched to your niche, topic, or business, and your account will automatically find all the comments and photos connected with these hashtags and perform the actions you select: liking or commenting. This places you right in connection with the audiences you need to increase your Instagram stature.
These are the demographics that are most likely to be interested in the themes and topics you are promoting. As long as the relevance is well selected, there is a large potential for a great many followers interested in the quality content you are posting.
This will take some insight into the hashtags you will be applying, and there are some good resources for finding the hashtags you need at sites like Websta.me. I recommend this one as it features nice curated lists and very specific hashtags.
There are several very specific benefits to using a tool like Follow Adder. With these tools, you can gain followers and increase your capacity for beneficial engagements that lead to more traffic and attention to whatever it is you're promoting. 
Users will be introduced to the marvels of automated tools in a fairly simple to use interface that only requires a few minutes of exploration to fully understand. Then you can begin applying the features provided in whatever way suits your Instagram campaign the best.
The bulk uploading feature is another great time saver that will ensure that your account always looks active and popular with new content arriving at the most opportune times to keep your followers interested and engaged.
Time is the one investment we can never get back no matter how much cash we make. When a tool cuts the cost of progress as much as this tool does, it is a real advantage. With more time saved, you can turn your attention to the activities and responsibilities you have to support your Instagramming.
Finally, for the amount of savings and benefits available from this tool, the pricing is considered fair. If you have a mind for profits, this tool can even be used to generate cash earnings. This will more than recoup the initial investment.
The price for Follow Adder is 49.99 USD for six months which come to be $8.33 a month. Every plan is a semi-annual year payment.  Which means, you pay every six month.
You really get everything you need, except that some of the more costly accounts here will include features like addressing more Instagram accounts.
The next tier service costs $12.50 a month and allows you to manage as many as three different Instagram accounts. This is a good option if you are working on managing several accounts you are trying to cultivate at the same time.
If you will be using more accounts than this, you may need to consider some of the even more elite account options available at the website.
Another great feature that I would like to mention is the option for a full seven-day refund if you feel you aren't 100 percent satisfied with the product. I
f it doesn't save you time and effort, you can return it with no questions and get your money back. However, I'm telling you, give it a fair shake, and you will see this bot is the real deal.
According to Follow Adder it is safe to use. Many people have been using Follow Adder with our Instagram accounts for some time now and have not been sent one notification from the platforms staff.
Are my login details safe with Follow Adder?
Certainly! And never forget that the password can be changed at any point.
Will they get me shadowbanned?
Shadowbanned is the term used for a ban that doesn't allow your posts to be featured when people search by hashtags. Because hashtags are a central component of the Follow Adder Tool, there is no need to worry about this.
Will my account be banned or suspended?
Getting banned from Instagram or suspended is always a risk whether you use this tool or not. However, if you are concerned, start your process slowly, and try to use it as a part of a larger campaign as opposed to your single trick.
Introduce your automation slowly week by week; don't just start flooding your follows with spam and insincere messages. That's how most of the users who try these tools end up in hot water. By making this a covert operation, you will ensure the greatest long-term benefits.
Because Instagram is such an important tool for reaching your target audience and drawing attention to your business or options, having a tool on hand to maximize the returns for your efforts is not a bad idea.
For accomplishing goals of increasing followers, improving your engagements, and gathering leads to fuel your business endeavors, I would recommend Follow Adder. It has a simplistic way of addressing the most important needs, and it is a great introduction to these advanced tools.