You've already pictured an online business that will help you instantly increase your income to the next level.
Amazon is not just about getting the best deals but taking advantage of all the infinite possibilities of building your online presence by selling on Amazon the RIGHT products that boost monthly commerce.
Jungle Scout has been taking the largest selling platform in the world, Amazon, by storm. This game-changer has great benefits for online sellers to exactly know WHAT they need to sell to increase their ROI.
This updated and in-depth JungleScout review will help you decide, do you need this for your business or not.
Jungle Scout Review: What is It?
Jungle Scout is the tool you'll need for product research. Jungle Scout is what Amazon sellers need, whether you are a beginner and trying to establish a store or a pro and want to alleviate commerce through profitable and best-selling Amazon products.
Amazon is a massive platform and you want to properly plan what you put on the market.
Jungle Scout helps you search for products that are best-sellers, check competition, spy on other stores, a comprehensive research tool that provides perfect keywords, and estimate your profits on a daily, weekly, or monthly basis.
You can easily do this with an easy-to-use extension or software on your dashboard.
Products that are not just appealing but are searchable and help you stay on top of the game. The truth is, Jungle Scout is more than what meets the eye. You can't judge this tool unless you've used it and see how it performs.
To simplify your life, Jungle Scout provides a list of profitable products that help the business grow easily. Greg Mercer founded Jungle Scout in 2014. The process redefines the way sellers work with a product research tool through Amazon.
The old days of manually checking for profitable and in-demand products are long gone, though there are still a few people who do that, they are those who still work with prehistoric techniques and already behind when it comes to competition.
Honestly, Amazon is a massive platform and you need to move with higher demand and faster resources. Otherwise, your business is bound to be doomed.
Jungle Scout takes it to the next level and simplifies the hunt for the best-selling products. With high competition, you have to be smarter about every move that you make.
Save yourself time from hours of analyzing, manually collecting data, creating tons of product libraries, and product research. Jungle Scout works like lightning and does everything in an instant.
Jungle Scout Pros
Every tool that you will use for your business should make loads of work easier for you to focus on important factors. Jungle Scout is strategically designed to help Amazon sellers build and increase their business and ROI for a successful business.
Jungle scout is created by a seller, who knows the pain points and possible pitfalls you would never want to experience.
You have to plan wise investments and one of them is to know which is profitable and not.
Here's an intensive breakdown of the benefits you can enjoy with Jungle Scout. And maybe, it will answer your question if you need the tool or not.
Jungle Scout is a Time Saver
Jungle Scout provides ease of merchandise researching that takes hours, especially if you are new to selling with Amazon. There are over a million sellers at least, which you'll consider as competitors to succeed.
Now that's tough, right? But with the right tools, you can get ahead of the game and have a higher rate of success.
You can build your presence easily instead of planning what to sell or check for tons of analyzing which commodity your competitors sell. Manually doing the product research, working with several spreadsheets for merchandise libraries, or collecting data history is time-consuming and exhausting.
Plus the success rate is not precise. That alone is risky for the business.
Jungle Scout helps you save those hours and does the job for you instantly. A relief on the seller's end and helps you focus on other profitable actions, right?
Jungle Scout does everything you need to do when it comes to stock research. You'll have a better Amazon presence with the right tool.
Jungle Scout Helps Identify Profitable Products and Boost Sales
Jungle Scout helps you identify the most profitable goods that can be sold to grow your business. By having the right product to put in the market, it is easier for you to build up your business.
Thus, giving you a higher rate to succeed because of the perfect commodity that boosts your market sales.
Creating a successful and profitable store for Amazon requires a good combination of patience and speed.
A profitable store that provides long-term success seems a long way ahead, but through short-term investments that yield to higher success, you'll achieve it easier.
It's all about investing with the right merchandise and using the perfect tools all at the same time.
Jungle Scout Gives YouThe Best Keyword To Optimize Product Listings
As all Amazon FBA sellers know, the riches are in the niches.
Junglescout, allows you to enter a keyword and it will provide you with commodities that match your search and even extra relatively merchandise that you 'might be interested' with.
By using the right product keywords, buyers will instantly find what they are looking for and continue to search and compare products based on what Amazon feeds them.
Relatively, those keywords even generate new relatively interesting products that can match your search. By working with the right keywords, it will be easier for your goods to top every search.
With the right niche keywords, Amazon will help shoppers find the products they're supposed to be looking for and more. Jungle Scout determines the demand rate for every keyword together with its relevance.
By doing so, you'll optimize your budget when it comes to PPC campaigns and helps you strategize your budget with a higher guarantee ROI.
With these tough keywords, you can have higher chances of product ranking and ratings. Jungle scout provides real-time demands based on what buyers and sellers search on the platform.
Through this real-time data history and collection, you can easily analyze which product you should sell.
Jungle Scout Gives You A Complete Data For A Products' Sales History
Product sales history is an important factor that you must never overlook. This helps you make the right decisions to succeed with the product listing you wanted to place in your store.

By analyzing these data, you'll know which merchandise has a high-profit rate and should look forward and which one you should try avoiding, especially if you're just learning the process.
With the most updated product sales history, you will know which product has an existing demand. That way, you can easily decide and place items that are in-demand and profitable to your business.
We know business should also include your gut feeling. However, backing it up with helpful and real-time data based on sales sold units, positive feedback and market stocks gives you better judgment.
That will enhance potential success by working with low-risk and safe data provided by Jungle Scout.
Jungle Scout Helps Accurately Estimate Your Ad Budget For PPC
PPC campaign budgets can be pricey and you want to invest with something low-risk but highly profitable. Jungle Scout allows you to select the best keywords that will help you save money.
Jungle Scout also gives you the best options for a proper budget for whatever PPC campaign you are planning to work on in the future. Besides, you want something that will generate sales and prevent pitfalls.
Jungle Scout Helps You Discover Untapped Niches with Niche Hunter
Jungle Scout helps you set the parameters to find cool niches with excellent keyword ideas you can work with. With every niche that you have in mind, Jungle scout then gives you trending products with high-profit ratings.
This way, you can decide whether this niche is suitable for your business or not.
With the most accurate and profitable real-time best selling products from categories or niches, you can easily build your merchandise listings. It will save you time guessing what to sell or place for certain camping without assurance of success.
Optimizing your niche is one of the key secrets when selling an Amazon product. With tons and millions of sellers and products, you want to have a higher guarantee of ROI and lower risk of doomed.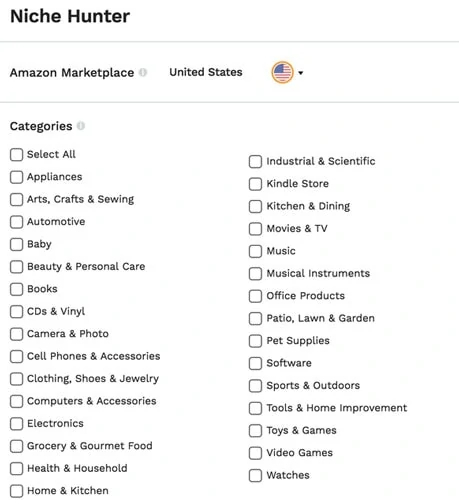 Get 30% Off Jungle Scout
Jungle Scout Cons
As good as Jungle Scout is, it is not perfect. Here are a few I found with it:
Jungle Scout Pricing Is Variable
Most people see this as a setback, but honestly, you pay more when you get higher sales. We think that what you pay is worth what you get. You can also save money by getting an annual plan.
Jungle Scout's Chrome Extension Can Be Buggy
Some users have challenges when it comes to using these two separate features but there is a guide you can check to help you out. It is always easier to read guidelines because Jungle scout is fast and easy to use.
Jungle Scout Features
Here's a quick breakdown of the features in Jungle Scout can help you with your Amazon FBA store.
Keyword Scout (updated)
This feature provides an accurate and complete keyword search for Amazon products. It helps you find the in-demand keyword searches in real-time.
Through these keywords, volume search and PPC bids, you can easily find profitable products with higher success sales rate.
Jungle Scout's Product Database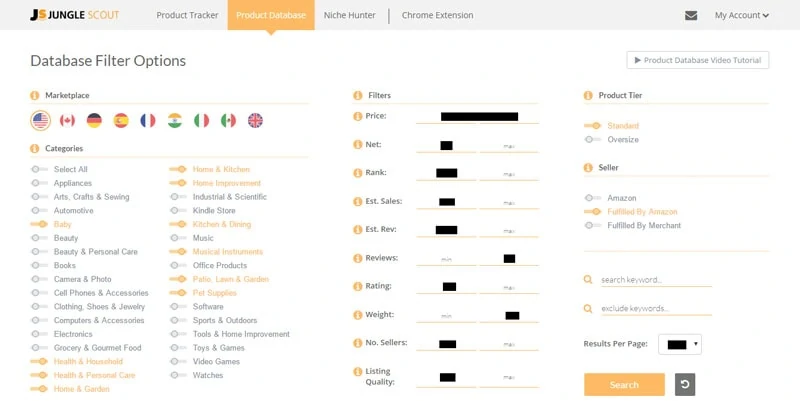 It enables you to select and optimize highly profitable product listings. With pre-set filters for easy product generation, you can instantly discover a massive list of high potential products per category, keyword, revenue, sales rank, estimated sales, and more.
Opportunity Finder for Jungle Scout
Jumping on emerging niches with high profit potential profitable makes it easier and to build a successful business Amazon business.
Selecting unique products, whether, for beginners or crossing new boundaries, Opportunity Finder is a great way to find a profitable niche or keyword.
The opportunity finder will help you find products that have low competition nut is in high demand. Skip the painful manual keyword research and let Jungle Scout's web app find hidden keywords for you.
Jungle Scout's Product Tracker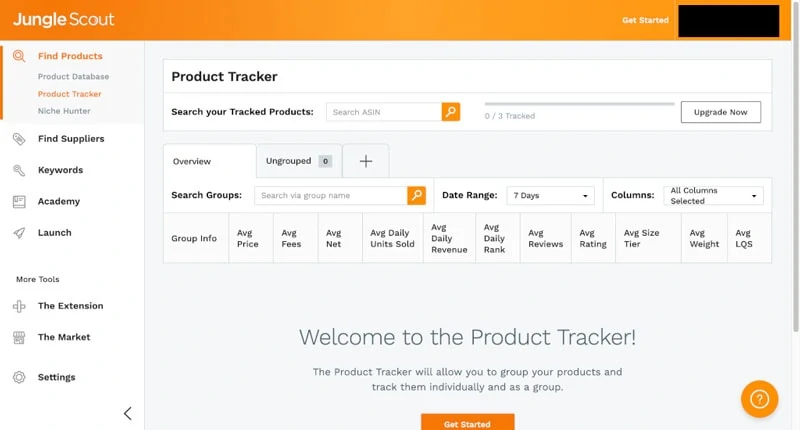 Jungle Scout's product tracker conveniently analyze, organize, and compare potential product ideas with updated and real-time data that helps you decide properly.
By monitoring product performance daily, you can organize and make proper arrangements from seasonality and emerging opportunities.
The Jungle Scout Academy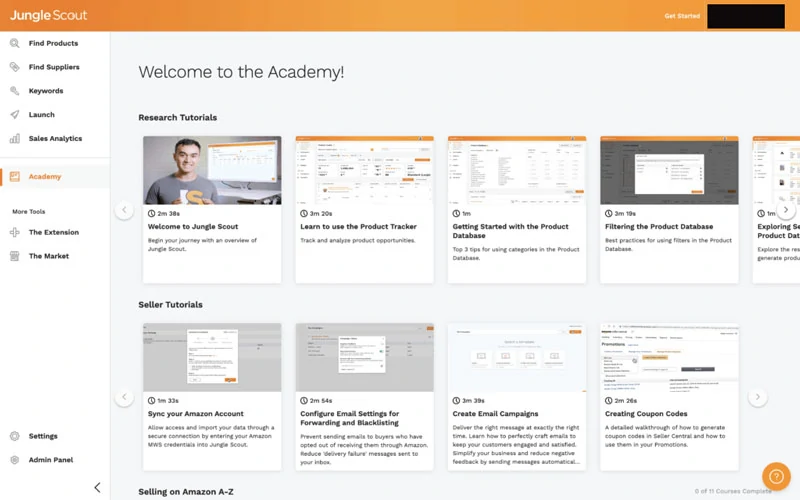 The Jungle Scout Academy helps you learn the business through real-time sellers with helpful tips, tutorials, educational resources, and compilations of helpful videos from reputable and successful sellers.
There are weekly events to hone your skills and prepare yourself with the perfect mindset to succeed. It helps you learn fundamental skills in selling and how to grow the business.
Jungle Scout's Supplier Database

This feature enables you to instantly have access to legitimate and verified high-quality brand suppliers. That way, building a solid foundation is easier by providing potential and profitable merchandise.
You will be in direct contact with leading global suppliers working with providing top quality brands. Track records of confirmed shipments and compare product pricing, order fulfillment, and quantities.
With Amazon's ASIN, you can easily identify the perfect supplier for the product requirements. It will also save you time searching from tons of suppliers and jot down to the most helpful and accurate one.
Sales Analytics

This tool helps you track and organize all of your Amazon's critical metrics such as hidden fees, revenue, operating expenses, sold goods expenses, and more. You can do this with real-time monitoring.
You can also evaluate any existing PPC campaigns' costs and sales to determine your future goals. Whether you wanted to track organic sales from your PPC expenses on merchandise level or date range.
Monitor your financial status through data history on a daily or monthly basis. That way, you'll have a wider perspective on the profits and expenses of your FBA business. With this, tracking real-time profits is easier.
Jungle Scout's Inventory Manager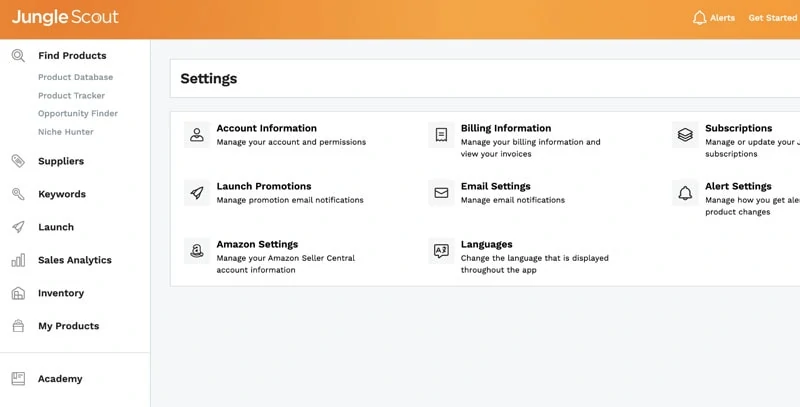 When it comes to a data-driven plan, Jungle Scout accurately predicts the number of stocks you have to order and the most ideal dates of boosting sales in the platform. That way, you'll have full control of stocks and prevent fees and stockouts.
With proper stock calculations, you'll have an organized control of your estimated profits and expenses. Full control of your Amazon FBA inventory which helps you easily assess every product category.
Alerts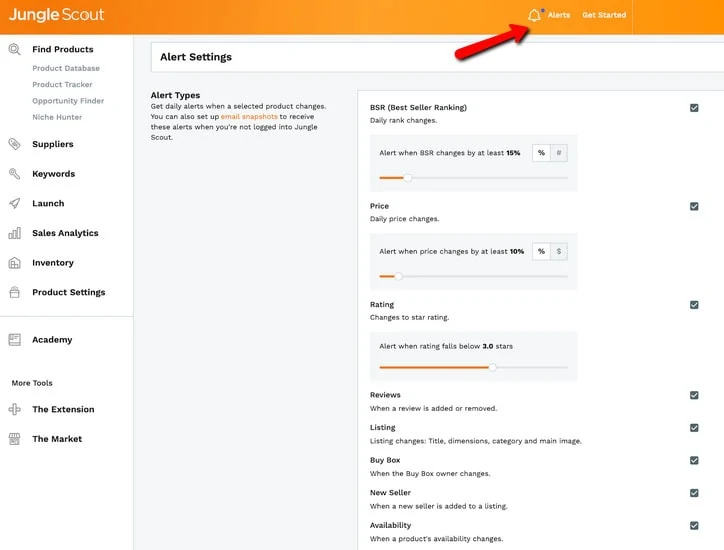 One of the best ways to keep your Amazon business running smoothly is by optimizing your product listing to catch up with sudden changes in competition.
With Alerts, you will be updated on new products to put on your market or receiving information on a Critical Amazon merchandise.
Customizing your product alerts is essential to help you keep track of any changes or updates. This includes images, product names, categories, and lists of sellers associated with the product.
Jungle Scout's Launch Promotion


Email marketing has a huge impact on any business, including building a solid foundation and active shoppers through an array of options, like sending a promotional notification to your target audience or customers.
Anything associated with extra sales helps a business without sounding too desperate to sell. Promotional features have a greater impact on the product launch.
Custom/personalize feedback helps build a better relationship between buyers and sellers, thus creating trust between two parties.
Think globally when you create a business to get a better success rate. You can also set email campaigns and send them to customers who've been initiating a refund for a purchase.
With proactive communication, you'll have higher chances of providing customer satisfaction.
Jungle Scout's Listing Builder
Optimizing your Amazon FBA listing enhances you to compete with ranking by using data-driven results for all your listings. You can have high potential keywords that help establish and improve your rankings.
By understanding the metrics helps you get ratings to your product listings instantly. One of the best methods to convert sales is by optimizing your listings.
With real-time ratings, you can easily adjust your product descriptions to meet with the ever-changing demands of online selling and be on top of the game.
With the perfect SEO strategy using the right keywords, you surely can enhance your product ranking search results.
How much does Jungle Scout Cost
For most beginners with this tool, you may get confused with their pricing. But honestly, it's super easy to follow, especially if you are doing great with your monthly sales. There are three packages to select; the extension, web app, or the combo bundle.
Here's a complete breakdown and what you can save in case you go for an annual payment.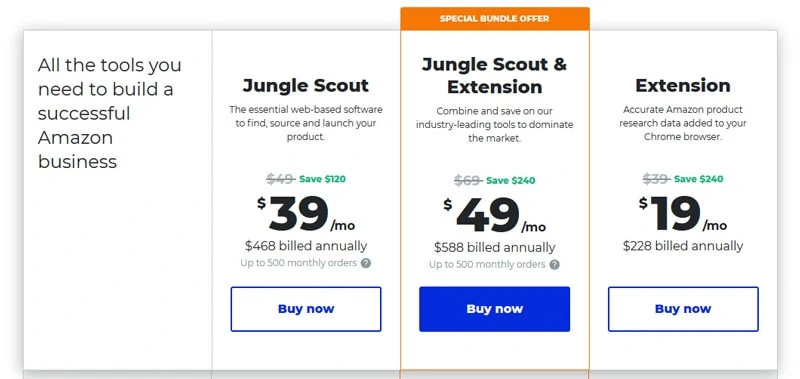 Here is what you get with Jungle Scout's Chrome Extension:
Amazon Opportunity Score
Product Database (20 searches)
Product Tracker (10 products)
Supplier Database (20 searches)
Keyword Scout (20 searches)
Jungle Scout Academy
Customer Support
AccuSales Estimates
The Jungle Scout web app (500/monthly sales) is a tool package that helps you find the best product listings, enables you to source the merchandise, and launch your items.
For this upgrade, you will be billed $49/month or pay it annually for $468 ($39 per month) which will save you $120 compared to the monthly payment.
Here is what you get with Jungle Scout's web app:
Product Database
Supplier Database
Product Tracker
Jungle Scout Academy
Keyword Scout
Customer Support
AccuSales Estimates
Sales Analytics
Rank Tracker
Amazon Opportunity Finder
Email Campaigns
Inventory Manager
Product Promotions
Amazon Listing Builder
Alerts
Supplier Tracker
With the Jungle Scout combo package plan (500 orders per month) you get access to both the extension and the web app tool, this will help you save more.
You will pay $69/month while purchasing an annual plan will help you save up to $240 which will be $49/month or $588/annually.
Here is what you get with Jungle Scout app and Extension plan:
Chrome Extensions
Amazon Opportunity Score
Supplier Tracker
Amazon Listing Builder
Product Alerts
Product Promotions
Email Campaigns
Inventory Manager
Sales Analytics
Rank Tracker
Amazon Opportunity Finder
Customer Support
AccuSales Estimates
Jungle Scout Academy
Keyword Scout
Supplier Database
Product Tracker
Product Database
Though Jungle Scout does not offer any free trial for its services, you are still entitled to a 14-day guaranteed money back for customer satisfaction on every standard plan.
If you think that the product or service is not a perfect fit for your business, then you can ask for a refund before the 14 days trial. There will be no further questions, just email their support team.
Using Jungle Scout is good for collaborating with your team. You can add up to 6 members to access your company account. Each member will need to have their separate login details for security policy.
However, while working with an Extension can only allow 1user/account. This is because the extension is connected to the Chrome browser and can only support 1 user.
Though you can access the extension from multiple devices, you can only use it with one active device under the same chrome account it is associated with.
Final Thoughts
Are you trying to grow your Amazon FBA business? Jungle Scout is a great tool to have in your tool belt.
There is a huge competition budding while you are reading this review. Either you want to succeed today or later, this tool will surely give you a great boosting to what matters.
Product research is time-consuming unless you have a tool that will instantly research for you.
Jungle Scout needs your extra effort until you find that perfect niche to a guaranteed successful business. It is worth the investment compared to the services that it offers because it offers accuracy and consistent success.
With its user-friendly tool that does not require any users with high-end technical knowledge.
First of all, you want something that will help you simplify things to save time and work on other important matters. Plus it has amazing support that is accurate and quickly tends to all your concerns with 24/7 availability.
One thing's for sure if you want to succeed with your FBA business, Jungle Scout is a good bet.
Get 30% Off Jungle Scout Today!