Freedom Ticket 3.0 Intro
The Amazon FBA business is vast, and for newbies out there, it's easy to start off motivated but then quickly get overwhelmed.
For anyone wanting to be successful at Amazon FBA, I can't stress enough how important a good foundation of knowledge and support is. If you have a mentor that can help set you on the right path, then GREAT! But for most of us, going it alone without experience is the more likely scenario.
In which case, you'll need to seriously consider getting your good foundation of knowledge and support from one of the better FBA courses that are readily available.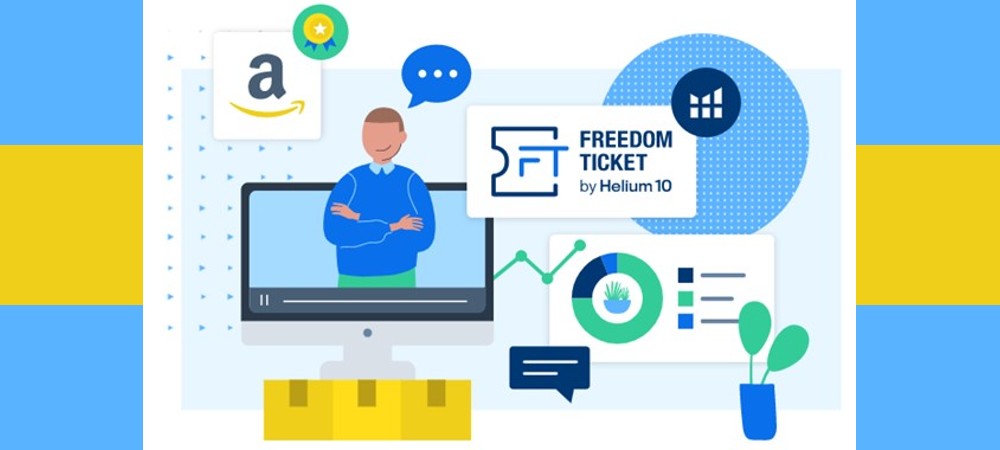 And herein lies another dilemma. There are A LOT of courses, both free and paid, and many involve several weeks of training. Getting stuck in the 'wrong' course can be costly and set you back on your journey.
In this review, we'll take a close look at Freedom Ticket by Helium 10. It's not only one of the best Amazon FBA courses around for 2022, but I'll also explain how you can get Kevin Kings Freedom Ticket for free.
Who is Kevin King?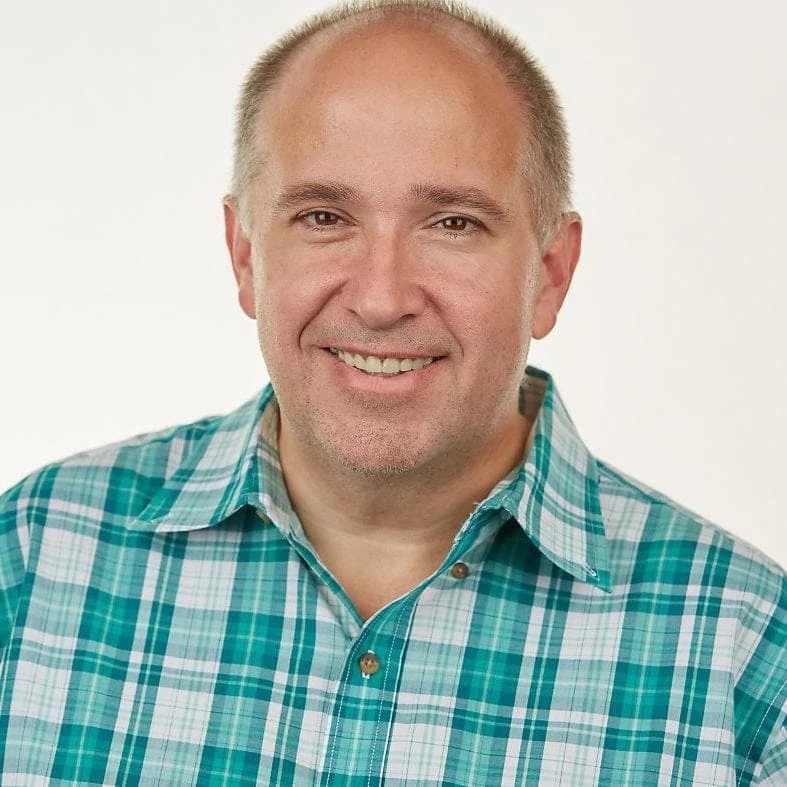 So before we get into the main part of the Freedom Ticket course review, let's first introduce Kevin King, the eCommerce mastermind behind Freedom Ticket and the main person teaching each of the lessons. If you're looking for a genuine eCommerce expert that you can trust that has been there and done it, then Kevin King most definitely ticks those boxes.
He has been an entrepreneur for most of his working life and has been selling his products both on eBay and Amazon since 1999. To give you a sense of his success, it's reported that he started five private label brands on Amazon in 2015, which went on to gross more than $1,800,000.00 in 2016! Not bad for a few months' work.
He's revered (and probably envied) by other Amazon FBA experts, and even the host of the AM/PM podcast, Manny Coats, calls Kevin "a walking encyclopedia of Amazon and Marketing."
If anyone has the right to create an Amazon FBA masterclass to show us all how it's done, then it's Kevin King.
What is Freedom Ticket?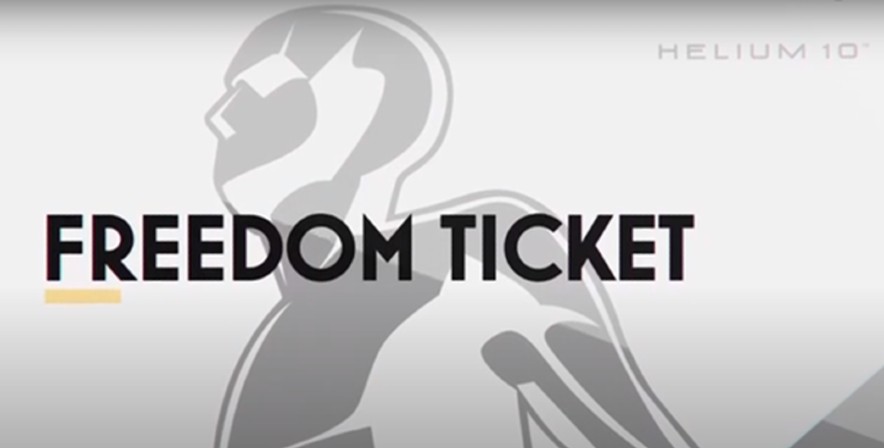 The Freedom Ticket Course 3.0 is an Amazon FBA course for 2022; it has been designed so that committed and motivated FBA sellers can learn the skills to ace the Amazon FBA business. In essence, you are creating your 'Freedom Ticket' to ditch the 9-5 and switch careers.
This Kevin King Amazon course covers topics relevant to both newbies and FBA sellers who have already started selling and shows them how to build a brand and increase sales.
You should expect:
Complete 'A to Z' training for Amazon sellers
A detailed step-by-step training course on how to sell on Amazon.
A combination of general business skills and Amazon-specific strategies
Downloadable tools and resources to help on your journey
In 2022 the course is now a jam-packed 10-week training program, with videos, review slides, written notes, resources, and of course, the fully-featured Helium 10 software.
While the detail of the course is undeniable, the strategies deployed by Kevin aren't suited to everyone. And this is the same for all the Amazon FBA courses out there. Choosing the right Amazon course isn't just about quality or content; it's also about the strategy that's being mapped out and where you're heading with your FBA business.
In the next section of this Freedom Ticket review, I'll highlight some of the main features to help you understand if the Freedom Ticket course is the right fit for you.
Learn More About Freedom Ticket
Freedom Ticket Pros

In-Depth Training
Make no mistake about it; Freedom Ticket is a BIG course. Kevin King has crafted a complete end-to-end training program so that this Amazon online business course covers the basics of Amazon FBA through to launching and selling your product.
Many of the videos are of Kevin sharing practical information on how to run a business and giving step-by-step guidance on the essential Amazon processes.
Further in this Freedom Ticket review, I've gone into a lot more detail with a summary of each of the course sections, so if you're interested in the details, then feel free to skip that section now.
Long-Term Income Generation
Kevin King's training approach is about building a solid business foundation from the start. It's a ground-up approach that helps you create an FBA business from solid foundations into a sustainable long-term private label brand.
Meaning you can continue to generate an income for as long as you're willing to put in the effort or possibly build and sell your business for a 3 or 4 times net multiple.
Credibility
While there are plenty of other courses around offering Amazon FBA training, there are probably none being taught by eCommerce royalty.
Kevin King knows the ins and outs of eCommerce like the back of his hand, and his expertise (and financial success) with Amazon and eBay alone spans more than two decades.
In Freedom Ticket, we're fortunate enough to be tapping directly into an incredible library of knowledge that has been neatly laid out in a series of digestible videos.
Updated to Stay Relevant

Since being a successful Amazon seller can be a moving target, Kevin King and Helium 10 have overhauled the Amazon Freedom Ticket course and rolled out the next generation Freedom Ticket 2.0, and currently, in 2022 - Freedom Ticket 3.0. 
Aside from just updating the content, the creators have also been generous enough to add extra sections and new modules within existing sections. My section and module breakdown later in this Freedom Ticket review highlights some key changes.
Structured Course Schedule

The 80 plus modules are scheduled over 10 weeks. Meaning the content gets unlocked over time, so you can't jump around and get ahead of yourself. This is a little frustrating for some people, but it's designed that way to ensure that you don't binge or skip ahead and miss out on critical content.
The structure also helps to keep things moving along and sets a good cadence and pace.   Obviously, nothing is stopping you from taking longer (life happens right), but it does help to set a weekly expectation for the course (and action) completion and an overall timeline to keep you on track.
Get Freedom Ticket for FREE with Helium 10

If you have any of the paid Helium 10 plans, then you automatically get free access to the Freedom Ticket course! Previously, only Helium 10 Platinum, Diamond, and Elite members were eligible, but in a recent update, even members of the basic Helium 10 Starter Plan have been included.
That means for just $39/month; users get full access to the Freedom Ticket Amazon course training. I'd personally like to buy those guys at Helium 10 a trumpet; because that kind of value is worth making some noise about!
If you've read my Helium 10 review, then you'll know that running an Amazon business without Amazon product research and keyword research tools is not for the faint-hearted.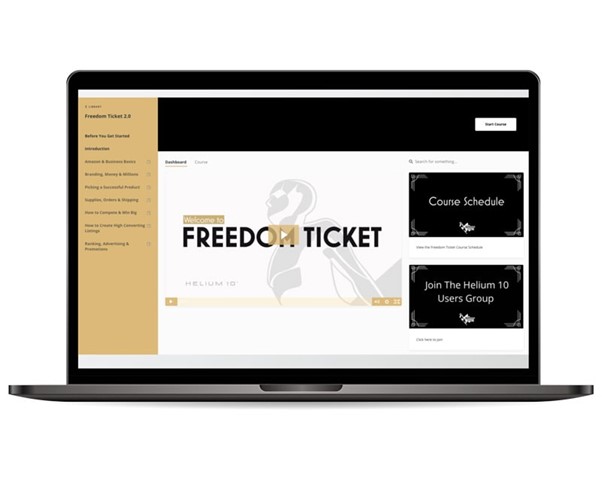 Only interested in Freedom Ticket - Try it RISK FREE
Freedom Ticket Cons
Singular Perspective

The course is mainly instructed by Kevin King. While Kevin is clear in his delivery, and we can't deny his authority as an eCommerce expert, it can be less dynamic than some of the other courses out there. I will also add that in the recent update of Helium 10 Freedom Ticket 3.0, we do see more outside experts adding to the content, and you also get the opportunity to gain critical Helium 10 instruction from Bradley Sutton (Director of Training at Helium 10).
While the course has excellent content, there's also no opportunity to interact with other FBA sellers and build a network to support you on your entrepreneurial journey.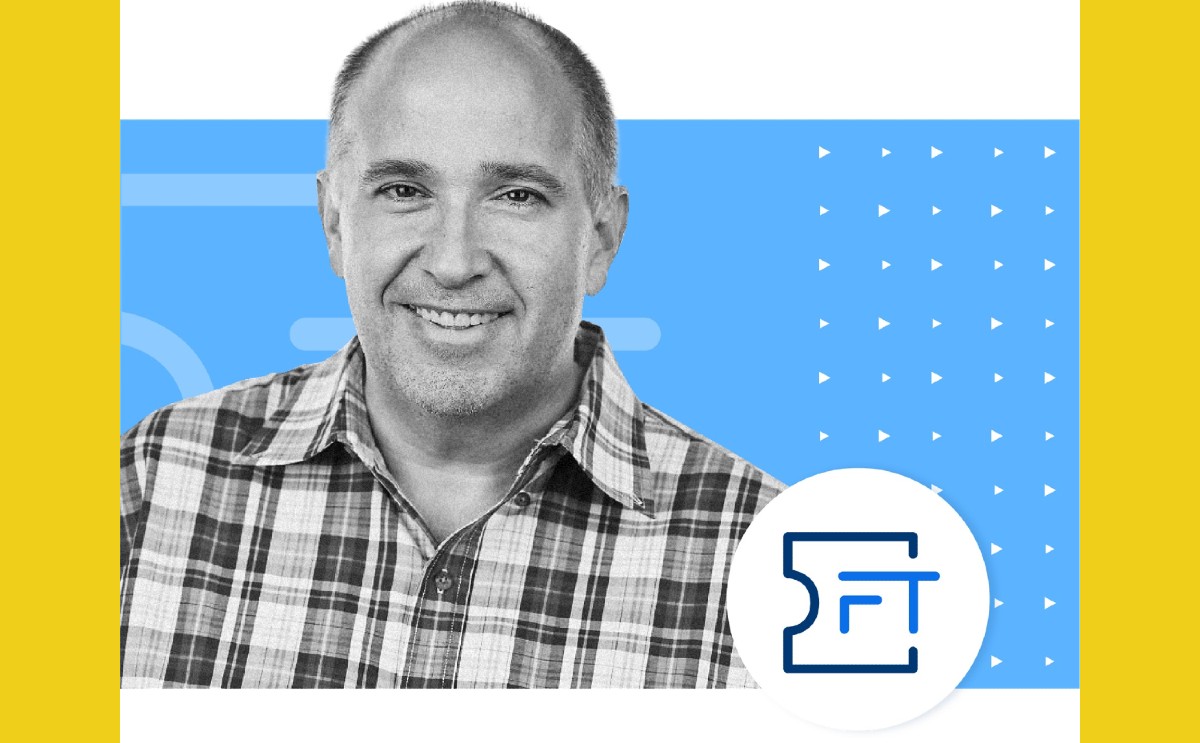 Other Start-up Costs

The Freedom Ticket strategy encourages you to invest in your products and build a brand from the ground up. For example, there is one whole week of training dedicated to 'Getting Your Product Made,' which clearly indicates the business model that Kevin King prefers. If you're one of the Amazon FBA newbies out there wanting to start with low capital investment, then there are parts of the course that will be irrelevant. A lot of the content is still very knowledge-based, so you can adapt the learnings. However, if you're not looking to build a private label brand, then there are other 
gold star FBA courses
. You could take a look at
Marketplace Superheroes
or
Amazing Selling Machine
for possible alternatives.
What's Inside Freedom Ticket 3.0
So, if you've made it this far into the review, you probably want more detail on the Helium 10 Freedom Ticket full course modules.
WEEK 1 – Intro to Selling on Amazon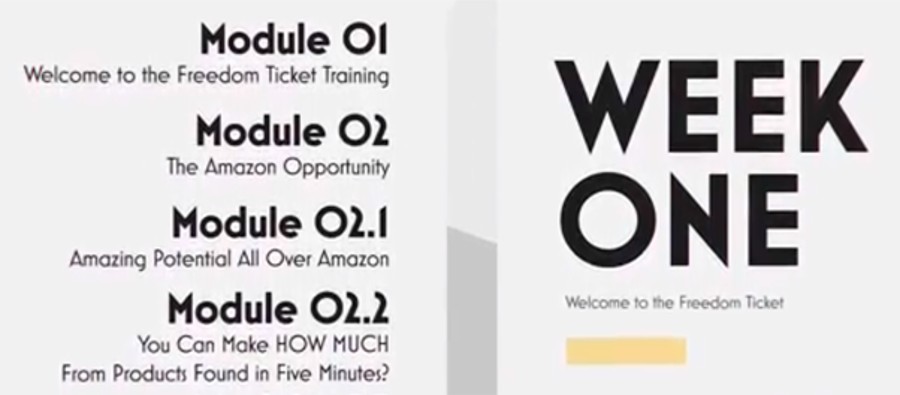 This 5-module package is a mandatory introduction to the course and the Amazon business – basically an Amazon boot camp. It's primarily just setting the scene to get you cozy with the idea of an FBA business and to open your mind to the opportunities that await.
Kevin is clear in his opener that this is a business and one that will require a commitment to succeed. From the outset, Kevin's tone is not to sugarcoat anything, and while he enjoys the benefits of having a successful online business, he's also very realistic about the work involved.
WEEK 2 – Basics of Amazon Selling
In week 2, there are 7 new modules that you'll complete.
This is a detailed program to get you familiar with setting up your Amazon business. You'll learn important terminologies, experience a walk-through of Amazon Seller Central, and begin to understand and calculate what money you will need to get set up.
WEEK 3 – All About Money
In the following 8 modules, you'll be learning about the costs involved in running an Amazon business and how to manage your finances and cashflow.
I can't stress just how important it is to sit up straight and pay attention to this module, especially if you're a new entrepreneur. It's this kind of business management topic that just doesn't get covered off in some of the free or cheaper courses floating around.
WEEK 4 – Finding a Product to Sell on Amazon
I mentioned already how the Freedom Ticket course is affiliated with Helium 10 and how you can get Freedom Ticket for FREE with a Helium 10 subscription.
During this week of 9 modules, you'll start to understand the steps involved in picking a winning Amazon product and familiarizing yourself with the Helium 10 Amazon product research tool called Black box.
This part of the course is really where things get exciting, and the idea of setting up an FBA business starts to feel real.
WEEK 5 – Getting Your Product Made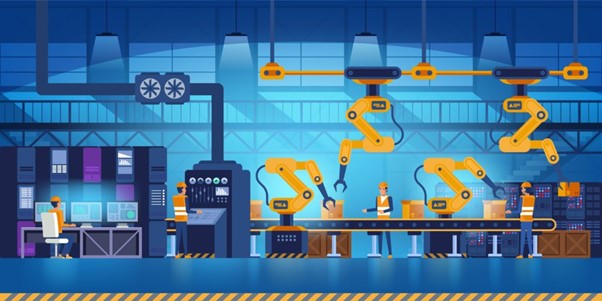 For most of us, this will be a week where we really start to learn some of the nitty-gritty involved in running an Amazon FBA business and what's involved in product creation and sourcing products for private labeling.
The real value in this week is where Kevin opens our minds to other countries and marketplaces other than China and Alibaba to source products.
While China and Alibaba have been the go-to for most sellers, it does mean that prices are now inflated, which puts a squeeze on your profits. It also means that there are A LOT of very similar products being sold by different Sellers.
By expanding your sourcing options, you get an immediate edge over the majority of other sellers who don't know any better, saving you money (better profit margins😊) and allowing you to leapfrog the competition.
This week is action-packed and includes other topics like:
How Not to Get Ripped Off
12 Common Rookie Sourcing Mistakes
UPC and Packaging Primer
Package Inserts & Product Websites
How Much Should Your Order
The Purchase Order & Proforma Invoice
Create Legally Enforceable Purchase Order
WEEK 6 – Freight & Logistics
Previously many of the topics covered in this week were included as part of week 5. I guess Kevin and Helium 10 realized that challenging compliance modules on customs, taxes, import regulations, and shipping terms required a whole separate week for us regular folk to digest the content.
This week, we also receive some outside tuition from shipping industry experts.
For most people, this week will probably take a fair amount of concentration, and it's where things might even start to feel overwhelming. But I strongly suggest you take notes and review the content carefully. Because, believe me when I say that getting into hot water with customs is not a rookie mistake you want to make.
But you don't have to be fearful because Kevin does a great job of handholding us through this minefield of international shipping. It's in modules like this that you'll begin to understand just how inferior and problematic the free YouTube videos are and why Freedom Ticket is touted as being the most in-depth Amazon FBA course available.
By the end of this week, you'll have learned how to get your products shipped from your overseas factory straight to an Amazon warehouse in readiness for your first customer orders!
Before moving on, I'll just add that if you're outside the United States, Canada, and Europe, you'll have to do some extra research on your specific import and customs laws. The focus on these regions makes Freedom Ticket less relevant to Sellers in other countries (as mentioned earlier in my list of 'Cons').
Week 7 - How to Make Sales on Amazon

After the heavy lifting in week 6, the course content in week 7 will be a welcome relief. This section of the course is the juicy one covering the following topics and making you feel like your end goal is now within reach:
Brand Registry & Brand Gating
Trademarks and Patents
Tips to Being a Great Seller
Prohibited Activities
Sales Stopped Checklist
Key Ranking Factors on Amazon
Keys to Making Sales
All About the A9 Search Engine
WEEK 8 – How to Create Your Sales Page
So, here's the thing. Even if you've got a great product sitting there in the Amazon warehouse and you've set up Amazon Seller Central perfectly, you'll still be unlikely to make a sale.
Only sellers who understand how to create compelling, targeted, keyword researched product listings get listed in the Amazon search results.
To help us through this process, we see a reintroduction of the Helium 10 software for Amazon keyword research (Cerebro and Magnet) and for writing a product listing (Frankenstein and Scribbles).
This part of the course also gets into customer psychology and ways in which you can create a connection with your customers.
By the end of week 8, you'll have learned how to keyword optimize product listings, how to create compelling product copy, and how to create eye-catching photos that sell.
WEEK 9 – Launching Your Product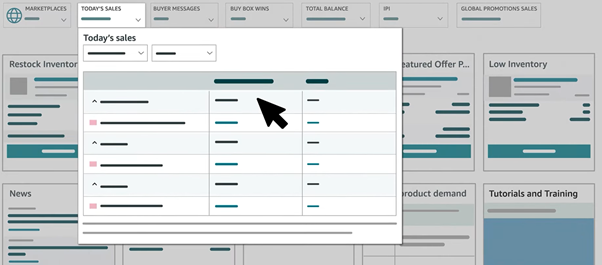 In the previous version of Freedom Ticket 2.0, Weeks 9 and 10 used to be combined. There are now 2 separate weeks of content. This part of your business is the critical phase, so it makes sense that they've expanded out the content.
Week 9 will familiarize you with Amazon's internal advertising and promotional options. You'll learn how to set up promotions and on-page discounts to stand out amid competition, attract buyers to your listings, and of course, make sales.
Some of the modules include topics like:
How to Set Up Promotional Discounts & Coupons
All about Brand Analytics
How to Set Up a Lighting Deal & Deals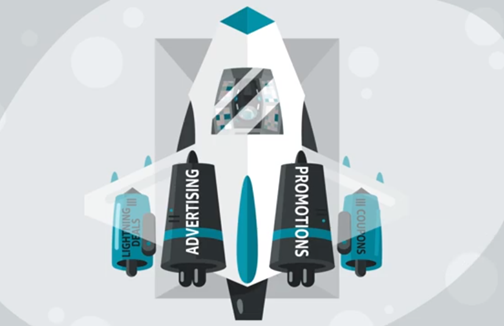 Kevin King guides you on how to set the various promotions and how to manage them once running. There are live demos of him doing this, so it's easy to follow along and practice on your own account.
WEEK 10 – Using Amazon Advertising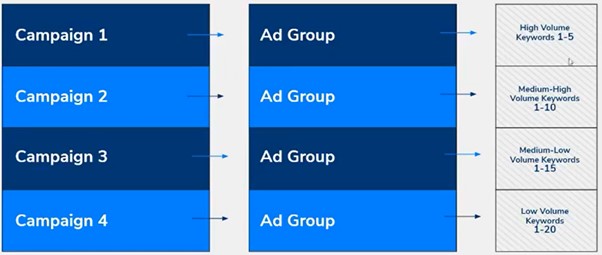 The course finale tackles effectively promoting your product using Amazon PPC campaigns.
For some sellers, this stings a little. It can seem like Amazon is double-dipping. They already take a bite out of your profits for the FBA model of warehousing and delivery of your goods, and now they've allowed so many sellers on the marketplace that you'll need to do PPC advertising to get ahead of the competition? Ouchy.
To help navigate this tricky topic, the Freedom Ticket course deep dives into PPC so that by the end of these modules, you'll understand how to set up an Amazon advertising campaign. Including how to find Amazon keywords for advertising, how to bid, how MUCH to bid, and all the other nitty-gritty to achieve better Return On Advertising Spend (ROAS) and to understand metrics like TACoS (TOTAL Advertising Cost of Sale).
During weeks 9 and 10, there are additional topics on Facebook ads, social media, and creating sales funnels. We also meet Manuel Suarez, a grassroots Amazon seller from way back with real hands-on social media marketing expertise. He's honed his skills over many years to build one of his Amazon brands into a $45M+ annual enterprise. 
This additional perspective of non-Amazon-based marketing options rounds off the training into a complete package, leaving no stone unturned in this Amazon FBA training package.
Wrap Up

After 10 solid weeks of training and implementation of each of the steps, you'll have launched your brand and be on your way to building your Amazon empire.
Try Freedom Ticket - 100% RISK FREE
30 Day Money-back Guarantee
Other Freedom Ticket Features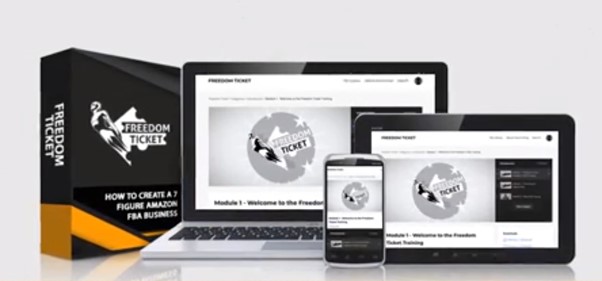 Learning Materials
The Freedom Ticket course will give you access to the following:
80 plus videos.
More than 30 printed hand-outs, study notes, and slides.
Useful spreadsheets to help with calculations and key performance indicators (KPIs)
Question and Answer and webinars.
An exclusive Helium 10 and Freedom Ticket Facebook group
Freedom Ticket Updates
Amazon marketplace is evolving, and the FBA business has multiple moving parts, so it's only natural that what's relevant today may become out of date in time.
Because Freedom Ticket is a recognized and reputable course, the materials are well maintained and updated when significant shifts occur. Members get access to ongoing updated materials to help you stay at the top of your game without having to re-enroll or pay any extra.
Freedom Ticket Exam
At the end of the 10 weeks, a certification test is unlocked with a series of questions. If you score 70% or higher on the test, you become certified as a graduate of Freedom Ticket.
Don't worry. This isn't mandatory, and your score isn't posted on your social media. LOL. It's more of a knowledge check - a way for you to validate your understanding and potentially uncover any gaps.
It's kind of neat that they thought to include this as a non-confrontational way to get you to be a little self-aware about your skills before plowing ahead with potentially costly decisions.
How Much does Freedom Ticket Cost?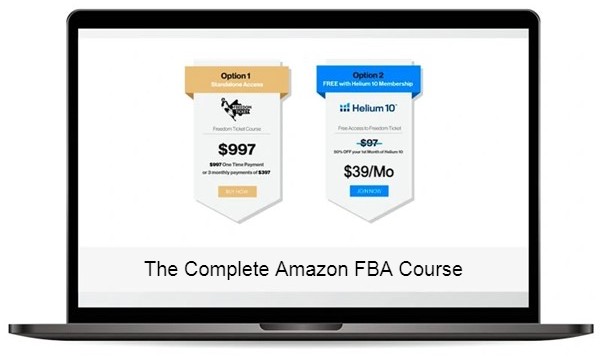 Try Freedom Ticket - It's FREE with Helium 10
The full course costs $997.00. If you're already using some other Amazon FBA software for product and keyword research and management of your FBA business, then paying the one-off Freedom Ticket price makes sense. But if you're new to Amazon, then I'd recommend one of the Helium 10 plans.
You can get Freedom Ticket absolutely free if you purchase Helium 10's Starter Plan at $39 a month, and it includes a no-quibble 30-day money-back guarantee.
30 Day Money Back Guarantee
You have none of the risk and all of the reward.
If you're serious about building an Amazon business, then The Helium 10 and Freedom Ticket combo is like strawberries and ice cream. Good-by themselves, but awesome together. In real terms, you will have access to all the training and tools you need to ramp up and succeed at your Amazon FBA business.
Final Thoughts
I've been an Amazon FBA seller for a few years. As part of my FBA evolution, I've tried a few different courses and strategies, and while I don't necessarily deploy all of Kevin's tactics, I do absolutely have confidence that he walks the talk, and his expertise is undeniable.
So overall, we at Hustle Life can't say it is the best Amazon FBA course, but we confidently rate the Freedom Ticket course a 4 out of 5 stars.
Our top 5 reasons for recommending Freedom Ticket are:
It's all in the name. Kevin King is genuine eCommerce royalty.
Freedom Ticket is a set of carefully crafted Amazon training modules for complete end to end, setup to launch of an Amazon FBA brand.
The detail and depth of Amazon eCommerce training leaves no stone unturned.
The Helium 10 and Freedom Ticket combo starting at $39 per month is incredible value.
Helium 10 offers a no quibble, no questions asked 30-day money-back guarantee.
While this Amazon seller course has received a positive review, my only word of warning is that this is a program for committed and focused students. It requires a significant investment in time and energy to succeed. Like with all courses, they are only designed to give you knowledge. Freedom Ticket might beat a path to success, but YOU still have to walk it!
Start Your Freedom Ticket Course Today

FAQs
What is private labeling?
In terms of Amazon sellers, it means that you're creating your own branded products so that you create a recognizable business around your products. It involves having products made that are individually yours, with logos and packaging that help you stand out from the crowd. With the help of the internet and platforms like Alibaba, this option of private labeling is now available to anyone and not just an option for big corporations.
Can you retake the Freedom Ticket exam multiple times?
Yes! Remember it's more of a knowledge check to help you become a better Amazon FBA seller.
What is Helium 10 and why do I need it?
Helium 10 is an All-In-One Amazon FBA toolkit. Meaning it is a set of software tools to help manage your Amazon FBA business.
Helium 10 tools help sellers find ideas for new products to sell on Amazon, create high-ranking product listings, track their success and evaluate the competition. There are also financial management tools and software to help create Amazon PPC campaigns. You can read more here.
Is the Helium 10 Starter Plan good enough?
For $39/ Month this is the perfect plan for entry-level users. 
Full access to Freedom Ticket Amazon FBA course (a $997 Value)
Full access to Xray and Profits
Limited access to the 30+ tool software suite
30-Day Money-Back Guarantee
It's unlikely that the Starter Plan is going to cover your bases as your business grows, but for a newbie, it gives you an affordable way to complete one of the best FBA courses at a heavily discounted rate and gives you a chance to get familiar with the Helium 10 tools.
What is Freedom Ticket Xtra?
Freedom Ticket Xtra is a separate monthly subscription for live consultation sessions with Helium 10 and Freedom Ticket Amazon experts.
The experts are people like Kevin King and Bradley Sutton and other Helium 10 team members and special guest experts.
The live sessions are a mixture of Q&As and discussions on the latest Amazon seller training and strategies. 
Freedom Ticket Xtra costs $77/month and is probably something to consider once you're familiar with the Freedom Ticket course content and are up and running in your FBA business.