What is a Business License?
Do You Need a Business License to Sell On Amazon? Before we get to that topic, let's define what a business license is first.
A business license is a legal document granting you, as an individual or a company, the right to operate.
Different governing agencies grant it; multiple permits may be required to accomplish, depending on what type of business you want to operate.
Other people see business permits and the process to acquire one as unnecessary. That's why it is often neglected. People think that they can secure it anytime they want to, especially if the business is just operated in their home's comfort.
However, please be advised that failure to comply with government regulations on operating a business legally can lead you to many penalties and, worse, having your business banned for operating.
Do I need a Business License to Sell on Amazon?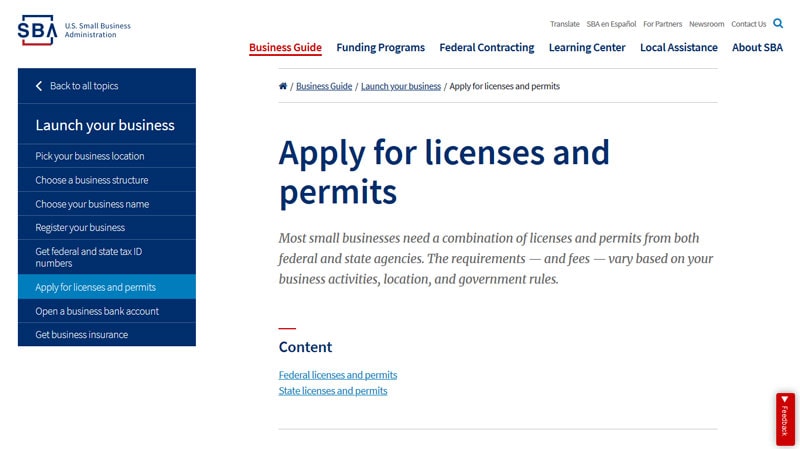 Generally, if you're selling your products ONLINE, you don't need to secure a business license.
Consumers commonly sold on e-commerce platforms like Amazon, eBay, Shopify, and Etsy do not require any Federal regulation fees and permits.
If you're not sure if the product you want to sell on Amazon is Federally regulated, check out the SBA website for the list.
Register your Business Online: A United States How-to Guide
Previously we mentioned above that if you're selling on an e-commerce platform like Amazon, you don't need to register your business.
However, I want you to look at the bigger picture; you will start earning when your product becomes popular, you will have local customers and outside your state, and most probably, you will be selling across the United States.
Sales tax will follow next, and when you're making enough sales, you will be under IRS's radar, so to be on the safe side, it is wise to register your business online.
Choosing a Business Structure
Part of having a business is its shares of headache-inducing situations like disgruntled customers that are quick to sue you. So having a business structure is a good line of defense.
If you're starting the business, selling small consumer products, you can operate as a sole proprietorship once you start selling. All sales will be included in your income tax when you file your taxes.
The next structure you want to consider is structuring your business as an LLC (Limited Liability Company). If your business is getting big and you need to hire extra hands to operate, the LLC route is wise.
It also gives your business a legal identity not tied to you, meaning you won't be held personally responsible for your company's liabilities.
Another benefit is that it will clearly draw the line between your business expense and other non-business expenses. You have to look into your business and ask for an expert and legal opinion if you need to stick to proprietorship or advance as an LLC.
Register a DBA
Sole proprietor or as an LLC, if you're selling your product under a trading name or any name different from your own name, you need to register a DBA (Doing Business As).
Check your local government agency's website for the requirement as it varies per state.
Get a Sale Tax ID
A Sales Tax includes state, county, and local taxes. You collect sales from the buyers of your product through each payment made.
For you to legally charge your customers a sales tax, whichever state they are residing, you need to secure a Sales Tax ID.
Getting a sales tax ID is simple.
Go to your State's Department of Revenue website.
Go to the "Sales and Use Tax" section and register your business.
Get a Federal Tax ID
An Employer Identification Number (EIN) is also known as a federal tax identification number used to identify a business entity. So if you want to open a business account for your LLC, you need EIN.
You have three ways to apply:
Online – just visit this link from IRS.
Fax – download your Form SS-4 from the IRS website and send the accomplished form to fax number 855-641-6935. Please include your fax number so you can receive your EIN via fax within four (4) business days.
Mail – Send your accomplished Form SS-4 to Internal Revenue Service, Attn: EIN Operation, Cincinnati, OH 45999. Mailed-in applications are processed within 4 weeks.
If you're a sole proprietor, getting an EIN is totally optional, but you're still eligible to get one. You can use your social security number as the taxpayer identification number.
Amazon Specific Business Questions
Do you need a sellers permit to sell on Amazon?
As a sole proprietor or an LLC, you don't need to secure a seller's permit to start selling on Amazon as long as your products don't need Federal Regulations.
Some products under Federal Regulations are alcoholic beverages, firearms, and ammunition. For the complete list, check out the SBA website.
Do I need to be an LLC to sell on Amazon?
If you plan on being an Amazon seller as a side hustle, you can stick to a sole proprietorship; there isn't a real need to be an LLC.
However, if you're determined to grow your business in Amazon, it is wise to be an LLC to give you a sense of security because not all customers are the same. One customer may sue you because they feel that you ripped them off.
Another customer may try to scam you. Both scenarios can potentially bring down your business.
Being an LLC separates your business assets from your personal assets, so the latter is protected.
Do you have to be a registered business to sell on Amazon?
Selling on Amazon doesn't require you to be a registered business to sell on their platform. However, please be advised that your state or town may require you to register your business, and it's wiser to abide by the law to avoid problems in the future.
Do you need a business license to sell on the Internet?
No, you don't need a business license to sell on the internet as long as your products are not under federal regulation.
Can I sell on Amazon as an individual?
Yes, you can open a seller account on Amazon as an individual.
Do you need a tax ID to sell on Amazon?
No, but you need to secure one for business tax filing. Because every transaction made between you and the buyer means you collect sales tax from the state where the online business is done.
Can I use my SSN to sell on Amazon?
No, SSN is used as your tax identification number when filing your business tax as a sole proprietor.
Amazon Business Licensing Questions Around the World
Do you need a business license to sell on Amazon in Canada?
No, you don't need a business license to sell on Amazon Canada. However, taxes will be still involved and the Canadian government will require you to pay a Seller's Tax. It is a tax for goods or products sold online or not.
Do you need a business license to sell on Amazon in UK?
No. What you need to get is an EORI number to send your products in the UK. EORI is your company or product's unique identifying number.
If you don't have an EORI number, the UK customs will require you to get one before it leaves customs. You will get your EORI number by applying for VAT through the HM Revenue & Customs in the UK.
It is best to secure an EORI number first because the longer your product sits on HMRC, penalties will add up and you need to pay it before they free your product.
Conclusion
Do You Need a Business License to Sell On Amazon?
No, conducting business on online selling platforms only needs you to secure an account and start selling. However, you need to consider your local government requirements when you start to make a profit.
It isn't called business until you start making sales. Remember, when you're making good money, IRS will be poking at your business because of sales tax.
Always make sure you secure necessary permits and business licenses especially if you want to transition your business from an individual proprietor to an LLC.