Who's Behind the Course? A Quick Look at Matt and Jason
Amazing Selling Machine was formed in 2012 by Matt Clark and Jason Katzenback. Neither of them came from money, and in fact, the usual entrepreneur's story of hard work and determination proved to be the magic formula.
Prior to ASM, both Matt and Jason had eCommerce backgrounds and saw the tremendous growth potential of Amazon early on.
After early success working together, Matt and Jason decided to launch their first course called the Amazing Academy, which eventually became Amazing Selling Machine - now the #1 Amazon FBA course in the world.

In addition to Matt and Jason, course content and training is also provided by Rich Henderson, Mike McClary, and Dan Ashburn. These are some of the most experienced and well-respected eCommerce entrepreneurs currently in the industry.
If you are interested in learning more about Matt, Entreprenuer.com did a great article on him back in March 2020. 
Who is Amazing Selling Machine Evolution for?
Amazing Selling Machine says that "Even if you have zero experience" this course is designed to teach you everything you need to know to build an online Amazon FBA business from the absolute ground up AND expand and grow that business into 6 or even 7-figure sales.
So, if you are a complete FBA novice or only have a little experience, the ASM course could be for you. However, from what I've experienced over the years, building any business, including an Amazon business is no easy feat. It takes motivation, determination, and lots of hard work!
New Sellers using Amazing Selling Machine
So, if you are new to all this then be prepared to put in the hard yards.
Our advice is:
learn all you can,
pay extra attention to all the detail in the modules
Do the modules twice!
Make use of ALL the ASM features
Ask for help and use the mentors
Get involved in the Private Community.
Experienced Sellers using Amazing Selling Machine
For the more experienced, there is plenty of valuable product selection strategies, branding, setup, and advanced advertising strategies to learn. Yes, there are lessons you probably could skip early on in the course. In the "What's inside ASM" section below, I provide some feedback on what not to miss out on.
Some modules - by all means, skip them if you think you've got it covered (but you never know, that one tiny bit of info or a software setting could make a significant difference).
The ASM Amazon FBA course content aims to create a solid base to build from and take your products, sales, AND online business to the next level.
In summary, Amazing Selling Machine Evolution is for novice sellers to experienced FBA sellers.
Learn more about Amazing Selling Machine!
How is Amazing Selling Machine Evolution 13 Different?
When I first reviewed Amazing Selling Machine Evolution, it was actually the very first FBA course I took. So, it's a bit of an understatement to say that they set the bar very high.
ASM stands apart from the other businesses that teach Amazon FBA in six important ways:
2.
They excel at Product Launch
3.
They have a proven track record of successful students
4.
The course is very well-designed and easy to digest
5.
All contributors walk the talk and share valuable insights
6.
Other very successful businesses respect and admire them
The product launch modules are a critical factor in making Amazing Selling Machine quite possibly, the best Amazon selling course.
1. Amazon Brand Creation is a huge focus
Not only does the program teach you how to become a successful Amazon seller, but they also show you how to build a profitable brand that you can later sell for some pretty large multiples.
This is definitely one of the main things that set Amazing Selling Machine Evolution apart from the rest of the pack and a real point to consider in conjunction with YOUR goals.
Remember - "brand creation is all about creating value – now and long term".
2. Learn how to launch an FBA product successfully
ASM gives you the tools you need to build white-hat, valuable businesses that you can be proud of and will last the test of time.
The ASM course developers and trainers collectively agree that their individual successes relied on not only building a reputable quality brand. A heavy focus is required on getting products in front of more buying eyes and converting.
They spend a reasonable amount of time on this and share their methods and processes right from the beginning.
It is clear that these guys don't take shortcuts or try to make a quick buck.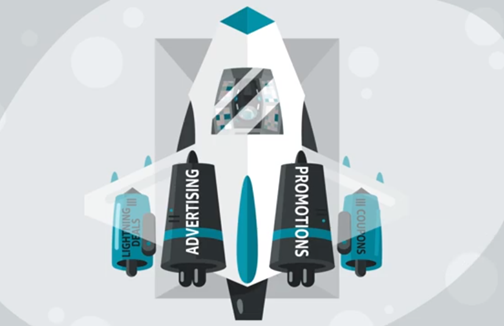 The only drawback if you want the perfect product launch - is it takes a little longer, but if you follow their methods, there is a high chance for success, and you can rest assured that you won't end up in the naughty corner with Amazon or even Google for that matter.

3. ASM have a proven track record of successful Amazon Sellers
Amazing has been around since 2012, and they claim to have changed many people's lives for the better.
Below is a screenshot from my dashboard taken on Feb 26th, 2022 showing some pretty impressive milestones when it comes to monthly revenue. Also, I suggest taking a look at some success stories and student video testimonials, you will see a big mix of where people have come from, what they think of ASM, and more.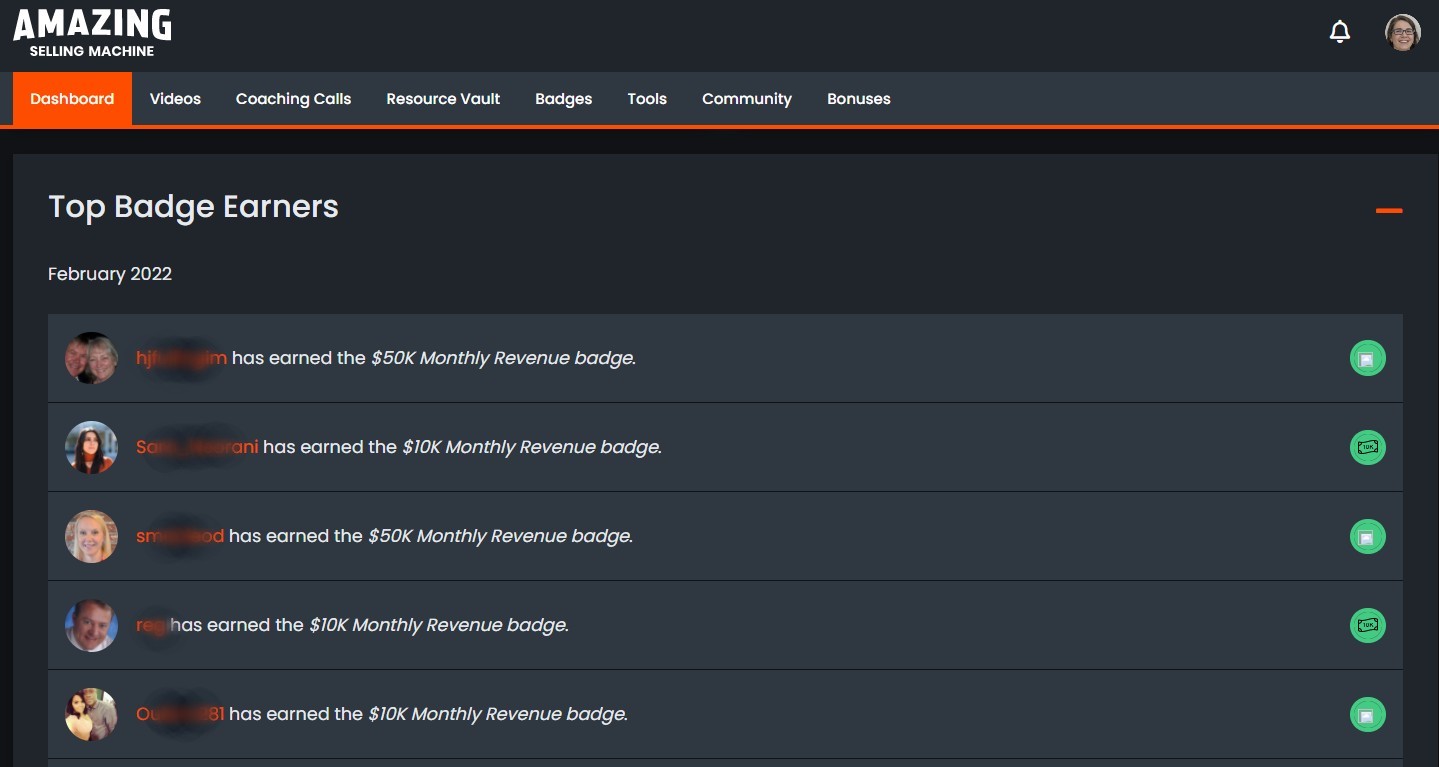 Read more Success Stories
4. Well designed FBA course
There are plenty of Amazon FBA courses with good info, but some are hard to follow, have complicated product selection techniques or use too much tech-speak and jargon. They are not straightforward to implement immediately.
Information overload is another pet hate of mine! Some well-intentioned course creators think that giving you more is better. However, there is a skill in giving people the right amount of information that keeps you engaged and doesn't turn you off.
Amazing Selling Machine keeps most of its videos under 20 minutes so that it's easy to watch, and they make them entertaining so that you end up wanting to binge-watch them… a bit like Netflix ?
The course videos are relevant, engaging, professionally produced & presented.
5. Experienced eCommerce Training Instructors
The main course instructors, Matt Clark, Mike McClary, and Rich Henderson, have all set up, ran, and even sold their eCommerce businesses and are currently active sellers on Amazon.
This helps in a couple of ways:
They've got their finger on the pulse and update training reactively as Amazon continues to evolve.

Any changes and training methods are tried and tested on their own businesses.

They all have a reputation to maintain and, therefore, will make informed, calculated decisions about any new methods taught or processes changed.
Let's face it; no one likes to embarrass themselves, so I wouldn't be surprised if they first tested and proved their ideas on their own business.
6. Respected as one of the Best FBA Course Providers
Since the course was created, ASM has built an impressive reputation in the online business world.
Over the years, ASM has had associations and dealings with many big names who have entrusted their reputations and businesses with the course content and insights ASM provides.

How does ASM Evolution Work?
The ASM program is a complete training guide that teaches you how to effectively sell physical products using the biggest selling platform out there - the Amazon marketplace.
As mentioned earlier, ASM is presented in the form of a video course. It comprises 10 Modules and weekly coach call recordings that can be reviewed at any time. Most lessons have a downloadable PDF of the important lesson contents.
You are free to move through the course at your leisure, re-sit modules if you wish, and there are no pre-requisites. Meaning you do not need to complete one module to unlock the next.
At the end of each module, there is a Recap and some Action items. Some of you may be pleased to know that there are no tests or assessments to enable you to move through the course. Phew! (there is a little test, but that's solely for you to gauge your learnings).
The real test is actioning what you have learned!
The teaching method is very visual, a combination of:
Presenters speaking
Information slides
Live screen shares showing how to perform specific tasks
Lots of valuable images and diagrammatic explanations
Demonstrations and navigational screen shares
What's Inside Amazing Selling Machine Evolution?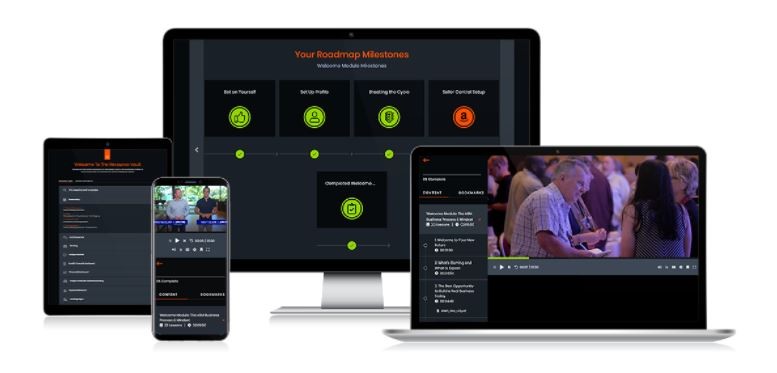 Here's what you get when you purchase Amazing Selling Machine 13:
An 8-week training program (8 Core Modules, plus you get a massive Welcome Module and Supplementary Material Module)
Access to the training mentorship program
Lifetime membership to ASM's community and forum
A series of private group coaching calls
Targeted traffic promotions by the ASM team to your new products
Access to the Private Resource Vault
Your dashboard is where everything begins. It is super easy to navigate, keeps track of your progress through the video modules, and is where you access resources and tools.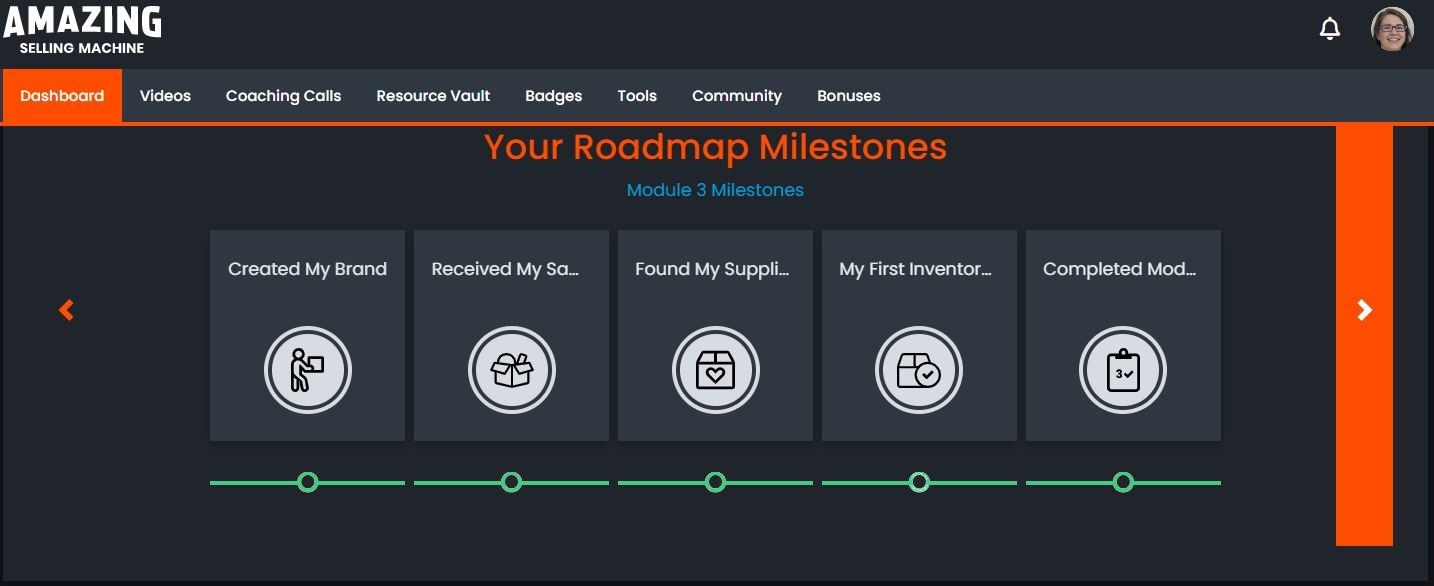 Smack bang in the middle of the dashboard is YOUR ROADMAP MILESTONES, an in-your-face but straightforward progress tracker. You receive badges as you plow through the course and achieve other actionable milestones.
Once you complete a module or receive a badge the tracker line under the milestone goes green. It may seem basic, but It's a great way to keep motivated, stay on track and know exactly where you are at.
What's Included In The Amazing Selling Machine Training?
Welcome Module: The ASM Business Process and Mindset (11 Lessons)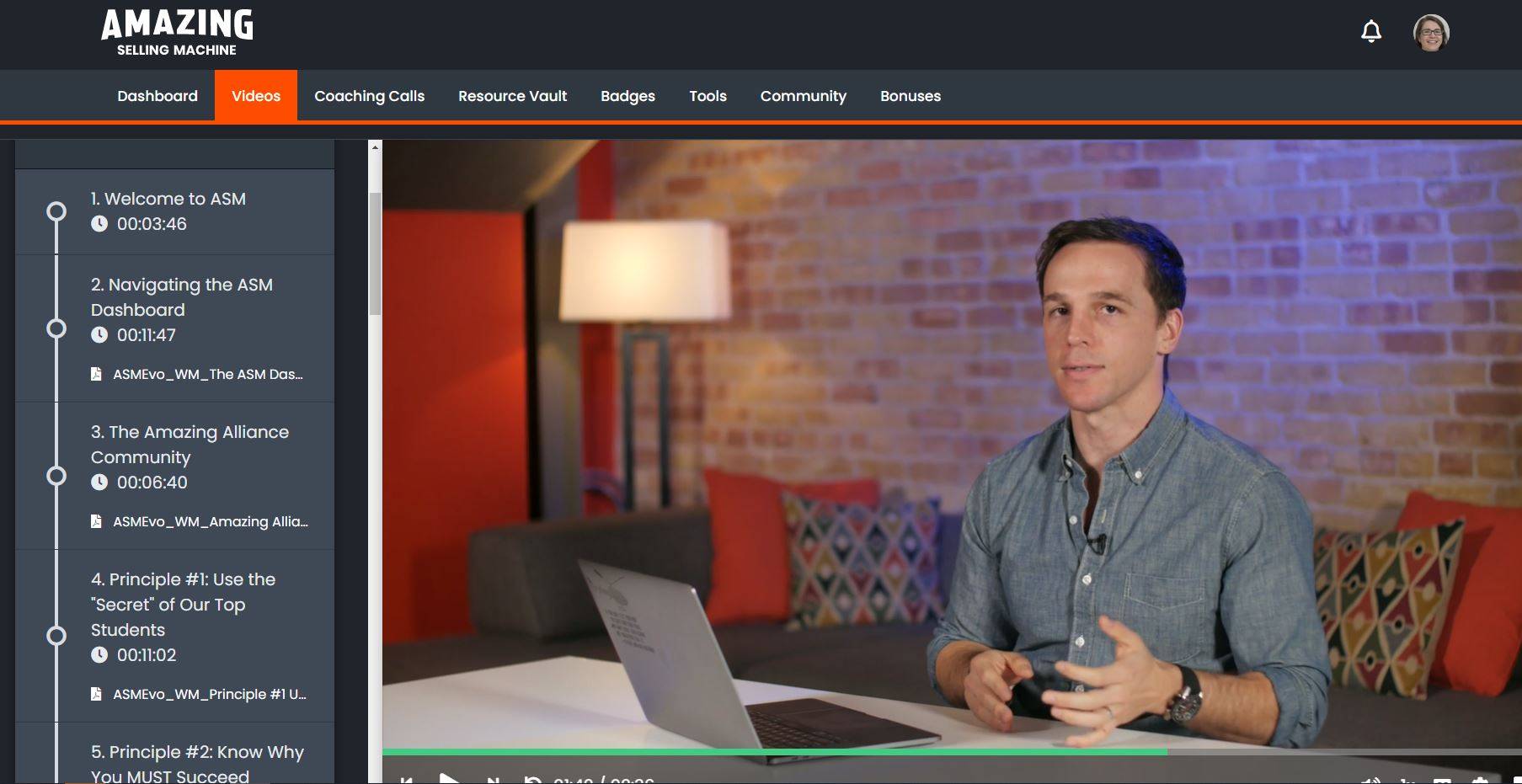 In the welcome module, you get an overview of the program, the different things you get access to, how to use them, such as the mentorship program (which is really cool), and an overview of everything to do with Amazon FBA.
So, you might be tempted to skip some of these videos, but I would highly recommend you watch them all, especially if you are new to Amazon FBA.
The 7 Success Principles are fundamental in you achieving your goals.
Module 1: Choosing your First Product and Supplier (18 Lessons)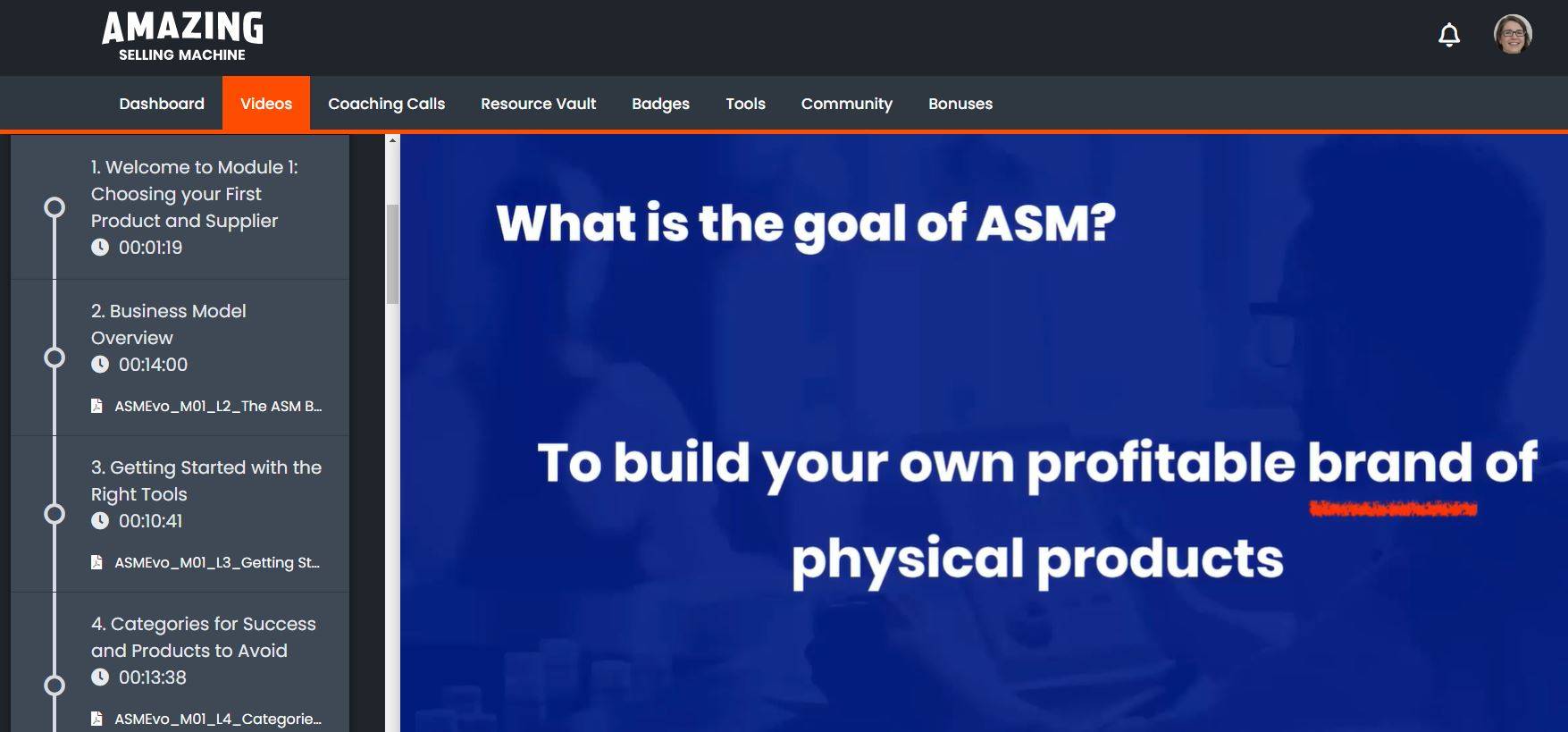 In module 1, you are given the foundation of your Amazon FBA business knowledge. It's all about getting you set up with the right tools and finding the best product.
You will learn the following:
What categories to focus on and which ones to avoid, and why.
What makes a great first product and how to find it
How to make your product stand out from the rest
Rapid product research using online tools
Dealing with and choosing suppliers, getting pricing, and how to order samples
This is an excellent start to the course, and immediately you will feel you have the confidence to select a winning product and get on with it!
Module 2: Seller Central and Business Setup (10 Lessons)
I know many people have genuine concerns about the business side of things. ASM will guide you through the whole new world of Amazon and their marketplace platform Amazon Seller Central. There is also a lesson on whether you need a physical business to work with Amazon.
The focus point of this module is Amazon Seller Central – how it works, what to do, and what to avoid. You'll be taken on a tour through Seller Central and be shown how to set it up, get all the proper documentation prepared, setting up payment systems and the RULES ☹
Don't worry, at least you're on an even playing field – everyone has to play by the same rules! ?
Amazon does have a lot of rules to abide by, and if you want to avoid an account review or even a suspension, I suggest you pay particular attention to Lesson 8. It's not as bad as you may think, but it definitely pays to stay on Amazon's good side…especially after all the effort you will have put in.
Module 3: Ordering the Inventory and Creating Your Brand (15 Lessons)
The Samples have arrived – NOW WHAT??!?!!
Now what? Now you learn to select the right supplier and place your first inventory order. Exciting!! How much? When to order it? Quality assurance. How long will it take?
Don't worry – it's all answered in Module 3!
And for the fun part –Brand Design! This includes how to come up with a powerful and memorable logo, a brand name, and everything else that goes with your brand identity.
ASM advocates creating private label products in order to go big. Private label products (products that are branded, marketed, and sold under your unique owned brand) help create a market presence and eliminate competition. Ultimately it becomes your product, your brand, and therefore you are in control and have a tangible physical product AND business to sell in the future.
You want more design and creativity time – you got it! Efficiently design your product packaging, make it eye-catching, functional meet the requirements of Amazon FBA. It's all there in module 3. If you're not the creative type – don't worry; just follow the process and action their advice.
Module 4: Building Your Brand Assets (13 Lessons)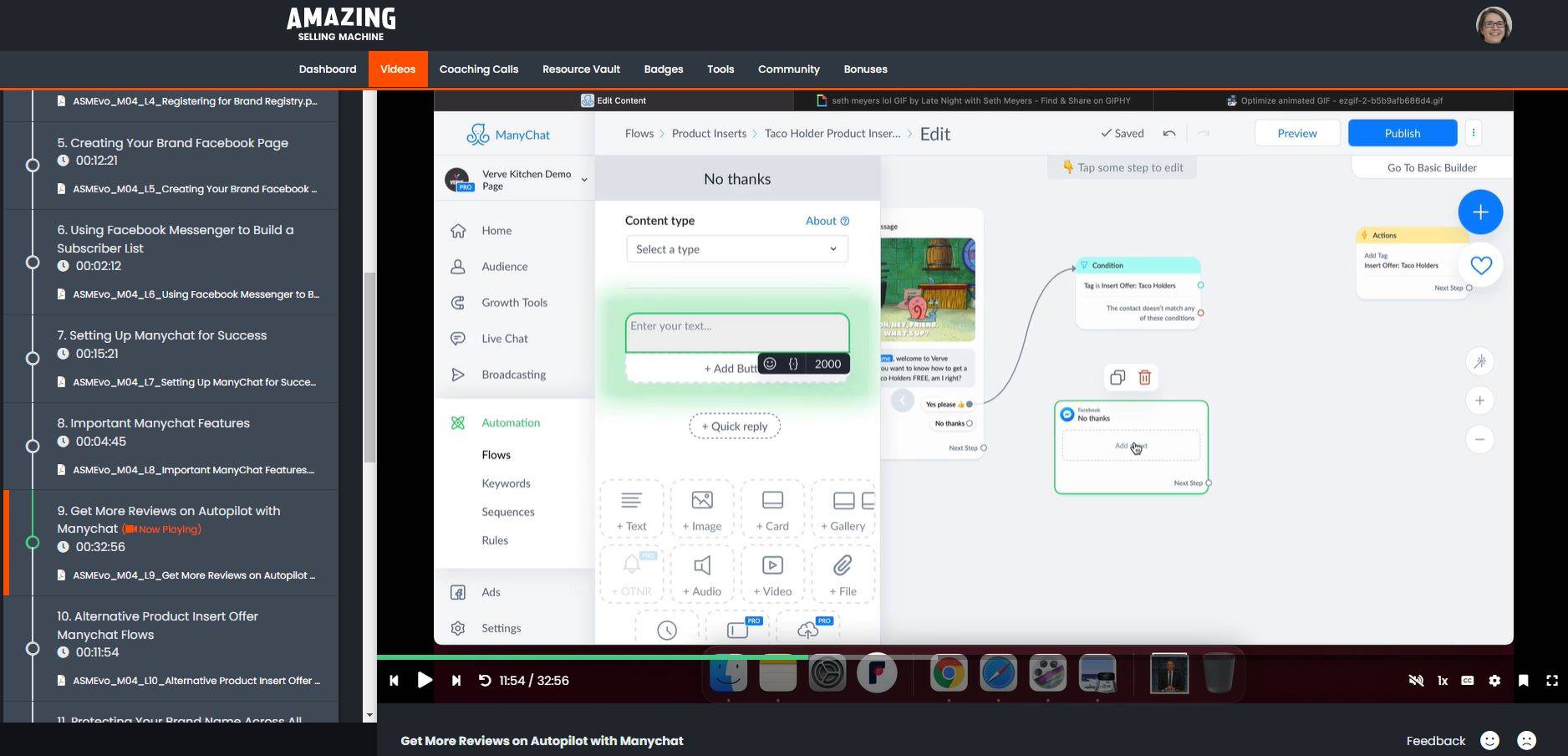 As the heading suggests, Module 4 is all about how to grow your brand.
You will be taught everything associated with growing your brand and getting it done efficiently AND effectively. Basically, creating an online identity for your business and products and a way for customers to find you.
You will get a detailed how-to walk-thru to set up so many import features on the social media platforms.  Here are some of the topics covered to give you an idea of where this module goes:
Creating and registering domain and email accounts & website
Creating a Facebook page, using Messenger to build a subscriber list
All about Manychat – especially getting Reviews
Working with content on Instagram & Facebook
How to protect your brand name across social media platforms
Whether you consider yourself a social media guru or are new to it all, I would never skip this section! It has way too many valuable and targeted features and set-ups to get your brand and products noticed.
Module 5: Sales Generating Product Listing (10 Lessons)
STILL WAITING… If you ordered back in Module 3 a couple of weeks ago, you will need to use this time wisely. It can sometimes take up to a month or more before your product gets shipped to Amazon FBA, so in this module, you will learn all about creating a perfect product page that will sell itself.
It's not just all pictures and copywriting. To craft a quality listing that will get noticed above your competitors is a skill. A skill that can be learned through tried and tested processes.
Well, to be fair, a great product image obviously does go a long way!
It's also about keyword research, creating a traffic-grabbing product title, and using the relevant keyword so that people can actually find (and buy) your product on Amazon.
Learn more about Amazing Selling Machine!
Module 6: Launch and Rank (13 Lessons)
If you are lucky, by week 6, you may have already received your shipment, and if you have completed all actions from Modules 4 & 5, you should be ready to roll! So, all that's left is launching your perfect product in a way to make it go viral so that it ranks highly in Amazon's search engine.
This part of the course is one of the most detailed and full of real golden nuggets of information.
Initially, you will need to get your shipment ready for FBA. Next is the launch process topics cover the following:
Prioritizing and preparing your keywords and how to achieve social proof early on
Working out in advance your targets, where you will introduce your various marketing and advertising campaigns
Data capture, tracking, and analysis to ensure you can make more informed decisions as your product begins to rank with Amazon's algorithm
Inventory control and re-ordering
Optimizing, sustaining, and regaining rank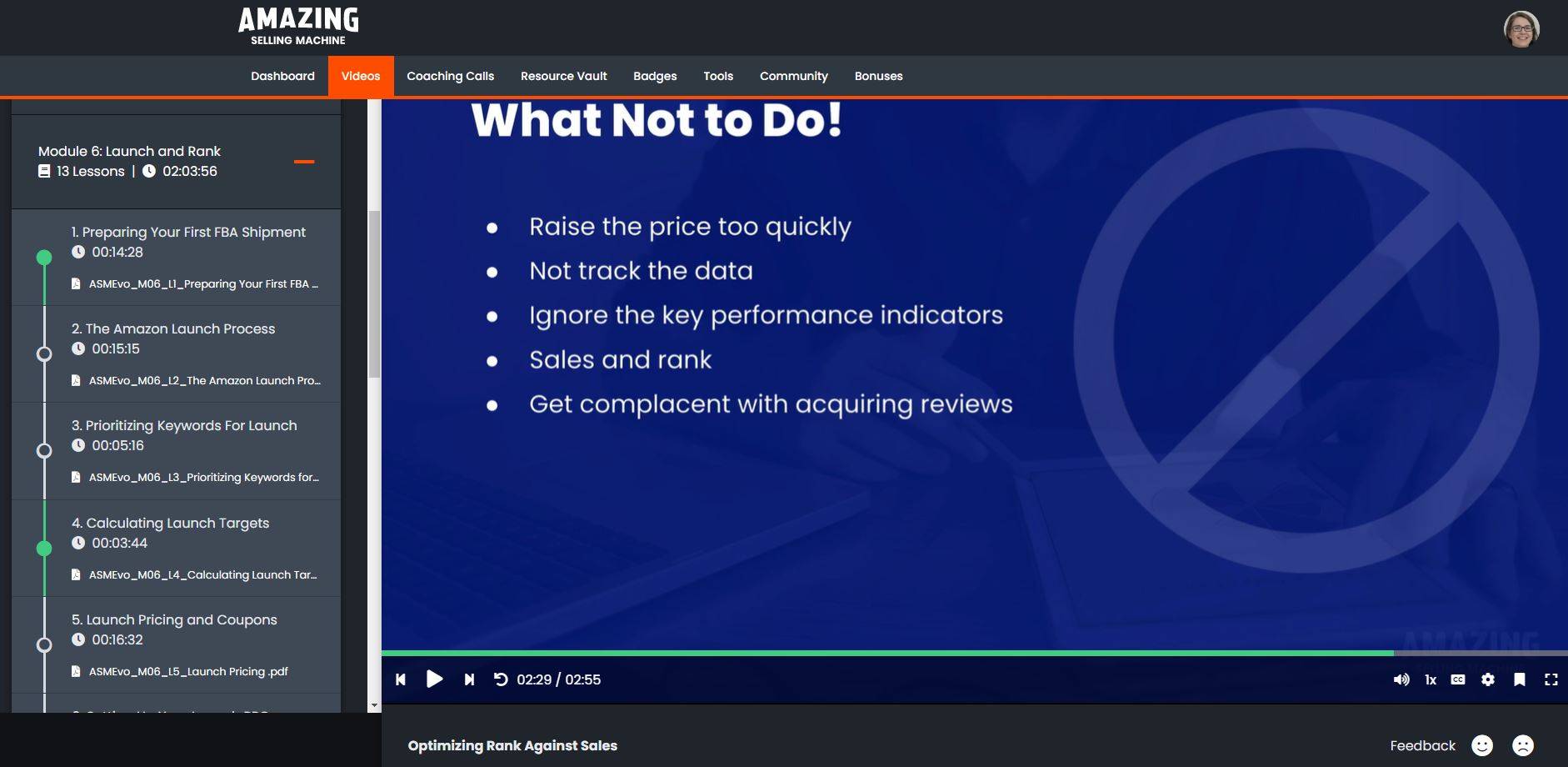 Again, every one of these lessons is very important and will be used regularly and on an ongoing basis while running your Amazon FBA business.
Module 7: PPC Optimization (12 Lessons)
In module 7, you will learn how to drive more traffic to your product listing, focusing on Amazon advertising, mainly Amazon Sponsored Product Advertising. Sponsored Products are a PPC model – Pay-Per-Click.
ASM encourages you to get in the mindset that advertising is an investment and that if you want to successfully sell on Amazon, then the best way to advertise is WITH Amazon ads.
You will get all the ins and outs of how Sponsored Products work, how to set them up and how to manage your campaign as it advances.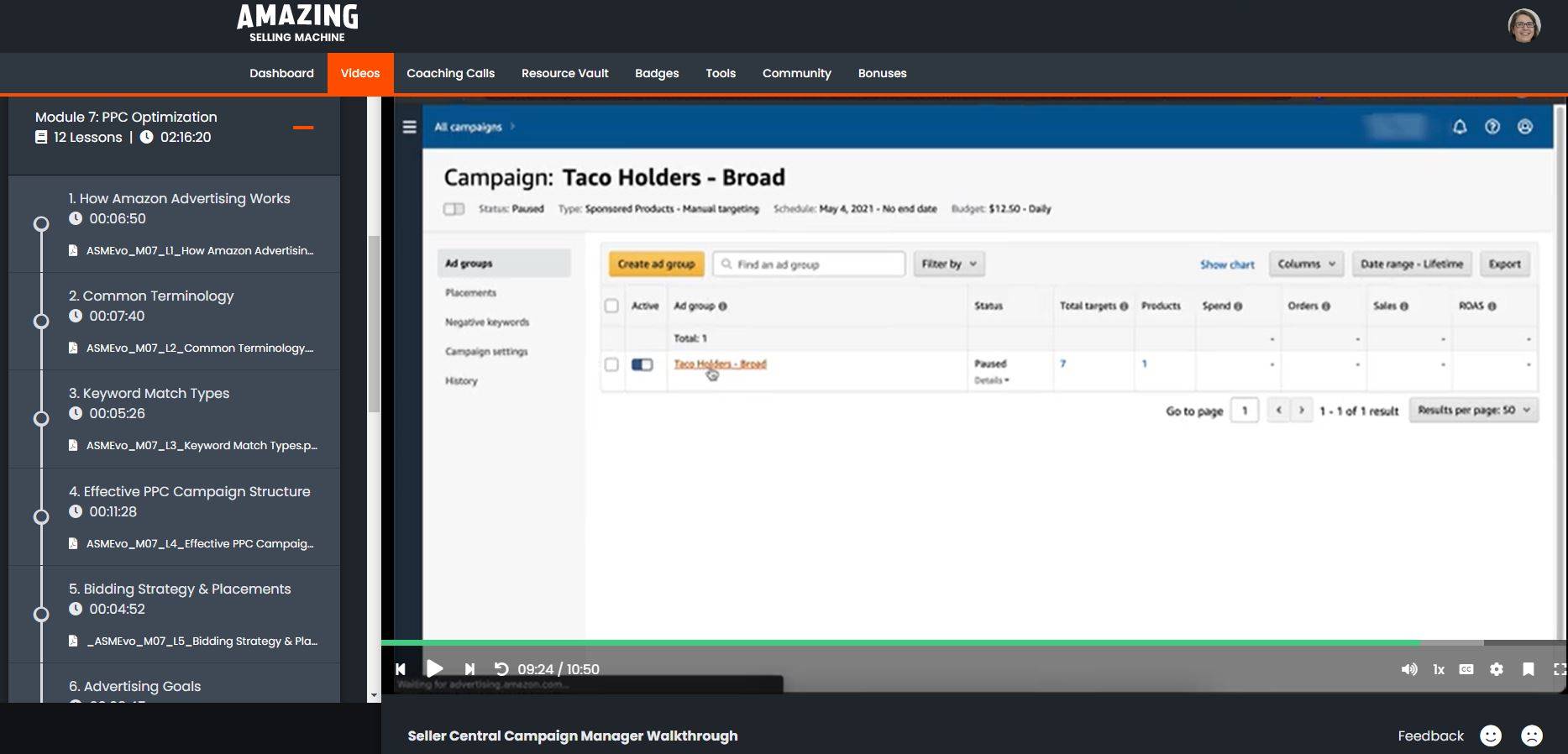 Again, there are extensive lessons on strategy, a walkthrough of Seller Central Campaign Manager, optimizing your PPC campaigns at various stages, and of course, some more advanced marketing strategies.
Module 8: Scaling Your Sales (12 Lessons)
Module 8 is all about scaling and growing your business.
Once you get your FBA business to this point, you will be taught more analysis techniques and how to Split Test to achieve more sales. As well, they go over the different promotions available.
There is an interesting lesson on Amazon Hijackers – who they might be and how to deal with them!
The remaining lessons get into the nitty-gritty of how to streamline and systemize your processes. If you want to grow your business into something quite significant, you won't be able to do it alone. You'll need a team around you, and ASM will show you how to build that team and have them do all the day-to-day and time-consuming tasks so you can focus on the big picture.
Amazing Selling Machine Bonus Material:
Supplementary Lessons and Coaching Calls
The supplementary lessons are mainly on different aspects of legal liability. Probably a good topic to keep in the back of your mind and know where you stand and what may affect you as a seller in the world of Amazon FBA.
There are also some lessons on ASM's propriety product research tool Zoof Spotlight. It is basically a software tool that they have created to help generate a list of specific products that are much more likely to be good opportunities for you.
Weekly coach calls are all recorded and made available in this section. There are tons of excellent interviews with other ASM members that have had success which is always super inspiring.
Learn more about Amazing Selling Machine!
The ASM Mentor Program
The ASM mentors are made up of 21 successful Amazon FBA sellers who have built a solid business of their own, love what they are doing, and are there to help you develop and grow your FBA business.
Amazing Selling Machine implemented this service back in 2017 as a source of information their members could trust. They selected some of their students who had followed and implemented their program and had succeeded in selling on Amazon FBA. They were also chosen as they were already helping other members on the journey of their own accord.
According to ASM, on average, each mentor has achieved at least $1.8 million in sales! (source)
It's not often you get this many experts in one place when you need them. As they come from many different countries, there should be someone to help 24/7. I haven't seen anything to the contrary regarding prompt responses from the mentor team.
You seek help by posting questions in the community, and one of the 21 ASM mentors a sure to respond. Simple as that! You get lifetime access to this just like the course.
This is a great way to get accurate and current advice when you need it.
If you have a critical decision to make or something more specific and what some one-on-one coaching from an ASM Mentor you can purchase this for an extra cost. It's not cheap, but you do need to remember that you will be getting advice from a very experienced and successful FBA seller. Their time is also valuable. Coaching calls start from $197 and can be purchased through the ASM Marketplace of the members dashboard.
Another huge drawcard is lifetime access to the Amazing Alliance Community - a network of over 26,750 members from all around the world. Some are complete beginners right through to members already making millions of dollars in sales a year.
Essentially, it's a huge brains trust of entrepreneurs and like-minded people that can assist your queries and provide advice to get you where you want to be sooner.
You can discuss strategy, new concepts, your trials & tribulations, and ultimately improve and grow your online business.
The ASM Community is awesome because it's very active; on average, there are almost 6000 interactions every week!
As ASM says:  
"99% of the obstacles you run into will have already been solved for you by someone else" 
ASM also hosts a live event once a year called SellerCon where the Amazing Alliance Community comes together to network and learn. As a member, you get priority access to these and other events.
The ASM Community is loaded with NEW success stories and achievements every week, so I thought I would share some recent ones with you:
(a 5,10 or 50k badge means that person has hit that number in monthly sales)


Experience Amazing Selling Machine - FREE Webinar
The Private Resource Vault
ASM value this at $10k…whatever! It's worth what it's worth, but to most…probably a whole lot more!
This is an extremely valuable part of the offering. Not many courses ever offer students access to their own suppliers, resources, contracts, and templates.
Having access to all this can really get you on your way so much faster. With specialized insurance and legal, for example, you know you are not wasting your time, getting the correct information from an expert in the field instead of having to shop around and possibly get bad advice that may cost you in the long run.
One thing to bring to your attention is that ASM may get commissions from some of the services you may choose to use. Not a big deal, I guess; they have worked hard to put it all together for you. They do run a business and have costs to cover, so they are entitled to make money too.
On the other hand, there is a lot of super valuable, useful FREE information and tools in the vault at your disposal.
The vault gets updated over time, and as the creators of ASM come across resources for their online businesses, they continually add them to the vault.
ASM is Giving Away FREE Education...(Books)!!
Who doesn't like a freebie? Especially when it's pretty relevant to your pursuits!
Yes, they will want you on their mailing list, but it's a great way to see if you like what they have to offer. You'll also get a little feel for their teaching style as will you in their free webinar.
Obviously, their books will be based on the principles, ideas, and strategies that they will be covering in the course. It's a good idea to see if this suits your goals as branding is a big part of what they teach.
The Ultimate Tool Suite
Included for 12 months from joining, you get access to these four tools. If you see value in them after that, they will cost you $50/ month.
The best sellers on Amazon use FBA tools like these to get ahead of the competition. You don't necessarily need this Suite, but you will need something to help find winning products and keywords for which Amazon's algorithm will rank you.
Product Opportunity Tool – Chrome Extension (Plug-in)
Used to help find profitable Amazon products fast by comparing data not readily available on the open market.
Product Analyser Tool
This helps to compare products you have found and are thinking of selling with everything that is current and relevant in Amazon's marketplace.
Perfect Keyword Tool
Find those low-competition keywords that will get buyers to your product. The right keyword will help you rank and need to be used in both your product descriptions and ads.
Rapid Product Launch Tool
This tool has been designed to get you ranking quickly and make sales faster by accessing a database of buyers.
Amazing Selling Machine Success Stories - Are students getting results
The reason Amazing Selling Machine is considered by many to be the Gold Standard Amazon FBA course comes down to results. They have an overwhelming amount of success stories.
Not to mention that there are over 26,750 members in the program at the time of writing from 138 countries, which says something in and of itself. They have 1,356 video testimonials from those who have changed their lives by implementing this program and launching their e-commerce business.
Now I'm not going to go on about people who were down and out on their luck or burnt out in their careers looking for the holy grail and just happened to stumble upon it.
I suggest you spend some time and really take a look at the testimonials that ASM has accumulated. There's a whole mountain of them - one success story after another!
The Amazing Selling Machine Evolution course has been getting great results for many years and still is. It's worth scrolling and looking at the variety of different cases and their individual results.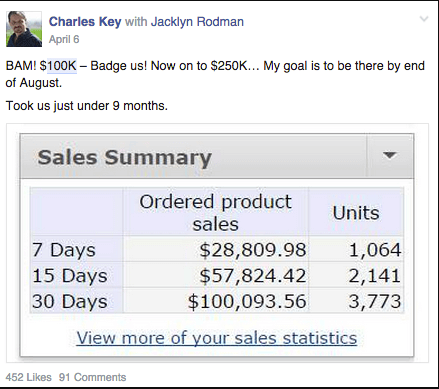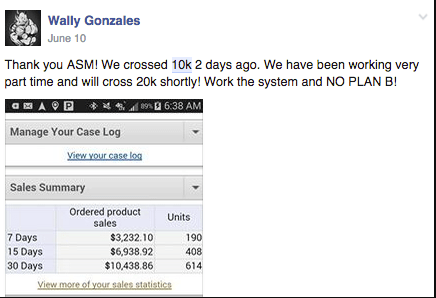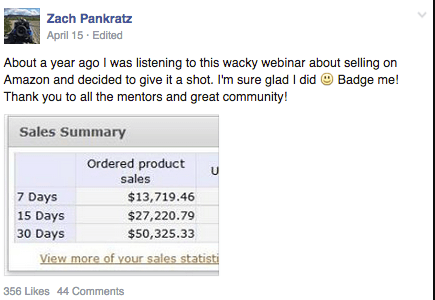 Read more Success Stories
How much does Amazing Selling Machine Cost?
The Amazing Selling Machine price is $4,997.00 for lifetime access.
You can also pay in installments over 6-months costing $997/month. (Total cost is $5,982.00)
Once you have joined and made your first payment for the first 30 days, you will have access to almost half the course videos, all the tools, and full access to Private Vault and the Amazing Selling Machine Community Support Group.
In addition to the training program, ASM suggests you have somewhere between $2-5K to put towards inventory and advertising. You will find some supporting information and recommendations from ASM here; (just scroll down to their FAQ video near the bottom).
Experience Amazing Selling Machine - FREE Webinar
Does ASM have a guarantee?
Yes, they put their money where their mouth is and have two guarantees.
ASM comes with an unconditional 100% 30-day money-back guarantee. If you decide for any reason it's not right for you, then you just need to let them know, and you'll receive a full refund.

Is Amazing Selling Machine a Scam?
A common question I see constantly is: Is Amazing Selling Machine legit? To sum it up quickly – Amazing Selling Machine is NOT a scam.
It is a course with a track record that makes it one of the best Amazon training course options. But yes, the amazing selling machine cost is up there and is a hefty investment.
All those success stories, testimonials, and high-profile super successful people like Sir Richard Branson certainly paint a pretty good picture that Amazing Selling Machine is legit.
The course is real, full of quality, actionable content, students get great results, and the guarantee is rock solid – no one will run away with your hard-earned money.
So, the question really should be – Is Amazing Selling Machine worth the price?
Is Amazing Selling Machine worth it?
You have to give credit where it's due; if the Amazing Selling Machine course AND its creators are being featured in Forbes, Entrepreneur, and Business Insider, to name a few, then it's pretty safe to say it's a quality product getting great results. You don't get featured in these publications if your product is just average.
When trying to answer if ASM Evo 13 is worth it, then it's best not to focus on the $5k price tag but more to try and understand what the value outcome is.
If you're committed to the ASM training program and to making a success of your FBA Business, then the $5k investment could generate an ongoing healthy income for many years to come. So, in that respect, $5k is a drop in the ocean.
The philosophy of ASM is to go big or go home. So, if you're just sitting on the fence thinking about dabbling in FBA, then this is probably not the course for you, and there are other more affordable options out there. If you fit into this category, then maybe you should consider Marketplace Superheroes.
Marketplace Superheroes is NOT about building a big brand and private label products. MPSH is for someone looking to build a lifestyle business with a semi-passive income, get out of the 9-5 grind, and keep it simple.
Their focus on product selection is not about high-trending products with loads of competition. Instead, they want you to go for boring products with decent margins, less competition, therefore, putting you in front of buyers' eyes. If you want to know more then you can check out my Marketplace Superheroes review.
If you're still not sure, then definitely check out actual ASM student testimonials, or maybe better still sit through a free webinar and get a real feel for ASM.
Experience Amazing Selling Machine - FREE Webinar
Final Thoughts: Amazing Selling Machine Evolution Review (ASM Evo 13)
If you made it this far, you get that I have a positive view of the Amazing Selling Machine Evolution 13 training course.
While it does cost almost $5000, there is so much value to be found all throughout the course. The same goes for the other included products; in fact, some would argue that each product is worth the membership fee alone.
If you do become an ASM member and disagree, then use the 30-day 100% money-back guarantee! It's a no-brainer, a sure-fire way to test the waters; make sure it's THE RIGHT course for you risk-free.
Just to re-cap some of the main benefits of Amazing Selling Machine
You get lifetime access to every new version of ASM. To me, that is awesome, free upgrades to new versions and access to the latest strategies and concepts in an ever-evolving space. With this alone, you will always be at the front of the pack.
The ASM Mentor Program – The elite group of 21 successful Amazon Sellers who are online and ready to help you 24/7.
ASM has one of the biggest online member communities out there. Most importantly, lots of active members with almost 6000 weekly interactions!
Not to forget another product worth the training course cost alone – The Private Resource Vault is ever-growing and contains templates and contacts that the course creators use themselves.
Thanks for reading my in-depth Amazing Selling Machine review. Overall, the Amazing Selling Machine course is a well-executed, comprehensive, easy-to-follow program that aims to make you a successful Amazon seller.
If you are motivated and driven, Amazing Selling Machine can help you launch a successful business.
If you want the best chance at success, going big in a competitive Amazon FBA environment, then the Amazing Selling Machine Evolution 13 course is a clear winner.