If you are looking to start your own eCommerce business you may have narrowed it down to two potential platforms, eBay and Amazon FBA. So which one is better in 2022?
Amazon is definitely more dominant as there are currently 200 Amazon Prime users with another 25 million expected in 2022. However, it is much more difficult selling on Amazon than it is on eBay.
So which one is the better platform for you as a seller? We will take a look so that you can make an informed decision…
The Difference Between Ebay and Amazon FBA
The main difference between Amazon and eBay lies within its business structure and pricing.
Amazon is a retail site, with a wider reach because third-party sellers link the platform to their websites. eBay, on the other hand, is an auction house in which eBay is the auctioneer between the seller and the buyers.
Since Amazon is a retail store, the prices are fixed, whether it is a brand new or previously owned product. Whilst the price of the products sold on eBay is dictated by the bids of the interested buyers.
The bidding may take up to ten days and the winner gets the product. Though there are products sold on eBay that can be purchased immediately at a premium. Meaning, it is sold higher than its normal price because you skipped the bidding process.
Given that premise, which one do you think will help you raise your eCommerce business? Which platform fits right into your marketing plan?
Let's discuss both platforms in detail so you can decide what's best for you.
What is Amazon FBA?
Send your product to Amazon Fulfillment Centers. Amazon receives your product, lists it on their inventory, and stores it. Customers purchase your product. Amazon picks and packs your product. Finally, Amazon ships your product to the customer. This process is called Fulfillment by Amazon. This Amazon FBA process makes it attractive to eCommerce business owners.
Amazon removes the burden of storage, shipping, and handling off your shoulders, especially if the business is growing and you expand your business by selling multiple products. Even the aspect of customer service is done on your behalf, so Amazon sellers can pretty much focus on improving their business strategy.
Now that you know what Amazon FBA can do for you, let's discuss the following:
Amazon FBA Pros/Cons
How Much Does Amazon FBA Cost?
Tips To Succeed With Amazon FBA
Amazon FBA Pros/Cons
Any business has its share of pros and cons, the list below will help you understand what you're getting into if you choose to sell on Amazon FBA.
The Pros of selling on Amazon:
Running an Amazon FBA business is pretty easy. You just have to handle inventory and Amazon handles all the rest.
Carrying The Amazon Brand
Amazon is a trusted brand. You can't argue with that. People feel more secure spending their money when they know their consumer rights are protected. They feel that way towards Amazon.
No Upright Payment
You can start selling on Amazon right away without any upright payments by signing up to an Individual seller account. Amazon will only charge you $0.99 before additional fees per item sold. Given that you sell less than 40 products per month.
If business is good and you start selling more than 40 items a month, your account will be switched from Individual to Business seller account, that's $39.99 monthly charge before additional fees. All fees will be deducted after you make a sale!
We will discuss the FBA fees later.
Amazon Prime
Why is it important for your products to be listed under Amazon Prime?
Being an Amazon FBA seller qualifies you to get the Amazon Prime seal versus non-FBA sellers. Prime members pay a minimum of $100 yearly for their subscription, that fee alone justifies their need to purchase regularly.
There are an estimated 200 million Amazon Prime members, a big jump from 95 million in 2018.
Yearly, Amazon Prime members spent an average of $1,400 on Amazon, whereas non-Prime members spent around $600. Plus they get their product within 2 days with no shipping fee. These facts make Amazon Prime members loyal customers.
High-Volume Of Customers
Amazon reported 2.73 billion visits in December 2021 using either desktop or mobile devices. We did mention above that non-Prime members spent around $600 yearly.
Junglescout's 2021 report showed that 66% of products sold on Amazon are through FBA, and 29% are combined FBA and FBM. When selling on Amazon, you don't look for customers, they look for you! So you got the best of both worlds, in terms of consumer-type with Amazon.
That's why Amazon FBA gives sellers a 30-50% increase in sales.
Multi-Channel Fulfillment
Another reason Amazon attracts more customers is due to its wider reach. Whether it is your own or a third-party seller website, your product can be purchased and Amazon will process and ship your item directly to your customer.
Just so you know, more than half of Amazon's $470 billion revenue in 2021 was fueled by its third-party sellers. Their revenue is expected to increase to $730 billion in 2022.
Discounted Shipping Rates
Amazon partners with different logistics companies and these companies want to keep a healthy relationship with Amazon.
How?
They offer big shipping discounts to close the deal. Then these shipping discounts are often transferred by Amazon to their FBA sellers. To the delight of the customers!
The Cons of selling on Amazon:
Selling Used Products
Amazon allows you to sell second-hand goods. But when it comes to used products, eBay takes the cake. When consumers think of buying second-hand or previously owned products, they think of eBay.
Amazon's customer base is leaning more on buying brand new stuff with the possibility of having a discount.
Design
I think both eBay and Amazon users agree that both of them have a dull design. Plain black and white. Especially with Amazon that has 2.5 million active sellers; standing-out can be quite difficult.
Limited Payment Options And Transaction Fees
You can only pay using debit or credit cards. Transaction fees make online shopping look expensive when checking out.
Amazon charges the consumer for every purchase made. Transaction fees are waived if payment is made through Amazon Pay, but sadly it is not available worldwide.
Plus, if you're shopping through a third-party seller, transaction fees are unavoidable.
Transaction Fee - 2.9% of the total amount purchased
Authorization Fee - $0.30
Cross-Border Processing Fee - 3.9% - For example, if your customer is from Mexico or Canada, they need to pay this fee.
Easy Returns And Refunds
The vain of all Amazon sellers, customers returning products, and asking for refunds.
Amazon happens to be very accommodating with these types of requests.
Payout
You don't get paid every successful transaction. Amazon will only register it as a successful sale when your item gets delivered. Then, you have to wait every two weeks to get your net sales.
Amazon FBA Fees
Since half of the work is done on Amazon's end when you sell through FBA, there will be fees that Amazon charges to the seller. We will discuss these fees next.
How Much Does Amazon FBA Cost?
So here's the breakdown of what Amazon fees entailed with the FBA service.
Amazon fees that apply to all types of sellers:
Individual Seller Account
$0.99 per item sold. Limited to 40 items and below.
Professional Seller Account
$39.99 per month. For 40 items and above sold every month.
can go as low as 6% or as high as 45% of the total sales cost. Depending on the product category.
$5.00 or 20% of the refund charge for processing it on your behalf.
Amazon fees that apply only to the Amazon FBA sellers:
FBA Fees - Packaging, shipping, and handling are covered in this fee. The amount is dictated by the size, weight, and dimension of your product.
FBA Storage Fees - or simply a rental fee of the space you are using to store your products in the fulfillment center. It can be a monthly charge or long-term.
Monthly charge:
$0.69 per cubic foot
$0.48 per cubic foot
$2.40 per cubic foot
$1.20 per cubic foot
if your product has been in the warehouse for a minimum of 1 year, you will get another fee, $0.15 per unit.
$0.25 – $0.40 per unit charge depending on the weight.
Oversized & Special Handling
$0.60 – $1.90 per unit charge depending on the weight.
All fees are not paid upfront, these are deducted to your Amazon account or your registered credit card.
Tips To Succeed With Amazon FBA in 2022
You can still be successful and earn a lot with Amazon FBA despite its drawbacks and fees, you just have to know some tips and learn how to sell on Amazon.
Find The Right Product
Just because it is being sold by big brands like Puma, Levis, and Adidas it doesn't mean that it is the right product. If you sell the same product as them, you'll be wasting your time, energy, and effort trying to match their brand success.
The right product is high on demand with low competition. They sell between $25 – $50 with reviews less than 100. They are small and weigh less than 5 lbs so you can save on storage and shipping costs.
Amazon also has a Best Seller Rank, this will dictate if the product you want to sell will surely get purchased. Every product has a BSR rank found on the product description page. The rule here is the lower the better.
You want products that are within the #500 BSR and below. The higher the rank, the less sales it gets because people don't notice it. The lower, the better.
Find A Manufacturer
After getting the right product, it is time to contact a manufacturer or a private label company. Why? Because you can market and brand the product as your own.
For example, Yeti and Thermos will not manufacture their own tumbler but order from a private company, then they stick their logo on it, branding it as their own. You can do that too!
You can order from the same manufacturer. They'll provide you with unbranded products.
Optimize Your Product Listing
One of the drawbacks of Amazon is its dull design, it is difficult for Amazon sellers to stand out. That's where you optimize your product listing.
Other sellers will hire content writers, SEO experts, product photographers, to make sure that their products will always reach the first page of the search results. Unless you are confident with your marketing skills, then you can do it.
You also need to ace that customer service skills if you want to be on the Buy Box.
Learn The Amazon FBA Business Upside-Down
Learn all you can about the Amazon FBA business through the best Amazon FBA training courses. Everything you've learned here is just the tip of the iceberg, what more if you learn from the experts.
What is Ebay?
Let the company itself answer the question: "Launched in 1995, eBay started as a place to trade collectibles and hard-to-find items.
Today eBay is a global marketplace where businesses and individuals can buy and sell practically anything." We can say that eBay is a tale as old as time.
Most probably you have stuff lying around your house that your dad bought online through the platform. eBay's customer base is second-hand buyers. That's how eBay made its name.
People will go to eBay vs Amazon whenever they need to buy pre owned products.
eBay Pros/Cons
Any business has its share of pros and cons, the list below will help you understand what you're getting into if you choose to sell on Amazon FBA.
The Pros of selling on eBay:
Quick Payout
The moment a buyer purchases your product, you get paid the next second.
Great For Second Hand
I think we've mentioned this quite a bit. If you have stuff around that you no longer want to use but you know will still sell. eBay is the place to sell.
There are more second hand eBay sellers than companies that are selling brand new products. That's why there are more unique items that you can only find on the platform and not on Amazon.
That's why the eBay Motors category dominates over Amazon. Used automotive or boat parts. Used electronics and used electronics parts and accessories.
"No Returns" Option
Yes, you've read it right. You can sell a product on eBay and have the option that the consumer cannot return it nor ask for a refund. You can list your product and tick the "No Returns" box.
This will be good for your pocket, but the flip side is that it will reduce your audience.
Pricing
You can sell your product higher than you originally wanted because of the auction mode. Same thing with selling at a fixed price, because you're skipping the auction process, your products are sold at a premium.
Data shows that over 85% of the merchandise volume that goes through this marketplace every day is sold at a fixed price. 80% of the items sold are new products instead of used ones.
EBay Will Not Compete With You
It's purely a marketplace. Period.
Unlike Amazon which manufactures and produces their own product and competes with the sellers within the platform.
Forgiving Consumers
eBay has more forgiving consumers vs Amazon. Because consumers on eBay understand that when you purchase a second-hand product, the quality wouldn't be top-notch. Which in turn translates to lower return rates.
Knowing Your Customer's Email
While Amazon hides the customer's email from the seller. You can have access to your customer's email, which is good!
You can create value and build a good relationship with them, potentially turning them to loyal customers.
The Cons of selling on eBay:
Fulfillment
You store your items yourself. You pack your items yourself. You ship your items yourself. For a seller, that's time-consuming and would cost more.
It is also essential to ship your item within 24 business hours or less. Why? So that you have more visibility in the search results. If you can't manage to ship your product immediately, your product gets less optimization.
This is where the eBay vs Amazon FBA battle has a clear winner.
Paypal
Paypal is a trusted brand. So why would it be a con? Because paying through Paypal will take the buyer to Paypal's webpage, and that annoys a lot of buyers.
eBay does not integrate Paypal to their own website. Though eBay will accept credit or debit card payments, only if the seller opens a Merchant account.
Glitch
Speaking of websites, this is where both sellers and buyers have complaints. At this age and time, eBay still tends to be glitchy.
Sellers also complain about the company making changes or updates without any notice. This sometimes puts your business at a disadvantage because the website update does not fit within your strategy.
Customer Service
You and only you would be dealing with the customers. Yes, the bright side is that your customers get a more personal touch.
But you don't only have one customer. You will have to answer every inquiry, reviews, shipping updates and complaints, refund and return requests.
Product Listing
One of the causes of migraines for eBay sellers. Especially if you're selling multiple products under different categories. It is a lengthy process.
Though they offer solutions like bulk sending files in CSV format, accompanied by a 60-paged instruction. Not all sellers have the time to read and digest lengthy instruction.
Bargain Shoppers
Since eBay started as an auction site. Expect that most of the site visitors are looking for cheaper prices, so it would be difficult to sell pricey items unlike on Amazon.
Now you might be asking – why aren't there any eBay fees or eBay charges included in the pros and cons list? Honestly, it is difficult to put them in both categories.
A lot of sellers or marketing experts would say that the eBay fees are cheaper than Amazon, but you have to remember that you will handle all the fulfillment methods, which can be very expensive at times. These fees are discussed further below.
How Much Does eBay Cost?
eBay offers five different subscription plans that any eBay sellers can upgrade or downgrade to. Included in these plans are the main eBay store fees:
eBay listing fee (insertion fee)
Final value fee per sale - 8% of the final sale price for items of $50 and less. An extra 5% for items above $50.
In simple terms, the insertion fee allows you to list your product on their store and the final value fee is eBay's commission charge.
PayPal fees – flat rate of $0.45 and an added 2.9% of the transaction.
eBay store subscription plans:

The number of products you list in a month will be your deciding factor to which plan you should pick. If you've noticed, the only real difference between each of these plans is the number of "free" listings you will get.
So go back to your marketing plan and review how many listings can you make in a month.
Tips To Succeed With eBay in 2022
Getting ready to jumpstart your business with eBay? First, check out these tips:
Become A Verified Member
Since you have valid credentials to prove your trustworthiness, eBay will remove restrictions that non-verified members are experiencing.
EBay User ID
This is the part where you don't mix your online game nickname with your user ID. You want to use an ID where consumers will take you seriously.
A user ID that is easy to remember can be helpful for repeat business.
Utilize EBay Completed Listing
For what? For pricing guidance. Competitive price impacts buying decisions and your product's visibility in the search results.
To do that, search for the same product you want to sell. Then scroll down the left-hand panel on the search results page until you reach the "Preferences" section. Under "Show only," tick the "Completed Items" box.
You will see two results, listed in green and in red. Green means it is sold, red means it's not. So study the pricing of the green ones so you can decide what price tag will you put with your products.
Sell Low Priced Products First
Then sell expensive ones later.
eBay has a lot of bargain shoppers, so it is better to sell your low-priced products first so you'll get noticed easily. After building trust with your customers, you can introduce expensive products or raise your price.
"By doing this, you may at first have little to no profit margin, but the more sales you generate, the higher you will climb in eBay's default organic search results, If you keep a close eye on this, once you are at the top or at least close enough, you can then start raising prices and reaping the rewards of patience and strategy." – Godin, eBay top seller.
Utilize Social Media
This is how you advertise your products for free. You can ask your family and friends to share your product listing. Let them spread the word for you about what you are selling.
Rockstar Customer Service
30-day free trial, free shipping, requesting feedback, immediately responding to inquiries. Track the orders, make sure they are shipped and received.
These are just some of the things you can do to build trust. Remember, customers will not remember you for your product but how they get treated. Always give prompt, punctual, and courteous responses to any questions they might have.
Optimized Product Listing
Don't use stock photos, take pictures of your products on a professional level. Optimize item descriptions for SEO. For you to be able to make the best out of your product listing, don't try to do it all at once.
List items daily, quality is always better than quantity.
Once you get the hang of selling on eBay, for sure you will discover ways to improve your game plan. However, starting with the basics can go a long way.
Now that we managed to show both qualities of the two eCommerce platforms, let's answer the following questions:
Amazon FBA vs eBay – Which is Better for Beginners?
eBay + Amazon – Can You Use Both?
Which is Easier Amazon FBA or eBay?
Which is Cheaper Amazon FBA or eBay?
Amazon FBA vs Ebay - Which is Better for Beginners?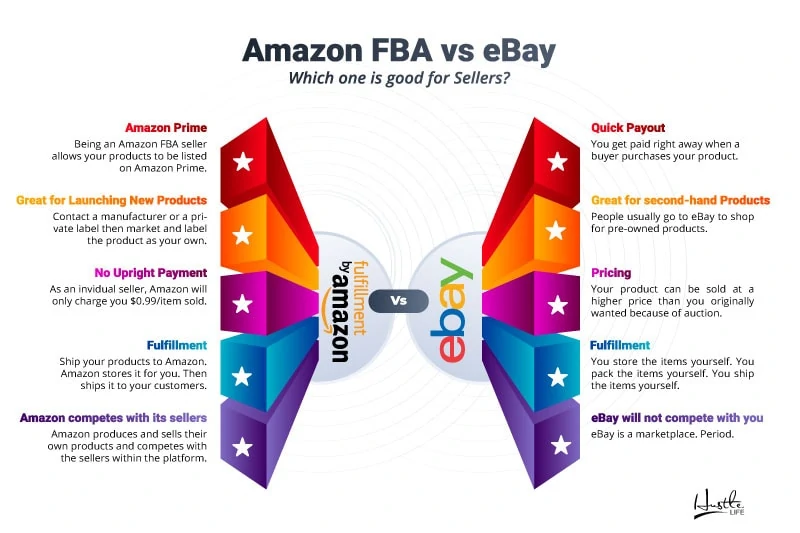 Knowing the customer base of Amazon vs eBay can answer the question.
eBay is famous for consumers looking to buy pre-owned products.
Amazon's customer base is all about buying new products and getting shipping discounts.
Choose and sell on Amazon FBA
You are selling new items that you brand as your own.
You are selling in bulk.
You want to delegate storage, shipping, and handling to others.
Choose and sell on eBay Store
You're primarily selling used items or collectibles.
You want the lowest fees but...
You will handle inventory management and fulfillment.
Amazon or eBay, both platforms cater to sellers that want to reach the US and international audience. There are no actual winners or losers here in this game of Amazon vs eBay.
It all depends on the products you want to sell, who you want to sell, and how you want to fulfill it. A lot of beginner sellers on both platforms have been successful. It's all about making the right choice based on your marketing playbook.
Ebay + Amazon - Can you Use Both?
Definitely! If you can't decide between the two, then sell both on eBay and Amazon. Don't limit yourself. Check your product inventory, if you can't sell it at a lower price, then sell it on Amazon.
You have brand new and second-hand products that have a price tag to attract bargain customers, then sell on eBay! Some sellers would use eBay to build up funds so they can start their Amazon business.
There are Amazon sellers that pull out their low-selling product on Amazon and sell it on eBay. Successful eCommerce entrepreneurs don't limit themselves to one platform.
They often use eBay as a testing ground for new products before introducing it to Amazon. There will never be a winner in the eBay vs. Amazon debate. So why not use both if you have the means?
Which is Easier Amazon FBA or Ebay?
Due to the FBA process, selling on eBay will always be easier. Storage, packing, shipping, and handling and a little bit of customer service are managed on Amazon's end.
While on eBay sellers have to do everything, order and payment confirmation, shipping and handling, order tracking, customer feedback, and refund requests amongst other things you need to juggle. Unless you have all the time in the world as a seller.
Which is Cheaper Amazon FBA or Ebay?
Now that's a difficult question. There's no exact answer on which is cheaper between eBay and Amazon.
Because you need to consider a lot of things.
Amazon account types:
Account Type
Individual
$0.99 fee per item sold. Less than 40 items sold per month.
Account Type
Professional
$39.99 per month. More than 40 items sold per month.
eBay account types:
Account Type
Starter
$7.95 per month or $4.95 a month annually.
Account Type
Basic
$27.95 per month or $21.95 a month annually.
Account Type
Premium
$74.95 per month or $51.95 a month annually.
Account Type
Anchor
$349.95 per month or $299.95 a month annually.
Account Type
Enterprise
$2999.95 a month annually.
Then we also need to consider the fees:
eBay charges its seller the following:
$.35 listing fee to sell your goods
10% final value fee on your goods
2.9% + $.30 credit card processing fee to Paypal
Fulfillment - which can be very costly
Fees Amazon imposes to their sellers:
15% commission fee which INCLUDES credit card processing fees
Amazon FBA fee that varies depending on the size and weight of the product
However, if we factor in shipping costs on selling on Amazon vs eBay, Amazon is still cheaper because you can offer free shipping or discounted shipping.
But then again, the definite answer will depend on how you run your eCommerce business and which platform fits the most within your strategy. You want to earn more than you're spending.
Conclusion
Amazon vs eBay, which one is better to sell on in 2022?
You can say that Amazon is a better platform for your product but it doesn't mean you can't also sell it on eBay and vice-versa. Amazon has a lot of marketing tools to boost your sales.
eBay announced plans to launch Managed Delivery – a fulfillment service like what FBA offers. Either Amazon or eBay, both platforms futures look bright ahead to the delight of sellers, beginner or not.
But If there's one thing all sellers agree on, they want their business running smoothly like a selling machine that will bring a stream of income to reach that financial freedom.