150 million – that's the number of active Amazon prime users there were in 2020. In 2021 that number is expected to explode past 170 million users.
For many Amazon FBA sellers, they had already made life-changing money last year. So you might be asking yourself, is Amazon FBA still worth investing in 2021? Is the market already saturated?
To help you find the answer and come up with the right conclusion, read along because the answer isn't what you might expect...
Everything you Need to Know about Amazon in 2021
Starting an Amazon FBA business is a great side hustle to have at the beginning. But the more you get serious about the business; it will dawn on you that you need to spend more time with it, especially if the products you are selling are doing great.
Like others, you are now thinking of resigning and pulling all your resources towards your side hustle.
Timing is everything, and it is a big decision to make. So before you make any moves, let us show you everything you need to know about Amazon FBA.
Is Amazon FBA Legit?
Yes, Amazon FBA is legit because it is a way for Amazon to bring products to their marketplace by incentivizing sellers to be on the largest open marketplace on the planet.
How does the service work? You send your products to Amazon. They store your products in one of their warehouse or Fulfillment Centers. They process the shipping and handling on your behalf every time a purchase is made.
Amazon will also handle customer service on your behalf. FBA has always proven itself very effective over and over again. 66% of products sold on Amazon are purchased through FBA. At the same time, 29% of the products sold are done through FBM and FBA.
That's how legit Amazon FBA is. Later, we will discuss why a lot of sellers transition to Fulfillment By Amazon.

Is Amazon FBA Still Profitable?
The golden question! Because you don't want to invest in something with zero to nothing margin of profit. 92% of Amazon sellers state that they plan to continue to use FBA on
72% of sellers are positive that Amazon FBA is still is and will continue to be one of the best way to earn money online.
Why the positive attitude towards the business? Because data speaks for itself!
Average Monthly Sales
50.7% of Amazon sellers make from $1,000-$25,000/month.
20% make $25,000-$250,000.
3.3% make more than $250,000 in monthly sales.
Lifetime Sales
20.5% – $100,000-500,000
8.3% – $500,001-1,000,000
11% – $1,000,001-5,000,000
3.2% – $5,000,001-10,000,000
4.3% – $10,000,001-50,000,000
3% – Beyond $50,000,000:
Even new sellers are profitable. When we say new, they're no more than 2 years in the business. How did they fare in their first year of selling?
Profits within 3 months: 16%
Profits within 3-6 months: 23%
Profits within 6 months-1 year: 24%
What about third-party sellers?
86% of third-party Amazon sellers are still rocking in profits!
67% are profitable within their first year.
61% say their profits increased during 2019.
So let's go back to the question. Is Amazon FBA still profitable this 2021?
Yes, Amazon FBA is still profitable this 2021 and there's no stopping it. You can run a profitable Amazon FBA business with proper training. Getting the best training won't hurt, in fact, it can be the life-changer you've been waiting for.
Is Amazon FBA Still Worth it?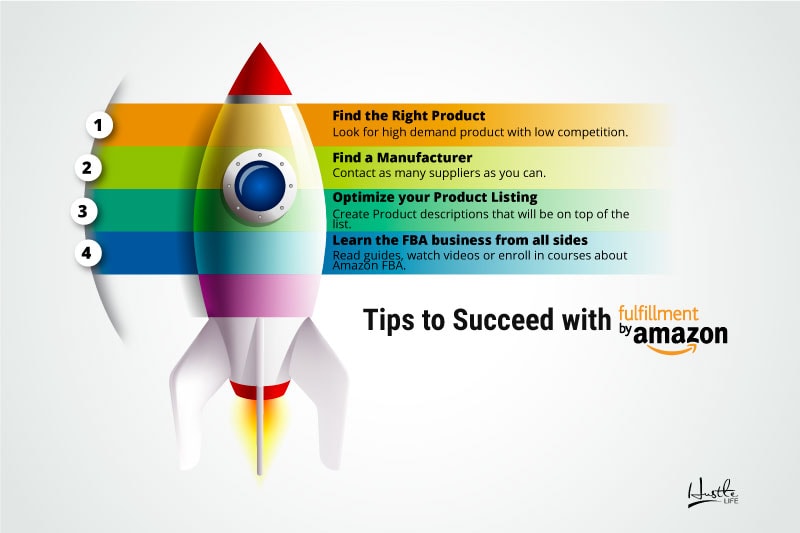 There's no definite answer here. Some say yes, others say no. Why? Because a lot of factors are needed to be considered and done, this can make or break your business.
Honestly, many sellers have tried FBA but failed miserably but that alone shouldn't stop you. No system is perfect but for sure, there are many ways for you to succeed. With the right combination, you're already on your way to success. Combination of what?
See below.
The Right Product
Who's your target audience?
You got to start with narrowing down your market.
You should have a good understanding of your market before you can offer any product. Luckily, Amazon works with different tools to make your life easier.
For example, Helium 10, "contains multiple Amazon seller tools to help you find high ranking keywords, identify trends, spy on competitors, & optimize product listings."
It is like having a swiss knife for Amazon. You can check this comprehensive Helium 10 review so you can get a good grasp on how it would benefit your Amazon FBA journey.
It pays to be smart when it comes to choosing the right product to sell.
So when you use tools like Helium 10, study the product rankings. Bestsellers sell fast but with stiff competition.
Low-ranking products sell slow but there's a big chance that you can dominate the market because of the Amazon Prime Badge entailed with Amazon FBA. We will discuss that later on.
The Right Product Pricing
This is the one thing you should always be consistent at, keeping your price stable.
You don't want to be too greedy that you pricing double or always on the low side.
But there are exceptions to the rule. Sellers deviate prices because (1) they want to increase their sales rank and (2) cross-selling their products that also result in an increase in the sales ranking.
This is the case for old and new sellers who are launching new products, either pricing at a low profitability range or close to breaking it even. How? Introductory discounts or the time the product launch during a specific holiday.
In Summary, you will sell with the lowest price but still profit or maximize your profit by selling your products with the highest price as possible without looking like you just want to rip-off your buyers. Especially if you don't offer free shipping.
The Right Product Marketing
Engage your customers and you're one step ahead of placing your products at their doorsteps.
How?
You can do it for free or paid. Free is when you utilize your own social media accounts, let your friends and families and their friends and families do the marketing, fully optimize all your social media accounts. Then up the ante by paid ads through social media, for example, Facebook Ads – which targets a specific audience, their location, demographic, and their profile information.
Never underestimate the power of social media when it comes to promoting your product, a single click can produce a customer.
Those are the three factors you should consider to make your Amazon FBA journey worth all the hustle.
You and I want to make sure that you want to do everything right.
So if you find the information above already insightful, why not take time to fully grasp the ins and outs of the Fulfillment By Amazon business by knowing how to sell on Amazon FBA the right way.
Next up, the benefits and disadvantages of selling on Amazon FBA.
Benefits of Selling on Amazon FBA
Here are the benefits sellers get to enjoy through Amazon FBA.
Prime And Free Shipping
The coveted Amazon Prime badge.
It is within your reach when you get the FBA service compared to non-FBA sellers.
There are now 150 million Amazon Prime members, a big jump from 95 million in 2018. These Amazon Prime members spent an average of $1,400 yearly. Aside from the need to justify their yearly $100 membership fee, nothing beats the joy of receiving your ordered products within 2 days under free shipping.
That translates to having your product reach a customer faster.
No Website Required
Building your own website means added costs because you need to hire a web developer, web managers, graphic designers, and content specialists, and customer service agent, all for the glory of making sure your website stays afloat.
With Amazon? You don't need that, all is done on Amazon's end.
All you need to do? Create a seller account using a valid email and credit card. Start selling immediately!
Workload
All the hard work is done by Amazon.
Once a transaction has been made, an Amazon employee will pick, pack, and ship your product.
Customer inquiries and complaints are also handled for you.
So you can just sit back, and give yourself more time to focus on your marketing strategies and how you can sell goods.
Multi-Channel Fulfillment
More than half of Amazon's $280 billion revenue in 2019 is to be blamed on third-party sellers.
That's the beauty of multi-channel fulfillment! If you sell your products to other platforms or through your own website, every purchase made will still undergo the same Amazon fulfillment services.
Amazon won't box you to their website.
Reverse Logistics
Returns are unavoidable no matter how good your product and customer service is. A nightmare to any seller. Dealing with an angry customer can take a lot of time and energy-draining for the seller.
Thanks to Amazon's reverse logistics, the shipping, packing, delivery, and re-stocking are off your shoulders. Let Amazon deal with the customer on your behalf.
Disadvantages of Selling on Amazon FBA
Now to the less sunny side of Amazon FBA.
You Must Play By Amazon's Rules
Yes, you don't have to build your own website but since you are conducting business on Amazon's own website you need to play by their rules.
It's like you're a tenant, and Amazon is your landlord. You're renting a stall to conduct your business within their premises.
Amazon is very strict and stringent when it comes to how you prepare, package, and ship your product to its fulfillment centers.
Being diligent and proactive in making sure that you ship your product right is a must. Failure to follow and abide by their rules will simply result in you being banned from the FBA service.
So make sure you read all the Amazon guidelines per product category or depending on the products you are selling.
Taxes And Accounting
You are taxed once you start earning.
Taxes and accounting are some of the painstaking processes any seller must accomplish. Unfortunately for Amazon, they don't have automatic integration for accounting tools.
You may end up manually recording everything which will take a lot of time. Luckily, there are companies out there that offer bookkeeping services.
Minimal Access
Amazon Fulfillment Centers are not open-houses wherein you can just stroll inside and check your products. If issues arise with your product, and you need to assess the issue, Amazon will ship it back to you instead.
Your next option is to review it with an Amazon employee inside the warehouse instead of shipping it to you. But, the process is complicated, you need to accomplish a lot of requests before it can be approved.
Storage Costs
Yes, since you are using their space, you need to pay the rent.
The storage fees vary depending on the size and how long your product will be stored in the warehouse. A standard size storage fee is between $0.69 per cubic foot to $2.40 per cubic foot.
While the oversize storage fee is between $0.48 per cubic foot to $1.20 per cubic foot. The good thing is that you don't need to pay this upfront, storage fees are paid through your Amazon funds or credit card.
Having disadvantages does not mean the service will no longer be worth using for your business. It pays to be well informed of the drawbacks of any service you want to acquire because you can find ways to work around the drawbacks.
There's no better way to do that than taking a super-effective Amazing FBA Course.
Conclusion
Is Amazon FBA worth it this 2021? Most people realize that there is a lot of competition in the marketplace, but what they don't realize is that there is always some new niche or industry that comes up that people can take part in.
Jumping on trends and doing due diligence is the best way to make a successful Amazon FBA business.
Just like in any other industry, you need to do your research and come up with a solid game plan before launching a business or product. But Amazon breaks down a lot of constraints that held back most entrepreneurs before so that almost anyone can have access to a truly worldwide marketplace.