150 million – that's the number of active Amazon prime users there were in 2020. Currently, in February 2022 that number has passed 200 million! A 30% increase in under two years!
For many Amazon FBA sellers, they had already made life-changing money last year. So you might be asking yourself, is Amazon FBA still worth investing in 2022? Is the market already saturated? What about alternatives like Walmart.com?
To help you find the answer and come up with the right conclusion, read along because the answer isn't what you might expect...
Everything you Need to Know about Amazon in 2022
Starting an Amazon FBA business is a great side hustle to have at the beginning. But the more you get serious about the business; it will dawn on you that you need to spend more time with it, especially if the products you are selling are doing great.
Like others, you are now thinking of resigning and pulling all your resources towards your side hustle.
Timing is everything, and it is a big decision to make. So before you make any moves, let us show you everything you need to know about Amazon FBA.
Is Amazon FBA Legit?
Yes, of course it is! Amazon FBA is legit because it is a way for Amazon to bring products to their marketplace by incentivizing sellers to be on the largest open marketplace on the planet.
How does the service work? You send your products to Amazon. They store your products in one of their warehouse or Fulfillment Centers. They process the shipping and handling on your behalf every time a purchase is made.
Amazon will also handle customer service on your behalf. FBA has always proven itself very effective over and over again. 66% of products sold on Amazon are purchased through FBA. At the same time, 29% of the products sold are done through FBM and FBA.
That's how legit Amazon FBA is. Later, we will discuss why a lot of sellers transition to Fulfillment By Amazon.

Is Amazon FBA Still Profitable?
The golden question! Why would anyone want to invest in something to NOT make money? Doesn't make sense, right? We are all chasing a healthy profit while trying to find the right solution to help us make money without the day-to-day issues of running a conventional business.
Approximately 200 million people a month visit Amazon searching for something.
In 2022 Amazon currently has over 300 million members.
Where else can you get exposure to that many potential customers AND have the sales back end, warehousing and logistics all taken care of for you?
92% of Amazon sellers state that they plan to continue to use FBA ongoing.
72% of sellers are positive that Amazon FBA is still is and will continue to be one of the best ways to earn money online.
Why the positive attitude towards the business? Because data speaks for itself!
Average Monthly Sales
50.7% of Amazon sellers make from $1,000-$25,000/month.
20% make $25,000-$250,000.
3.3% make more than $250,000 in monthly sales.
Lifetime Sales
20.5% – $100,000-500,000
8.3% – $500,001-1,000,000
11% – $1,000,001-5,000,000
3.2% – $5,000,001-10,000,000
4.3% – $10,000,001-50,000,000
3% – Beyond $50,000,000:
Even new sellers are profitable. When we say new, they're no more than 2 years in the business. How did they fare in their first year of selling?
Profits within 3 months: 16%
Profits within 3-6 months: 23%
Profits within 6 months-1 year: 24%
What about third-party sellers?
86% of third-party Amazon sellers are still rocking in profits!
67% are profitable within their first year.
61% say their profits increased during 2021.
So let's go back to the question. Is Amazon FBA still profitable this 2022?
Yes, Amazon FBA was still profitable in 2021 and there's no stopping it into 2022. You can run a profitable Amazon FBA business with proper training. Getting the best training won't hurt, in fact, it can be the life-changer you've been waiting for.
Is Amazon FBA Still Worth it?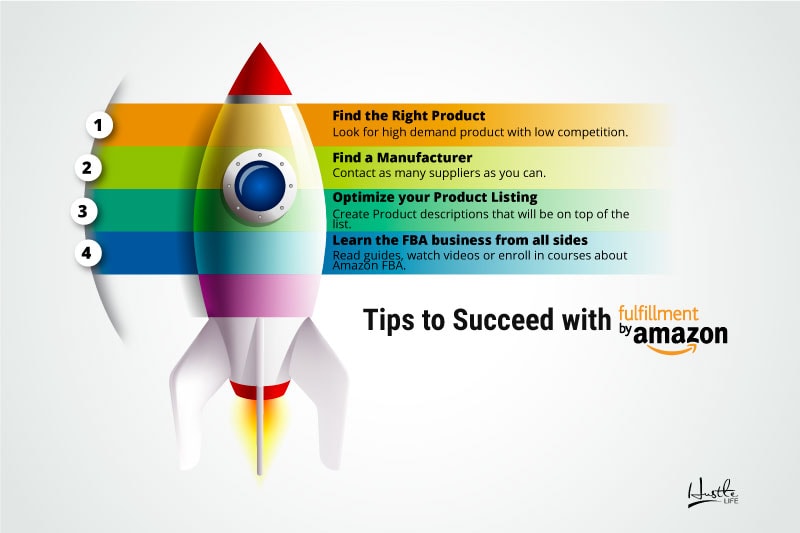 There's no definite answer here. Some say yes, others say no. Why? Because a lot of factors are needed to be considered and done, this can make or break your business.
Honestly, many sellers have tried FBA but failed miserably but that alone shouldn't stop you. No system is perfect but for sure, there are many ways for you to succeed. With the right combination, you're already on your way to success. Combination of what?
See below.
The Right Product
Who's your target audience?
You got to start with narrowing down your market.
You should have a good understanding of your market before you can offer any product. Luckily, Amazon works with many different tools to make your life easier.
For example, Helium 10, "contains multiple Amazon seller tools to help you find high ranking keywords, identify trends, spy on competitors, & optimize product listings."
It is like having a swiss knife for Amazon. You can check this comprehensive Helium 10 review so you can get a good grasp on how it would benefit your Amazon FBA journey.
It pays to be smart when it comes to choosing the right product to sell.
So when you use tools like Helium 10, study the product rankings. Bestsellers sell fast, but with stiff competition.
Low-ranking products sell slow but there's a big chance that you can dominate the market because of the Amazon Prime Badge entailed with Amazon FBA. We will discuss that later on.
The Right Product Pricing
This is the one thing you should always maintain your focus on, keep your finger on the pulse. You MUST check competitor pricing regularly, focus on negotiating better supplier pricing as your sales grow, and look for that competitive edge and product point of difference. 
You don't want to be too high or too low - price yourself within the market, with the right product, good simple marketing and you will sell.
It's always good to find a product that you can maintain a stable price with as it will be easier to manage.
But, there are exceptions to the above. Sometime's sellers make extreme price adjustments to help with the following:
They want to increase their sales rank
Cross-selling their products with the aim of additional sales can also result in an increase in the sales ranking.
This is the case for both old and new sellers, especially when launching new products, either pricing at a low profitability range or even close to breaking even. Use Introductory (time defined) discounts and offers to get your new product exposure, selling, and ranking.
In Summary, you will need to price yourself competitively, maintain an acceptable margin and get your product in front of the millions of potential buyers.
The Right Product Marketing
Engage your customers and you're one step ahead of placing your products at their doorsteps.
How?
You can do it for free or paid. Free is when you utilize your own social media accounts, let your friends and families and their friends and families do the marketing, fully optimize all your social media accounts. Then up the ante by paid ads through social media, for example, Facebook Ads – which targets a specific audience, their location, demographic, and their profile information.
Never underestimate the power of social media when it comes to promoting your product, a single click can produce a customer.
Those are the three factors you should consider to make your Amazon FBA journey worth all the hustle.
You and I want to make sure that you want to do everything right.
So if you find the information above already insightful, why not take time to fully grasp the ins and outs of the Fulfillment By Amazon business by knowing how to sell on Amazon FBA the right way.
Next up, the benefits and disadvantages of selling on Amazon FBA.
Benefits of Selling on Amazon FBA
Here are the benefits sellers get to enjoy through Amazon FBA.
Prime And Free Shipping
The coveted Amazon Prime badge.
It is within your reach when you get the FBA service compared to non-FBA sellers.
There are now 200 million Amazon Prime members, a big jump from 95 million in 2018. These Amazon Prime members spent an average of $1,400 yearly. Aside from the need to justify their yearly Amazon Prime membership fee, nothing beats the joy of receiving your ordered products within 2 days under free shipping.
That translates to having your product reach a customer faster.
No Website Required
Building your own website means added costs because you need to hire a web developer, web manager, graphic designer, content specialist, and customer service agent, all for the glory of making sure your website stays afloat.
With Amazon? You don't need that, all is done on Amazon's end.
All you need to do? Create a seller account using a valid email and credit card. Select your template, easily customize it to suit your business and products, create your product listings and you can start selling immediately!
Workload
All the hard work is done by Amazon.
Once a transaction has been made, an Amazon employee will pick, pack, and ship your product.
Customer inquiries and complaints are also handled for you.
So you can just sit back, and give yourself more time to focus on your marketing strategies and how you can sell goods.
Multi-Channel Fulfillment
Approximately $100 billion of Amazon's $450 billion revenue in 2021 is to be blamed on third-party sellers.
That's the beauty of multi-channel fulfillment! If you sell your products to other platforms or through your own website, every purchase made will still undergo the same Amazon fulfillment services.
Amazon doesn't lock you in to using their platform only.
Reverse Logistics
Returns are unavoidable no matter how good your product, product description, and customer service is. A nightmare to any seller. Dealing with an unhappy customer can take a lot of time and be energy-draining for the seller.
Thanks to Amazon's reverse logistics, the shipping, packing, delivery, and re-stocking are off your shoulders. Let Amazon deal with the customer on your behalf.
Disadvantages of Selling on Amazon FBA
Now to the less sunny side of Amazon FBA.
You Must Play By Amazon's Rules
Yes, you don't have to build your own website but since you are conducting business on Amazon's own website you need to play by their rules - fair enough.
It's like you're a tenant, and Amazon is your landlord. You're renting a stall to conduct your business within their premises.
Amazon is very strict and stringent when it comes to how you prepare, package, and ship your product to its fulfillment centers.
Being diligent and proactive in making sure that you ship your product to Amazon's standards is a must. Failure to follow and abide by their rules will simply result in you being banned from the FBA service.
So make sure you read all the Amazon guidelines per product category and follow their rules.
Taxes And Accounting
If you are making money you will pay tax! It is your responsibility to manage your books and comply with your local tax laws.
Taxes and accounting are some of the painstaking processes any Amazon seller (or business owner) must complete. Unfortunately for you, Amazon doesn't have any accounting tools as a part of their platform.
So, your options are:
There are a lot of third party software providers that work seamlessly with Amazon (to name a few)
You could hire a VA on Upwork
If you don't have a large amount of transactions you may decide to manually record them into your accounting software
Minimal Access
Amazon Fulfillment Centers are not open-houses whereby you can just stroll inside and check your products. If any issues arise with your products, and you need to inspect or physically rectify the issue, Amazon will ship it back to you.
Probably not ideal for most people...and can be costly!
Your other option is to request a review of your goods with an Amazon employee onsite. But, the request process is can be time consuming and frustrating. From what we understand there is a lot of back and forth before the request may be approved.
Storage Costs
Yes, since you are using their space, you need to pay the rent.
According to Amazon Seller Centeral the storage fees vary depending on the Warehouse/Country location, Product Size Tier, the current month, Volume, and Dangerous Goods Clasification, and how long your product will be stored in the warehouse.
A standard size storage fee is between $0.83 per cubic foot to $2.40 per cubic foot.
For all the information on how to calculate storage fees have a look at Amazon Seller Central Monthly Inventory Storage Fees.
Having disadvantages does not mean the service will no longer be worth using for your business. It pays to be well informed of the drawbacks of any service you want to acquire because there are always options the drawbacks. For example Marketplace Superheroes offer Superhero Freight that can save you a lot of money in logistics and Amazon storage fee costs.
There's no better way to do that than taking a super-effective Amazon FBA Course.
Amazon FBA Alternatives
If you're looking for other options then surely you've heard that Walmart Marketplace is a serious contender in third-party seller and fulfillment services.
They are the second largest player in the game and you should consider the following:
Much fewer third party sellers on their platform = less competition
They are stricter than Amazon with who they allow to sell on the Walmart Marketplace. Only allow screed and reputable businesses, again = less competition & higher consumer trust
Walmart Marketplace has just over 100,000 third party seller = more chance of product exposure
Due to less seller there should be lower advertising costs
Walmart charges a fee per sale as opposed to Amazon's monthly access fee for Pro Accounts.
If you are a business registered in the US with a United States Tax ID you can start the registration process with Walmart. As mentioned above they have fairly strict approval criteria and if you would like to find out more, then we go through this in our "How to start selling on Walmart Marketplace" article.
Conclusion
Is Amazon FBA still worth it this 2022? Most people realize that there is a lot of competition in the marketplace, but what they don't realize is that there is always some new niche or industry that comes up that they can take part in.
Both the product offering in the marketplace and Amazons customer based is continuing to grow exponentially, meaning - there is opportunity. 
Jumping on trends and doing due diligence is the best way to make a successful Amazon FBA business.
Just like in any other industry, you need to do your research and come up with a solid game plan before launching a business or product.
Amazon breaks down a lot of constraints that held back a lot of entrepreneurs previously so that now almost anyone can have access to a truly worldwide marketplace.