Established in 2014, ClickFunnels prides itself the first product of its kind and the most popular in the sales funnel builder's market. But to really understand ClickFunnels you need to understand more about who started ClickFunnels, some ClickFunnels history and how they came up with the idea, and who owns ClickFunnels now.
Really, as far as digital marketing and sales funnels go, ClickFunnels is a household name. That is because every person who has ever created a landing page, built a sales funnel, or sold a digital product has either heard of or used ClickFunnels as a marketing tool.
 "quickly create beautiful sales funnels that convert your visitors to leads and then customers" — ClickFunnels website.
Now, to our main question:
Who Created ClickFunnels?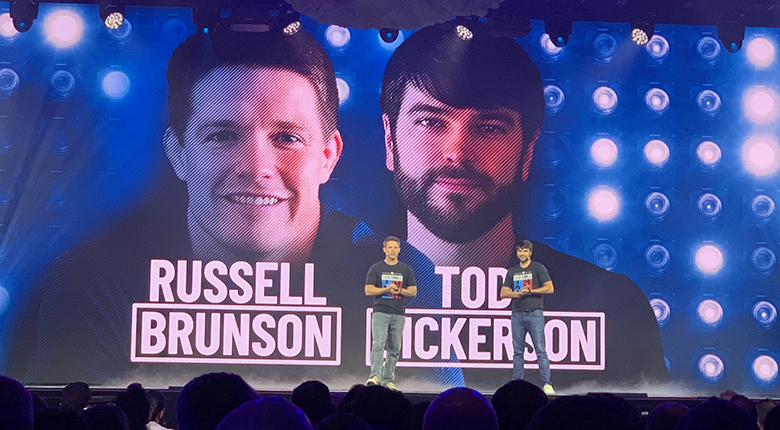 ClickFunnels was created and is still owned by Russell Brunson and Todd Dickerson. In 2014, Russell and Todd were frustrated at how much stress and time went into building sales funnels successfully. So, they teamed up to create ClickFunnels. Todd handled the tech development, while Russell handled the marketing.
Who Is Russell Brunson?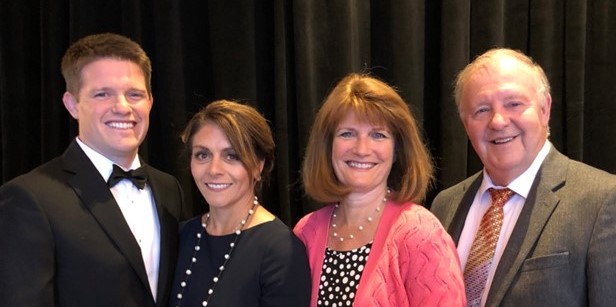 Born to Marde and Ross Brunson on the 3rd of March, 1980 in Utah, United States, Russell Brunson is someone you would refer to as a success-minded fella. And long before he got the idea of ClickFunnels, he had started and grown several web-based businesses to success.
His earliest recorded journey as an entrepreneur was as far back as 2003. But he's had a flair for anything related to sales and marketing right from childhood.
It is reported on his website, russellbrunson.com, that he's been collecting junk mail since the age of 12, and he always anticipated the commercials because they were the real entertainment to him.
Throughout his high school and college days, Russell was a professional wrestler; a state champion wrestler who took 2nd place in high school nationals. And in college, he graduated as one of the top 10 wrestlers nationally. I guess this would explain why Russell invited Jordan Burroughs (5x World Champion Wrestler, Olympic Gold Medalist) to speak at Funnel Hacking Live 2022.
His Life Before ClickFunnels
His first success as a webpreneur and internet marketer came in 2003 when he sold the software ZipBrander, a marketing tool that helps website owners drive traffic to their websites.
Then in 2005, he launched an instructional course teaching people how to create potato guns, stored on DVDs. He also sold several things on the internet, from online coaching to books; even working with a supplement company.
Then in 2014, he got the idea of creating an all-in-one sales funnel builder and marketing tool. He and Todd Dickerson then teamed up to make the idea a reality.
Russell Brunson supplement company approached him to hire him as its marketer, but he refused (as revealed in his supplement funnel walkthrough video). The company's leadership then offered him a partnership in the company. I.e. he was to build all of their funnels in exchange for equity, and he thought "why not?". So, he joined them.
Family Life and Values
Russell is married to Collette Brunson, his sweetheart since his college days. The duo currently has 5 kids together, 3 boys and 2 girls. Russell has never disclosed any information about his kids, but does release the odd family photo of them enjoying a privileged life: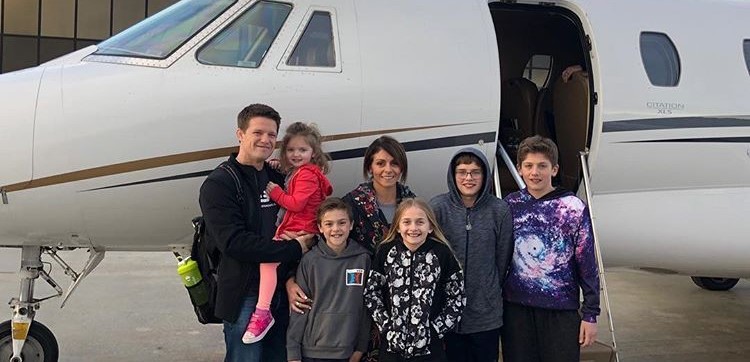 Interesting (and unusual) Facts About Russell Brunson
He says he has ADHD (attention deficit hyperactivity disorder) a condition that can cause high levels of hyperactivity.
Russell Brunson's net worth 2021 is a hot topic among his followers, but so far, nobody has been able to put a specific figure to it. However, as of 2022, Russell is estimated to be worth well over $40M USD. Moreover, his network is expected to keep growing as ClickFunnels and his other ventures expand in the future.
3. Russell is known to donate funds to charities and through ClickFunnels he claims to have donated 9.78M
"every new funnel that goes live inside of ClickFunnels community equals a $1.00 donated to building schools in Africa."
As of 2022, Russell is 42 years old (born in 1980).
His landing page is hosted on ClickFunnels, which shows that he really does believe so much in what he created.
To create a sales funnel, Russell Brunson charges $1M and 25% of gross sales of the funnel for its lifetime. Honestly, that's the most ridiculous thing we've heard in years.
To pick his brain over lunch costs $10,000. Not any less ridiculous than the last point.
Some have said he's whacky, he's cheesy, he's spammy, and he sounds like an excited version of daffy duck…. But whatever he is, no-one can doubt that he is smart!
His Successful Series of Books
So far, Russell Brunson has published a number of books that have been very successful in sales, selling over a million copies and making Russell a best-seller. He published DotCom Secrets, Expert Secrets, and Traffic Secrets, which are sometimes called "the ClickFunnels trilogy" or "the Secrets trilogy."
His other books include Unlock the Secrets, which is a workbook for the 3 secret trilogies above, Copywriting Secrets, Network Marketing Secrets, Funnel Hacker CookBook, which you get upon opening a ClickFunnels account, 108 Proven Split Test Winners, and Lead Funnels, a pdf of 106 lead gen template designs that currently sells for $7.
Who Is Todd Dickerson in ClickFunnels' History?

Todd Dickerson is Russell Brunson's partner in business, and they both developed ClickFunnels from ideation to what it is today. Even though Russell is the face of ClickFunnels, Todd Dickerson remains the co-owner of ClickFunnels and he is currently with the company as the Chief Product Officer.
As described on ClickFunnels' "origin story" page, their partnership is one that is a matchmade in heaven. Todd and Brunson met when Russell had just bought a software developed with Ruby on Rails, a coding language Russell knew nothing about, and nobody on his team knew it either. He got to the point where he was going to shut down the business, but he decided to email the customer base for help. Todd responded, and that's how the partnership began.
Russell got the original idea for a fully integrated funnel builder, he and Todd met up to brainstorm and flesh out that idea, then Todd went on as the developer to code the platform while Russell handled the sales and marketing.
In an interview with Swagger Magazine, the business partners narrated their ordeal working on ClickFusion, ClickFunnels' predecessor. They both wanted ClickFusion to work but only recorded failure building it. They then decided to dump the brand and develop ClickFunnels instead.

A lot of people wonder why Russell is fully in the spotlight while Todd is backstage. That's because Russell is the marketing genius pushing it into people's hearts. He loves engaging with his brand and his customer's and even though Todd is a co-founder, having Russell as the face of ClickFunnels, just seems to work!
Some additional facts:
Todd Dickerson was born in September 1983, 38 years old as of May 2022.
He is married to Ashley Dickerson
Todd and wife Ashley, have 3 daughters.
ClickFunnels' Success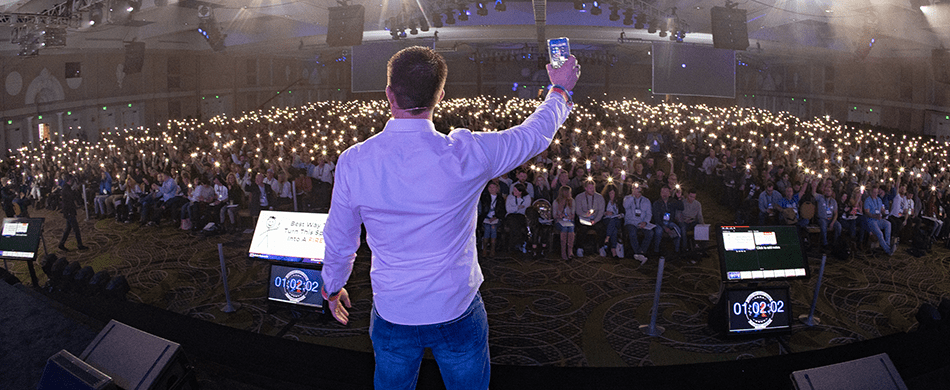 ClickFunnels' success is a hot topic for discussion in the SaaS (Software-as-a-Service) space. The company is currently the fastest-growing non-venture-backed software company in the world. While it is true that ClickFunnels grew from 0 to $100M revenue in just 3 years, the story isn't all a bed of roses.
ClickFunnels' success story isn't all smooth sailing, it's more like a turbulent journey riddled with trial and error and with splashes of success here and there until something finally stuck.
After the duo got ClickFunnels working, they put it out in the market but couldn't record impressive progress.Then they had an event where Russell presented the software, and it sold beyond their expectation. This would, later, be the basis of their ClickFunnels automated webinar funnel.
They soon had 10,000 users and by the end of the first year, they'd made over $1M in profits. Right now, the platform has over 100K users and is making over $100M annually.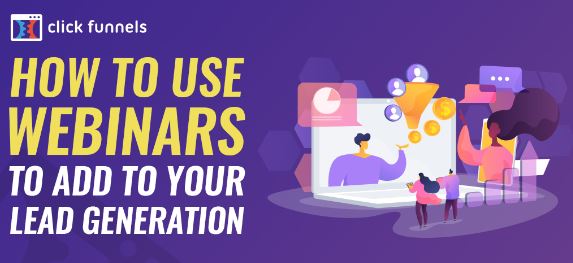 How ClickFunnels Works
ClickFunnels is an all-in-one marketing tool that is designed primarily to help marketers and entrepreneurs design and build sales funnels without the help of a programmer or web developer.
Besides being able to design web pages, ClickFunnels has other in-built features and also allows 3rd party software integrations to provide functions like email marketing, lead generation, payment processing, lead segmentation, etc.
Designing landing pages and sales funnels in ClickFunnels is pretty simple and straightforward as it features a visual drag-and-drop page builder which you can use even without coding experience.

There are two plans available on ClickFunnels, all with varying levels of functionality and price. The Basic plan, $97 a month, is the lowest and it provides you with up to 20 funnels, 100 pages, 20,000 monthly visits, unlimited contacts, 3 custom domains, 3 payment gateways, and other features.
The Platinum plan costs a whopping $247 a month, and it allows up to 9 custom domains, 9 payment gateways, follow-up funnels, affiliate marketing tools, unlimited funnels, pages, monthly visits, and contacts.
Why Use ClickFunnels?
Clickfunnels is a digital marketing tool that is designed to help you launch and scale your business using conversion sales funnels. A sales funnel can be seen as a strategy that is carefully designed to make sure whoever lands on your page buys your product.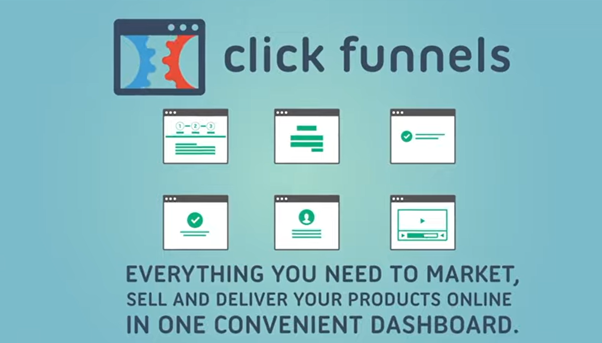 With its plethora of features, it can replace several other marketing tools like landing page builders, customer relationship management software, and email marketing tools all for a fraction of the price all these will cost you combined. Whether you're just starting out as an entrepreneur or your business is a million-dollar company, ClickFunnels is designed to help you convert both new and existing traffic into paying customers.
If you want to learn more and see an example of a funnel build, why not watch this excellent tutorial video by Russell Brunson. Who, as owner and co-founder (along with Todd Dickerson) of ClickFunnels, knows the product inside and out!
FAQs
Is Russell Brunson CEO of ClickFunnels?
No Russell Brunson is no longer the CEO of Clickfunnels, he decided to dedicate more time to the creative and marketing side of the business.
Russell Brunson has stepped down and been replaced as the CEO of ClickFunnels by Dave Woodward, who is a proven business expert.  
What is Todd Dickerson's net worth
ClickFunnels co-founder and co-CEO, Todd Dickerson, was there at the start of the ClickFunnels empire, so he quite rightly will have amassed a healthy fortune. The exact figure isn't known but is in the region of $20-30M!
Is Russell Brunson a billionaire?

Russell Brunson is not a billionaire...
He is however, a very successful multi-millionaire with an estimated net worth of over $40M USD
Is Russell Brunson available for speaking events?

Russell Brunson does make himself available for personal meetings and corporate speaking events. There are many booking agencies touting his name and services.
You might be surprised to know that his fees are around $500,000 minimum for a corporate event, this is purely motivational speaking with no sales objectives. Wow!