If you want to be a successful affiliate marketer – you want a great course that covers all the bases and will give you enough knowledge to not just make your money back... but to create a successful and profitable online business.
This isn't college – you are here because you want to learn something that will help you make money online! You don't want to get stung, caught out buying a dud course, or even make the wrong decision as to whether affiliate marketing is even for you!
So, listen up... Here are some things that you need to consider before purchasing ANY affiliate marketing training course.
We, at Hustle Life, have purchased MANY courses, and most course suppliers simply rehash content from other courses. Worse still, many courses only skim the surface and don't give actionable advice that gets real results. Unfortunately, I'm speaking from experience. Trust me, there are some real time wasters out there!
Oh, and if you come across any free affiliate marketing courses…well, you guessed it – it's more than likely not worth it!

The Red Flags
Before we look at what makes a good affiliate training course; let's take a look at the type of person affiliate marketing ISN'T for:
You!- If you get discouraged easily
Someone that does not like to problem solve
If you do not have deep knowledge of a niche, that's not a problem BUT then you will have to research, delegate, manage and outsource tasks
If you are looking to get rich quick
You do not have at least some disposable income to invest (you realistically would need $1-3000 to get a reasonable start)
Someone that does not have at least 10 solid hours per week to commit
You also need to be able to research, write, understand, and distinguish quality content
Unfortunately, because affiliate marketing is sometimes made to sound super easy to do, it immediately attracts some people that just ultimately give up.
If only you knew the pitfalls first. Some course promoters can be very misleading, but ultimately if Affiliate Marketing is not right for you then you will probably lose time, money, and even some confidence.
Maybe, your skills could be put to better use with a different type of online business.
If any of those red crosses above apply to you then maybe selling physical products online is more appealing. Check out our eCommerce posts for some alternative options.
What To Look For In An Affiliate Marketing Training Course
So, if you understand that affiliate marketing is a genuine business and are willing to put the time and effort into growing it, then keep reading. You will need to make sure all the fundamentals of affiliate marketing are covered.
If you've already got an affiliate marketing training course in mind and want to know more, we may already have it covered in detail right here.
Here are the things to look out for when choosing a course:
1. Basic SEO
If you are starting a niche authority website for the first time, it's important to have a basic understanding of the online world as well as all the affiliate marketing fundamentals.
To ensure you are off in the right direction from the very beginning make sure the course you are looking at includes at least the following:
Setting up a website, domain, hosting, etc (current best practices)
Creating Web Pages – efficient fast loading with a good user experience (UX)
SEO and on-page optimization – This is crucial!
How to perform efficient niche research
Keyword research (if you plan to use a keyword research tool such as Ahrefs or SEMRush you will find lots of helpful tutorials on YouTube).
If you don't already have this knowledge, there are many beginner-friendly courses out there that will teach you everything from the ground up.
Best Affiliate Marketing Training Courses - Rated by Hustle Life
2. Off-Page SEO
Off-Page SEO is what is known as link building. Getting other links to your website is still a huge ranking factor in Google, so a good affiliate marketing course will give you many tactics for building links to your site.

The thing to keep in mind is what type of link-building they recommend. Is it a Gray Hat, which is riskier but gives you quick wins? Or is it a White Hat strategy, which is better long-term but can take longer to produce results?
Our advice is to avoid anything that sounds too good to be true. They will end up being Black Hat link-building techniques and they may work initially…but the one guarantee they won't offer is that your site won't rank for long ☹
It will end up being a great big waste of time very quickly. Google and its army of bots are WAY ahead of the game there.
Affiliate Lab is a good option if you would like to go down the link-building path. Matt Diggity teaches a wide range of proven and successful techniques.
Learn more and read our Affiliate Lab Review
3. Content Creation
Google is getting better at detecting even Gray Hat link building, so focusing on great content marketing is becoming more important.
Most affiliate marketing courses skip this part altogether and focus mostly on link building, guest posting, and promotion which may not necessarily hurt you later, but we would suggest you need a well-rounded approach.
Quality content that informs the reader, needs to be interesting, helpful and answers the readers' questions. This will increase user engagement and will help you rank higher and get more page views.
Look for a course like Authority Hacker which has a focus on this component.
4. What Tools Are Included / What Do You Need To Buy?
Before you drop big bucks on a course, it's important to know all the costs ahead of time. Does the course come with all the tools you need, or are you going to have to fork out additional money every month for various subscription fees?
You might want to think about some of the following costs associated with an affiliate marketing site:
Obviously, domain and hosting costs
Keyword research tools like AHRefs & SemRush
AI writing tools and spelling and grammar checking tools
Outsourcing costs such as content creation / article writing, web design and development
5. Social Media Marketing

The days where you could just rank a website and watch the cash roll in are coming to an end.
While it is still very possible to do this, you could be leaving cash on the table by not having things such as an email list, or Facebook group set up so that people engage with your site even when they are not on it.
Make sure the course you choose covers at least the main Social Media options. Your niche will also determine your target market and therefore you should think about the most appropriate socials and check if they are covered.
6. Community
Having access to a great community could be worth the price of the course costs alone. Course creators that take pride in their work will be in their communities constantly trying to drive engagement and keep the creative juices flowing.
Authority Hacker has a fantastic and active community – find out more about it in our Authority Hacker Review.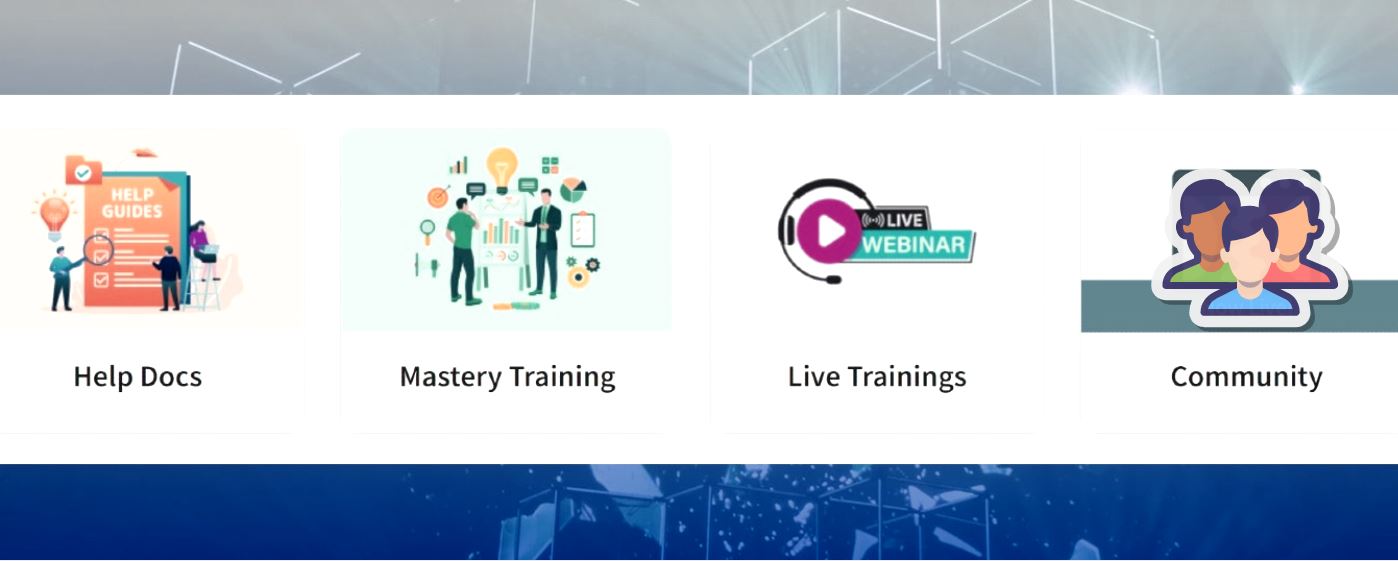 Some things to consider when choosing an affiliate marketing course are:
Do the experts help out? (and are they really experts) or is it a bunch of pretenders claiming to be experts?
Do the course creators, coaches and presenters interact regularly?
One sure sign of a bad course (apart from bad reviews and complaints) is no engagement in the community.
Best Affiliate Marketing Training Courses - Rated by Hustle Life
7. Continued Development Options
It's a good idea and a testament to the quality of the course as well as the experience and success of the course creators if there are follow on courses.
As you gain more experience you will want to progress and grow your affiliate marketing business. To do this you will need to continue to apply current learnings in what is an ever-evolving industry.
As an example, Authority Hacker has TASS (The Authority Site System) followed by Authority Hacker Pro and then they even have AH Pro Platinum for the people who are wanting to stay at the top of their game.
8. Support
Finally, if there is no support on offer (and no real community) then what are you going to fall back on when you hit a roadblock?
It's always advisable to have access to some form of support for those times when things just aren't working out.
Maybe you will find you want to bounce your own new and innovative ideas off someone whose been there and done it. Many course providers will offer one on one coaching with either the course creators or expert advisors. Keep in mind this is always at an additional cost, normally not cheap but if you don't want to expose your idea to a community group then this may be the best solution.
Final Thoughts
A course is a terrific way to go whether you're just starting out or have been chugging along for a while and want to get to the next level.
Keep in mind that your budget, site /niche and learning needs are unique to you. So, make sure the course you pick covers at least the above topics. Ultimately do yourself a favor and find a course with content that will steer your ship in the direction you want to head.
We hope this has been helpful and wish you the best of luck in finding the best affiliate marketing course for you!