After eight years of helping entrepreneurs and business owners grow their companies and expand their customer base, ClickFunnels has announced the planned release of Clickfunnels 2.0, the brand-new marketing platform for building and automating sales funnels.
Except now, the CF team claims you can do so much more than just build funnels.
They're referring to the upgraded functionalities as "superpowers". And today, we will discuss what those superpowers are and how they benefit your business.
In this sneak peek review, you can learn more about:
What's New in the ClickFunnels 2.0?
Is ClickFunnels 2.0 Going to be Faster?
But first, let's answer the question:
What is ClickFunnels 2.0?
Clickfunnels has been around for a while now, and it's arguably one of the best and most popular sales funnel builders in the digital marketing landscape.
Since its launch in 2014, Clickfunnels has collected a significant following, boasting over 104k users and over 9.4m funnels built. Stats apart, it is a successful, widely utilized platform among digital marketers.
But, if it's so successful, why release a second version? The answer is simple. The original ClickFunnels was released eight years ago, and while it was a unique and novel software, ClickFunnels competitors are now catching up and are offering similar solutions.
The company has also been busy collating user feedback and known frustrations to create an entirely different platform to meet its customers' needs and demands in the current digital commerce environment.
So, Clickfunnels 2.0 was born. A new platform.
An exciting new era in funnel building begins, and we're here to put it under the microscope.

Clickfunnels 2.0 What's New?
Clickfunnels 2.0 is designed to do everything its predecessor does and more. See our comparison article ClickFunnels 2.0 Vs. ClickFunnels 1.0.
The new software is packed with features that create a faster and more adaptive platform. But, here is our pick of the Top 10 New ClickFunnels 2.0 Features that we're most excited about:
1. The Funnel Hub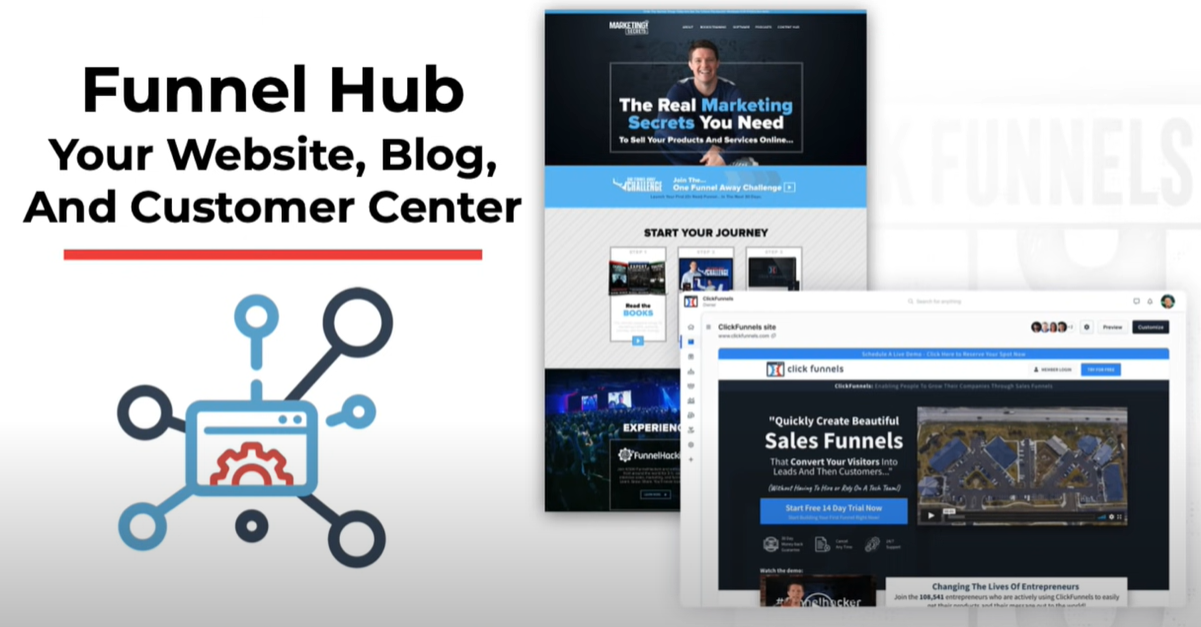 This is where you can run your entire web presence. Instead of the dashboard, we are familiar with in the older version, version 2.0 will sport the Funnel Hub as its control panel.
 The Funnel Hub is a big leap forward for many ClickFunnels users because it now means that the platform will act more like a website than individual landing pages.
2. Team Collaboration and Simultaneous Page Editing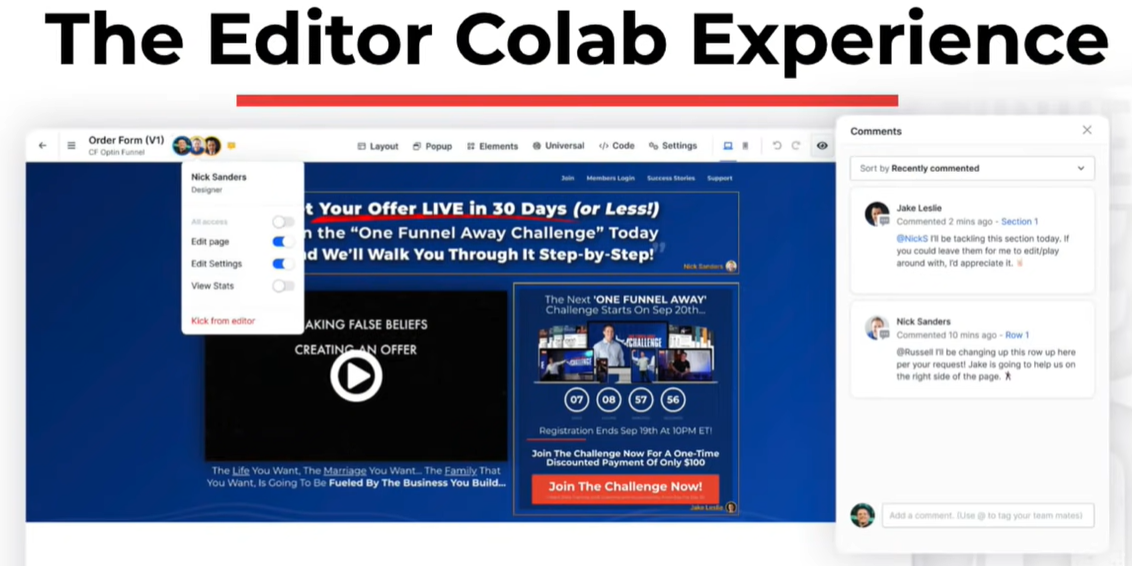 With ClickFunnels Page Editor 2.0, there is the introduction of Simultaneous Page Editing. If you've ever used a cloud-based office suite (think Google Docs), you would know how much value it packs.
The new version means your team can develop a single page in real-time AT THE SAME TIME! The result? Faster, more efficient funnel building!
Team Collaboration also makes it easy to control user access levels for easier outsourcing or for managing a large team.
Try ClickFunnels 2.0 Today - No Risk Free Trial
3. Theme Pages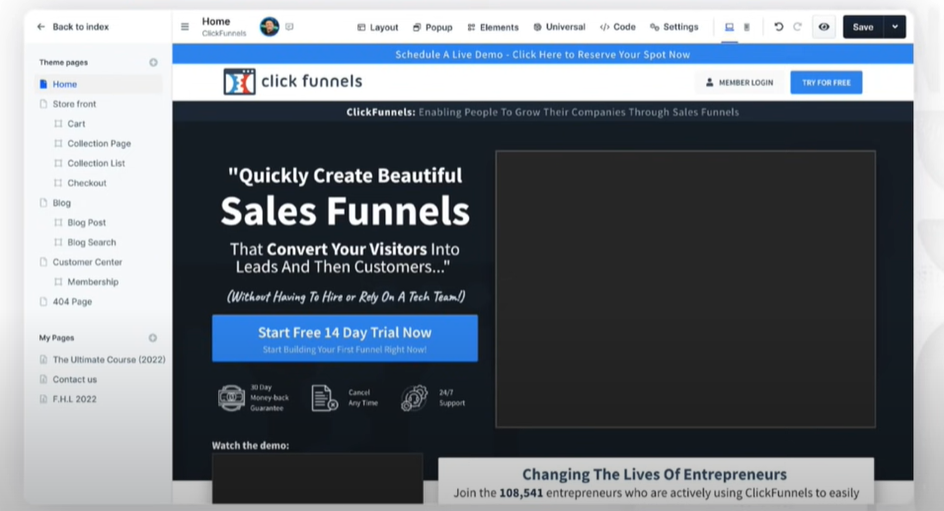 Instead of having isolated pages and separate funnels, you can create an entire site that is uniform in style and has a set theme across all pages and funnels.
Using the ClickFunnels Editor, you can customize the style that flows through your entire site.
4. Universal Elements
We seriously can't wait to start using the all-new universal elements feature in Clickfunnels 2.0. If you're building funnels using version 1.0, I bet you can relate.
Currently, you have to design every element that is going to be on a particular page. With this feature, however, you only need to tag an element as "Universal" and you can reuse it as many times as you like across your entire site.

5. Global Products
This feature allows you to create a product once and then sell it across all your sales funnels. Change or make updates to Global Products, and they get automatically replicated everywhere within ClickFunnels!
6. Smart Funnel Builder
On Clickfunnels 2.0, you still have access to all the funnel templates in version 1.0 and many more functions that can help streamline your funnel creation process.
Suppose you can't build a custom funnel from the ground up all by yourself. In that case, you can leverage a conversion funnel template from Clickfunnels' library to create a completely automated sales funnel. A study by Harvard Business Review reported that well-designed sales funnels are 62% more likely to close better deals. So your funnel design matters!
For more info on the importance of funnels, read our comprehensive article on "what is a sales funnel?"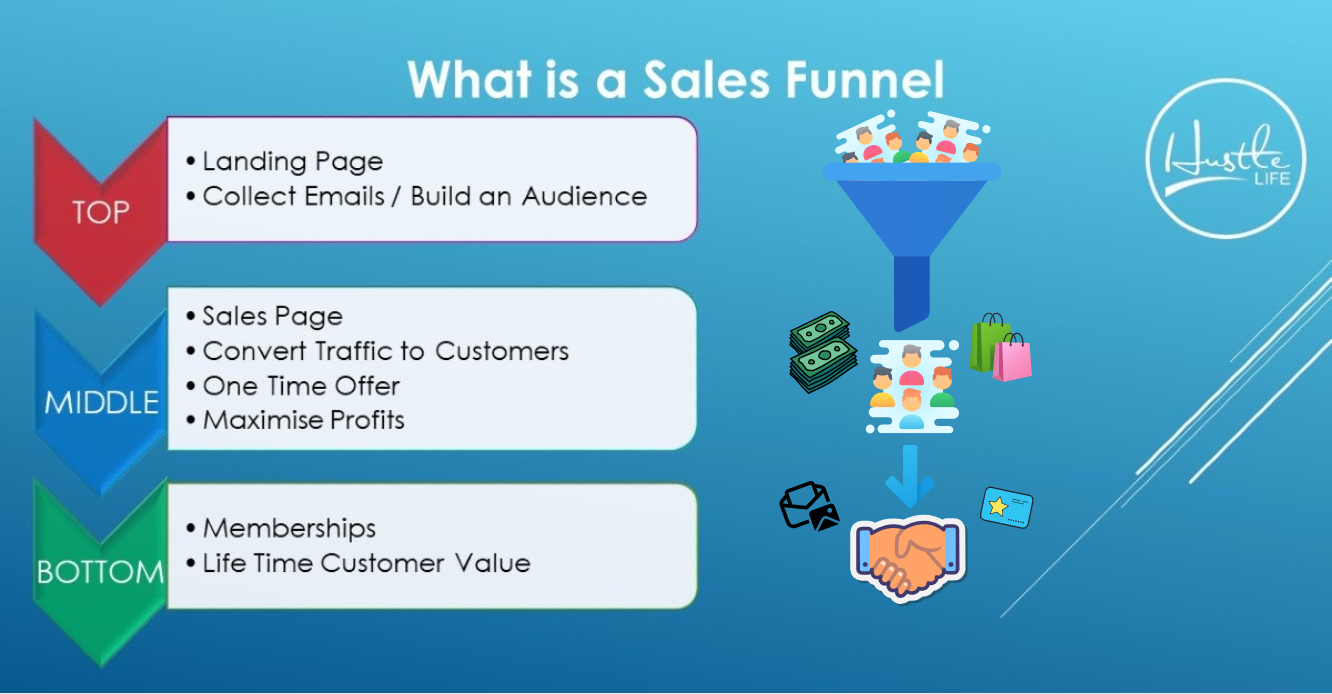 With Smart Funnel Builder and Followup Funnels 2.0, you can create more dynamic funnels to customize customer journeys to suit 'types' of customers. Meaning that two different customers can experience two different funnel flows based on advanced preset logic and conditions.

7. eCommerce Site Builder
ClickFunnels 2.0 now has an eCommerce site builder that lets you build a completely functioning eCommerce store with Global Products, Cart Funnels, and member log-in capabilities similar to what you can do with Shopify or BigCommerce.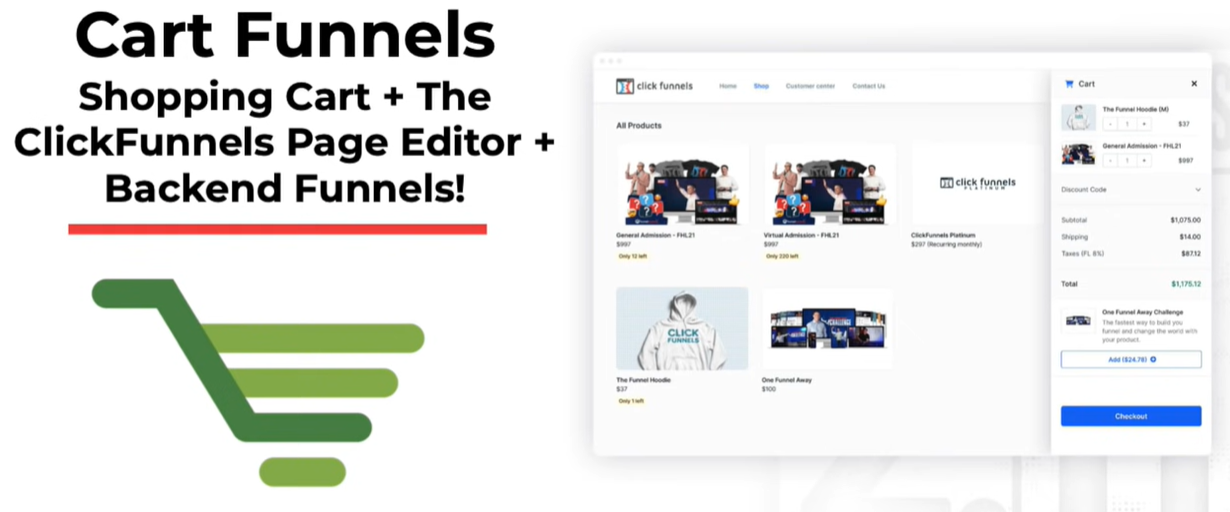 This is a big deal for some people because they can literally host everything on ClickFunnels. With one ClickFunnels 2.0 subscription, users can run a successful eCommerce store. No need for additional plug-ins and apps.
Given that the average Shopify store has six additional plug-ins (apps), this could also translate into a significant cost saving.
8. Real-Time Analytics
Analytics 2.0 also comes with a brand-new real-time Funnel Stats dashboard to keep you up to speed on the performance of your funnels.
You can view key performance indicators (KPIs) like total page views, total options, total orders, conversion rate, etc. You can choose which of your funnels you want to view reports for, and you can also choose the time frame of the data displayed.
9. Blog Builder
Want to get organic traffic? The ClickFunnels 2.0 now includes Your Blog as a blog builder so you can generate great content that drives more traffic to your site.
Before now, users had to host their blogs on other platforms like WordPress. But now, you will be able to create, edit, and publish posts right on your Funnel Hub.
10. Visual Automation Builder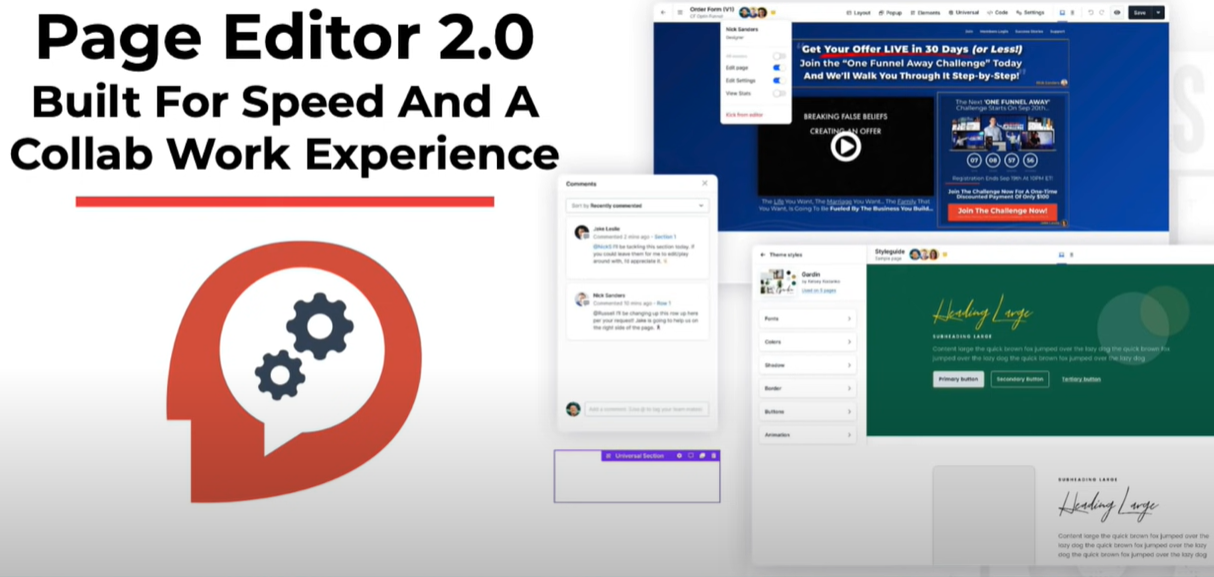 The new software allows users to simultaneously view both your funnel flow AND the individual page while making edits.
As a business owner and digital marketer, I really appreciate anything that speeds up my workflow and helps to create efficiencies. So, for example, you can see the email marketing automation flow on your screen in one panel while you're editing your page in a different panel. This makes funnel building even more streamlined and intuitive.

Other Clickfunnels 2.0 Features
Clickfunnels 2.0 is loaded with so many features that we can't list them all here. And while we're most excited by the ones above, there are still a few other mention-worthy features:
CRM Funnel: With the new interface, you can use Clickfunnels CRM to build, manage, and track your entire sales pipeline. These tools include contact management, email marketing, customer support, customer segmentation, and others to help with your customer retention strategy.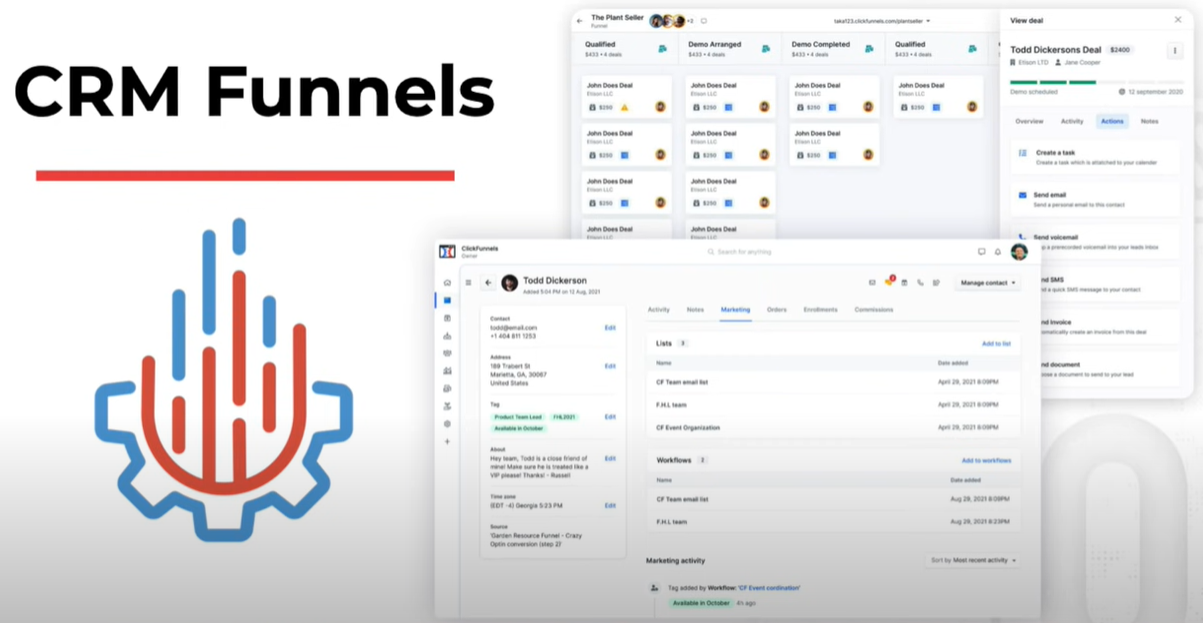 Membership Site 2.0: The original membership site was a little basic. The new version allows you to build, manage, and grow a membership site entirely on Clickfunnels.
Customer Center: This is where everything related to your customers is accessed. You can see all your customer history as well as individual customers data.
Try ClickFunnels 2.0 Today - No Risk Free Trial
Is Clickfunnels 2.0 Faster?
The company claims that the new version loads faster than any other funnel builder on the market.
They say seeing is believing. So, at the ClickFunnels Funnel Hacking Live 2021 event, Russell Brunson and Todd Dickerson impressed us with a live speed test with their direct competitors. They showed off some pretty awesome page load results.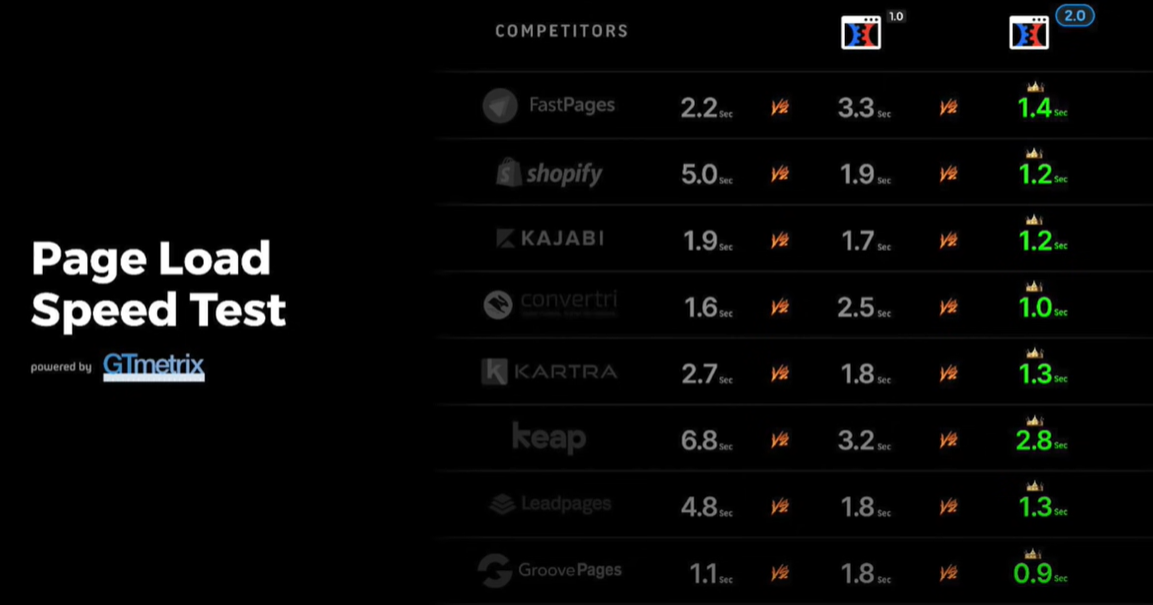 As much as we're excited about this, we will have to wait till Clickfunnels 2.0 is out to confirm.
Learn more about the difference between ClickFunnels 2.0 & 1.0
When will ClickFunnels 2.0 be Released?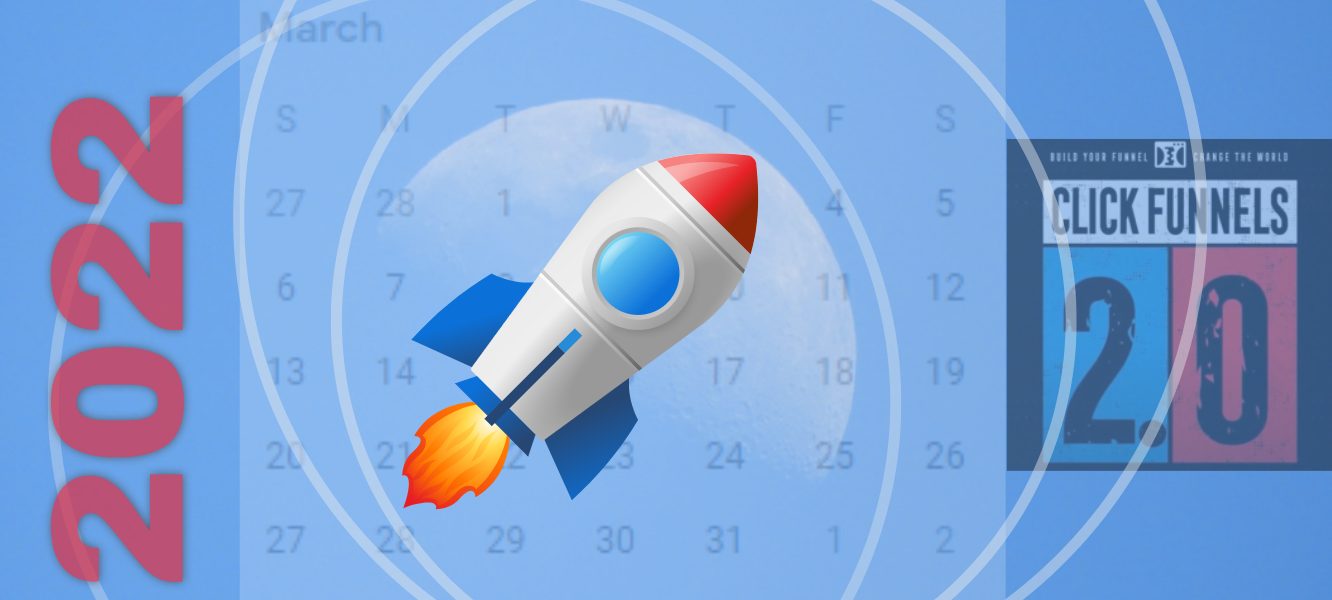 At this point, it's anyone's guess as to the actual release date.
We officially heard about ClickFunnels 2.0 at the Funnel Hacking Live 2021 event. Russell Brunson and Todd Dickerson announced a beta release for January 2022 and set the official launch date of ClickFunnels 2.0 for March 2022. We're still waiting in anticipation!