Standard Clickfunnels Price
Full Clickfunnels Etison Suite + Bonuses
ClickFunnels is great software that I personally use on a weekly basis. You can see my full Clickfunnels Review here.
The software gives you a bunch of functions all in one place and makes them seamless to use. Think Apple circa Steve Jobs.
Included with ClickFunnels pricing, you get to have a sales funnel builder, email automation software, shopping cart builder, and affiliate management system all in one place for 297 per month.
ClickFunnels came into the internet marketing industry in 2014 and has successfully changed the old way of marketing.
How Much Is ClickFunnels pricing per month?
ClickFunnels pricing has recently changed in 2019. Funnel Hacks is not longer available. It was replaced with the Funnel Builder Secrets program:
Clickfunnels Pricing Standard – $97 per month
Clickfunnels Pricing Platinum – $297 per month
Funnel Builder Secrets – $1997 6 month
Funnel Builder Secrets Full Year – $2997 a year
The basic ClickFunnels pricing plan is called
Startup
which costs
$97 per month
and and the upgraded pricing plan is now called
Clickfunnels Platinum
which costs
$297 per month
. The difference between these pricing plans are the number of landing pages, custom domains, and sales funnels allocated each month and includes email marketing software called Actionetics and the Backpack programs which allows you to recruit and pay affiliates users. New in 2019 for Clickfunnels Platinum is
Funnel Flix
which is like Netflix, but is a complete suite for business owners! Click here to get a
Clickfunnels 14-day Free Trial
(credit card required)
Clickfunnels Suite Pricing Table
Here is a detailed list of what's included in the Clickfunnels suite pricing offer per month: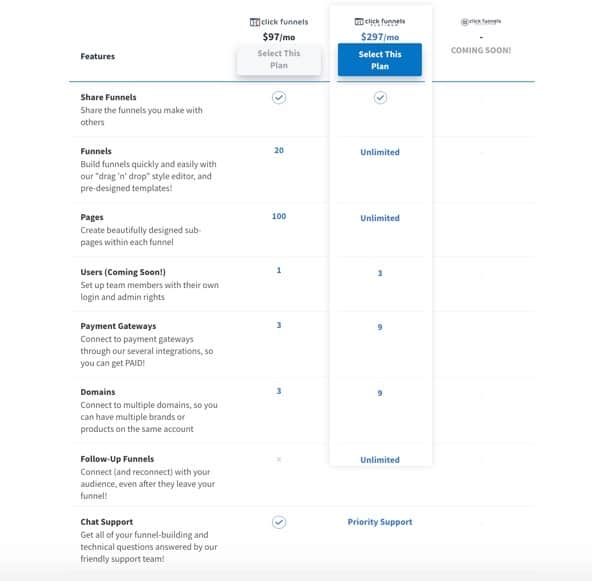 Clickfunnels Discounted $19 Plan
The only way to get the Clickfunnels suite for discounted pricing is through it's $19 per month Sharefunnel plan.
This is a little know way to get a taste of Clickfunnels without paying the full price.
Obviously a lot of the features are not included in this pricing plan, but you do get to use it and test it out past the 14 day trial period.
It great funnel that can help you get started, you will be able to customize it as you see fit. You just won't be able to add any other funnels to your account.
December 15, 2019 Update: Unfortunately, due to the recent Clickfunnels pricing update, Clickfunnel's $19 month plan is no longer available.
Want to get Clickfunnels Suite for Free?
If your looking to get Clickfunnels for free, there is only one way of doing it: by joining the Clickfunnels affiliate program.
How does the affiliate program benefit me ?
Simple, you sign up as a Clickfunnels affiliate and you can get Clickfunnels to send you money for using their product.
All you need to do is sign up and send three users to the affiliate program and once complete you will earn more than your money back and get the Clickfunnels suite for free each month.
ClickFunnels Startup Pricing Plan for $97 per month
On this pricing plan, you'll get access to the following features each month:
20 Funnels per month
100 Landing Pages
20,000 Unique Visitors
3 Custom Domains
Unlimited Leads/Contacts
A/B Split Testing
Email Autoresponder Integrations (allows email integration to third-party systems such as MailChimp, GetResponse, ActiveCampaign, Salesforce, and Drip)
14-Day Free Trial
ClickFunnels Etison Suite Pricing Plan for $297 per month
You'll get the following features if you subscribe to the ClickFunnels Etison Suite:
Unlimited Funnels per month
Unlimited Landing Pages
3 Custom Domains
Unlimited Unique Visitors
Unlimited Leads per month
A/B Split Testing
Email Autoresponder Integrations (allows email integration to third-party systems such as MailChimp, GetResponse, ActiveCampaign, Salesforce, and Drip)
Chat Support
14-Day Free Trial
ClickFunnels Etison Suite comes with two other tools: Actionetics and BackPack
Actionetics is an email marketing suite that allows you to interact and share with all your leads and buyers and send emails directly from your dashboard. It gives you the ability to do a lot within a sales funnel system.
Here are some of the features Actionetics provides:
Contact List Segmentation
Unique Social Contact Profiles (CF will import all of your contacts' social profiles into one dashboard for you.)
ActionScore Lead Scoring (RFMS)
Advance Email List Autoresponder Sequences
Text Message Step Building
Actionetics Email Broadcasts
Complete CRM
Marketing Automation Sequences
Action-Based Email Sequencing
Collect and Manage Subscribers
Customer Email List Performance Tracking
Lead Scoring
Advanced Drag & Drop Email Editor
Send Mobile Responsive Emails
BackPack is an affiliate sales management system that helps you track the stages of your customer deals and leads.
The suite gives you total control over your very own affiliate program. If you have an offer to send, you can share it with more users by paying affiliate users great commissions to share and also track customer conversions properly with BackPack all in the ClickFunnels platform.
Here are the features you get with Backpack:
Complete Affiliate Tracking
Multiple Tier Commissions
Pay CPA or Percent
Tracks Customer Impressions, Clicks, and Conversions
Unlimited Business Affiliates
Affiliate Clicks/Month
"In Editor" Customizable Affiliate Area
Instant Tracking
ClickFunnels 10X Funnel Builder Secrets Pricing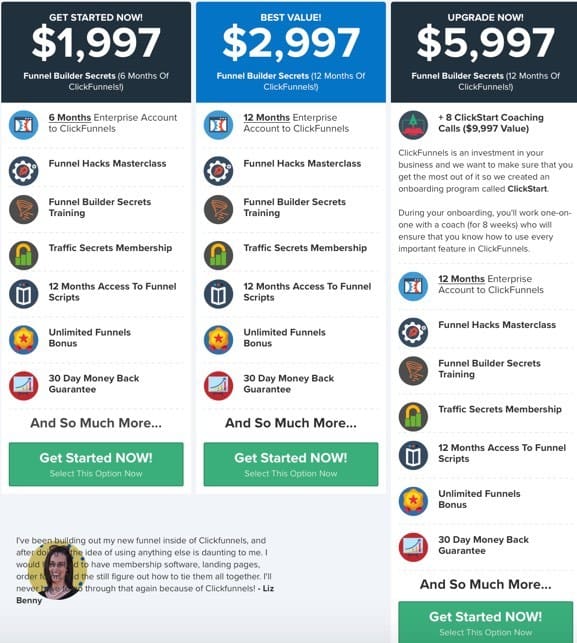 So ClickFunnels suite pricing for Startup is $97 per month and the Etison Suite is $297 per month.
However, there is a better deal than that.
Russell Brunson (co-founder of ClickFunnels) has a cool package where he offers to send you a crazy, incredible offer on ClickFunnels suite pricing called the 10X Funnel Builder Secrets.
The 10X Funnel Builder Secrets contains a training program on funnel hacking and funnel building, and it also comes with a FREE 1-YEAR UNLIMITED ACCESS to the ClickFunnels Etison suite (usually $297 per month) and a lot more amazing bonuses for only $2,997.
This means no monthly payment for the ClickFunnels suite once you get this super-amazing deal.
For only $2,997, you will not only get 12 months FREE of ClickFunnels Full Etison Suite (which would cost you $3,564 if you chose to buy ClickFunnels monthly) but Richard will also send you lots of other amazing bonuses and benefits.
The 10X Funnel Builder Secrets comes with the following:
12-Months Full Etison Suite ClickFunnels Account [Value: $3,564]
Usually, the ClickFunnels Full Etison Suite account costs $297 per month; however, when you purchase 10X Funnel Builder Secrets, you buy a 12-month subscription for only $2,997.
Funnel Hacks MasterClass [Value: $2,997]
The Funnel Hacks Master Class is a six-week training course, which covers training in how to get inside people's funnels, how to review which share funnels are working, how much money share funnels are making, where you find people to funnel hack, and answers all of your questions.
Funnel Builder Secrets
This course provides training in all the technical information you need to know before setting out to build a funnel. Inside the training, you learn about opt-in funnels, sales funnels, webinar funnels, auto-webinar funnels, product launch funnels, membership sites, customer experience, and more.
Traffic Secrets [Value: $1,997]
This training course covers everything you need to know (up to 125 ways) about acquiring traffic through various channels and driving it to your funnels. Also, you'll learn about effective marketing and traffic channels such as SEO, social media, affiliate marketing, and much more.
Funnel Scripts [Value: $497]
Funnel Scripts is a software program created by ClickFunnels that literally writes all your sales copy for you. You can use it to write and review your headlines and ads, or send emails, webinar slides, and more in under ten minutes.
10X BONUS: ClickFunnels Unlimited Account
Normally, a ClickFunnels account allows you to create only about 70 funnels with the Etison Suite; however, if you purchase the 10X Funnel Builder Secrets, you'll be given the ClickFunnels Unlimited Account as a bonus.
With this account, you can create unlimited funnels and experience unlimited traffic coming into your sales funnels.
10X BONUS: ClickStart Coaching
Russell Brunson will give you a coach who will lead you by the hand, give you priority support, and help you get started in growing your business.
To sign up for the 10X Funnel Builder Secrets, click on the banner below to get access to the special pricing.
How to Get ClickFunnels 14-Day FREE Trial
More great news:
If you're looking to try your hands on the ClickFunnels software and explore the amazing features the funnel builder provides, the software creators are giving you a 14-day FREE trial!
This means you'll be able to experience the software risk-free for 14 days. If for some reason, you don't enjoy the service and you decide later that you don't want to continue, you'll be able to cancel your account without any charge accrued to you before the expiration of your 14-day FREE trial.
You have to fill in your credit card details when registering, but you won't get charged until your 14-day trial is complete.
Want to Get the ClickFunnels 14-Day FREE Trial Offer?
Click on the button below, pick what subscription plan you want, and you're ready to go!

The ClickFunnels suite is an online Sales Funnel Builder that comes with a drag-and-drop interface and highly converting sales funnels templates making it easy for you to create sales funnels to share for selling your products and services easily.
The software makes it easy to create different kinds of funnels: Sales funnels, Squeeze Page funnels, Opt-in/Lead Capture funnels, Membership Site funnels, Product Launch funnels, Automated Webinar funnels and more.
With the ClickFunnels suite, you can create a sales funnel that includes a sales page and various landing pages which lets you sell a product, generate live business leads, or have a webinar.
Better still, you don't need to know a single line of code to create a beautiful business landing page.
Everything is already done for you on the platform. You just tweak it to get your desired result and start sharing.
The software comes with 22 amazing, highly converting sales funnel templates you can edit for your own use.
ClickFunnels doesn't stop at providing nice-looking funnels. It also handles your marketing automation and affiliate management system by offering you add-on tools (Actionetics and BackPack) to assist you perfectly. You can also use custom domains.
This amazing company was founded in 2014 by Todd Dickerson and Russell Brunson (author of popular online books like Expert Secrets and DotCom Secrets). Over the years, ClickFunnels has helped thousands of entrepreneurs build and establish their businesses online.
The software is currently used by 65,000+ users to build all sorts of highly converting sales funnels.
The most interesting part about using ClickFunnels is that you don't need any experience in coding a website or anything technical.
Other popular landing page services which are alternatives to ClickFunnels, such as LeadPages and Unbounce, only create landing pages.
They don't have any payment processing tools, shopping carts, membership site tools, or even webinar capabilities.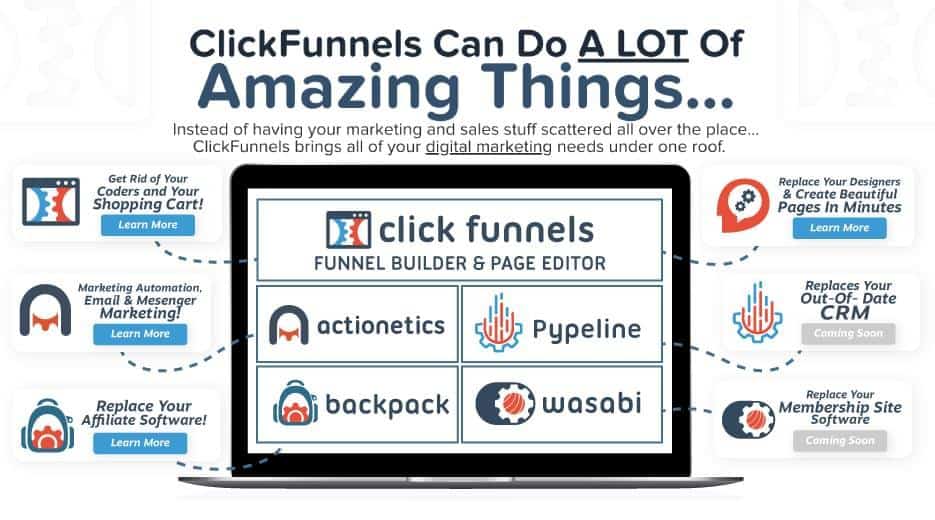 To sell a product or service on the internet, you had to buy a website domain, buy hosting, connect your website domain to your hosting, set up your website, buy landing page builder, buy an auto-responder, connect your autoresponder to the landing page, and buy tracking software from about 10+ different services.
Here is a breakdown of the cost of various tools you'd employ in selling a product or service on the internet:
Website Hosting ($150+/m)
Landing Page Software ($97/m)
Email Autoresponder Software ($500+/m)
Split Testing Software ($197/m)
Affiliate Tracking Software ($497/m)
Hire Programmers ($80k+/ yr)
Hire Designers ($50k+/ yr)
Plus More Softwares…
ClickFunnels helps you save more money by giving you an all-in-one tool that provides a Website Hosting Platform, Landing Page Builder, Email Autoresponder Software, Split Testing Software, Affiliate Management System and even more.
A lot of folks have been put off by the high price of the software suite without doing proper research on some other favorable deals in ClickFunnels pricing.
There are lots of other pricing packages for the ClickFunnels suite aside from the conventional StartUp $97 per month and Full Etison Suite $297 per month (which comes with Actionetics and BackPack.) This post will reveal the features of the ClickFunnels software, review every ClickFunnels pricing plan, and also help you get the best deal on your purchase.
Top 8 Reasons Clickfunnels Is Worth The Cost
#1: The software is arguably the best and most popular tool in funnel building and online marketing. If you want to create a funnel easily, ClickFunnels is your go-to tool.
#2: It has a drag-and-drop user interface which allows you to drag page elements to the canvas and create elegant landing pages to make up a sales funnel without playing around with a chunk of codes. That's cool, right? It's a reasonable option if you don't have the knack for excessive coding and computer programming.
#3: The software comes with many pre-built funnels ready for customization. You can either use one of the 22 free funnels or purchase one in the ClickFunnels marketplace and use on your custom domains.
#4: Create a funnel and sell your product in less than twenty minutes with the software. Since ClickFunnels is an all-in-one platform, you don't need to waste money buying other marketing tools like web hosting, email marketing tool, or landing page builder.
#5: ClickFunnel Etison Suite comes with an email automation tool called Actionetics and an affiliate management system known as BackPack. Actionetics was created to perfectly replace your email autoresponder software by offering top-notch business email marketing automation services without paying extra cost to third-party services. BackPack helps you handle the affiliate program for your product. It helps you smoothly track conversions from your affiliates.
#6: There is an online community of ClickFunnels users known as Funnel Hackers on Facebook. The official ClickFunnels Facebook group currently has over 190k Funnel Hackers and is a great place to share relevant and valuable tips and business strategies on funnel building and online marketing. Additionally, there is another group which consists of ClickFunnels affiliates called the ClickFunnels Avengers. This is also a great place for you to visit especially if you're interested in promoting the software as an affiliate.
#7: Speaking of affiliates, ClickFunnels offers one of the best affiliate programs in the internet marketing industry. They pay 40% recurring commissions for getting referrals registered on the software. If you're interested in making money with affiliate marketing as a side hustle, ClickFunnels has a high-paying affiliate program on which you can rely.
#8: Aside from getting the 40% recurring commission (for the lifetime of the referred user) , ClickFunnels also has a dream car contest in which the software company pays you a $500 monthly stipend for your dream car for every month you refer up to 100 ClickFunnels subscribers. They also pay a $1,000 monthly stipend for your dream car for every month you refer 200 ClickFunnels subscribers.
Conclusion: How do you get the best deal on ClickFunnels?
Before I let you know the best deal from the various ClickFunnels pricing plans I've highlighted above, you need to be sure you really need the software before opting for it.
To further clear your doubts and help you make an informed decision more quickly, here is a detailed review of ClickFunnels which I wrote and updated recently. I discuss the Funnel Builder and highlight its features, pros and cons, and how it compares to its alternatives. Check it out.
Once you've seen that ClickFunnels is a great fit and necessity for your business, you can try the 14-day free trial to get some hands-on experience with the software.
Once you've started the 14-day trial, Russell will take you by the hand and show you how to build a funnel easily via a series of video tutorials.
Good news: if you can watch the four mid-length tutorial videos to the end, you'll get the Funnel Builder Secrets Lite Course, Perfect Email Funnel Template, and ClickFunnel Funnel Hacker T-Shirt all for FREE!
If you're satisfied with the excellence the software delivers, I'd recommend you subscribe to the 10X Funnel Builder Secrets which gives you 12 months of ClickFunnels Etison Suite for only $2,997 along with the training and other mouth-watering bonuses coming from Russell Brunson himself.
With the 12-month account of ClickFunnels you'll get:
The six-week Funnel Hacks Masterclass…
The Funnel Builder Secrets course…
Lifetime access to Traffic Secrets…
12 months' Access to Funnel Scripts.
A Total Value Of $11,552!
Plus, you get the two 10X bonuses (ClickFunnels Unlimited Account & ClickStart Coaching). All For just $2,997.
That's the best deal on ClickFunnels suite pricing, and it will save you lots of money you can use to invest in getting traffic to your funnels.
However, if you just want to try it out for a shorter period of time, you could go with the monthly $97 subscription plan for ClickFunnels Startup plan or the monthly $297 subscription plan for ClickFunnels Etison Suite plan.
So which ClickFunnels Pricing Plan are you going to stick with?
Let me know in the comment box below!
Note: I am an independent user of ClickFunnels, not an employee. The opinions and results expressed here are my own and are not official statements of ClickFunnels or its parent company, Etison LLC. This article also contains affiliate links.