This article is a comparison of ClickFunnels 1.0 Vs ClickFunnels 2.0. We'll look at the main differences and how the new version stacks up against the original platform.
If you're not familiar with ClickFunnels and want the low-down then check out our comprehensive Clickfunnels Review.
We looked at 'What is ClickFunnels 2.0' in our previous article: ClickFunnels 2.0 What's New? Feel free to look at that article if you want the lowdown on our pick of the top 10 features in ClickFunnels 2.0.
The features list is a great way to familiarize yourself with the new software capabilities. But in this article, we're more interested in HOW ClickFunnels 2.0 can make a difference to your digital business.
How Can ClickFunnels 2.0 Help Your Business?
Better User Interface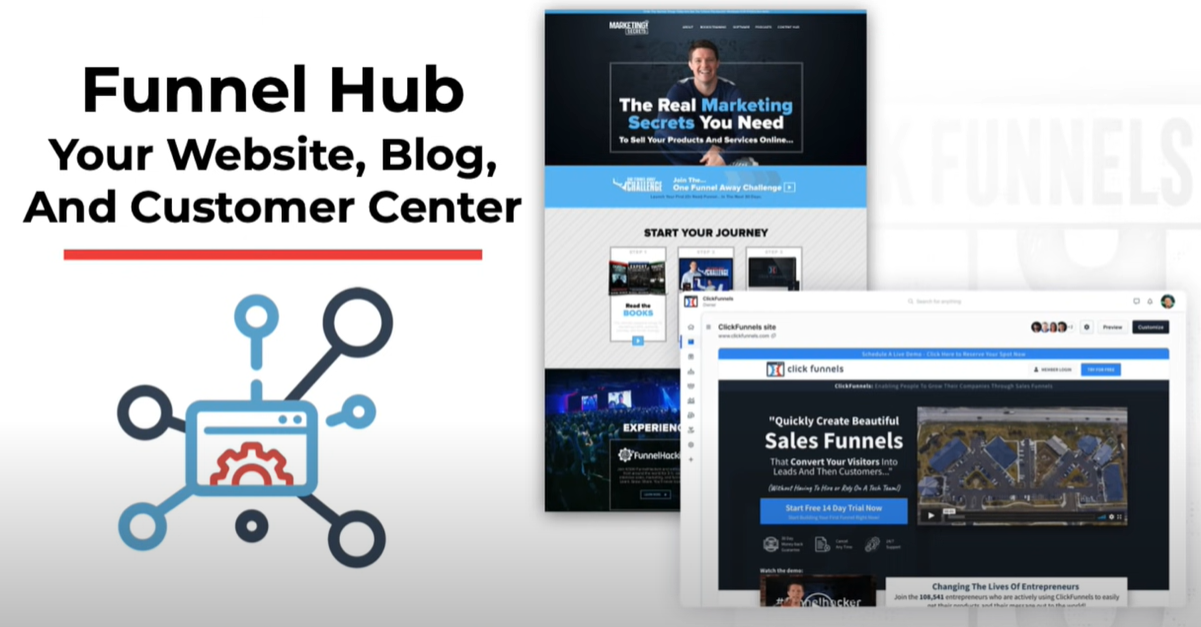 With ClickFunnels 2.0, we have access to The Funnel Hub, which pulls together your entire site into one centralized dashboard. It's your go-to for access to EVERYTHING.
The ClickFunnels 1.0 dashboard is a set of pages organized into funnels. In ClickFunnels 2.0, your funnels will be organized more like a website, with hub access to your home page, blog, products, cart, funnels, customer center, and more.
The CF team also used this concept in The Visual Automation Builder. This feature is crazy good, allowing you to simultaneously view both your funnel flow AND the individual page while making edits. This split-screen view makes funnel building even more streamlined and intuitive.

Ability to Create an eCommerce Store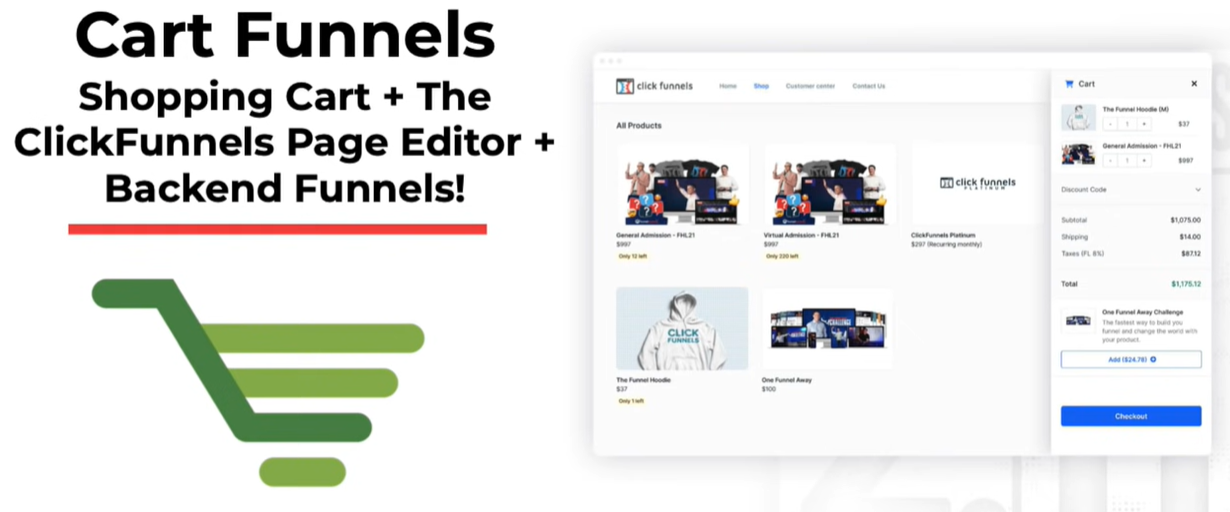 The original ClickFunnels was never designed to host an entire eCommerce store. More often than not, users have to interface ClickFunnels with Shopify, BigCommerce, or one of the other eCommerce platforms. Now, you can literally host everything on ClickFunnels without needing an additional website and eliminate the headache of reconciling two sales platforms!
This is made possible through the new eCommerce Site Builder and Cart Funnels feature. Anything that has been possible inside of BigCommerce or Shopify will now be possible inside of ClickFunnels.
The developers also claim that with one ClickFunnels 2.0 subscription, users will save a ton of money on plugins and additional apps necessary to run a successful store on BigCommerce or Shopify.
Multi-User Team Collaboration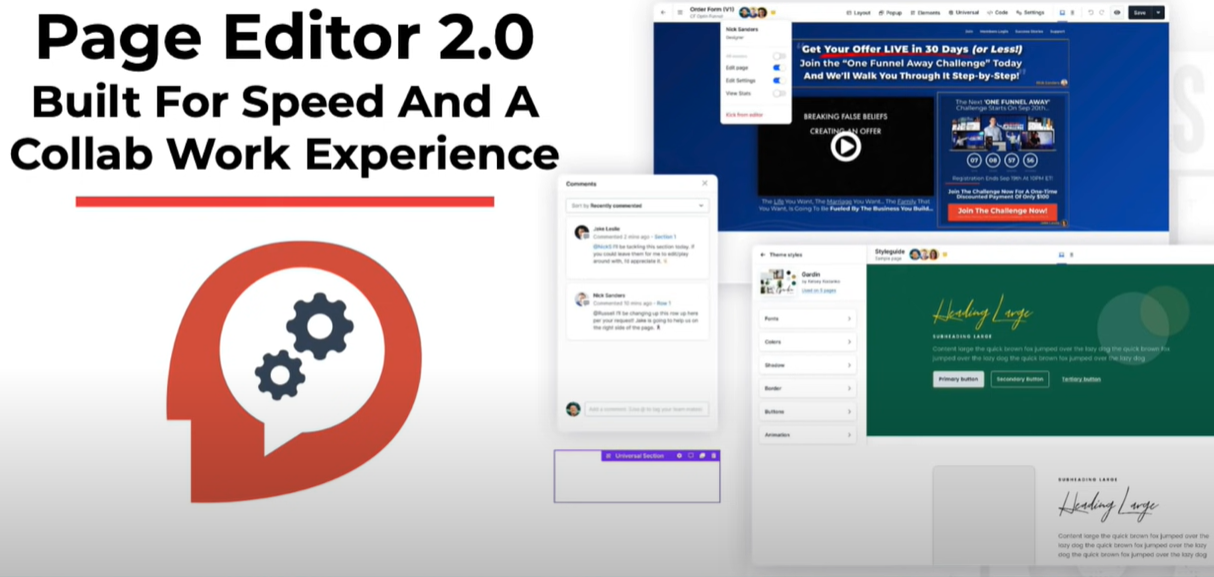 Much like how Google Suite allows multiple users to edit a single document or sheet simultaneously, the new Clickfunnels 2.0 will be hosted in the same way.
With Simultaneous Page Editing, there's no more taking turns to do edits or having other users stuff up your work! It also enables users to outsource without the worry of handing over full access rights to a third party. This multi-user workspace is a game-changer for larger teams! Saving time and creating efficiencies.
Creating a Styled and Uniform Site
The platform will allow you to create themes, elements, and pages that can be replicated across your funnels. This is a much-needed update for large sites or users with multiple pages and funnels.
In ClickFunnels 1.0, if you want to build a funnel with 15 different pages, you have to design your header 15 times, your footer 15 times, etc.
This new global and universal functionality in version 2.0 means you can replicate elements to save time and create a more consistent look and feel across your site.

Faster Load Speed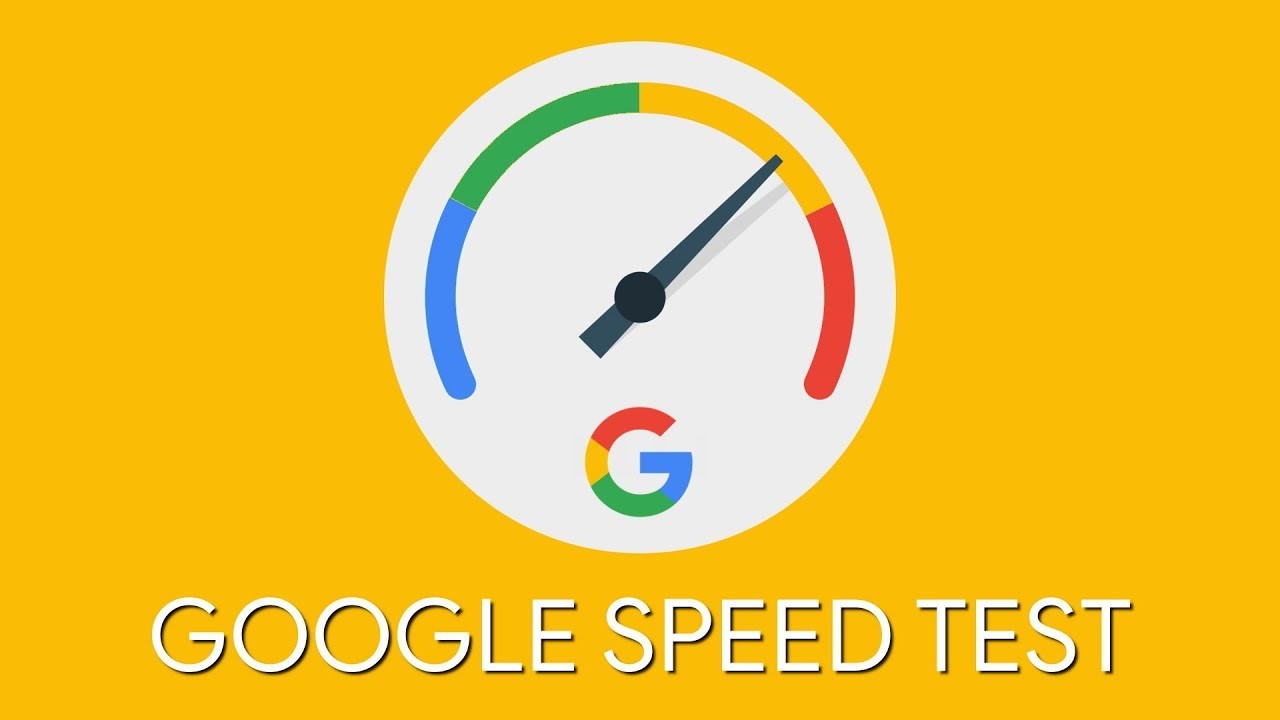 One of the many things ClickFunnels' users complained about was the page load speed. Building and rendering pages using ClickFunnels 1.0 have become slower as the software developers added more functionality!
The ClickFunnels2.0 developers haven't stripped away functionality to solve the problem; instead, they're doing this in a bunch of intelligent ways:
Using Content Delivery Networks
Rendering pages on 40 different servers at any one time
Resize, optimize, and compress images in real-time
Higher Sales Conversions
The CRM functionality of ClickFunnels 1.0 has evolved over time but has always had shortcomings compared to dedicated CRM software. The new CRM is a more thoughtful feature to improve your customer retention strategy. The new Customer Centre will also give you full access to a customer's entire history so you can manage and have complete oversight of your relationship with them. 
With the introduction of Smart Funnel Builder, you can also create dynamic funnels that customize a customer journey based on preset conditions. This adaptive journey provides the customer with better alternatives and you with more opportunities for sales. E.g., Customer 1 already bought product X previously, so the next time they come to our site, they are offered product Y instead.
Try ClickFunnels 2.0 Today - Free Trial
Better SEO and Google Ranking
ClickFunnels 2.0 is set to load content faster than any other funnel builder on the market. Customers will experience better response time and an overall better UX.
But even more importantly, since Google is a speed junkie, it will reward sites with a better search engine ranking.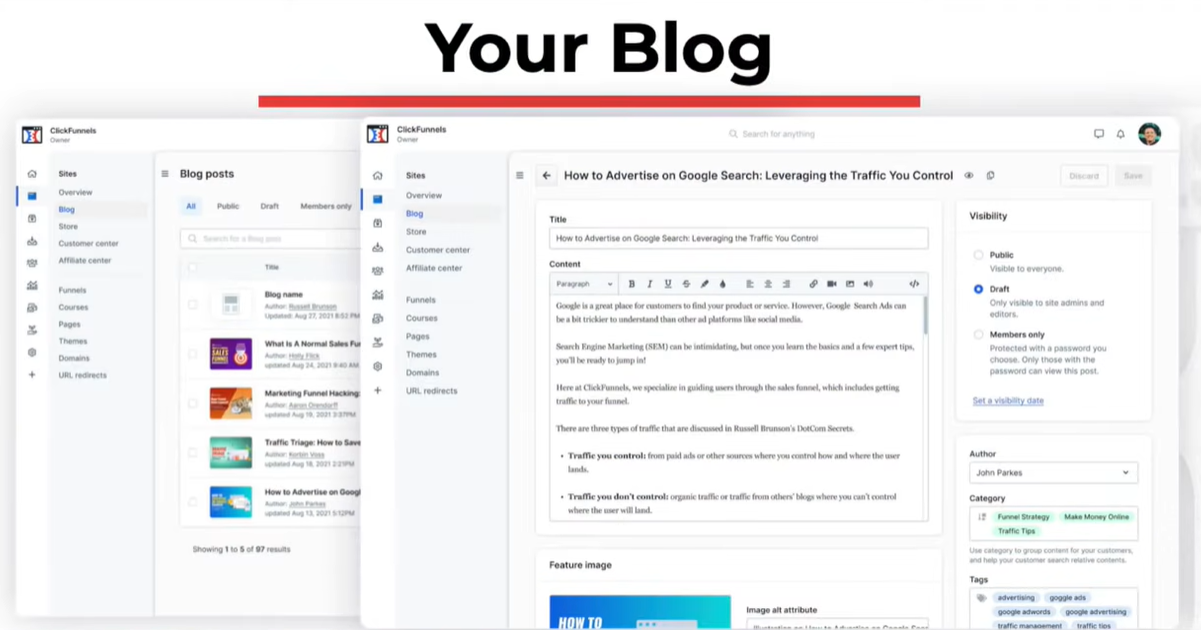 Want to add great content to your sites? Then ClickFunnels 2.0 now includes Your Blog as a blog builder. This is a low-cost and proven effective tactic to get ranked better with more organic traffic.
Grow Your Memberships and Secure Your Content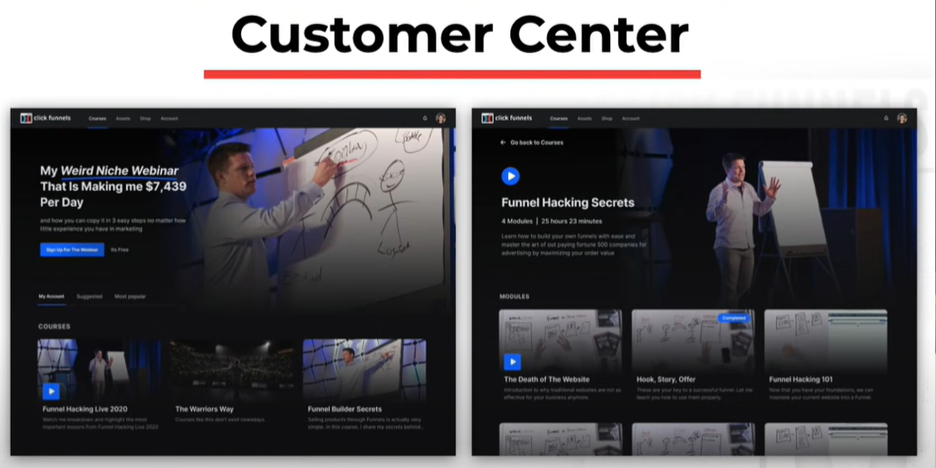 The original membership site functions well for basic membership offerings, but one of the significant issues is that users need to host videos on other platforms to secure their content.
Now with Membership Site 2.0, you can host, optimize, and secure video and course content all within the platform and provide members with a best-in-class experience.

Should you upgrade to ClickFunnels 2.0?
Undoubtedly, the developers have packed a punch when it comes to new features. 100% YES, we expect Clickfunnels 2.0 features to be better compared to Clickfunnels 1.0.
But that doesn't necessarily mean ClickFunnels 2.0 is the best option for everyone. Don't allow yourself to get distracted by shiny new objects. Think about your business needs and consider how satisfied you are with your current platform.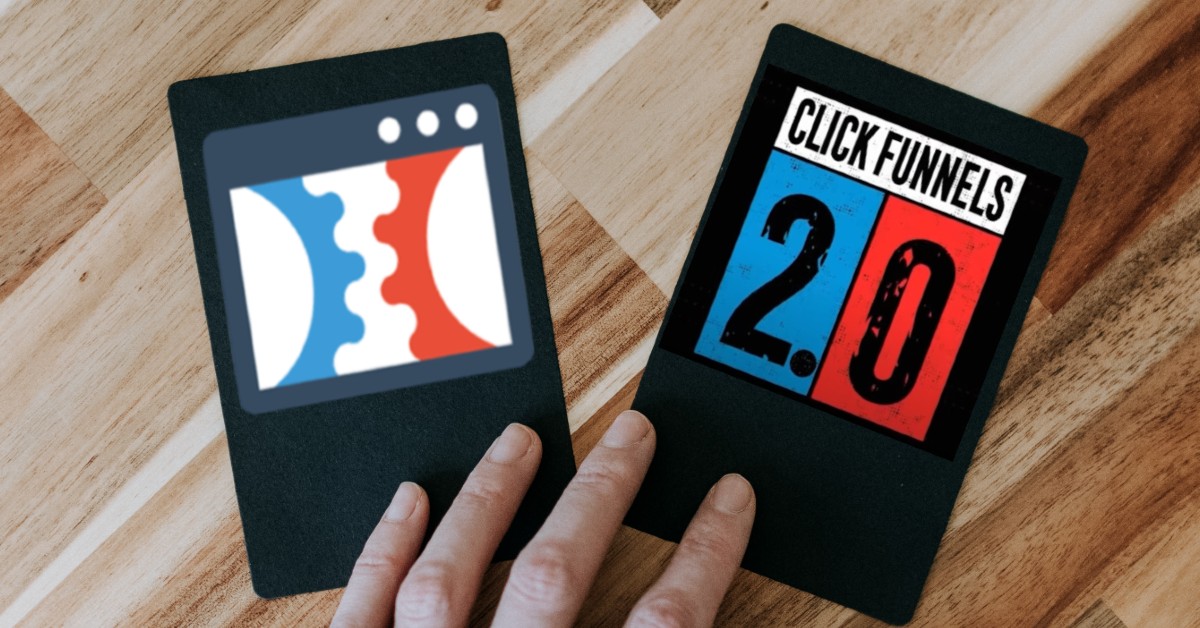 Reasons to choose an upgrade to ClickFunnels 2.0:
The new platform is likely to be a better option for large-scale eCommerce or digital businesses.
If you need more speed on your site, the upgrade is set to improve page load time.
If you have a team or need to outsource your site.
If you want to create a Membership Site.
If you have a digital business offering courses or video content that needs to be secured
ClickFunnels 1.0 is still one of the best sales funnel builders, so there are still plenty of reasons to stay with the original platform:
If you're running your business on the current platform and you're happy with how it's functioning
If you don't have a large eCommerce store
If you don't have a digital business with data-heavy content that you want to share with your members
If or you're not a ferocious blogger
Try ClickFunnels 2.0 Today - Free Trial
Is Clickfunnels 2.0 Better than ClickFunnels 1.0?
It's obvious, right? ClickFunnels just took things to the next level by adding virtually every single feature its users have requested and even more.
The new platform makes building, managing, and growing a conversion funnel easier and faster. The plethora of tools gives you the ability to edit pages alongside your team members, share and restrict access to different users in your account, view customized analytics, design universal elements, and so much more.
Even more exciting, though, are the user efficiencies and site speed. In an online world where speed is everything, then that alone is a big win!
So that's our comparison of ClickFunnels 1.0 Vs ClickFunnels 2.0. Will everyone be satisfied with the new platform? Well, we'll find out when it gets released.