One of the most frustrating things about buying expired domains is all the time it takes to sift through thousands of domains just to find a single decent one. I know because I have gone through the process many, many times myself!
Old school – Finding domains, going into the Wayback Machine and checking each and every year, making sure they have decent links, checking out the links, looking at anchor text - it's way too much work when you know your time can be spent focusing on more important things like creating quality content and outreach.
It was like searching for a needle in a haystack over and over and over again!
Next, I used services like DomCop and ExpiredDomains.net. They saved so much time compared to the manual process I was used to. Finally, you were able to see all the expired domains in one place along with some basic metrics.
This alone saved a ton of time and DomCop included things like Ahrefs metrics which meant you were able to get a good overall look at the types of domains you were buying. (Ahrefs no longer provide them with data).
Then along came Spamzilla which took the whole process to the next level, automating the entire background check for each domain. Millions of domains were available and analyzed almost instantly! Now you are able to quickly narrow down the highest quality domains for the best price. That's what Spamzilla claims to do, so if you want to know more keep reading my Spamzilla review to find out if it actually performs as advertised.
If you don't have time, then the short answer is YES! In my opinion, as an experienced domain hunter gatherer Spamzilla does a great job of analyzing domains and identifying potential issues while saving you a ton of time.
However like most pieces of software, it is not 100% perfect, and you still need to do some checks of your own to ensure that the domain isn't spammed. We'll go through some of these shortly.
If you want to learn more, keep reading!
Try Spamzilla Today
What is Spamzilla?
Spamzilla is a cloud-based application that scrapes various auction domain and expired domain lists and analyzes each domain using its own proprietary algorithms to weed out any that have been abused or misused in the past.
Ultimately you should end up with a clean, high-value, authoritative domain to use to give you a flying start on a new site or to gain extra traction and drive more traffic to your existing site.
They start the process by scraping over 350,000 Pending Delete, Expired, Auction, and Closeout domains every day!
Spamzilla is currently accessing domains from the following sources:
GoDaddy
NameJet - Auctions
SnapNames
Dynadot
Namesilo
Sedo
Over 60 Country Code TLDs are supported allowing you to find the most suitable domain for your location and application.
Then, using Ahrefs, Majestic SEO, MOZ, and Semrush API's they collect all the data points necessary to provide a measurable score for each domain.
Next, each expired domain is run in Archive.org's Wayback machine and Screenshots.com to assist in seeing if the domains may have been used as PBN's (Public / Private Blog Network) or some other sort of spam site in the past.
The best domains are selected for automated spam checking by using their algorithms and millions of data points.
Spamzilla then comes out with a "Spamzilla score" of 1 to 100. 1 being super clean, 100 being definitely spammed (more on this below).
Not surprisingly, the majority of domains score above 30. However, now that we've come this far and have the ability to filter through tons of domains efficiently we are able to narrow down our search for that clean domain with powerful backlinks!
How to Find a Powerful Expired Domain - (the Short Version)
It's simple - Start with Spamzilla!
Set your backlink filters
Search for high authority backlinks (links to the domain from reputable sites and sources)
Apply your authority type filter parameters
Finally, whatever domains remain - filter to your specific SEO requirements
Sounds easy? Well, let's find out. I'll go into more detail on each step and the product features below.

How much does Spamzilla Cost?
Spamzilla
comes in two different versions - Free & Standard.
Free Plan - Well that's obvious $0
In the free version, you will are only able to review 25 domains a month. You do not get access to the full domain list that is available in the paid version or any other useful features.
Spamzilla Standard Subscription - $37 Per Month. For this, you get FULL ACCESS to all of Spamzillas features.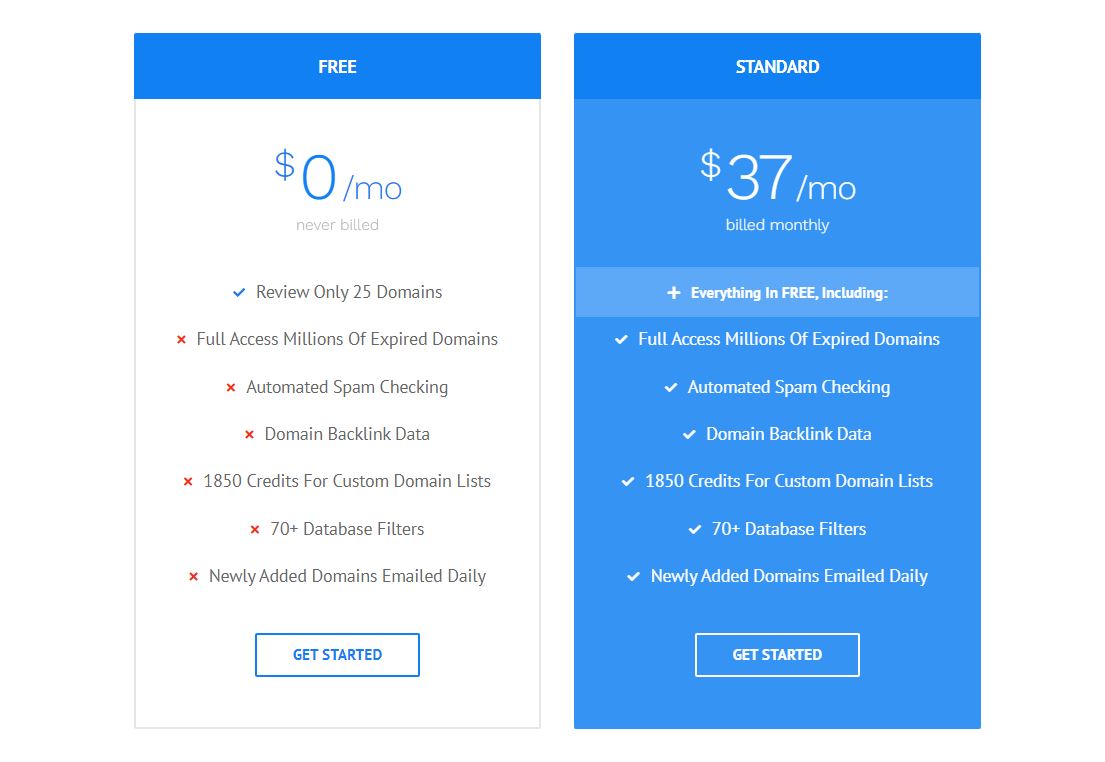 Try Spamzilla Today
On top of this, the Standard version of Spamzilla has a database of expired domains that are constantly being updated every day.
The paid version allows you to analyze up to 1850 domains a month, and if you need to analyze more you can always buy additional credits.
A Look Inside Spamzilla
Firstly, What is a Good Spamzilla Score?
In my experience, a "safe" Spamzilla score is definitely 20 and below. You can filter to whatever Spamzilla Score you want however I recommend between 1-20 and almost always set my default filter to that.
Please be warned, however, there have been times where I have spotted a domain that was obviously spammed with a score of less than 20. Also in fairness, I have also seen domains that possibly look a little average, but are overall clean that have a score of above 20.
Try Spamzilla Today
Main Spamzilla Features
Backlinks Miner
If you're going to go to the effort of buying an expired domain you obviously want it to have quality authority backlinks.
As the name suggests Spamzilla will crawl through 100+ backlinks per domain and provide you with the necessary analysis to find high-quality powerful backlinks. As every situation is unique you need to decide the appropriate quality of backlink and then spend the time finding the right fit.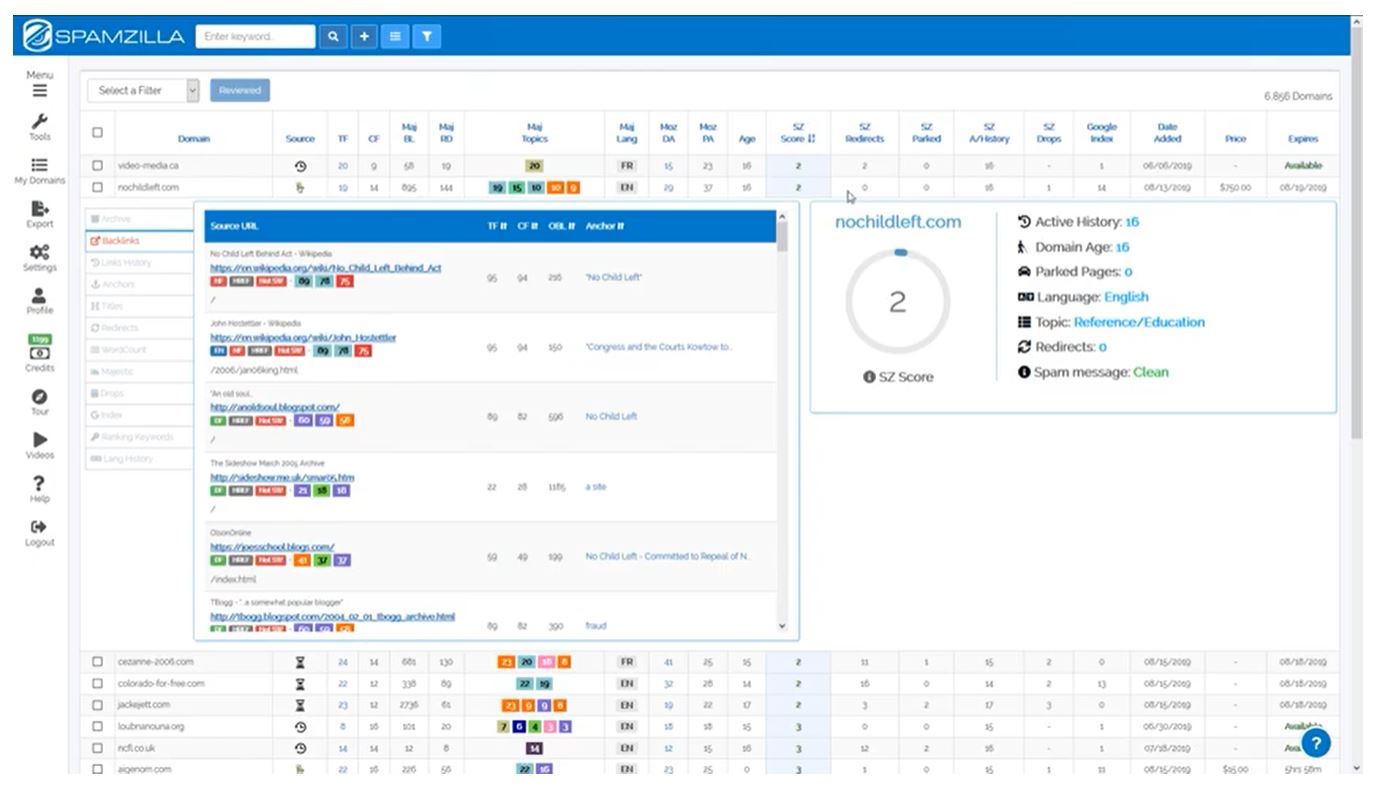 This tool is invaluable, as we all know there is a lot of SEO value in quality backlinks.
From the list of backlinks, you can quickly visit the sites they originate from to establish their relevance and quality. Some will lead you to very obvious spam sites and this is a great early warning sign to stay away and move on.
The Backlinks Miner will also provide the following information on each domain:
Anchor Language
Anchor Text used
Whether the link is Do/No Follow
Site DR
Page UR
List of outbound links
Expired Domain Spam Detection
Spamzilla's powerful automatic spam checking feature (essentially a proprietary algorithm) gives you the confidence to select an expired domain name that will prove to be a valuable SEO tool to help increase the authority of your site.
By analyzing backlink data, historical site-specific data, and numerous other data points Spamzilla paints an immediate picture of the quality of an expired domain.
You can go ahead and purchase more confidently knowing the expired domain is spam-free.
This is also where the Spamzilla Score is generated. The score is derived from analysis of the following data:
Backlink History – assessing quality, DR, etc of the link origin
Anchor Text – looking at quality, repetition of use
Redirects - excessive redirects can be a potential red flag for abuse
Domain Age – a variable factor depending on a combination of other data results
Active History - Using Archive.org to see how many times the domain has been registered
Try Spamzilla Today
Advanced Filters
Probably the most important feature that Spamzilla has to offer is SZ Filters! This is where you customize your search.
There are over 70 different data filters from 5 different sources for you to choose from. Now to some people that may sound over the top, but, this is where you ultimately find what you are looking for, so at this point...spend the time! What you put in is what you will get out in return.
It's a great that you can choose to filter data via Ahrefs, or Moz etc. as you may already be used to a particular provider's data metrics.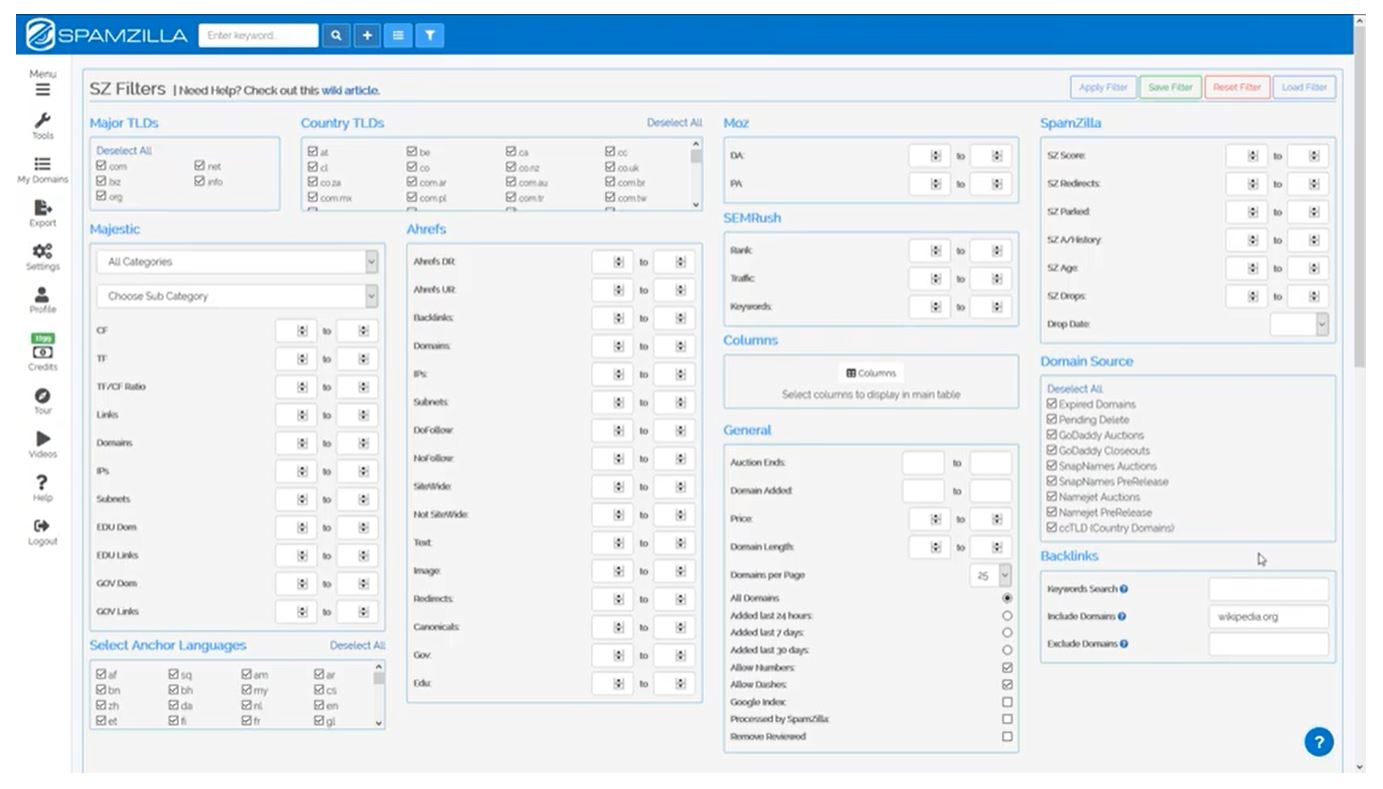 There is way too much here to go over but there is plenty of onsite help and the videos are good. Just take the tour, learn and you will benefit.
You can create custom filters and save them for next time. All filtered information is exportable giving you the flexibility to manipulate the data even further...if you're that way inclined!
Additional SEO Tools
Before you spend any money on an expired domain or at auction there as a few SEO tools that will help you complete your research.
Domain Availability Checker - now this might seem obvious but no point trying to buy something if it isn't for sale!
Private Domains - You can even check your own personal list of domains with Spamzill as expired domain tools.
Registrar Comparison - Check domain name pricing between registrars.
Wayback Exporter - This tool allows you to easily and quickly download an entire site in HTML.

A Quick Spamzilla Tutorial
The Spamzilla interface can seem a bit overwhelming at first, but it is actually very easy to use and intuitive after you spend some time with it.
When you first open Spamzilla you will see a database as above. Before we start, here is a quick breakdown of what the main columns mean:
Domain: The website name that is available to buy.
Source: The source where you can buy the domain, can be an expired domain - available to pick up anywhere, or an auction domain that needs to be purchased from a specific auction website.
TF: Majestic's Trust Flow is a good metric to look at to see the "Trustworthiness" of a website, the higher the number the better.
CF: Majestic's Citation Flow, you want the TF and CF to be in a similar ratio - if the CF is higher than the TF it is likely to be spam.
Maj BL: Majestic's Back Links, usually the more backlinks a site has the better the domain authority. However, sometimes too many domain backlinks may mean the domain has been spammed. For example, if a backlink does not come from a site with reasonably high domain authority and is not relevant to your site in any way then there may be no SEO value to be gained.
Maj RD: Majestic's Referring Domains, again the more referring domains the better. An unrealistic amount can sometimes indicate spam.
Maj Topics: Majestic's Topics - a good quick way to see what niche a domain to find topically relevant domains. This is awesome if used in conjunction with Maj BL. You can't get a more powerful expired domain than one with both; a relevant topic AND quality authority links.
Site Lang: Main language the backlinks are in.
Moz DA: Moz's Domain Authority - the most popular metric used to determine overall domain strength, however, domain rating can be easily manipulated.
Moz DA: Moz's Page Authority - how powerful the main page of the domain is. Similar to Ahref's UR metric
Age: Age of the domain from the time it was first registered. However, keep in mind it could have been dropped at any point or not active during that time.
SZ Score: The money metric, this is Spamzilla's spam score, the lower the better!
Try Spamzilla Today
Opening Up the Filter
The first thing you want to do is hit the filter button at the top. This will bring up the page where you can sort the millions of available domains.
There are a lot of filtering options so I won't go through each metric here, but I will give you some basic starter recommendations for both domain types.
Expired Domains
If you want to find a good quality expired domain it is best to set your filter parameters low. When starting off, I would keep it simple and set the following filters:
TF: 2
DR: 10
SZ Score: 0 to 20
Start from here and then experiment with what works for you as you begin finding expired domains. But, as I said earlier, spend some time here and make it customized to your need - you'll end up saving a lot of time going forward.
Tip: Even though Spamzilla does a good job filtering domains, I would recommend you still take a good second look at the results as sometimes they could still be spammed. That means looking closely at domain snapshots and running the domain in ahrefs to see if it was ranking for junk keywords e.g. "Nike air max shoes" (totally unrelated to the site).
Auction Domains
If you're willing to spend a bit of money, you can set your sights a bit higher here. These are the filters I use:
TF: 2
DR: 20
Auction Ends: Current day or One day in Advance
Pro Tip: If you are bidding on auction domains, it is best not to bid on them too early. This causes the price to rise quickly just like at a house auction. The pros wait until the last 5 minutes to bid on domains, this keeps competition low and allows you to sometimes swoop in and grab domains at a super cheap price.
Weekends seem to have less competition also.
How To Screen Domains with Spamzilla
Now that you have whittled down the list of domains to ones that have some link juice and aren't completely spammed you are going to want to do your due diligence and take a deeper look at the domains.
To do this you're going to want to click on the Spamzilla score:
Here it brings up an awesome overview of the Wayback machine's history. This seriously beats going through each year and it saves a ton of time and is the most important feature in screening for powerful domains.
Be sure to go through each screenshot, because one small screenshot can mean the difference between a good domain and a bad one.
You can also easily view the domain's backlinks, redirects, and even the domain's historical word count and it was ever a dropped domain. Each one of these views can provide you with insight as to whether the domain was used as a PBN, spam, or is exactly what you're after.
Check out my video for more tips on how to use Spamzilla and how to buy auction domains cheap.
How does Spamzilla compare to Domcop
Domcop was a great piece of software when it first came out. It was one of the first ways to filter expired and auction domains by using Majestic and Ahrefs.
The only problem with Domcop was that these were the only features that came with the service and functionality was limited. You still had to manually filter out each expired domain by hand.
Domcop vs Spamzilla Pricing
Domcop is definitely not a cheap service. It is available on 3 different price plans:
Newbie Plan - $540 / year
Power Plan - $816 / year
Guru Plan - $1,416 / year
Paying annually used to get you a 40% discount, however, there are no monthly subscriptions available anymore.
Spamzilla on the other hand only has one price point: $37 / month and it comes with all the above-mentioned Spamzilla screening software and functionality, which saves you a whole lot of time when buying domains.