"In an industry known for scammers and fake guru's, Mark Webster and Gael Breton stand out as some of the good guys in a dirty space."
So when they announced that they were going to release a course just based on white hat link building, I was very excited.
Black Friday Update: If you're interested in Shotgun Skyscraper, be sure to get it NOW! It closes again on Monday, December 2, 2019 and it is 25% off! All you have to do is click on any of the links on this page and when you click on the order page the 25% off code will be applied automatically.
So what is Shotgun Skyscraper?
Shotgun Skyscraper is Authority Hacker's newest course that is based on a link building technique that they have been working on consistently and perfecting it for over 4 years.
It also happens to be one of the most effective link building technique they use to get a lot of links to their sites.
Now if you have taken any of Authority Hacker's previous course, you know that they teach a whole bunch of different link building techniques including the Shotgun Skyscraper method
It involves using Mailshake + Hunter.io + G-Suite  + Ahrefs to mine outreach prospects and following up with them to link to a high-quality article on your site. It is essentially Authority Hacker's take on the Skyscraper method taught by Brian Dean.
Here is a good Podcast that explains some of the methods taught in Shotgun Skyscraper, along with some additional goodies:
However, there is a lot more to Shotgun Skyscraper method than what's in that Podcast or what's taught in The Authority Site System.
What Inside of Authority Hacker's Shotgun Skyscraper Course?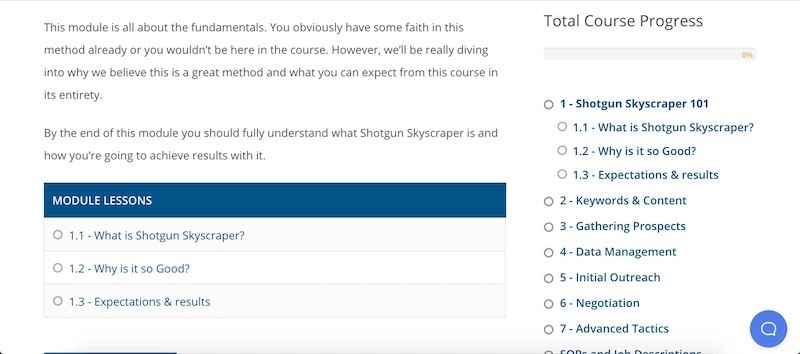 Shotgun Skyscraper is a masterclass on white hat link building. Mark and Gael use this approach as their bread and butter for getting links to their websites, so if you're into affiliate or local SEO your going to want to know how to get guest posts cheaply and effectively.
Using the Shotgun Skyscraper technique you do not pay for any links. The only costs you incur are from ongoing software costs and the money you spend building high-quality content to your site.
Shotgun Skyscraper has a massive amount of videos, about 40 at this point (with more to come) which is almost as much as the original Authority Site System course.
It also comes with Standard Operating Procedures (SOPs) and job ads, which makes outsourcing tedious link building tasks easy and will allow you to scale up as much as you want.
The guys at Authority Hacker have some custom software that helps automate the link building process even more. I haven't personally seen this, or even know what it is, but I look forward to seeing what it does.
Here is a list of everything you can expect to be in the course right now
SOPs to give to staff when your outsource it
Job ads to use to hire the staff you need
A software tool that automates a bunch of manual tasks and saves a huge amount of time
Pre-built templates and databases to run the process super efficiently
40 videos showing the exact process in our usual over the shoulder step-by-step style
10 advanced videos showing crazy tactics to scale it
Now let's take a look at each module and see exactly what you get in each one!
Module 1: Shotgun Skyscraper 101
This is the shortest part of the course, it just goes over what Shotgun Skyscraper is, why it's so good and sets realistic expectations with this technique.
This module kind of hypes you up and gets you excited for taking the rest of the course.
Module 2: Keywords & Content
This part for me was my favorite section. It really opens up your eyes on how you can rank for very competitive terms using Shotgun Skyscraper.
It also teaches you how to create content people want to link for, and why you shouldn't be afraid of going after difficult keywords.
Module 3: Gathering Prospects
In this part of the course, you learn how to get prospective websites that you can target and learn how you can get their emails easily. This is where your excel skills will come in handy.
And if you're like me and don't know an excel sheet from a google sheet, Mark does a good time of explaining it all.
Module 4: Data Management
Module 4 is where the course gets really geeky and talks about taking all the information you gathered from the previous module and organizing it in a way so that you don't shoot yourself in the foot.
This is the more advanced part of the course that separates noobie link builders (collecting emails, and blasting out thousands of email messages) from professional link builders (doing the same, but not pissing people off and getting your messages sent to their spam folder).
Organizing your outreach results is super important if you plan to scale your efforts, and you're going to need a good data management system in place.
Module 5: Initial Outreach
This is where the fun starts to pick up again. After making sure you have a system in place to organize your efforts, in this module you learn how to send out mass emails to your prospects in a safe way.
You will learn how to set up your first campaign, creating catchy email subjects and full email templates with follow-ups.
Now that you have sent out your emails, you will be getting responses. And in the real world, most of them will not gladly link out to your site willy-nilly.
In this module, Mark uses his years of link building experience to go over the most common objections website owners will have to give a link to your website.
Module 7: Advanced Tactics
In Module 7 you will be learning… you guessed it – advanced tactics! There is no overall theme to this section, but you get 12 different tactics you can use to improve your link building. From improving the deliverability of your emails, to different techniques to get more email addresses – there is even a section on using Shotgun Skyscraper for clients.
What's Shotgun Skyscraper's Price?
Of course, all of this sounds well and good, but what's the price?
Shotgun Skyscraper will retail for a one-time payment of $997. However, it will only be available for a limited time. And no, this isn't some fake scarcity ploy.
Authority Hacker is notorious for limited time launches, so Shotgun Skyscraper will only be available from Sunday 5th May to Monday 13th May.
After that don't expect the program to be available to purchase until next year.
Just like any good affiliate course, this one will come with a 30-day money back guarantee. So if you get it and are disappointed, you can get your money back easily as these guys aren't scumbags like some other people that sell shit unfinished courses…
How Much Will It Cost Per Month?
Sure the course itself will cost a one-time fee of $997, but how much will it cost per month to run the same setup they recommend?
Ahrefs costs $99 per month
Hunter.io costs $49-$99 per month
Mailshaker costs $29 per month
G Suit costs about $6 per month
This looks like quite a big monthly cost, and it is. But keep in mind good quality guest posts can cost you anywhere from $100 to $500. So just getting two or three links a month can more than pay for these costs.
Also if you are just starting out and these costs scare you a bit, keep in mind that Ahrefs comes with a 14-day free trial and you can get a lot of prospects out of Ahrefs in a months worth of work. So it's not necessary to keep it every month.
Shotgun Skyscraper is made for people who have taken The Authority Site System and are looking for a bulletproof way to build links to their site.
It is also meant for people that are just starting out with building affiliate sites and know that they have to treat as a regular business with monthly expenses.
Who is the course not for?
The course is not meant for people who are dabbling with affiliate marketing. This is a serious course that requires a decent investment and good organizational skills.
I also wouldn't suggest a complete newbie get this course. Ranking a new website in 2019 takes 4-6 months, so your time and effort are better spent on creating good content and going after long tail keywords and then going from there.
This course heavily uses excel, so if using spreadsheets annoys you, I wouldn't get this course.
What I Like About The Course
Link building is a skill, and it is one of the most important things you can learn for affiliate websites and it's something that you can apply to other things such as client SEO.
Heck, you could do what the guys at Authority Hacker did, and create an agency just for getting links to websites.
So the information you learn from the course is VERY valuable and it can help you speed up the learning curve for getting white hat links to your website.
Shotgun Skyscraper goes very in-depth into all aspects of link building; such as software setup, outreach templates, database management, and follow-up. It is pretty much years of experience wrapped up in about 40 videos.
The course itself is laid out beautifully and everything is explained in-depth (maybe a little too in-depth… see below). Mark Webster is the presenter and you can tell he is extremely knowledgeable in the subject and is a great presenter.
There is also the E-Mail Picker tool that can help you save hours of manual work that really adds a ton of value to the course.
What I Don't Like About The Course
Link building is kind of like running. You know you should do it, but it can be pretty boring. Shotgun Skyscraper involves a lot of spreadsheets and that sort of work is not for everyone.
So this isn't so much a knock on the course itself, it's just the nature of outreach.
One thing I feel the course is missing are some case studies. I feel like an over the shoulder view of different outreach campaigns would be helpful to people who have never done it before.
Also, I feel like more ground could be covered on the content creation side of Shotgun Skyscraper. The actual creation of the content was not covered fully in the videos, however, if you look at the SOP's you will see that there is a detailed outline that you can give to writers.
Another issue I have is that some of the videos tend to drag on. I feel like some videos don't get to the point as quickly as I would like and Mark talks rather slow.
Thankfully you can speed up the videos, I sped them up to 1.25x and I felt that was the perfect speed for me.
Is Shotgun Skyscraper Worth It?
After going through Shotgun Skyscraper, I can say that it is definitely worth the price – but it is NOT for everyone.
If you have a site up and running, and you need more links to get your site to rank, the Skyscraper Shotgun course is a great way to get links going to your website.
Or if you are a bit more grey hat, and you want a systematic way to get links then this is a great course to learn how to get links without paying for them.
Learning this skill and building a database of websites that link to your site can help you out greatly in the future because now you can use the same technique to rank other websites you own or clients you have.
Also if you sell your website down the road, now it's another valuable database that you can sell to a prospective buyer and that should greatly add to the multiple you can add your website.
Check out more in my review video: