Looking to become a Clickfunnels affiliate? This guide is designed to help you start making commissions even if you're starting from nothing…
Clickfunnels (CF) isn't just a regular page builder, it really has grown itself into a community built around a software program.
All you have to do is take a look at the Clickfunnel's affiliate facebook group (Clickfunnels Avengers) to see that people are passionate about the software, and also about making money from it.
Clickfunnel's recently announced that they will no long allow affiliates to bid on their keywords in Google Ads.
They also just announced to compensate affiliates for the change, they will be re-targetting all traffic sent by affiliates for FREE. This means that if you send a customer to CF, they will pay money on advertising for you to earn a commission!
Clickfunnels continues to be one of the best – if not THE best funnel building software out there and they have one of the most appealing affiliate programs around.
Whether you are new to affiliate marketing or a veteran, the Clickfunnels affiliate program is a great program to promote because it is actually useful and solves a real problem.
There can be quite a lot of money to be made, and there are thousands of people already making great money promoting Clickfunnels as an affiliate.
Also with the new changes that have been implemented, it has become even more lucrative to become a Clickfunnels affiliate.
They also have a program called What's Your Dream car? where they will pay an affiliates dream car (up to $500 USD) if they sign up 100 active users and pay up to $1000 USD if they sign up for 200 active users.
I know when I first joined CF I was excited about the actual program itself, but I didn't quite know how I could go about promoting it.
Clickfunnels has an affiliate boot camp guide, but its kind of outdated so here are some tips you can follow to help get people to click you affiliate link and get those juicy affiliate commissions!
Learn more about Clickfunnels Affiliate
How does Clickfunnels Affiliate Program Work?
The Clickfunnels affiliate program is one of the most generous commissions for a Service As A Service (SAAS) company. They pay 40% life-time affiliate commissions on all purchases.
They have two plans for $97 and $297 per month, plus tons of products to promote that range from $1 to $1000's of dollars.
They also have something called a "sticky cookie", which is a bonus to affiliates because if your share your link to a customer it follows them across all of their devices. This keeps people you refer attached to your affiliate account, no matter where they are.
Aside from their software, CF also comes up with new products all the time that you can also earn money on such as live events and training courses.
Is Clickfunnels Affiliate Program Free?
It is free to join the Clickfunnels affiliate program. Unlike other sales funnel affiliate programs, you don't even need to have an active Clickfunnels account.
All you need to do is sign up for a free account and you will be given your own affiliate link that you can use to promote Clickfunnels.
But perhaps the best way to become an affiliate is by taking the Clickfunnels Bootcamp training.
Can you make money with Clickfunnels as an Affiliate?
Clickfunnels currently has about 80,000+ active users according to Russel Brunson's latest figures.
So creating landing pages, or sales funnels is a huge, huge business.
Almost every business needs a landing page these days so there are many more potential user's out there who have not heard what Clickfunnels is, or have heard about it but are not sold on it yet.
As I will talk about more in-depth later on, there are many people online searching for keywords related to Clickfunnels that may be interested in it.
For example: the keyword "landing page" gets over 14,000 searches per month and the keyword "sales funnel" gets over 6000 searches per month.
So there is a lot of people searching for software that does exactly what CF does, and you can earn a lot of money referring people to CF.
Start Promoting Clickfunnels today!
DFY Clickfunnels Affiliate Keyword Research
Now let's take a look at Clickfunnel's keywords. These keywords can be a little more lucrative to affiliates as people who are searching for anything CF are lower in the sales funnel and therefore closer to a sale and more lucrative to you as an affiliate marketing.
Clickfunnels Related Keywords
To get an idea of the opportunity in this space, I collected 1000 of the most searched for Clickfunnels keywords.
This list was generated by SEMRush, and according to their data this is how to think about keyword difficulty:
"In general, you can group difficulty scores into 3 levels:
Above 80%: High Difficulty
In order to rank for a keyword with difficulty over 80%, you would need to invest in SEO and link building practices. If you are working with a brand new site, these keyword targets most likely would not be worth your time.
From 60%-80%: Medium Difficulty
Getting on the first page for keywords in this range won't be easy, but it is more realistic to target a keyword in this range compared to a keyword over 80%, especially if your website has some authority in your market.
Below 60%: Low Difficulty
These keywords are the easiest to rank for but the hardest to find. Keywords with difficulty below 60% that also have steady search volume represent your best opportunities for ranking your pages with SEO."
As you can see, there are certain keywords that will be difficult to rank for but many that won't take much links at all.
Sales Funnel Related Keywords
Ranking for Clickfunnels keywords isn't the only way you can promote Clickfunnels.
Here is a list of keywords that are related to CF. These are keywords that people who might be interested in Clickfunnels are searching every month.
So if you could get a CF offer in front of them, they would be much more interested in it than someone who is searching something unrelated like "thai restaurants near me"
As you can see some of these larger keywords are a little more difficult to rank, but there are many long tail keywords that are ripe for the taking with a well positioned niche site.
Business Related Keywords
Clickfunnels was made to help businesses get sales. So it isn't surprising there are wide variety of businesses that are looking to sell their products, gain customers and process payment.
Here is a list of different businesses that know what Clickfunnels is – so they are lower in the sales funnel – and are looking for someone to provide them value to get them to buy.
But the real value of these keywords is to think of all the different businesses out there that don't know what Clickfunnels is, but would could benefit from it.
Sure these keywords may not look like they are being searched very much. But think of how many realtors or insurance agents there are. These are huge industries that can be tapped into with the right strategy.
How to Promote Clickfunnels as an Affiliate
When people sign up to Clickfunnels and want to start promoting it, they are encouraged to take the Clickfunnels Affiliate Bootcamp.
This can be great, especially now that they have updated it. 
Most people that join do not have an audience or "tribe" to promote Clickfunnels so it can be hard to get started.
Here are some ideas to help you get started on the right foot.
1. How To Promote Clickfunnels on Youtube
Starting a Youtube channel is one of the quickest and easiest ways to start generating traffic as a new affiliate.
The problem is that for many people, they aren't comfortable putting themselves in front of the camera so they avoid this source of traffic.
But this can easily be solved by just buying a screen capture software like Screenflow and buying a microphone. You can make an awesome channel without showing your face.
A great example of that is Affiliate Watch: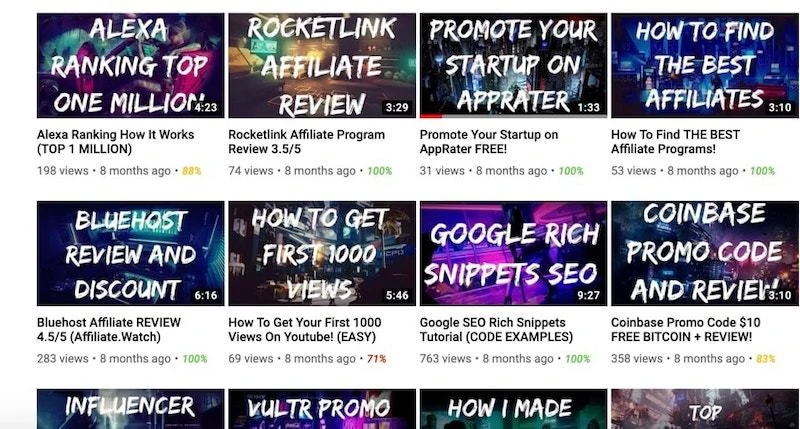 You don't need to write a script and sound perfect. Just have fun and be creative and provide value to your viewers.
I used to struggle with creating videos because I thought they needed to be super well edited and sound professional. I have a bit of a speech impediment so I HATED doing videos.
But the more videos you do, the more comfortable you get. So if I can do it, so can you.
2. Promote Clickfunnels with a Blog or Website
Starting a website has never been easier. There are many high quality and affordable hosting services out there that you can use to get started.
This is my main source of traffic when it comes to referring people to the Clickfunnels affiliate program.
Building websites and running them is something I enjoy more than talking in front of a microphone.
Here is just about everything you need to begin:
An inexpensive no-nonsense affiliate course that teaches you how to build white-hat niche sites that last: Income School's Project 24 course and a course that teaches you how to scale: Authority Hacker's Authority Site System
Cheap, reliable and fast website hosting like SiteGround (good for beginners) and WPX (what I currently use)
A brand-able domain name
When you are starting out, you won't be able to go after competitive keywords such as "Clickfunnels reviews" right away. 
You will have to go after long-tail keywords first, and slowly build authority to your site by posting high-quality articles and eventually getting good links.
It's important to realize that if you go after long tail keywords, you won't need to get any links for your site and it will rank naturally.
But as you start getting into more competitive keywords, you will need to get links to help people find your articles.
3. How to Promote Clickfunnels as an Affiliate on Facebook
Facebook groups are a brilliant way to build relationships with your potential customers.
Unlike with an email list, you build a more personal relationship with people as they can see your profile and you can see theirs.
So it becomes more like a friendship than a business relationship.
However Facebook groups can be a lot of work. You will needs to provide high quality interactions with the group almost daily to keep people engaged with the group and keep it growing.
Also if you are all about just making money, people will be able to see right through it. So you will have to provide a lot of value up front before you start seeing sales.
4. Build A Course or Service Around Clickfunnels
This a way of promoting Clickfunnels can be very effective but a little tricky. One of the great benefits of Clickfunnels is that it is so easy to make a course on the platform.
So you can create a course that is directly tied to Clickfunnels, which means it should be something that potential customers can use in conjunction with the software.
An example of this is you create a free course, let's say about how to build an email list for a real estate agent.
The course would be all based on the Clickfunnels platform and you would give them value and show them step by step how to build a list for their real estate business.
Then at the end of the course, after you showed them how easy it is to use and set up a Clickfunnels account, you drop a 14-day free trial link at the end so that they can do it themselves.
Then boom you just provided value to someone and showed them how to build something that will benefit their business, but you also get a new potential Clickfunnels affiliate member.
This is really a win-win situation that affiliate should be striving for. The tricky part of this tactic is that you will need some sort of traffic source.
You can either pay for it with Facebook ads and Google ads, which are potentially risky and costly.
This tactic works best when you use it in conjunction with the above methods. This is what it looks like on paper:
5. Promote Clickfunnels as an Affiliate With Share Funnels
One of the innovative features of the Clickfunnels affiliate program is the share funnels feature. It can be a powerful way to get people to click your affiliate link and join under you.
The way it works is that you choose the funnel you want to share, and then they click on "Share Funnel." This will produce a link, which you can copy and share.
When people click on the link to download the funnel, they will be directed to signup for an account. You will then receive commissions when the referrals signup for a paid account.
The way to give people share funnels is to choose an industry that requires a good sales page. Explain the benefits of funnel you built and why the funnel they're about to receive is so special.
The way to generate traffic is to either have a blog in the industry you create the funnel for, and offer it to readers for free. Or offer it for free at the end of your Youtube videos.
I would stay away from paid ads however, unless you really know what you doing.
6. Promote Clickfunnels as an Affiliate Through Lead Generation Clients
This last way to promote the Clickfunnels affiliate program is one of the hardest, yet one of the most lucrative ways to not only make money as ab affiliate, but make money as a business.
This involves hitting up local businesses and helping them generate more leads through setting up a funnel for them.
The type of businesses looking for this type of service are endless dentists, gym owners, lawyers and MLM businesses just to name a few. My friend Criss runs an online marketing agency and does this sort of thing a lot.
Once you have their sales funnel built, and the business owner see's an improvement in leads, they will be more inclined to not only buy Clickfunnels but to also hire you for their online marketing.
One of the best examples of this is Alex Hormozi. He runs an entire agency based around helping gym owners get more clients.
The way he gets clients is through some bad ass facebook ad marketing and building a community around gym owners. I recommend check out his videos to see some really brilliant facebook ads.
Start Promoting Clickfunnels today!
How to make Money with Clickfunnels as a Beginner
The big idea here is for you, to choose a specific niche (or even go after the general Clickfunnels niche), and create an affiliate site that acquires traffic from Google and slowly start creating Youtube videos by leveraging your pre-existing articles.
Once you start generating traffic to your website, you can start marketing a free course or share funnel to your readers and start driving Clickfunnel sales.
The beautiful thing about this approach, is that you are not limited to just promoting the Clickfunnels affiliate program. You can promote other things that will help your readers but also pay you a commission.
How I would Promote Clickfunnels as an Affiliate
I would think about what your strengths and weaknesses are and think how you want to promote Clickfunnels. But the key is to get familiar with the product and learn how to use it.
Option #1: Become an Expert in Sales funnels
As you can see from my keyword research, there are a lot of keyword of keyword opportunities in Clickfunnels and sales funnels in general.
The key here would be creating content targeting various long tail keywords and driving highly targeted visitors to your website.
This involves some research and a lot of writing. What you want to do when starting out is look for very long tail keywords and then look to see if an article has been written about it.
For example take a look at the keyword "can you build a website with clickfunnels" in Google we see these websites as the top results:
When you look at the top results, they look like they might answer the question but they actually do a poor job.
At first glance the top result looks like it answers the search result exactly, but if you click on it – the page is just a general page about Clickfunnels and doesn't answer the question at all!
The truth of the matter is that many keywords are like this. Low quality results that don't satisfy user intent.
So if you took the time and wrote a 1000+ word article that answers the users questions and even answered related questions, then you will rank #1.
The reason why more people don't do this is two fold:
Time – it takes time to write high quality articles
Know How – ranking on Google is a mystery form most people
Thankfully Income School has a great video to help you with #2:
I would recommend you start off with writing your first 10 articles before even thinking of outsourcing them.
Outsourcing content, especially Clickfunnels content will be very hard to do. Income School's Project 24 has an excellent step by step process you can use to hire and train writing these high quality articles.
But if you have more time than money, you can just write all the articles yourself.
Option #2: Become an Expert in a Niche
Then start thinking about what you can bring to the table and niche down. This will help you in ranking quickly for easy keywords and establish you as an expert in that specific field.
Example #1: If you are a real estate agent, you could create a blog on helping real estate agents with sales and strategies.
Example #2: If you are in MLM, you can create a blog that teaches people how to sell and set up ads or niche down even further and be an expert for a specific company.
If you aren't in a field that would benefit from Clickfunnels, think about your friends and family and what industries they are in.
Then think about how you could help them with their business for free, so that you can become an authority in their field.
Example: Your uncle is a cleaner and has his own website, but it is ugly and he doesn't run ads. You can set him up with a high converting sales page and run ads to it and tweak it over time to get the best conversion. Then set up a niche site designed to help painters with their sales.
In all these cases I would start with a niche affiliate site and Youtube channel and go after very easy long tail keywords and create high quality content around it.
Once again to learn how to write these high quality articles check out the above Income School video.
Conclusion
People get drawn into promoting Clickfunnels but most are completely lost with how to actually do it. 
I hope this guide has helped you and given you some ideas on where to start.
If you have any questions, please leave them below!
Learn to Promote Clickfunnels!
Note: I am an independent user of ClickFunnels, not an employee. The opinions and results expressed here are my own and are not official statements of ClickFunnels or its parent company, Etison LLC.