Is Quit 9 to 5 Academy a Scam or Legit? We Take A Look and Give UNBEATABLE Bonuses
Quit 9 to 5 Academy is the promising course by affilaite marketing guru's Mark Ling and Nick Torson. This exciting new course available for only a limited time. We take an in-depth look plus offer AMAZING bonuses!
Want to know if Quit 9 to 5 Academy a scam?
You probably have seen a few emails or ads about it and want to know if it is legit or not.
This Quit 9 to 5 Academy review will answer many of the questions you might be wondering about this course. I will give an honest look into what it is and if it's worth buying or not.
As of right now, it has not yet been released. The information available is limited so this "review" is more of a detailed "preview" and a compilation of what we know about it already.
The Quit 9 To 5 Academy is supposed to be an A to Z program for anyone who wants to learn how to make money with affiliate marketing, primarily using paid traffic.
As the name implies, the Quit 9 to 5 Academy is a training course that promises to give you proven strategies to earn a substantial income with affiliate marketing with the goal of ditching your 9-to-5 job.
It is a different and highly detailed training program that teaches you how to earn money promoting niche products that are either physical (e.g iPhone chargers, socks, numerology, electric flossers, smoothie powder, charcoal bags) or digital products.
If you're a newbie, jumping into affiliate marketing is kind of like swimming in the ocean for the first time.
It is frightening and scary, and you might get bitten by sharks (like I did), but the payoff can be very rewarding.
The Quit 9 to 5 Academy promises to break things down so even beginners can successfully navigate the waters of affiliate marketing successfully.
Let's take a detailed look…
Quit 9 to 5 Is Official Closed – Looking For Ways To Make Money? Check out these articles:
What is the Quit 9 to 5 Academy?
Product Name: Quit 9 To 5 Academy
Product Creators: Mark Ling and Nick Torson
Price: $2500 one-time fee (or installments of $499/month for 6 month payment)
Pre-Launch Date : Tuesday, March 5, 2019
Launch Date: Tuesday, March 12, 2019.
Closing Date: March 21, 2019
As a student of the Quit 9 to 5 Academy, you'll be taught nearly everything in the world of affiliate marketing you need to know. You'll learn about the meaning of terms like CPC (Cost Per Clicks) and CTR (Click Through Rate), the modeling of a successful sales funnel, and how to run ads and scale your campaigns successfully.
The teaching is meant to be rudimentary and beginner-friendly so everyone can understand.
The teachings aim not to just teach you how to fish,  but also how to catch some fish for you at the beginning to energize you and boost your confidence.
You're never starting from scratch with the Quit 9 to 5 Academy. You are given plug and play templates which have been tested and proven offers that are profitable. These plug and play templates are meant to help you start strong and earn a solid footing in the affiliate marketing world.
The program has some pretty intense training. The Quit 9 to 5 Academy is beefy and comes with 50+ hours of videos, 20+ hours of content, and six modules.
The Quit 9 to 5 Academy isn't just a one-time course; it promises to be updated regularly with new strategies. There will be open discussion inside the course so you can learn from other people and expand your knowledge.
Be advised that I wasn't given a chance to review the course yet, so this article is based on throughout research and not my own personal experience with the course.
Who's Behind the Quit 9 to 5 Academy Course?
Mark Ling is a successful internet marketing guru with a track record to prove it. He founded Salehoo and generated hundreds of thousands of dollars in sales over the past years.
He was the pioneer behind the recent marketing program, Profit Engine, which broke sales records last year.
His level of expertise in internet marketing is outstanding. Due to his overflowing love for teaching others the game, he has built a solid reputation for himself, having students as mentees around the globe who are cashing in steadily, earning thousands to millions of dollars.
He created some of the best affiliate marketing programs out there on the internet such as AffiloBlueprint, AffiloJetpack, AffiloTheme, Pathway to Passive, Traffic Travis, Profit Engine, and others.
Becoming a student of the Quit 9 to 5 Academy would give you access to learn proven industry tricks and techniques of affiliate marketing from Mark Ling.
Before Nick delved into the internet marketing world, he worked as a flooring installer.
He grew tired of his 9 to 5 work and felt it wasn't a good fit for him.
Ever since he started his internet marketing journey, he has flourished over time and has found a true passion while having the ability to pay his bills and earn a solid income from the comfort of his home.
Just like Mark, Nick is also a mentor and guide to young minds who are enthusiastic about affiliate marketing.
He teaches personally tried and tested tips and strategies that work. He's always ready to teach you how you too can earn hundreds of thousands of dollars income from the comfort of your home.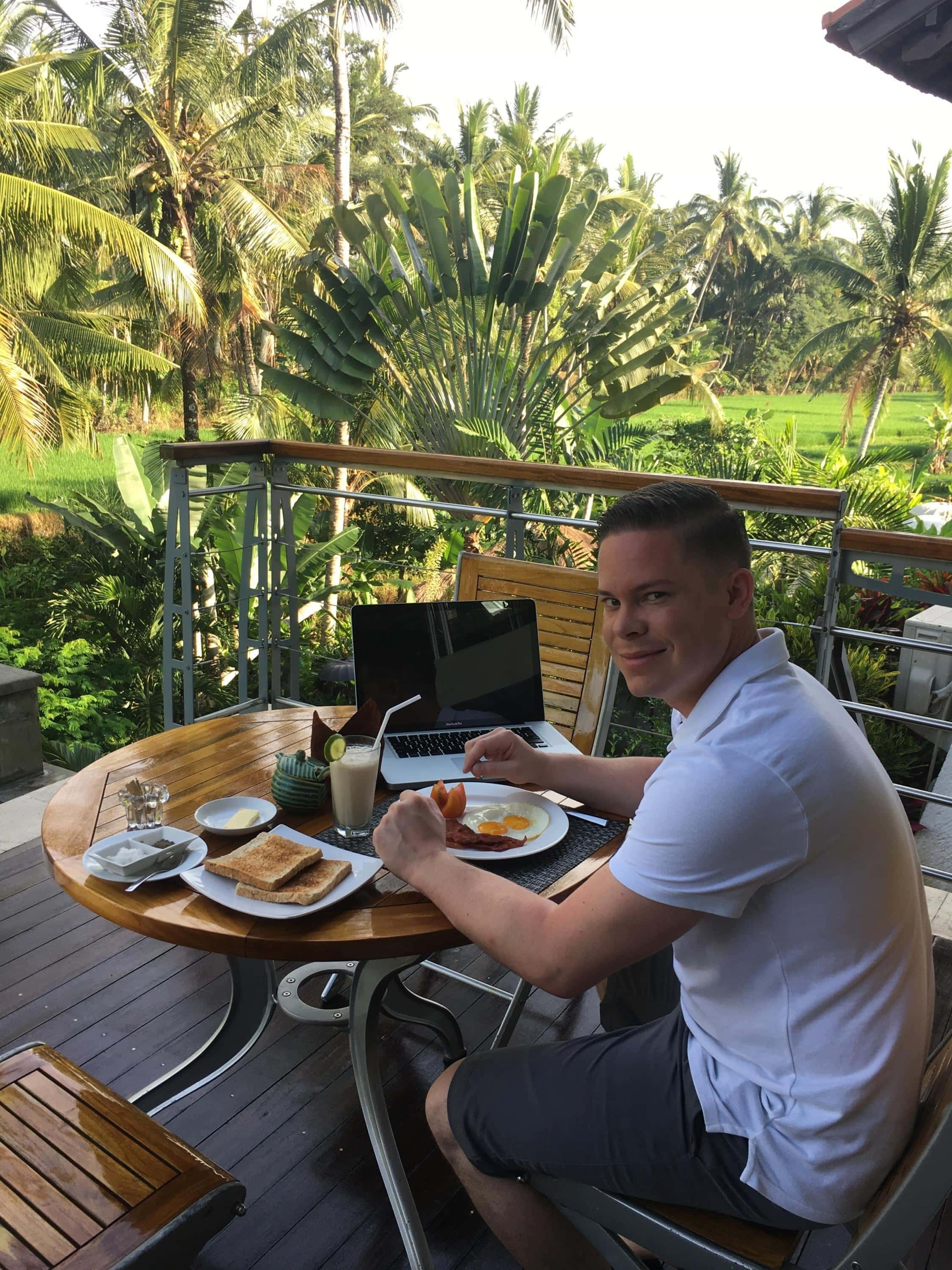 What are the Key Features of Quit 9 to 5 Academy?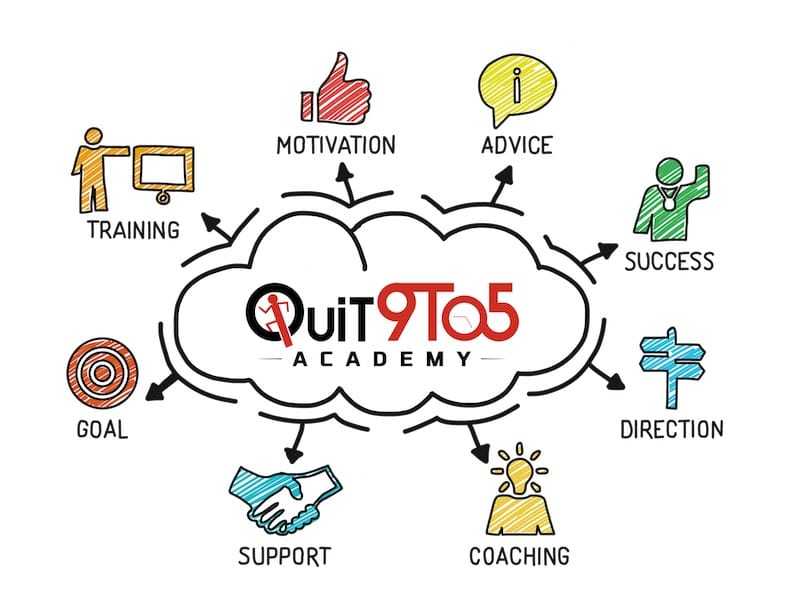 See All 9 to 5 Academy Modules
In the Quit 9 to 5 Academy, there are a total of six modules of in-depth training:
Module 1: Beginners Quick Star
This module teaches the fundamentals you need to know about affiliate marketing and prepares you for the journey ahead.
You'll learn about the following:
What is Affiliate Marketing?
 How This All Works & What's In It For You?
Start Out On Top – 800 Ad Accounts
Find Your First Offer To Promote
Model What's Proven & Already Working
How To Effortlessly Set Up Your First Money Making Funnel
The Secret To Tracking
Module 2: Facebook Advertising Fundamentals
You'll be learning everything you need to know about Facebook ads in module 2.
Here is the break down of all you'll learn in module 2:
The Underground Guide To Facebook Advertising
Your Own Private Auction Hunter – The Facebook Pixel
Proper Campaign Structure
Using Existing Page Posts
Creatives (Images/Video) For Your Ads
Super Affiliate FB Compliance Secrets
Ad Copy (Headlines & Body Text) For Ads
Phase 1: (Testing New Ads)
Creating Your Money Making Ads
Module 3: Data & Reporting
As an affiliate marketer, one thing you have to take into consideration is tracking and reporting.
The Quit 9 to 5 Academy promises to teach you all about data and reporting.
Here's what this module comes with:
Facebook Analytics
Deep Dive Into Reporting
Knowing Your Numbers With Reports
Phase 2 (Verify & Scale)
Module 4: Scaling Up Winning Ads
This is where things start to get exciting and you learn how to make the big bucks.
You learn how to identify a winning ad and to properly scale that ad to maximize your profits.
It includes:
How to "Verify" A Winning Ad
How to Properly "Scale" A Winning Ad
How To do Manual Bidding
Manual Bidding Strategies
The 15-50% Scaling Rule
What To Do, What Not To Do When Scaling
Module 5: Advance Strategies
In this module, you'll learn advanced marketing and advertising techniques and strategies which include:
Retargeting
Custom Audiences
Getting Started With Messenger
Messenger Automation
Growing Your Messenger Audience
Module 6: Other Traffic Platforms
Finally, the last module teaches you about manual bidding and all the strategies involved in manual bidding:
Intro To Manual Bidding
Manual Bidding Strategies
The secret 20% Scaling Formula
With these six modules, the Quit 9 to 5 Academy program is quite certain they can teach anyone who wants to learn everything important about affiliate marketing and increasing sales in this business.
There will be a private Quit 9 to 5 Academy Facebook Group where you can post your ideas, victories, milestones, and problems during the course of the training.
You can grow and interact with mentors and peers, and there will be weekly calls where experts will answer all questions asked.
Here is what else you can expect from the creators behind the Quit 9 to 5 Academy:
Their secrets, methods, and the exact formula used to crush out five figures every day
Their personal high-converting Facebook ads (current and new ones added regularly)
Presell page templates for multiple recommended offers (current and updated regularly)
Ongoing weekly live mastermind calls
Private Facebook group & community
How Much Does The Quit 9 to 5 Academy Cost?
Quit 9 to 5 Academy costs a one-time payment of $2500.
I get it, $2500 is a lot of money. However, affiliate marketing is a very lucrative business. Compared to college these days, $2500 is peanuts.
Also, you can pay the joining fee in installments of $499 over a period of six months.
If this course is half as good as Mark Ling and Nick Torson promise, then it should be well worth it.
Mark and Nick are experts in this game, and I don't believe they would risk their reputations and stand behind a sub-par product.
Plus Quit 9 to 5 Academy comes with a 30-day money-back guarantee, so you can see for yourself if the course is worth it.
If it isn't what you expected, you can always get your money back. The program is sold through Clickbank, so their return policy is very favorable to buyers. I have bought courses through them before, and getting your money back is easy.
Pros of the Quit 9 to 5 Academy
Quit 9 to 5 Academy was created for beginners and advanced marketers alike.
Quit 9 to 5 Academy promises to be easy to follow and give tried and tested strategies for scaling affiliate marketing campaigns.
There is a private Facebook group to provide all the support you need throughout the learning and implementing phase.
On their Facebook group, there will be weekly webinar sessions for you to learn and get answers to your numerous questions. You can also post victories and milestones and engage with mentors and other students on the group.
Cons of the Quit 9 To 5 Academy
The fee for joining the Quit 9 To 5 Academy is quite high. A lot of people might find it difficult to afford $2500 for a training program.
If you don't get this program before March 21, you'll miss out on the offer completely.
Quit 9 to 5 Academy Pre-Launch & Launch Date
Quit 9 to 5 Academy is launching on Tuesday, March 12, 2019. However, the pre-launch is starting on March 5.
The program has a deadline which is on March 21, so make sure you apply before it closes. You don't wanna miss this opportunity!
Quit 9 to 5 Academy Bonuses!
Are you looking for some real, USEFUL Quit 9 to 5 Academy Bonuses? These are your typical PLR E-book B.S bonuses, these are actual EXCLUSIVE bonuses that you will not find ANYWHERE.
Bonus #1: Personal Coaching From Me (First 5 Customers Only!)
Skyrock Your Learning: Get 6 Months of Coaching From Me ($3000 Value)
Eliminate your fear of failure with exclusive coaching from someone that has been there, done that. You will get direct access to me to make sure that you won't get stuck.
You can't even BUY this bonus! That's right, I don't offer one on one coaching to anyone. The only way to get it is to buy Quit 9 to 5 Academy through my affiliate link
This will include email, facebook and even one on one skype correspondence if needed!
Why do you want coaching from me?
I have launched numerous successful websites that make $$$ thousands of dollars passively per month.
I have been SCAMMED by other coaches before, so I know what it's like to be a beginner with zero experience and get INVESTED in my student's success
Bonus #2: 10 High-Quality Links That KICK-ASS
BLAST Your Website To The TOP Of Google With 10 Amazing Links ($2000 value)
Get 10 super high-quality links that have been PROVEN to get results! These are ultra exclusive links ist are not available anywhere else but will be YOURS when your get Quit 9 to 5 Academy.
All sites have great metrics and are all REAL websites with REAL traffic, so they are safe to point anywhere you want!
If you're willing to learn about affiliate marketing and running paid traffic to affiliate offers, the Quit 9 to 5 Academy program sounds like a great course for you.
To learn from renowned internet marketers like Mark Ling & Nick Torson, who have crushed the game consistently, is a great opportunity that is worth taking advantage of.
Even though the one-time price of $2500 is scary and might be a hefty investment for you, you can choose to pay in installments of $499 every six months which is easier for some people.
The 30-day money-back guarantee gives you the security to get your money back if you don't find the training valuable.
Make sure to come back to us before Quit 9 to 5 Academy launches for an up-to-date, honest review!
Stay tuned!