If you have recently begun selling and generating money from affiliate marketing you will understand the importance of affiliate links, the URL that your visitor chicks on to make a purchase. Once the purchase is completed you are compensated for referring that buyer by way of a commission.
This is a competitive business and marketers are constantly on the lookout for ways to improve their SEO, rankings, and ways to use their affiliate links more effectively.
Good marketers also know that thinks like link placement, anchor text, and link cloaking are important factors to take into account when creating a website or product pages. 
For the uninitiated, these items can make a big difference to your sales traffic and ultimately your bottom line.
So what exactly are affiliate links?
Here we will take a look at the basics of affiliate links and how you can use them best to create sales.
What are affiliate links?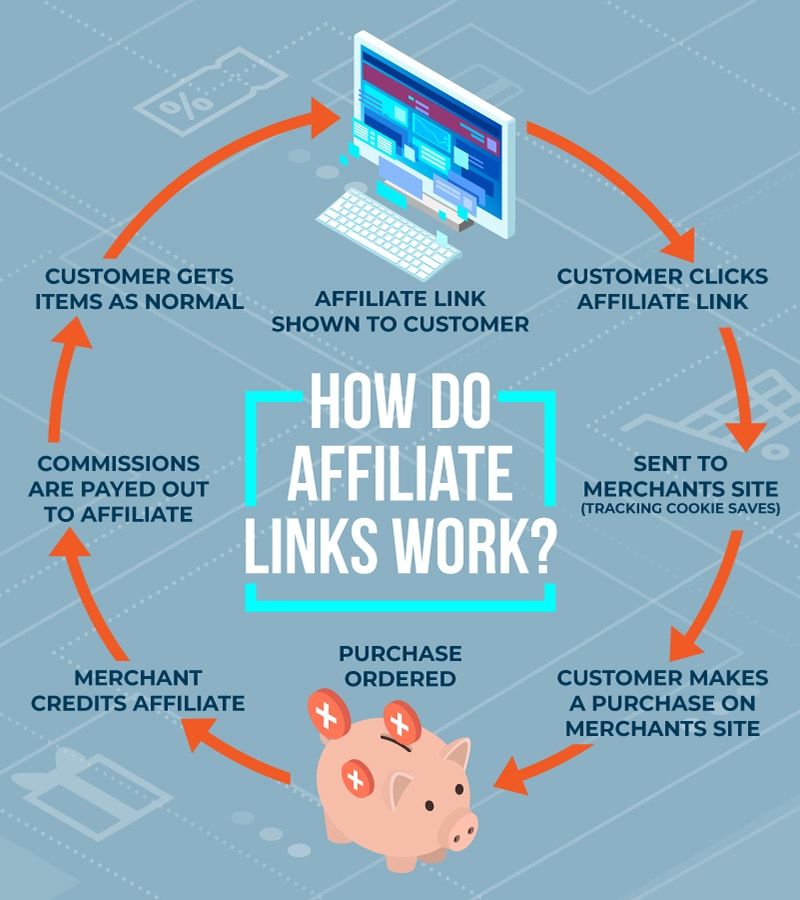 These are the whole reason for you to generate your website or blog. Affiliate links are quite simply the product URL that your site visitors click to purchase your product or service.
These should be placed strategically throughout your site and combined with calls to action to encourage your site visitors to commit to making a purchase.
How can I make money from Affiliate Links?
Once your website has been created and you have determined the products or your services that you can sell you will need to drive traffic to your site. 
These site visitors land on your pages looking for answers or information that they need and if you have provided enough insight they will, hopefully, click on one of your affiliate links and buy an item, making you a commission.
You can advertise your links in various areas to try and generate more traffic to your site which will hopefully lead to more income.
You can make money by placing your links in the following places:
On your website.
On specially created landing pages.
On your social media account
In groups and forums
Google Ads
Facebook or other social media advertising
Anchor text is the text that is highlighted and clickable that contains the link to your product. People inherently don't like to feel that they are being sold something and anchor text is a way of making your affiliate links cleaner and less obvious. Here is an example. 
Click to read more about this new product HERE.
Click this link to learn more about this new product https://www.amazon.com/Conklin-Herringbone-Rollerball-Golden-CK71012/dp/B003DXB65E/ref=sr_1_1?pf_rd_i=3002949011&pf_rd_m=ATVPDKIKX0DER&pf_rd_p=59f8f9da-b6cf-40bc-b151-abfedbe718c2&pf_rd_r=T8DQAMGSVEYJXH7S0M8Y&pf_rd_s=merchandised-search-2&pf_rd_t=101&qid=1566755537&refinements=p_74%3A00000-9999%2Cp_36%3A0-9999&s=office-products&sr=1-1
The first example is how anchor text will look when done properly. As you can see it looks much less messy and more aesthetically pleasing to your prospective purchaser than the second link.
What products should I link to?
Just as you spent time researching your perfect niche for your affiliate marketing website you should also spend some time researching the best products to include on your new website. Anything you choose should be relevant to your niche, bring value to you customer, and solve a problem.
There are no restrictions on how many products you can promote and link to, but make sure they are relevant to your site visitors. Adding products that have no bearing on your chosen niche will just be confusing to you potential customers and may drive them away.
How important is Link placement?
Your choice of product is important as you will be generating content around the items you wish to sell and promote. Here is where a bit of care and an eye for detail can come in useful. The last thing you want to do is overwhelm your guests with huge blocks of text that include tons of blue underlined links.
Keep your links tasteful and sparse and relevant to your content. There is no point writing a great piece about phone chargers then incorporating a link to a portable hard drive, even if it is one of your highest commission items.
Links don't have to be only text either you can include product links on images or in reviews and comparison pages. You can create loads of different content to like 'how to's' or 'best of' and even product guides for individual items.
What are Affiliate Link Disclosure best practices?
When you are using affiliate links there is an FTC mandated responsibility to let your site visitors know that you may earn money from any purchases made through your website. This is to ensure transparency and fair treatment of your website visitors.
You should use clear language when disclosing the use of affiliate links and place any claims in obvious areas for your readers to see easily.
Affiliate Link disclaimer examples
"This is a professional review blog which receives compensation for product reviewed by the companies who produce them. All products are tested thoroughly and high grades are received only by the best
This blog gets a commission for using "company name" products for the recipes we share with you in our posts. Although we receive a commission for using and linking to their products, all our opinion and suggestions are unbiased."
Affiliate Link disclaimer generator
If you are feeling a bit confused or unsure about the kind of language you should you in your disclaimers then don't worry. There are some handly tools available to ensure that you are legally in compliance and keep you on the right side of the law.
Websites like Termly do a fine job of generating legally correct website disclaimers for you so you don't have to come up with the appropriate verbiage.
There are also several WordPress plugins that you can download to do the task for you too. Try a plugin like WP Affiliate Disclosure to handle your disclaimer needs.
How do Affiliate Links Work?
Once you have signed up with the affiliate marketing programs of your choice your will browse through their product catalog to locate items to sell. Once you have decided on your products each one will have a link that is unique to your account.
This is the URL you will use to place the product on your website. Once a visitor clicks the link and make a purchase the affiliate program recognises who the link belongs to and credits that user account with the earned commission from the sale.
The nice part is that once a visitor clicks on the link it generates a tracking cookie. This means that if your site visitor decides not to complete the purchase your information is retained so that if they come back to make the purchase at a later time you will still earth the commission for it.
Most tracking cookies last for a period of 30 days but it can vary so check with your own affiliate partners for their specific duration.
Creating links is the practice of living your content or text to another person's website. Deep linking is a little different as it means you will link directly to a person's page, post, or specific item rather than just their websites home page. In effect your link will lead the follower deeper into the target website to point them at the information they are looking for. 
The thinking behind deep linking is that you can use a deep link to push site visitors beyond a websites home page, past the usual top level pages, and take them to the information or content they are looking for. Once there the idea is that a sale will be made and the site visitor will convert better.
The primary purpose of Affiliate Marketing is to get visitors to your site to click a link and make a sale. These are known as conversions. If you are seeking just a few products you may be able to track your conversions manually but for larger sites you may want to use Google Analytics or a similar software tool to track your sales.
The percentage of site visitors that commit to making a purchase is known as your conversion rate. It's also worth noting that tracked conversations don't have to always be something that is monetary in nature. Many sites track conversions of email sign ups or completing a form. These are set up as goals and tracked in the same manner as sales.
Where there is money there is always a scam. The same is true for affiliate marketing. Over the years hackers and thieves have devised cunning ways to steal or hijack your hard earned commissions by the use of malware or programs designed to override your tracking cookies. 
Link cloaking is a way to hide your links from malicious attacks and protect your earnings. As well as shortening your affiliate links, cloaking will send people to your affiliate site by redirecting them and hiding your tracking IDs. It is a good way of fooling the bad guys so they can't get at your money. 
Another benefit of link cloaking is that it is often used with management software that helps you to list, track and sort your links. This is particularly useful if you have a large affiliate site with hundreds of links.
Understanding how to effectively optimize and use your affiliate marketing links will help you in gaining traffic, helping site visitors find the answers they are looking for, and ultimately drive sales.
The information contained in this article should provide you with a good overview of what affiliate links are, how to use them, and how to make then work best for your. 
If you are looking on how to get started on affiliate marketing, check out our favourite of affiliate marketing training course for free training: The Authority Hacker Site System